NHL Betting Notebook: A Good Time To Sell High on the Bruins
Credit:
John E. Sokolowski, USA Today Sports. Pictured: Brad Marchand
American Thanksgiving is now in the rear-view mirror and that means one thing to NHL fans and bettors alike, the race to the playoffs has begun in earnest. It also means we've reached a one of the most important checkpoints for 2019-20.
According to Jonathan Willis of The Athletic, 92 of the 96 eventual playoff teams (96%) going back to 2013-14, were either in playoff position or within four points of the final playoff spot in their conference at American Thanksgiving. So if your team is in the hunt now, you have plenty to be thankful for.
Turning the calendar to December also means that we can be grateful to have a decent chunk of data to work with to help make wise investment decisions moving forward.
The purpose of this article is to highlight a few teams that fit the profile of a team that could be overrated or underpriced by the betting market. Oftentimes, teams with great record but middling peripheral metrics will be inflated by the betting market and vice verse.
For example, if a team is 14-4-2 but has a 46% expected goal share, you can probably mark that squad for regression and will likely have good opportunities to fade it at a good price.
Hockey is a sport ultimately ruled by luck, so finding an edge often comes down to identifying which teams are outperforming their metrics relative to their actual results. Keeping these teams in mind can help you beat the market on a more consistent basis. The betting market will almost always catch up to teams, so you want to be early.
Reminder: Everything comes down to price when betting hockey. Just because a team is trending up, doesn't mean you should blindly bet them in their next game. This is simply a way to profile teams that project to be overrated or underpriced in the betting market based on a variety of factors.
Trending Up
Columbus Blue Jackets
John Tortorella was my pick for Coach of the Year at long odds because I thought Torts would have his team contending for a playoff spot despite the mass exodus of talent that the Blue Jackets dealt with during the summer. Even though their 11-11-4 record may not show it, Tortorella has the Jackets humming right now.
Only one team — the Pittsburgh Penguins — had a better xG% than the Blue Jackets in the month of November. In 14 games last month, Columbus controlled 56% of the expected goals but went 6-6-2 on the month.
I am concerned about the long-term injury to top-pair defenseman Zach Werenski, who plays 23:35 per game (second on the team to Seth Jones) and runs the point on the power play. Werenski is a big loss, but I'm still bullish on the Jackets thanks to their overall defensive numbers. Columbus allows just 2.04 expected goals (third overall) against per 60 minutes this season and over the past 14 games the Jackets have allowed just 1.98 xGA/60.
If we believe that xG% is truly a predictor of success, the Jackets should start to move up the table at some point. The good news for bettors is that Columbus' middling record should keep people off its scent for the time being. — Michael Leboff
New York Rangers
Is my bias showing? Maybe. Don't care.
Eventually, the Rangers will be exposed on defense, but their underlying numbers have been much better in the last few weeks. And they're winning games.
I like to use 10-game rolling averages to supplement season-long metrics and preseason projections, and NYR's 10-game expected goal differential is looking up. They had just under a -1.0 expected goal differential at 5 on 5 for the first month of the season, but are now close to -0.2. Improvement!.
Getting Mika Zibanejad back from injury helps immensely, as it gives the Rangers A) a top-line center B) depth down the middle.
You won't be getting this team at a betting discount, but the defense is improving, so look at some unders, too. — Steve Petrella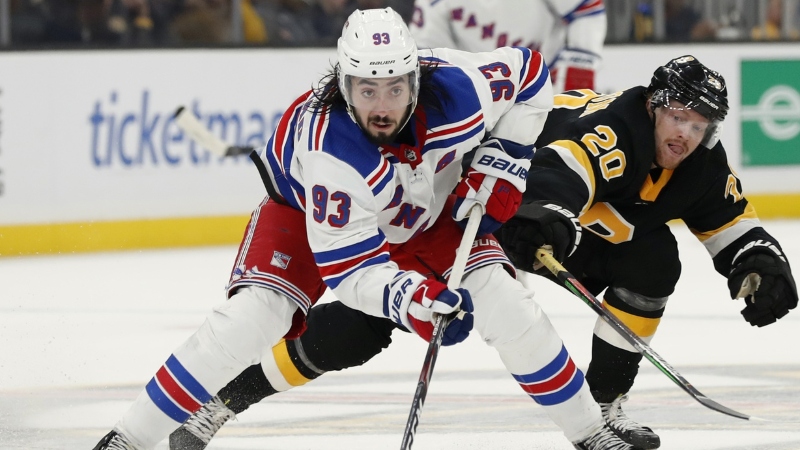 Minnesota Wild
Amongst the teams who rank in the top five in expected goal differential, two clubs have an actual scoring differential below 50%. My colleague Michael Leboff discussed one of those teams, the Columbus Blue Jackets, and the other is the Minnesota Wild.
At 5v5 (score and venue adjusted) the Wild have an xG% of 53.5% – 4th best in the NHL – but their GF% is 49.7% – 17th in the NHL – a gap of 3.8% between actual and expected scoring differential.
Minnesota's luck flipped in November as they outscored their expected goal differential by 2.2% while posting a 7-2-4 record. The Wild come into Monday on a three-game winning streak, and they haven't lost in regulation since November 12.
This team plays dominant defense, permitting the fewest expected goals in the NHL, and if they can get average puck luck moving forward they'll continue to climb in the Central Division standings. — Sean Zerillo
---
Check out PointsBet, where Action Network users can access an exclusive promotion to get a 200% deposit match (deposit $50, bet with $150). No strings attached. No rollover required.
---
Trending Down
Boston Bruins
Going by points percentage, the Bruins entered play on Sunday night as the best team in the NHL. The B's have taken 78.8% of the points available to them through 26 games. This shouldn't be a shocker. Boston is elite and has been for some time. The Bruins also have the league's best line — headlined by 50-in-50 candidate David Pastrnak — and have developed into the league's best defensive team over the past few seasons.
Over the last two weeks the Bruins have a 45.6% expected goals rate at 5-on-5 and they are operating at below 50% on the season.
The Bruins can always out-run a bad stretch thanks to their talented top line, solid goaltending and dynamic power play, but if you go by their underlying metrics, you can see some cracks in their armor. Given their reputation and record, you can probably get some big prices to fade Boston in the coming weeks. — Michael Leboff
The Bruins still might be the best team in the league, but they're coming down to earth a little bit.
Boston actually has a negative expected goals differential for the season, and that number has been declining in the last few games. They've scraped out one-goal wins over the Sabres, Wild, Senators and Rangers in the last five, and two of those Boston had no business winning.
Both Boston goalies have unsustainable save percentages above .930 and that will regress a little bit.
This team is going to be a market powerhouse until further notice, but don't be afraid to pick some spots to fade them in the next few weeks. — Steve Petrella
Winnipeg Jets
After a slow start to the season, the Winnipeg Jets went 10-3-1 in November – but the turnaround isn't necessarily supported by the metrics and I'm going to look to fade this team in the immediate future.
For the season, the Jets have a league-worst 43.5% xG%, but they have been buoyed by a GF% that is 8.5% higher than expected.
In November alone, the Jets ranked second to last in the NHL in xG% (41.9%) but finished second in GF% (61.9%) – an incredibly unsustainable run of puck luck.
Goaltender Connor Hellebuyck posted a .944 save percentage in November behind a patchwork defensive corps, but as he regresses towards his career average (.917) the Jets could bottom out. — Sean Zerillo
How would you rate this article?