Saturday NHL Odds & Best Bets: Our Picks for Penguins-Bruins, Wild-Golden Knights & More (April 3)
Credit:
Jeff Bottari/NHLI via Getty Images. Pictured: Cam Talbot
It's a busy day for the NHL as 11 games are slated to take place Saturday.
Our staff's favorite bets include games with the Penguins, Golden Knights and Predators.
See which teams they're backing to win below.
We all knew this NHL season was going to be weird, but in a league that thrives on chaos, the weirdest part of 2021 has been how things have kind of fallen into place as we head into the final month of the campaign. There have been surprises with teams like the Minnesota Wild and Florida Panthers surging while the Blues and Flyers are treading water, but in a "normal" season we'd see a lot more zaniness than we have so far this year.
The best way to highlight just how weirdly-normal this season is, is to look at how well the chalk has fared in 2021. Going into Friday night (April 2) NHL favorites are 344-210 (62.1%) for a 3% ROI (per Action Labs). To put that number in perspective, here's how favorites fared over the last five seasons:
2019-20: 744-565, 56.8% (-4.6% ROI)
2018-19: 830-629, 56.9% (-5.5%)
2017-18: 862-590, 59.4% (-0.2%)
2016-17: 841-583, 59% (-0.6%)
2015-16: 782-561, 58.2% (-0.7%)
A couple of interesting things there. One, it hasn't been profitable to blindly bet favorites in any of those seasons, and that lines up with what we've seen since the NHL switched to its four-division format for 2013-14. Between 2013-14 and 2019-20, favorites went 5670-4031 for a 58.4% win rate and a -1.8% ROI.
In fact, the last time that the chalk has turned a positive ROI over a regular season was in 2013-14 when favorites went 783-538 for a 59.3% win rate and +0.8% ROI. The season before that — which was shortened to 48 games by a lockout — was the last time favorites won over 60% of the games.
The second thing to note is that the two campaigns before this one were two of the three worst seasons for chalk-eaters since 2005-06. Perhaps we're seeing a bit of regression or a market correction in 2021, but it's more likely that this season's format, with teams playing only within their division, is playing a role in how things have shaken out.
The gulf between teams at the top and bottom of each division is just so wide, and the teams at the bottom (Buffalo, Detroit, Ottawa, etc.) do not get a reprieve. There are just fewer games between bad teams and pedestrian ones this season. Anaheim doesn't get to play Detroit, Buffalo won't see Ottawa and so on. When you keep feeding these flailing teams to the wolves over and over, you're bound to end up with skewed results.
Perhaps underdogs will start to bark a little bit more as the season goes on, but it's not going to get easier for them as we approach the deadline and we see teams start to sell off their assets.
With all of this in mind, let's take a look at Saturday's slate:
Michael Leboff: Pittsburgh Penguins (+102) vs. Boston Bruins
Puck Drop: 1 p.m. ET
I'm not too sure we've seen the end of the slide for the Boston Bruins yet.
The B's came into the season as the deserving favorites for the East Division, but there were skeptics out there who questioned whether the team would be able to excel without Torey Krug and Zdeno Chara. Krug and Chara were both effective players in their individual roles, but the issue was more about the team's depth on the back-end than anything else. That depth will continue to be tested as Brandon Carlo is day-to-day with an upper-body injury and looks like he will miss Saturday's game.
While Boston's defense has held up its end of the bargain by allowing just 2.39 goals against per game and 2.03 expected goals per 60 minutes at 5-on-5, the offense has been invisible. Boston ranks 29th with an average of 1.96 expected goals per 60 at 5-on-5 and 28th with an average of 1.96 goals per hour at 5-on-5. The goals have dried up so much that Bruce Cassidy has broken up The Perfection Line and moved David Pastrnak to the second line to balance the scoring.
---
Expected goals (also known as xG) is a predictive statistic that gives an indication of whether results are based on sustainable factors like a steady creation of scoring chances, or whether it is down to aspects such as shooting luck or outstanding goaltending.
Simply put, an expected goals rate (xGF%) above 50% is considered good because it means a team is creating the majority of the scoring chances. Anything below 50% is usually a sign that a team is struggling to control play.
xG numbers cited from Evolving Hockey.
---
On the other hand the Penguins have been on a roll. Pittsburgh is 18-6-1 with a 60% goal share at 5-on-5 over its last 25 games. While not dominating at 5-on-5, the Penguins have an expected goals rate over 50% over their last 10 games. When you have players like Sidney Crosby, Jake Guentzel, Evgeni Malkin (who is injured now), and Kris Letang at the top of your roster you don't need to tilt the ice to get wins. You just need to avoid getting shelled and hope that your stars do what they're paid to do.
What's more encouraging for Pittsburgh is that its defense has started to rise to the occasion since Brian Dumoulin returned from injury on March 6. In the 15 games since Dumoulin returned to the lineup, the Pens have allowed 1.15 goals and 1.96 expected goals per hour at 5-on-5. In their previous 15 contests without Dumoulin they allowed 2.26 goals and 2.3 xG per hour.
I still think the Bruins will find their game at some point, but going up against a stifling defensive team in good form is not what you want for an offense that can't find the back of the net.
At the risk of buying high and selling low, I think the Penguins should be slight favorites in this game and would play them to -115.
Pete Truszkowski: Pittsburgh Penguins (+102) vs. Boston Bruins
Puck Drop: 1 p.m. ET
In the wise words of Shania Twain, "Dance with the one that brought you."
Often in the sports betting world, we over think things and try to be contrarian when we can just ride the wave.
After a mediocre start, the Penguins are 18-6-2 over their past 26 games. On the contrary, the Boston Bruins are 8-11-1 in their past 20 games after starting the season with one regulation loss in their first 13 contests.
These teams are trending in different directions, but this market is still pricing the Bruins on their reputation as an elite team and not one that looks to be in slight disarray.
Since March 1, the underlying metrics back up the notion that these two teams are heading in different directions. Pittsburgh has the league's eighth-best expected goal (xG) rate while Boston has the eighth worst xG rate during that span. Pittsburgh's high-danger percentage  is near 54% while Boston's is the worst in the league, coming in under 38%.
The calling card for the Bruins has been their team defense, but that unit has been tested with the departure of key players like Zdeno Chara and Torey Krug in the off-season and numerous injuries throughout 2021. Boston is still solid defensively, but Pittsburgh has been the better defensive team over the past month.
The projected goaltending matchup for this contest will be Casey DeSmith for the Penguins facing off against Jaroslav Halak of the Bruins. DeSmith might be relatively unknown, but he's posted the third-best Goals Saved Above Expected (GSAx) this season at +10.9. Halak has had a solid career, but this season he's been average at best with a GSAx of -1.8.
Pittsburgh holds the advantage in areas where you'd expect the Bruins to have an upper hand. This brings us to the offense, where the discrepancy between these two teams is notable. Pittsburgh is averaging 0.6 more goals per game than the Bruins, 0.84 more goals per hour at 5-on-5, and 0.41 more expected goals per 60 at 5-on-5. Even without Evgeni Malkin, the Penguins have players like Sidney Crosby, Bryan Rust and Jake Guentzel who can change a game on a dime.
I think the Penguins deserve to be favorites in this game, so I'll happily take them at plus-money on Saturday.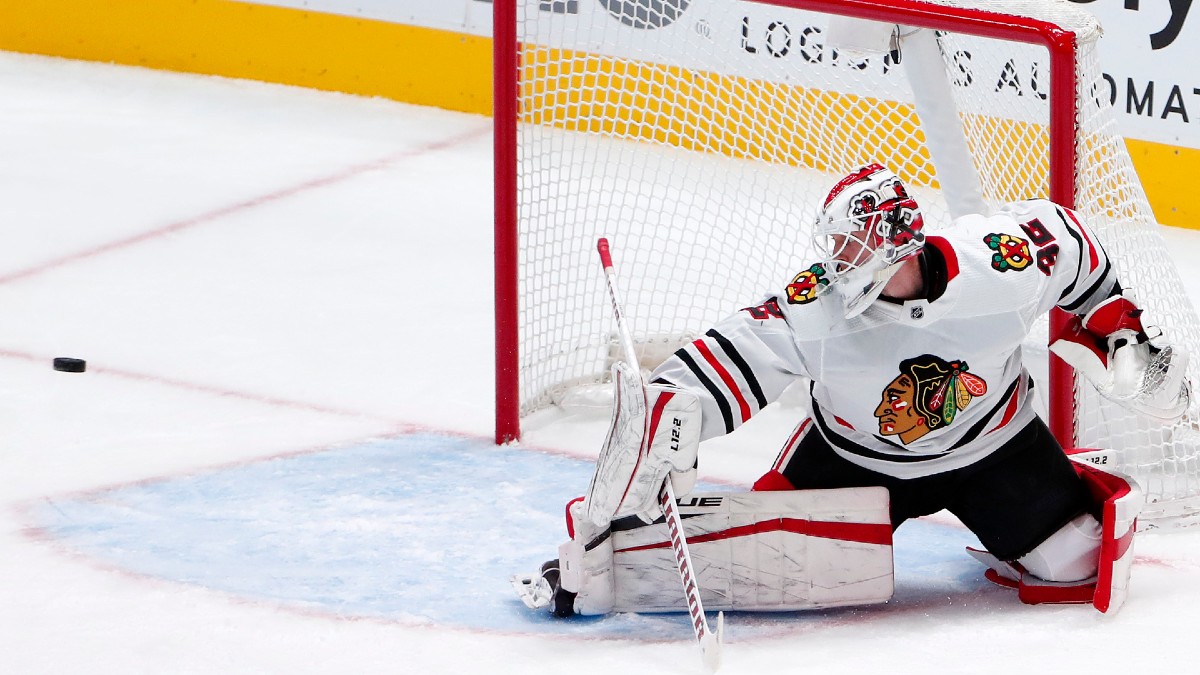 Mike Ianniello: Nashville Predators (-122) vs. Chicago Blackhawks
Puck Drop: 3 p.m. ET
This year has been an up-and-down roller coaster for both the Nashville Predators and the Chicago Blackhawks, who each find themselves with 39 points and fighting for the fourth and final playoff spot in the Central Division.
Despite sitting on equal footing in the standings, Nashville (19-18-1) and Chicago (17-16-5) have been going in complete opposite directions as of late.
Chicago was one of the surprise stories during the first two months, sitting at 12-7-4 at the end of February and looking like a playoff contender.
The other key for the Blackhawks was a lethal power play. Through the end of February, Chicago led the NHL with 22 power play goals, converting 33.3% of PP opportunities. They went just six games without a tally on the man advantage through the first two months of the season.
Well the power play has regressed back to the mean, and Chicago managed just nine power-play goals during March, scoring at an 18% clip, and went eight games without a PPG in March.
Chicago has gone just 5-9-1 during March and are quickly falling out of playoff position.
Just three weeks ago, Nashville had an 11-16-1 record and sat seventh in the Central Division with John Hynes firmly on the hot seat.
They have battled both injuries and COVID all season, but have been resilient though, as they have rattled off eight wins in their last 10 games and now sit fourth in the Central, in the final playoff spot. With all the injuries, Nashville has had to rely on its depth with 11 different skaters notching at least 10 points this season.
Over the last three weeks, the Blackhawks are last in the NHL with a 41.3 xGF% at 5-on-5. The Predators sit 10th with a 51.4 xGF%. Chicago has the worst CF% at even strength this season, and now that their power play is no longer blistering hot, the Hawks have had more HDC than their opponent just once in their last 14 games.
Nashville has gone 4-0 this season against Chicago, and the Blackhawks have not tallied more HDC versus the Predators all season.
I will take Nashville to stay hot over the sliding Blackhawks.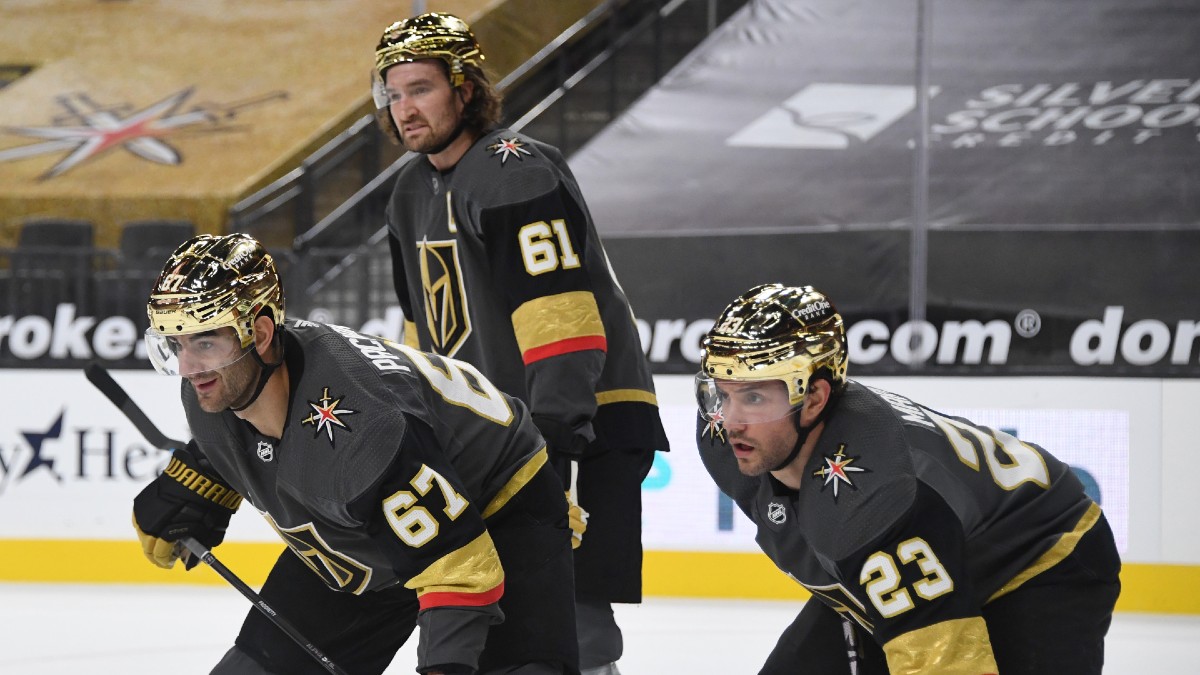 Michael Leboff: Minnesota Wild (+128) vs. Vegas Golden Knights
Puck Drop: 9 p.m. ET
Cam Talbot was sensational in Minnesota's shootout win over short-handed Vegas on Thursday night, and I am happy to go right back to Minnesota again on Saturday. Despite having different preseason expectations, I think these two teams have shown to be near-equals this season.
The Wild have long been analytics darlings thanks to their strong play-driving metrics, but this is the first season in a long time that the Wild have gotten the goaltending needed to make their 5-on-5 numbers stick.
Neither of the two netminders has dazzling isolated numbers (Talbot has a +4.59 GSAx and Kaapo Kahkonen is at -2.24), but they've combined for a league-best .919 save percentage this season. That tells you that Minnesota's defense is making life easy on the goaltending and, for the first time in years, the goalies are holding up their end of the bargain.
If Talbot and Kahkonen are meeting expectations, the rest of the team has exceeded them. Minnesota is sixth in goals per 60 minutes, seventh in goal differential per 60, ninth in expected goal differential per 60 and fifth in high-danger chance rate (all stats at 5-on-5). Known as a defensive force coming into the season, the Wild have taken a serious step forward offensively thanks to the arrival of Kirill Kaprizov, a breakout season from Joel Eriksson Ek and decent production from their depth forwards.
Vegas was also a 5-on-5 juggernaut in seasons past, but this year has been different for the Knights. They are still a formidable bunch, but their 51.23% expected goals rate lags behind where they were in 2019/20 (56.5%) and 2018/19 (55%). Fortunately, Marc-Andre Fleury's splendid play in goal has helped to cushion any potential fallout from Vegas' modest deterioration at 5-on-5.
Vegas' center depth was already a bit of an issue coming into this game and it won't get any easier with Chandler Stephenson suspended.  Vegas still has plenty of high-end talent, but Minnesota's defense has been up to the task all season, allowing just 8.65 high-danger chances per 60 minutes.
I think this game is pretty close to a coin flip, so I like Minnesota at +115 or better on Saturday night.
How would you rate this article?
This site contains commercial content. We may be compensated for the links provided on this page. The content on this page is for informational purposes only. Action Network makes no representation or warranty as to the accuracy of the information given or the outcome of any game or event.