Freedman's Favorite NHL Matchup (Jan. 19): Artemi Panarin vs. Cam Atkinson
Credit:
Russell LaBounty-USA TODAY Sports. Pictured: Columbus Blue Jackets left wing Artemi Panarin (9)
In 2019, Matthew Freedman is writing a new series featuring one of his favorite prop bets for each day.
On Saturday, he looks at the Wild-Blue Jackets NHL game and the head-to-head matchup between Columbus wingers Artemi Panarin and Cam Atkinson.
Each day, I publish at least one quick-n'-dirty piece highlighting a favorite prop of mine.
For more information on my research process and the resources I use, see the master list of my 2019 prop bets.
2019 Year-to-Date Record
13-9-2, +11.83 Units
Golf: 2-1-0, +1.30 Units
NFL: 3-4-0, +6.35 Units
NBA: 4-2-0, +1.73 Units
NHL: 4-1-2, +3.45 Units
NCAAF: 0-1-0. -1.00 Units
Freedman's Favorite NHL Matchup for Saturday, Jan. 19: Artemi Panarin vs. Cam Atkinson, More Points
Artemi Panarin: +135
Cam Atkinson: -165
The ice has been kind to us this year, so we're returning to the NHL for Saturday night's Wild-Blue Jackets game (9 p.m. ET).
Panarin and Atkinson are both Columbus wingers, and they skate on the same forward and power play lines, meaning that this matchup could easily end in a push.
But I see too much value in Panarin not to invest.
Per the FantasyLabs NHL Models, Panarin has markedly outproduced his teammate over the past 12 months.
Panarin: 1.19 points, 20.11 time on ice, 17.95 Corsi For
Atkinson: 0.99 points, 19.80 time on ice, 15.06 Corsi For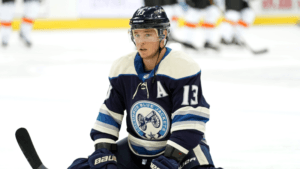 For the season, Panarin has averages 1.16 points per game to Atkinson's 1.04.
Panarin has also had the clear edge over the past month.
Panarin: 1.29 points, 20.41 time on ice, 18.42 Corsi For
Atkinson: 1.0 points, 20.66 time on ice, 16.25 Corsi For
Since joining the Blue Jackets in 2017, Panarin has scored 1.06 points per game; Atkinson has averaged 0.85 over that same span.
Panarin is probably the better player, and he's at plus odds. It's hard not to bet on him.
I would bet on Panarin down to +115.
The Pick: Panarin (+135)
---
Matthew Freedman is the Editor-in-Chief of FantasyLabs. He has a dog and sometimes a British accent. In Cedar Rapids, Iowa, he's known only as The Labyrinthian.
How would you rate this article?