New York Islanders vs. Tampa Bay Lightning Game 1 Betting Odds, Picks & Predictions (Monday, Sept. 7)
Credit:
Chase Agnello-Dean/NHLI via Getty Images. Pictured: Andrei Vasilevskiy
Islanders vs. Lightning
Looking for Game 2? Click here.
---
Odds updated as of Monday at 5:00 p.m. ET and via DraftKings. Get up to a $1,000 sign-up bonus at DraftKings today or see more offers and reviews for the best online sportsbooks.
---
The Tampa Bay Lightning and New York Islanders are not that different.
That may sound a bit hyperbolic since the Lightning have been a Stanley Cup Favorite for the entire year and the Islanders were considered a longshot even just a few weeks ago, but right now it's true — these are the two best teams in the Eastern Conference at this moment.
As expected, the betting market is much more confident in the Lightning's robust body of work compared to the gate-crashing Islanders. Tampa is a known commodity. The Bolts have the higher ceiling. They've been good for a long, long time. Bettors will never mind laying the wood with that type of team.
That said, if you asked me to set the line for a potential Eastern Conference Final between the Lightning and Islanders, I would have put Tampa at -250. Not so fast.
The Bolts are still chalky, but they are just -195 favorites to beat the Isles and advance to the Stanley Cup Final. It may not sound like it, but that number is a pretty big compliment to the Islanders.
New York Islanders
The New York Islanders had a turbulent regular season. Coming off a surprising run to second round of the 2019 Stanley Cup Playoffs, the Islanders came out of the gates flying in 2019-20. The Islanders put together a 10-game winning streak and a 17-game point streak over the first two months of the season, but then the wheels came off, partly due to injuries to a couple of key players, most notably top-pair defenseman Adam Pelech.
As hot as the Isles started the campaign, they were that cold heading into the hiatus. They lost their last seven games before the shutdown and, when the postseason format was announced, very few people gave them much of a chance.
It was hard to blame the skeptics: The Islanders were inconsistent over the 70-game regular season. The layoff did allow Pelech, Casey Cizikas and a couple of other role players get healthy, but even when healthy, this team was easy to gloss over.
Turns out we should have been paying more attention.
The Islanders have been one of the most impressive teams in The Bubble. The Isles sport a 57.1% expected goals rate, a +1.13 five-on-five goal differential per 60 minutes and a 1.89 expected goals against per hour in their 16-game Bubble Journey.
Barry Trotz's defensive structure has made the Islanders hard to beat, but this isn't a one-dimensional team right now. The Isles are still stifling in their own zone, but they are also creating a smorgasbord of quality scoring chances themselves.
Their statistical profile in the postseason puts them in the same conversation as Vegas or Tampa Bay.
| 5-on-5 Stat | Regular Season (Rank) | Playoffs |
| --- | --- | --- |
| Goals For Per 60 Minutes | 2.22 (25th) | 2.68 |
| Goals Against Per 60 Minutes | 2.37 (9th) | 1.55 |
| Expected Goals For Per 60 Minutes | 2.19 (22nd) | 2.51 |
| Expected Goals Against Per 60 Minutes | 2.29 (15th) | 1.89 |
| Shot Attempts For Per 60 Minutes | 52.38 (27th) | 56.2 |
| Shot Attempts Allowed Per 60 Minutes | 60.44 (28th) | 56.4 |
| High-Danger Chances For Per 60 Minutes | 11.7 (4th) | 13.2 |
| High-Danger Chances Against Per 60 Minutes | 11.69 (27th) | 8.8 |
Expected goals (also known as xG) is a predictive statistic that gives an indication of whether results are based on sustainable factors like a steady creation of scoring chances, or whether it is down to aspects such as shooting luck or outstanding goaltending.
Simply put, an expected goals rate (xGF%) above 50% is considered good because it means a team is creating the majority of the scoring chances. Anything below 50% is usually a sign that a team is struggling to control play.
xG numbers cited from Evolving Hockey.
---
There are still reasons to be skeptical of the Islanders in this matchup. The Isles are a four-line team — Trotz won't have it any other way — but so are the Lightning. And Tampa is a little better in basically every spot on the roster.
You  could also suggest that the Islanders have had a pretty palatable path to the Final Four. Each of their opponents had fatal flaws: The Panthers were one of the worst teams in the tournament, the Capitals were top-heavy and the Flyers were overrated thanks to a hot finish to the regular season and a 3-0 run in the round robin which earned them the No. 1 seed.
That isn't a shot against the Islanders, though. You can only beat the team that is in front of you and the Isles did that with aplomb, making it look like Florida, Washington and Philadelphia were little more than also-rans.
The Islanders, thanks to their defense-first game and team-over-talent identity, have been a polarizing bunch since Trotz took over, but there's no arguing that the Isles have earned their spot in the Eastern Conference Final.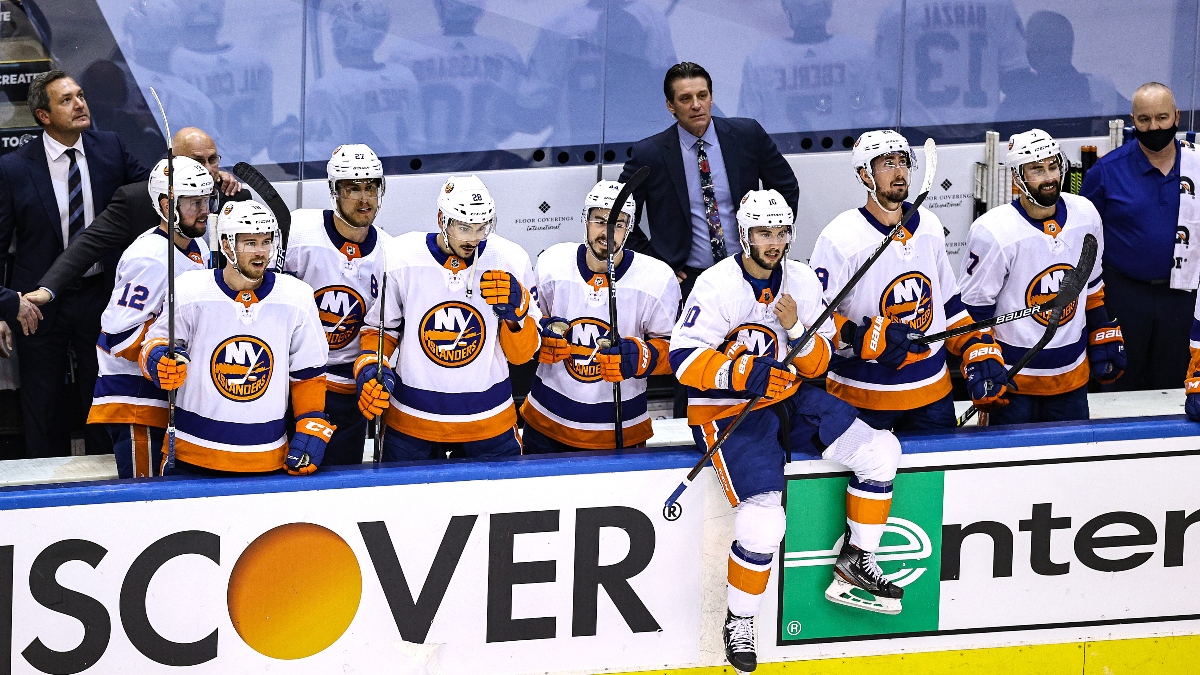 Tampa Bay Lightning
The Tampa Bay Lightning are best known as an offensive buzzsaw. The Lightning are brimming with high-end talent up front and have bonafide headliners in Brayden Point and Nikita Kucherov, but their depth and defense are what makes the Bolts elite.
Point, Kucherov and Ondrej Palat are the best line left in The Bubble. They've combined for 43 points and each boast an expected goals rate above 65%. That's good no matter what, but the fact that they were able to post those kind of numbers against the Bruins and Blue Jackets — two of the NHL's best defensive teams — is impressive.
Tampa's shutdown line, pivoted by Yanni Gourde with Blake Coleman and Barclay Goodrow on the flanks, has been just as mighty as the top line in terms of expected goals. Gourde, Coleman and Goodrow are also each clipping at 65% or better in terms of xG. The Gourde Line's ascent has been a huge boon for the Lightning considering that the supposed shutdown line, centered by Anthony Cirelli, has been the only unit that has wobbled for the Lightning in the tournament.
What's scarier is that Tampa's defense has been just as good as its offense.
The Lightning are allowing a bubble-best 1.77 expected goals against per hour and are tied with the Islanders for second with a 1.55 goals against per 60 minutes at 5-on-5.
The Lightning can beat you in 100 different ways.
| 5-on-5 Stat | Regular Season (Rank) | Playoffs |
| --- | --- | --- |
| Goals For Per 60 Minutes | 2.96 (T1) | 2.46 |
| Goals Against Per 60 Minutes | 2.2 (6th) | 1.55 |
| Expected Goals For Per 60 Minutes | 2.49 (7th) | 2.32 |
| Expected Goals Against Per 60 Minutes | 2.09 (4th) | 1.77 |
| Shot Attempts For Per 60 Minutes | 58.2 (9th) | 64.2 |
| Shot Attempts Allowed Per 60 Minutes | 50.6 (3rd) | 51.6 |
| High-Danger Chances For Per 60 Minutes | 11.06 (11th) | 10.6 |
| High-Danger Chances Against Per 60 Minutes | 9.31 (4th) | 7.7 |
Game 1 Betting Pick
New York dominated against flawed opponents like Florida, Washington and Philadelphia, but the task becomes much heavier against an elite team like Tampa Bay.
The good news is that the Islanders have a habit, especially when they are going well, of turning games against more talented teams into coin flip.
The Isles play such a structured game and are so hard to beat through the neutral zone that their games rarely get out of hand. The Isles are masters at preventing odd-man rushes and keeping teams to the outside. They will let you have the puck all day and night, so long as you stay out of the danger areas.
The Lightning are likely going to win this series, but the Islanders are the value side as we kick things off Monday night. At the time of writing, the Islanders can be found between +128 (DraftKings) and +140 (bet365). I'd imagine that the market will generally move toward the Lightning before puck drop, but I'm already in at +140.
That number gives the Islanders a 40.4% chance of winning on Monday night, and I think that underrates a really awkward team to play against. I'll almost always take a shot at this kind of number on a team that is this hard to beat.
The Bet: Islanders +135 or better to win Game 1; Islanders +170 or better to win series
How would you rate this article?