Lightning vs. Maple Leafs Odds & Picks: Bet Toronto in Game 2 of Playoff Series
Credit:
Mark Blinch/NHLI via Getty Images. Pictured: Auston Matthews.
The Maple Leafs are favored to take a 2-0 series lead tonight over the Lightning.
The two-time defending champs are showing troubles signs defensively and face an elite attack in Toronto.
Grant White breaks down the matchup and makes his betting pick below.
Lightning vs. Maple Leafs Odds
Lightning Odds
+115
Maple Leafs Odds
-140
Over/Under
6.5 (+100 / -120)
Time
7:30 p.m. ET
TV
ESPN2
Odds via BetMGM. Get up-to-the-minute NHL Odds here.
There's a sense of inevitability that comes with being a Toronto Maple Leafs fan. Victories often lead to planning parade routes, followed by the dismantling of the team after losses.
After knocking off the two-time reigning champs in the Lightning in Game 1, Leafs fans went to sleep with thoughts of the Stanley Cup dancing through their heads.
Transitive properties notwithstanding, there's still plenty of work to be done, but the betting market is underselling the Leafs' chances of taking both games on home ice.
Tampa Bay Trending Downward Defensively
Game 1 was the third straight game and fourth time in five games that the Bolts were outplayed. Tampa Bay's poor showing was best exemplified in its five-minute power play in the first period, during which Toronto out-chanced them in shots and scoring opportunities, creating three odd-man rushes leading to genuine scoring chances.
The Lightning failed to capitalize on any of their chances on Monday night, getting shut out for just the fourth time this season. It was their defensive play that was even more concerning, though.
The Bolts gave up 21 or more high-danger chances across all strengths for the second straight game. Ineffective defensive showings have become par for the course for Tampa Bay. Just once over the past six games have the Lightning been able to limit their opponents to fewer than 10 scoring chances, with a rolling average of 15.5 per game. That's a concerning trend to bring into a matchup with one of the most-skilled teams in the league.
Tampa ended the season on a prolific run, scoring on 16.9% of its shots over their final six games of the regular season. Factoring in the Lightning's performance in Game 1 still results in a 15.1% shooting percentage, which is above their season-long rating of 11.2%.
These recent performances could be an omen for what's to come in the rest of this series.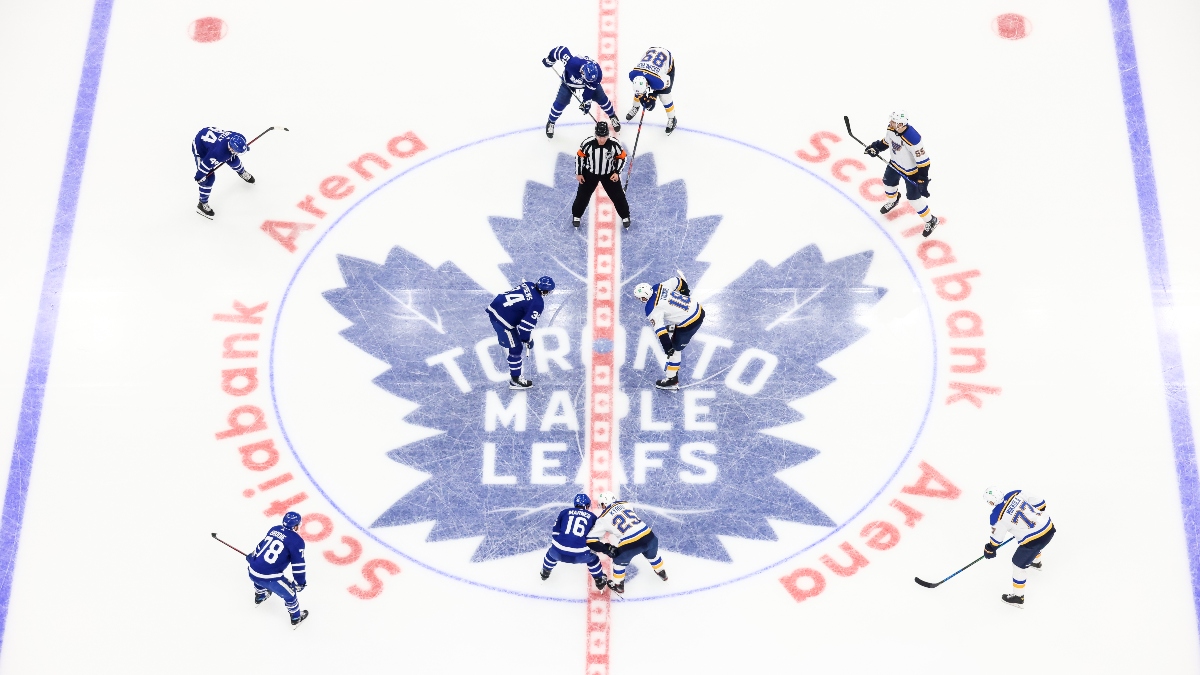 Register Now to Start Betting the Maple Leafs!
Toronto Has Relentless Offensive Attack
The Leafs showed up on Monday night and put forth one of their best performances of the season, attempting their eighth-most high-danger chances in a game this season. Those types of performances have come to be expected of the Maple Leafs, who are one of the best analytics teams in the NHL.
What separates the Maple Leafs from the rest of the pack is their ability to create chances without compromising their defensive structure. Toronto finished the season with the second-ranked expected goals-for percentage across all strengths, highlighting their proficient two-way play.
That was the case again on Monday, with the Leafs out-chancing the Bolts 21-13 in quality chances and posting a 58.9% expected goals-for rating across all strengths.
Another key difference between the Leafs and other teams is their elite offensive talent. Toronto has the personnel to churn production into output, finishing with the second-most goals and fourth-best shooting percentage, along with the second-most scoring and high-danger opportunities.
Lightning vs. Maple Leafs Pick
Nobody has been able to slow down the Leafs this season, and the Lightning fell flat in Game 1. Still, the betting market has installed the Leafs at a similar price ahead of Wednesday night's affair.
We've seen tremendous performances from Toronto this season, with dominant play on both ends of the ice. We haven't seen the same from the Lightning over their recent sample, as they continue to get outplayed.
Toronto deserves a higher price than what we're seeing, and we're taking a stake in the Leafs in Game 2.
Pick: Maple Leafs -125
How would you rate this article?