Flyers vs. Canadiens Odds & Pick: Buy Low On Philadelphia In Game 3?
Credit:
Andre Ringuette/Freestyle Photo/Getty Images. Pictured: Carey Price.
The Canadiens blew out the Flyers, 5-0, in Game 2. Now Philly is a modest favorite for Game 3.
Is this an opportunity to buy low on the 1-seeded Flyers? Or did the betting market prices them right?
Pete Truszkowski analyzes the matchup to explain why he's betting the Philly moneyline.
Flyers vs. Canadiens Odds
When you beat the 1-seed 5-0 to even the series, people take notice and start giving you respect. This includes the oddsmakers and the betting market.
Prior to Game 2 of this series, the Philadelphia Flyers were -159 favorites and the Montreal Canadiens were going off as +138 underdogs.
These lines have been cut 25 cents in some spots for Game 3. Philadelphia is a consensus -135 favorite (bet365) while Montreal ranges between +114 (BetRivers) and +120 (FanDuel).
This is a huge move for a line that isn't influenced by something like an injury or line-up change. Is it an overreaction or is it accurate?
Philadelphia Flyers
Things have been going so well for so long for the Flyers. Before the season was paused, Philadelphia had won nine of 10 games, propelling them into a top four spot in the Eastern Conference. Since the tournament started, they won all three round robin games and secured the first seed. They took the first game from Montreal. It'll be interesting to see how they react to their first bit of adversity.
Just like most teams that play the Canadiens, things are not going well for the Flyers in terms of puck possession and quality of chances. Through two games thus far, Philadelphia only has 43.1% of the shot attempts and 34.1% of high danger chances. Philadelphia was never a dominant team in these areas, but they were slightly above average, so seeing them get throttled like this is unexpected.
Philadelphia didn't show up in Game 2 and left young goalie Carter Hart out to dry. Hart was pulled late in the second period after giving up a fourth goal. The loss was certainly not Hart's fault but nobody likes being removed from a game. With Hart making his first ever playoff appearances this season, it'll be interesting to see how he handles this and whether he can put game two in the rear-view mirror quickly.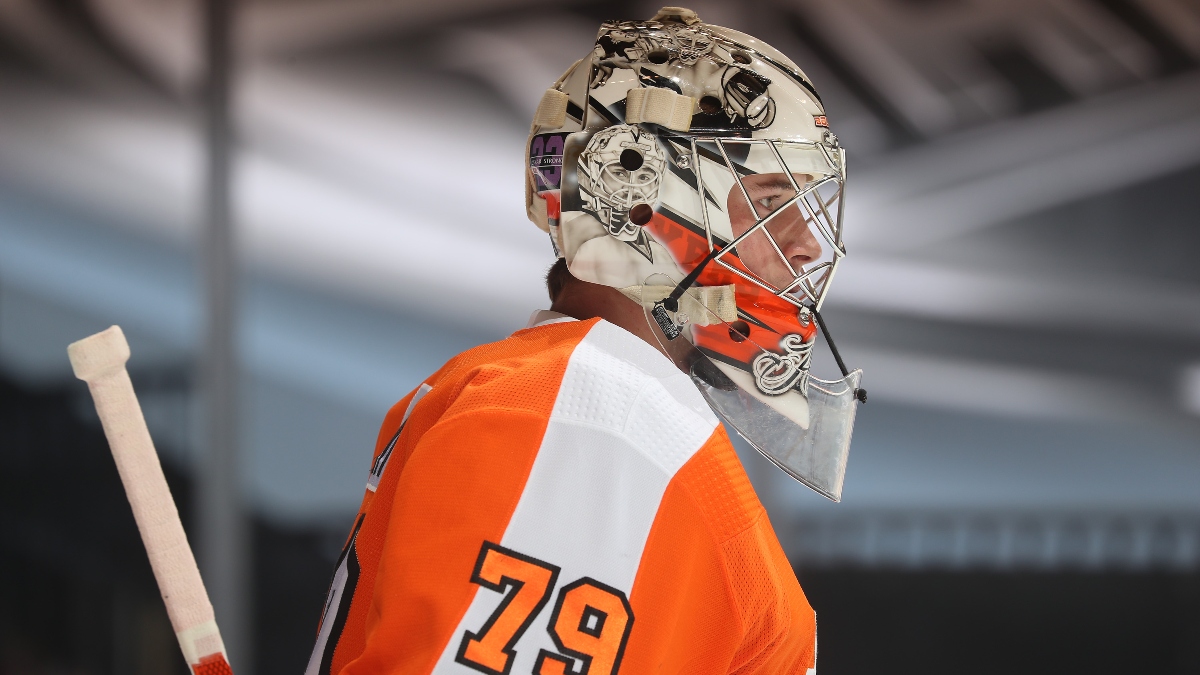 The biggest concern for the Flyers at this point has to be the production of their star players. Through five games, captain Claude Giroux has no goals and one assist. His linemate Sean Couturier hasn't scored yet either, being limited to just two assists himself. Travis Konecny, Kevin Hayes and James van Reimsdyk are other big names that are yet to populate the net.
Scott Laughton and Joel Farabee are good young players, and Nicolas Aube-Kubel is a solid bottom six player, but when they lead your team in goals, it's not a great sign. Philadelphia needs the big guys to get going or else they won't get far. The team needs to rebound after an embarrassing performance in Game 2.
Montreal Canadiens
The Canadiens have been impossible to figure out and bet on all season. They were a top three team across the board in the big four underlying metrics: Corsi-for, scoring chances, high danger chances and expected goals. Despite this, they finished in 12th place in the East and would have been golfing in early April if this was a normal season.
---
Expected goals (also known as xG) is a predictive statistic that gives an indication of whether results are based on sustainable factors like a steady creation of scoring chances, or whether it is down to aspects such as shooting luck or outstanding goaltending.
Simply put, an expected goals rate (xGF%) above 50% is considered good because it means a team is creating the majority of the scoring chances. Anything below 50% is usually a sign that a team is struggling to control play.
xG numbers cited from Evolving Hockey.
---
Their great possession and shot quality numbers weren't resulting in wins for two reasons. They lacked the high-end scoring talent and finishing ability to take advantage of the opportunities. Players like Brendan Gallagher and Tomas Tatar are solid guys but shouldn't be tasked with leading an offensive attack.
These playoffs have shown the development and growth of Jesperi Kotkaniemi, the third overall pick in 2018. He has four goals in six games. As a high draft pick, Kotkaniemi developing gives Montreal the potential top-end talent they lack.
But the biggest change from the regular season has to be Carey Price. Price is coming off a 30-save shutout in game two. Through six games thus far, Price has a .954 save percentage and 1.46 goals against average. This is a tremendous improvement from the regular season where he managed only a .909 save percentage. He was a bottom ten goalie with a -11.04 goals saved above expectation.
In the past, Price has been considered one of the best goaltenders in hockey. He has come into this tournament playing like the goalie that earned that reputation.
Montreal has always had good possession numbers and now they have the elite level goaltending and development of young forwards to help take advantage of having the puck so often.
Betting Analysis
Montreal was undervalued in Game 1 and 2 of this series, but the market has finally caught up to the potential of the current version of the Canadiens.
Despite the momentum of Montreal, betting them here is a prime example of buying high. The series is even after two games where the Canadiens closed closer to +140 than the current +120. The series price saw the Flyers as -250 favorites. The movement in favor of the Canadiens is drastic.
In Game 2, it can't be forgotten that the Canadiens played the game with more passion and motivation than normal due to the fact that their head coach, Claude Julien, suffered a health scare and was airlifted to the hospital the day before game two.
Philadelphia got its first wakeup call of the postseason by having their doors blown off. It's highly unlikely they come out with an effort similar to their effort in game two. Is this an opportunity where we look to buy low on Philadelphia?
At the current line, the value just isn't there. Montreal's +120 line implies a 45.5% chance of winning the game. This seems a little high, but not terribly. There's a reason these teams are seeded where they are. Despite the underlying numbers of Montreal, we have to weigh what actually happened on the ice throughout the larger sample size of the season.
In terms of evaluating the market, you are buying low on Philadelphia here. I cannot fault the logic if you want to bet them just for that reason. There is no injury or goalie change in this series that would explain the swing in this line. Hopefully money keeps coming in on the trendy underdog and we can buy even lower.
Bet: Philadelphia at -134 (DraftKings) is a strong lean, but if it gets below -130 it's a strong play.
[Bet the Flyers now at DraftKings and get a $1,000 sign-up bonus.]
How would you rate this article?