2019 French Open ATP Futures Betting Preview: Can Anybody Thwart the Nadal Three-Peat?
Credit:
Susan Mullane-USA TODAY Sports. Pictured: Rafael Nadal and Dominic Thiem
The 2019 French Open gets underway on Sunday with first-round action starting at 5 a.m. ET.
Betting favorite Rafael Nadal (-107) is seeking his third career three-peat at Roland Garros.
Can anybody stop Rafa from his 12th French Open title? We take a look at each quarter and the overall futures odds.
The 2019 French Open will get underway at 5 a.m. ET on Sunday morning in Paris. The main storyline will be whether or not anybody can stop Rafael Nadal, the heavy betting favorite at -107, from winning his third-straight title at Roland Garros.
AIf Nadal can complete the three-peat, it will amazingly be his third one at the French Open. The King of Clay won four straight in 2005-2008, and then five consecutive in 2010-2014. Another win at Roland Garroshere would give him 12 titles there  — twice as many as the second-most in the modern era (Bjorn Borg, 6).
Before I get into the two French Open futures I bet, let's take a look at each of the four quarters in isolation in case you wanted to dabble in any quarter props.
French Open Quarter 1
Top Seed; Novak Djokovic
Pretty light draw, this, for Novak. In the top half of the quarter, seeded players include Gillou Simon, Denis Shapovalov and Borna Coric — none of whom I'd really consider "threats," per se.
Gillou has lost his last three on clay and looks like a shell of his former, defensively stout, self (especially on the red clay).
As for Shapovalov, his game looks lost of late: He's been spraying errors and struggling to find service rhythm. Unless he finds something really special, I reckon it'll be a quick stint in Paris for Shapo.
With regard to Coric, I expected more this season from him after he showed flashes of brilliance last season, beating Roger twice and climbing up to No. 12 in the rankings. But this year, I feel like the young Croat has taken a (half) step back. And with a tough first-round matchup against Aljaz Bedene — a player who really doesn't get the credit he deserves on the red clay — I'm not sensing Coric as a threat at this year's French Open.
That brings us to the bottom half of the draw — which is really anyone's for the taking. For me, the quarter will hinge on the racquets of two players: tennis' prodigal son, Fabio Fognini, and the slumping Sascha Zverev.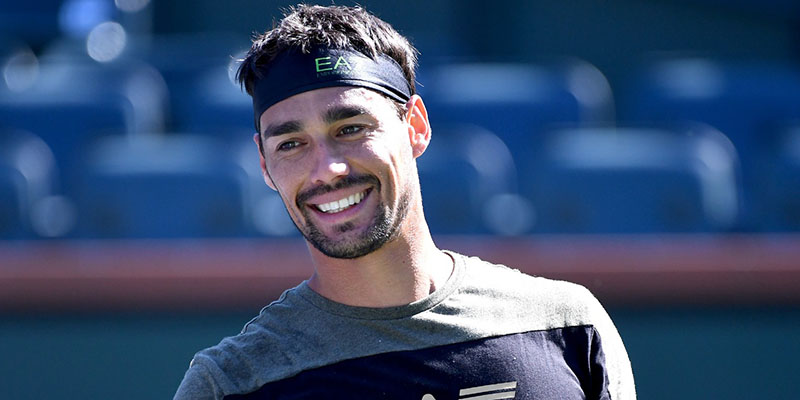 If Fognini can conjure up a level similar to what he showed last month when he won Monte Carlo, I don't see why he can't win this quarter (yes, the whole quarter). The same could be said for Zverev, with regard to his 2017 run in Rome (where he demolished Novak on the red clay).
Then again, those are some tough asks. Fognini hit Zverev off the court en route to his Monte Carlo title, mind you, and if it comes down to a potential third-round clash, tête-à-tête, advantage: Fogna.
Best Bet: Nothing really sticks out unless you want to roll the dice, but if so, bombs away on Fognini 10/1 to win the quarter.
French Open Quarter 2
Top Seed; Dominic Thiem
This is a pretty weak quarter, all things considered. In my first test-run through the draw, I actually have Thiem squaring off against Felix Auger Aliassime in the quarterfinal. But I arrived at FAA more by process of elimination than any real hunch on the young Canadian phenom.
The bottom half of this quarter lacks any true big names outside of Juan Martin del Potro. But with the Argentine's fitness a major concern — despite how good he looked in Rome against Novak, squandering match points — I'm having some difficulty pencilling Delpo's name deep in this tournament due to a lack of matchplay.
For me, this is Thiem's quarter, which shouldn't come as any real shock. The Austrian is the only player in the draw (including Nadal) to win his quarter in each of the past three French Opens.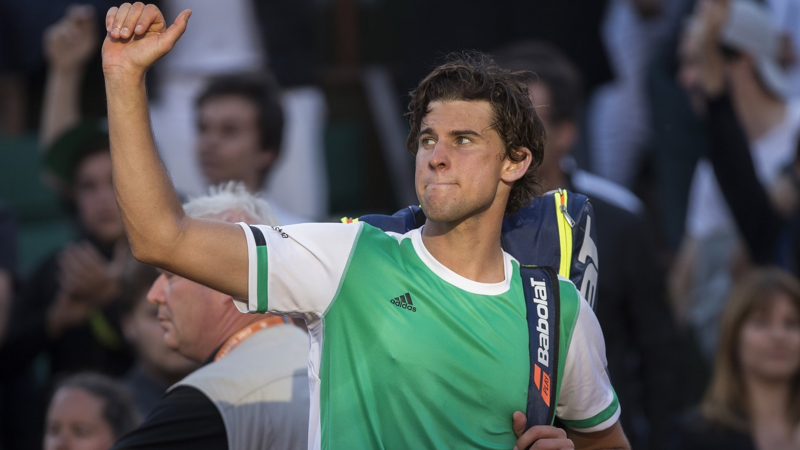 However, what might be somewhat surprising to casual tennis fans is the potential "Thiem killer" floating around this region of the draw, a man who goes by the name of Fernando Verdasco.
Over the years, Nando is 4-0 against Thiem, with the two most recent meetings coming on red clay (this year in Rome and last year in Rio). While the Spaniard pulled out a tight three-set match this year, last year's encounter wasn't all that close: Verdasco cleaned up Thiem in straight sets with the final one coming via bagel.
There's something about Verdasco that clearly bothers Thiem, so while betting at +140 on Thiem surviving  looks to be the play, be ready for a potential sweat in the fourth round. Verdasco has to get there first, however.
Best Bet: Thiem to win Quater 2 +130
French Open Quarter 3
Top Seed: Roger Federer
Quarter 3 might be the most interesting section of the draw. To me, it's the most wide-open by a good margin. The top seeds in the quarter are Stefanos Tsitsipas and Roger Federer. Marin Cilic, Marco Cecchinato, Diego Schwartzman, Stan Wawrinka, Matteo Berrettini and Francis Tiafoe round out the rest of the seeded players.
I don't see any value in either Tsitsipas or Federer, but I will give you a few notes on each of the other seeds' chances of getting to the semis.
Sidebar: one unseeded player to look out for is Christian Garin — who could make some noise if he can potentially upset Stan Wawrinka in the second round. Garin won two clay court tournaments during the 2019 swing (Houston and Munich).
Marin Cilic (11) — Cilic has been a disaster from the jump this season. His confidence is down and his consistency is down, leaving nowhere else for his performance to be but down. Cilic has never shown out at the French in the past — it's the only Grand Slam he hasn't made the final of, though he reached the quarterfinal round in both 2017 and 2018 — and I don't expect him to change that this year.
Marco Cecchinato (16) — Last year's surprise semifinalist could do some damage if he can get past a potentially tricky clash with Philipp Kohlschreiber in Round 2. Kohli got the best of the Italian at the latter's home tourney last week, but the German has notoriously struggled at Grand Slams in the past.
Diego Schwartzman (17) — Schwartzman, the man who took a set off Rafa last year, will look to scrap his way to another second week in Paris. He is -400 in his first-round match versus Marton Fucsovics, but it still worries me. If Fucsovics, who is a decent returner, can consistently apply pressure on Schwartzman's serve, then things could get tricky for the Argentine and his often diminutive serve. If Deigo can protect his serve, though, he's certainly capable of another run.
Stan Wawrinka (24) — Stan is the wildcard, here. If he can bring his A-game in Paris, we know he could very well win the whole tournament. Wawrinka has been hot and cold over the past few months, posting a decent run in Madrid — including straight-set wins over Pella and Nishikori — before stringing together back-to-back first-round losses in Rome and Geneva. Still, "big match Stan" is a whole different beast, and I have good feelings about him over the next fortnight in Paris. The best of five format will surely suit the streaky Wawrinka.
Matteo Berrettini (29) — Berrettini might be the most dangerous player in this quarter you've never heard of. The young Italian owns an 11-3 record on clay this season, notching his second title on the surface, and has an overwhelmingly big game that can overpower anyone. What I like about Berretta the most is that he doesn't club the ball mindlessly. He has an elegance to him. He is able to dial back his strokes and hit with margin and variety. And while he is young and unproven at the Grand Slam level, he has showcased a nose for the winner's circle.  I like Berrettini to make a deep run in Paris.
Frances Tiafoe (32) — Meh. There is no shot at anything significant in this tournament for the only seeded American, I'm afraid.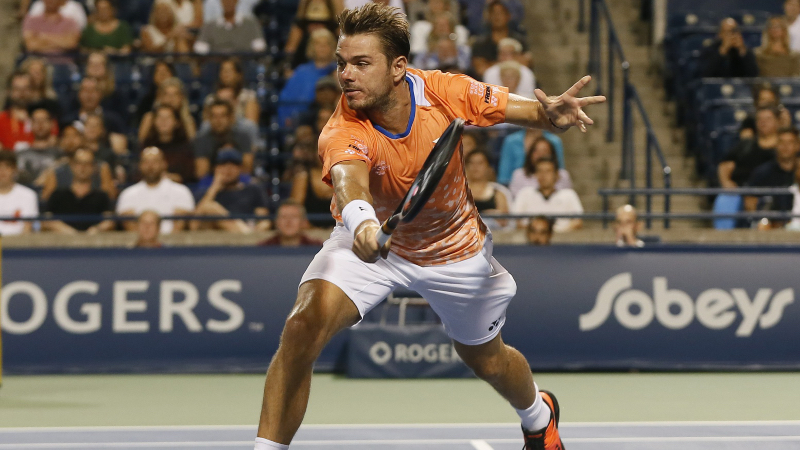 Though I've been impressed with Tsitsipas' play this clay season, as well as Roger's performance after three years away from clay, I still think the value in this quarter lies with some of the more peripheral players. Federer's run in Madrid is a bit jaded due to the serving conditions at altitude there, and I'm not sure the Swiss maestro will fare as well in the slower playing conditions of Paris.
Best Bets: Wawrinka 6-1 to Win Quarter 3 (0.5 unit) and Berrettini 14-1 to Win Quarter 3 (0.5 unit).
French Open Quarter 4
Top Seed: Rafael Nadal
Surprise, surprise, this quarter is Rafa Nadal's to lose.
Boasting an 86-2 record over the years at Roland Garros, Nadal is not someone whose chances of losing I fancy.
Helping Nadal's cause is that this might be the weakest quarter in the field. Against the seeded players in his quarter — Guido Pella, David Goffin, Kei Nishikori and Nikoloz Basilashvili (he has yet to face Daniil Medvedev) — the King of Clay boasts a career 19-3 all-time record. And on clay courts? He's a perfect 11-0. In fact, he's only lost one of 24 career sets on clay against those opponents.
Rafa Nadal's clay court set-records against in-quarter foes:

Goffin: 6-0
Pella: 5-0
Basilishvili: 5-0
Nishikori: 7-1
Medvedev: Zero meetings

— Gill Gross💂 (@Gill_Gross) May 24, 2019
I don't see anyone in this region changing that. However, for the sake of conversation, if anyone in this quarter were to challenge Rafa, I think it would be Kei Nishikori, the man responsible for Nadal's sole dropped set against seeded players in this region.
To be frank, though, I'm not sensing an upset alert from Nishikori at the moment. If Nadal is going to lose early in this tournament, it will likely be against an elite, punch-first, attack-oriented player with a strong serve. While Nishikori can certainly play on the front foot, I still consider him more of a counterpuncher; his serve leaves a lot to be desired.
Best Bet: Unless you've got the rich blood to lay Nadal at something like -350, there's nothin' doin' here.
French Open Futures Lounge
Domi Thiem to Win 7-1
It's almost Thiem's time (which, not to brag, but I've been calling for since 2014 … perhaps, at times, prematurely). I'm not sure he's there just yet, but I'll gladly back the possibility of an early changing of the guard at 10-1 odds.
Thiem has looked both phenomenal and shaky at times this clay season, but I like the prospect of him fully hitting his stride in Paris. It's funny that the last clay season for Thiem felt similar heading into the French. He opted to play that week in Lyon and ended up winning the tournament, giving him some much needed form and confidence, but it came at a cost, as he looked spent by the time the final against Rafa rolled around.
I think Thiem will be fresher this time around. He has also, in my opinion, been playing smarter tennis as of late, using the slice more often and at the right times. If Thiem can stay on his front foot against Nadal in a potential final, then he will definitely have a puncher's chance. I have a lot more belief in Thiem this year than I did in 2018.
If I had to guess an early line for a Nadal-Thiem final, I'd go with something in the ballpark of -180 about Rafa, so there could definitely be a nice hedging opportunity if you're into that.
Rafa Nadal to Win -107
I'm picking Nadal to win this tournament. While he's shown some signs of vulnerability on clay this season, the conditions in Paris — specifically on centre court, Philippe Chatrier, with its real estate behind the baseline — suit Rafa perfectly. His insane 86-2 mark at the tournament speaks for itself.
When Rafa has looked vulnerable (against Fognini, Thiem and Tsitsipas), he has found himself playing a more defensive style, which he's gone away from over the past year or so in favor of more attack-heavy tactics.
But from my vantage point, the Novak match was a turning point. Rafa really had to bring his A-game to pull that out. My confidence in Rafa had been faltering prior to that match, but the win showed me everything I needed to see.