Week 3 XFL Betting Picks: Our Favorite Bets Guardians-BattleHawks, Defenders-Wildcats
Credit:
Matthew Pearce/Icon Sportswire via Getty Images. Pictured: BattleHawks RB Keith Ford
The XFL concludes Week 3 on Sunday with two games: New York Guardians at St. Louis BattleHawks and DC Defenders vs. LA Wildcats.
The BattleHawks are 10.5 point favorites over the Guardians and that game has an over/under at 40.5 points. The spread in the Defenders-Wildcats game is Los Angeles +9.5.
Our staff previews both games and shares their betting angles for Sunday:
The XFL concludes Week 3 with a pair of games on Sunday, starting at 3 p.m. ET.
New York Guardians at St. Louis BattleHawks: 3 p.m. ET on Sunday (ESPN)
DC Defenders at Los Angeles Wildcats: 6 p.m. ET on Sunday (FS1)
Our staff breaks down Sunday's games and provides their favorite betting angles:
Week 3 XFL Picks
---
Odds as of 2 p.m. ET on Friday and via FanDuel. Get up to a $500 risk-free bet at FanDuel today or see more offers and reviews for the best online sportsbooks.
---
Sean Koerner: Guardians-BattleHawks Under 40
The Guardians offense hit rock bottom in Week 2 — not only did they fail to score, but they also failed to record a single red-zone drive, averaging just 2.9 yards per play and converting only one of 11 third downs.
Matt McGloin will start in Week 3 despite being benched last game for his weak performance, and the underlying data leads me to believe their offense will need more than a week to get right. It's also likely that the offense could need a quarterback change to turn things around.
Meanwhile, the BattleHawks look like one of the better teams in the league as they upset Dallas in Week 1 and nearly defeated Houston in Week 2. Now they get to play their first game at home, where they are massive 10-point favorites.
We saw the BattleHawks run an eye-popping 83 plays last week, a lot of which had to do with being in comeback mode against Houston. However, if they can get a comfortable lead against New York, their offense is likely to become run-heavy with Matt Jones and Christine Michael. I would expect the pace to come to a crawl in that scenario.
As a result, this matchup could mirror the four games we've seen finish with fewer than 30 points. Despite having the lowest total on the board, I believe there is still some sneaky value on the under.
If this total dips below 40, I would pass on betting it pregame and instead consider taking it in-game — I could see the BattleHawks scoring on their first one or two drives, which could cause the live total to reach the 43-45 range. Not only would you be able to grab a better number in that scenario, but the game environment would shift significantly to favor the under.
[Bet now at FanDuel. NJ, PA, IN and WV only.]
Tony Marquis: BattleHawks to Win Championship +1000
This is too good of a value to pass up in the futures market.
While Houston (+250) and DC (+200) are clearly the top two teams, the BattleHawks aren't far behind in a tier of their own. Get in on St. Louis now before quarterback Jordan Ta'amu and the third-ranked defense (per PFF) beat up on the hapless New York Guardians.
[Bet now at FanDuel. NJ, PA, IN and WV only.]
John Ferguson: Wildcats +8.5 vs. Defenders
DC has been one of the hottest teams through two weeks, led by what has looked like one of the more dominant defenses in the league. But we should also consider the fact that the Defenders have faced only Seattle and New York, both of which are easily in the bottom-third of the league when it comes to offensive capabilities.
Josh Johnson just made his debut for L.A. last week, and while he definitely had some rust to shake off, he looked sharp otherwise. One could even go as far as to say that if fully healthy, Johnson is in the same tier as Cardale Jones when it comes to quarterback performance.
I anticipate this game being much closer than DC's past two — Seattle finished within 12 points of DC in Week 1, and we should see a stronger offensive performance from the Wildcats, making them a solid play at +8.5.
[Bet now at FanDuel. NJ, PA, IN and WV only.]
Bill Monighetti: Wildcats Team Total Over 17.5
I agree with John's overall sentiment regarding the Wildcats bouncing back against the Defenders, but my favorite bet in this game is actually the over on the Wildcats' team total of 18 points.
Through the first two games of the season, Los Angeles has scored 17 (vs. Houston) and 18 (vs. Dallas) points, and the best is yet to come from this unit.
Without Johnson in Week 1, the Wildcats were able to move the ball to the tune of 309 total yards, but three turnovers limited their scoring opportunities. In Johnson's season debut the next week, the Wildcats offense looked rusty in the first half but were able to score 15 points after halftime.
And while the Defenders' defense looked strong in their shutout victory of New York last week, this same defense allowed 19 points to one of the league's worse offenses (Seattle) in Week 1.
I expect the Wildcats to finish as a middle-of-the-pack offense in 2020 and to look sharper in Johnson's second game back from injury.
I'd bet the over on their team total up to 19.5 points.
[Bet now at FanDuel. NJ, PA, IN and WV only.]
---
Saturday Picks
Ben Rolfe: Roughnecks -6.5 at Vipers
The Roughnecks have been ruthless through the first two weeks, averaging a league-high 32.5 points per game, and they've been incredibly efficient as the only team to need fewer than 10 yards per point. By contrast, the Vipers have been one of the most wasteful teams, averaging more than 50 yards per point.
The turnover count tells the story: The Roughnecks have committed one turnover to the Vipers' eight. On the defensive side of the ball, the Roughnecks have forced five turnovers. The Vipers, just one turnover.
Otherwise, the teams aren't too far apart, but the Roughnecks have figured out both sides of the ball while the Vipers have struggled to find any rhythm on offense, especially without starting quarterback Aaron Murray.
This line has already moved in favor of the Roughnecks and could go further, but this play should be good up to -8, even on the road.
[Bet now at FanDuel. NJ, PA, IN and WV only.]
Mike Vitanza: Roughnecks -6.5 at Vipers
I'm with Ben on this one. Houston's offense has been spectacular through two weeks, led by P.J. Walker at quarterback and Cam Phillips, Sammie Coates, Khalil Lewis and Nick Holley at wide receiver. Now they line up against a very beatable Tampa Bay secondary that has not yet been tested by an offense of this caliber.
While their Pro Football Focus coverage rating is middle of the pack at 62.7, the two teams they've played — New York and Seattle — did not challenge them through the air very often. The one time they were tested last week, wide receiver Keenan Reynolds beat them for a 68-yard touchdown. Walker will have the time to find the open receiver often against a mediocre pass rush and should have no trouble leading this team down the field.
On the other side, Tampa Bay has also been terrible on offense, so this one could get out of hand in a hurry.
This is one of the biggest mismatches on the board and I like Houston up to -8 even on the road.
[Bet now at FanDuel. NJ, PA, IN and WV only.]
Chris Raybon: Renegades-Dragons Under 43
Through two games, Dragons quarterback Brandon Silvers has completed just 49.1% of his passes for 5.1 yards per attempt. And in contrast to the league's better offenses, Silvers doesn't add anything on the ground, totaling just a single rushing yard through two games.
That leaves it up to Seattle's middling backfield committee of Trey Williams, Kenneth Farrow and Ja'Quan Gardner against a Dallas run defense that has earned a league-best grade of 83.1 from PFF.
On the other side, Dallas doesn't exactly inspire confidence. The Renegades can be forgiven for their nine-point disaster in Week 1 with starting quarterback Landry Jones out, but they entered the fourth quarter of last week's game with just six points against the Los Angeles Wildcats, who PFF rates as the worst defense in the XFL.
I give the Renegades offense credit for finding the end zone three times in that fourth quarter, but I'm still not completely sold. Jones was erratic, finishing was a passer rating of just 79.7. And Dallas broke off a number of chunk runs in that fourth quarter — including touchdown scampers of 21 and 17 yards by Cameron Artis-Payne — which may have been more of a product of LA's spent defense and can't be looked at as sustainable, especially given the muted rushing efficiency numbers we've seen from running backs collectively in the XFL (3.9 yards per carry and five touchdowns on 327 carries).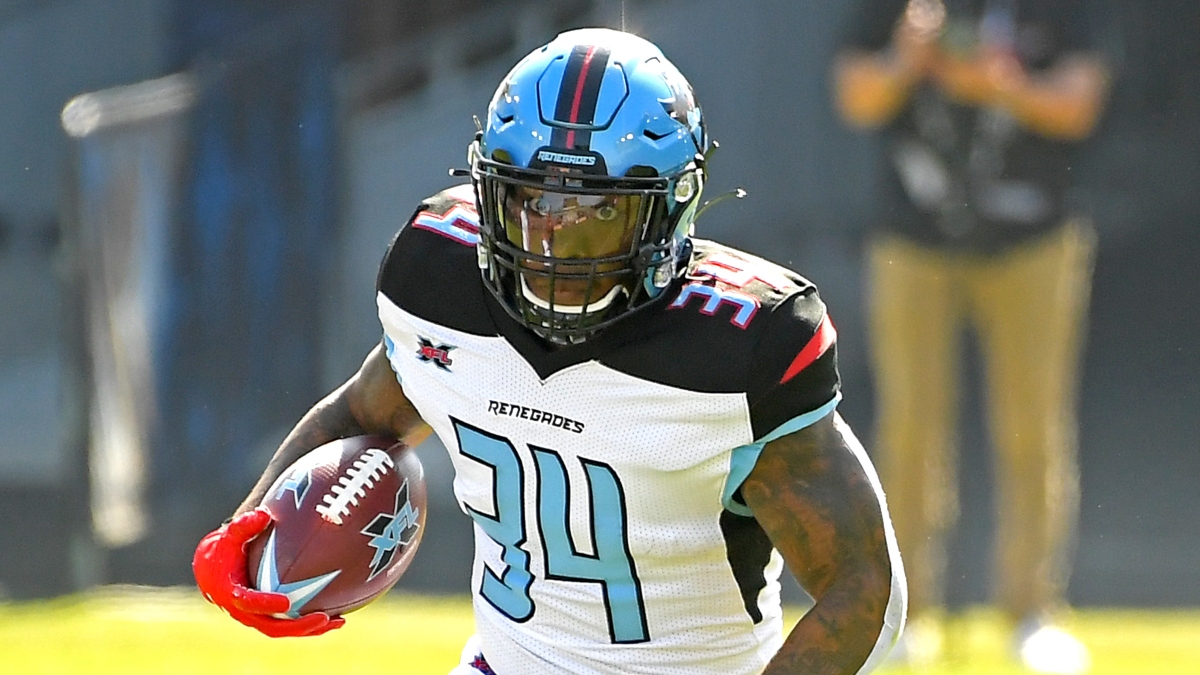 Through two weeks, the league average total is 37.8. And after removing the game Jones missed, these teams have combined to average a total of 39.7.
I'd bet the under down to 40.5.
[Bet now at FanDuel. NJ, PA, IN and WV only.]
I agree with Chris here.
The Dragons are yet to score 20 points in a game, and the Renegades failed to find the end zone for the first seven quarters of the season. The Dragons are limited by Silvers, who has a lowly 49.1% completion rate, and the Renegades are held back by head coach Bob Stoops, who is far too willing to settle for field goals and punts on fourth-and-short.
In my takeaways piece for Week 3, I note that totals were inflated in Weeks 1 and 2 — the under has gone 6-2 so far — and I still think most of the totals are too high for Week 3.
I'd bet the under down to 41.5.
How would you rate this article?