Week 4 XFL Picks: Our Best Bets for Roughnecks-Renegades & Defenders-Vipers
Credit:
Credit: Rod Mar/XFL via Getty Images. Pictured: Cameron Artis-Payne
The XFL enters its fourth week and our experts have their favorite bets for every matchup this weekend.
Will the pass-happy Roughnecks and Renegades compile a shootout? Or should you avoid betting the over as it hasn't been a profitable XFL strategy?
Check out all of our experts' best bets and analyses below.
Overs haven't hit at a high rate through the first three weeks of the XFL season. Will that continue in Week 4?
Our staff reveals how they're betting all four games:
Los Angeles Wildcats at New York Guardians: 2 p.m. ET on Saturday (ABC)
Seattle Dragons at St. Louis BattleHawks: 5 p.m. ET on Saturday (FOX)
Houston Roughnecks at Dallas Renegades: 4 p.m. ET on Sunday (FS1)
DC Defenders at Tampa Bay Vipers: 7 p.m. ET on Sunday (ESPN2)
Now let's dig into their picks!
Week 4 XFL Picks
[Sunday promo! Bet the 76ers +76 and win $100 at BetMGM]
Sunday's Games
John Ferguson: Roughnecks-Renegades Over 49 
The over hasn't been a profitable bet so far in the XFL, as it has hit just four times in 12 games. Luckily for this matchup, the Houston Roughnecks have hit the over in all three of their contests. Each of their games has had a combined score of at least 52 points. On the other end of this game, Dallas Renegades have scored 24 and 25 points respectively since Landry Jones took over at quarterback.
The Renegades have done their part in coaxing the over to hit in their matchups, but their opponents the past two weeks (Los Angeles Wildcats and Seattle Dragons) just weren't up to the task. That won't be the case this week with Houston leading the highest-scoring offense in the league.
Houston has also allowed 24 and 27 points over the past two weeks.
I would bet the over up to 52 points.
[Bet now at DraftKings. NJ, PA, IN and WV only.]
Ben Rolfe: Roughnecks-Renegades Over 49 
This game should be a cracking contest between two teams that pass the most in the league and are both in the top three in offense (per Pro Football Focus). In the two games with Jones, the Renegades have averaged 24.5 points per game.
Meanwhile, the Roughnecks are averaging an impressive 33 points per game so far this season, and on defense, they have allowed an average of 22.7 points. The over is 4-8 in the XFL, but three of those four overs have come in Roughnecks games.
I would bet this up to 52.5.
[Bet now at DraftKings. NJ, PA, IN and WV only.]
Chris Raybon: Roughnecks-Renegades Over 49
The Roughnecks have hung point totals of 37, 28 and 34 on the scoreboard in their first three games. The Renegades have also been solid on offense since Jones returned from injury in Week 2, averaging 24.5 points per game.
All three of Dallas' games have been decided by one score, and Houston's last two have as well, so this game is likely to turn into a (run-N-)shootout, with both squads keeping the pressure on each other to score.
I would bet this up to 51.5.
[Bet now at DraftKings. NJ, PA, IN and WV only.]
For me, this one comes down to the significant mismatch between Houston's passing game and the Dallas secondary. After three weeks, you can make the argument that the race for MVP is between two players: Roughnecks quarterback P.J. Walker and his top receiver, Cam Phillips.
In Week 4, they take on an average Dallas defense with a well below-average secondary (58.6 PFF coverage rating,  second-to-last in the XFL). Houston also boasts three other talented receivers in Khalil Lewis, Nick Holley and Sammie Coates, all of whom are capable of taking advantage of the matchup.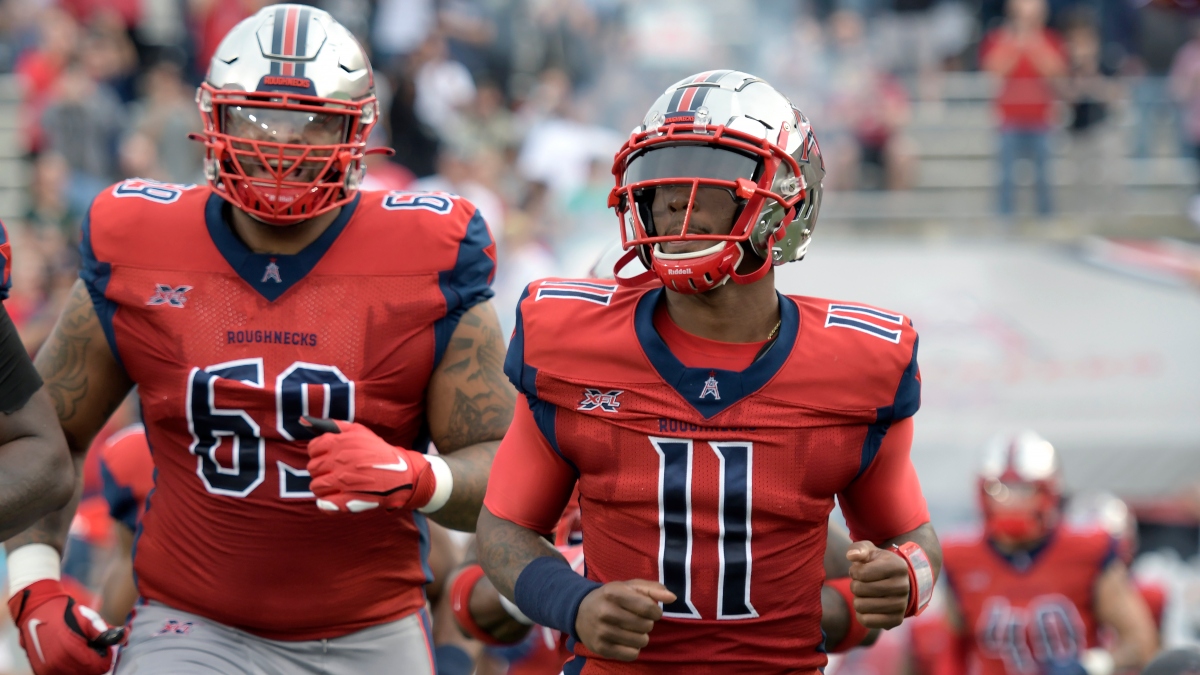 For Dallas, quarterback Landry Jones has not yet proven he can effectively stretch the field to keep up with the Houston offense. While his 71.8% completion percentage is high, it's largely the result of short passes to his running backs and tight ends. When he has gone downfield, his success rate has been laughable: He has completed just one pass of over 20 yards and owns a passer rating of 2.3 on deep attempts.
The Renegades have also been way too conservative in 4th-and-short scenarios. As Matthew Freedman points out in his Week 4 XFL rankings, this Renegades coaching staff has opted to kick field goals in situations when they should probably go for it. Against a team that seemingly scores only touchdowns, this is a problem.
This Roughnecks team is substantially more talented than their counterparts. Even on the road, I like them up to -3.5.
[Bet now at FanDuel. NJ, PA, IN and WV only.]
The Tampa Bay Vipers had their best offensive output of the season last week in a loss to the Roughnecks, but let's not forget that this is the same team that failed to score an offensive touchdown through the first two weeks of the season.
Week 1 starting quarterback Aaron Murray (foot) is expected to return, but he will reportedly serve as a backup to quarterback Taylor Cornelius in his first game back. Quarterback/running back Quinton Flowers is away from the team for personal reasons, and I doubt that the Murray-for-Flowers swap is a net positive for Tampa Bay given Flowers' rushing ability.
Additionally, the team's top selection in the skill-player draft — tight end Nick Truesdell (knee) — remains absent from practice and is looking iffy for a second consecutive week.
Before allowing 39 points to the Wildcats last weekend, the Defenders defense held the Guardians scoreless in Week 2 and the Dragons to 19 points in Week 1. Sure, those are two of the worst offenses in the league, but are the Vipers much better? The Wildcats' offensive explosion was aided by four interceptions from quarterback Cardale Jones, including two inside Defenders territory.
I'm expecting regression from both sides and would bet the under on Tampa Bay's team total down to 19.5.
[Bet now at FanDuel. NJ, PA, IN and WV only.]
---
Saturday's Games
The Los Angeles Wildcats were 0-2 heading into Week 3 and considered to be one of the worst teams in the league. They closed as a 10-point home underdog to the DC Defenders, who at the time were 2/1 favorites to be the 2020 champion. It's why the Wildcats' 39-9 blowout victory was so shocking. While we certainly need to adjust our perception of the Wildcats up several points, the market appears to be overreacting to the one-game sample.
Los Angeles had a +5 turnover margin over DC thanks to an abysmal game by quarterback Cardale Jones, who threw four interceptions. A turnover margin that high is typically random and can drive the market to overreact. The Wildcats just wrapped up a two-game homestand and now have to travel east to face the Guardians. The Wildcats will without No. 1 WR Nelson Spruce (knee) and probably Week 3 starting running back Martez Carter (hip).
Last week, my top play was the Guardians-BattleHawks in-game under. The Guardians were shutout in Week 2, and I was unable to find anything in their underlying data to give me any hope for a bounceback in Week 3. Sure enough, they failed to put up much of a fight and suffered a 29-9 loss.
But the underlying Week 3 data indicate that the offense has made tremendous progress, and the final score is a bit misleading. Seven of the Guardians' 10 drives crossed midfield. They had two second-half drives result in turnovers on downs. One ended on the BattleHawks' 13-yard line. The other, on the two-yard line.
We'd probably view them differently this week if they had converted even one of those fourth downs and scored a touchdown. Because they didn't convert those drives into points, they offer some hidden value this week.
Quarterback Matt McGloin (thorax) is out, but the Guardians have three XFL-caliber starting quarterbacks on their roster, so I am not worried about McGloin.
I would expect at least 80% of the action to come in on the Wildcats, but see value on the Guardians at +8.0. This is my favorite bet of the week, and I would bet it down to +5.
[Bet now at FanDuel. NJ, PA, IN and WV only.]
The BattleHawks are 3-0 against the spread, and in my rankings for Week 4, I have them rated as the No. 2 team in the league. They are No. 1 with a 57.8% rush rate and No. 2 with 70.3 plays per game. With their running attack, they take pressure off of rookie quarterback Jordan Ta'amu, who leads the league with a 75.6% completion rate, and with their fast pace of play, they increase their opportunities to score.
Despite playing against the high-flying Roughnecks in Week 2, the BattleHawks on defense are No. 2 with eight sacks and just 15.3 points allowed per game. And they have a home-field advantage that might be the league's best.
I have the Dragons rated as a bottom-three team. They too have a strong home-field advantage, and since they've played at home for two of their three games, they might not be as good as their numbers suggest — and their numbers aren't even good.
Quarterback Brandon Silvers doesn't seem at all equipped to execute the offense. Among all starters, he is last with a 45.5 PFF passing grade, and he's second-to-last with a 53.8% completion rate. In the XFL, a team without a quarterback doesn't have much of a chance to cover, and Silvers right now doesn't look like much of a quarterback.
The Dragons are yet to score even 20 points in a game.
I know I'm deviating from our expert consensus line, but I'd bet the BattleHawks to -13.5.
How would you rate this article?