Sobel's Post-PGA Hot Takes: Nobody on Tour Can Match Koepka's Extra Gear
Credit:
Jeff Curry-USA TODAY Sports. Pictured: Brooks Koepka
Brooks Koepka's PGA Championship victory proves his best stuff is better than any other golfer's.
Who will win the most majors over the next five years? The amount of young talent makes this tough to answer, but I'll take Justin Thomas.
It's hard not to be impressed by Adam Scott's third-place finish, but you can't fully trust someone who's carrying two putters in his bag.
ST. LOUIS — Man, that final round had everything.
The only bad news for golf fans right now is that we have to wait another 242 days for the next men's major championship.
Other than that, we're watching a Golden Era of the game develop before our very eyes: Tiger Woods recapturing past glory and contending for major championships, while the younger generation of fearless superstars battles him on the biggest stages.
There's not much to argue there.
Don't worry, though. I've got plenty of bolder opinions following a wild, raucous, fun-filled PGA Championship. In fact, I slipped away from the STL for the unfriendly confines of Hot Take City just to riff on a handful of items that needed riffing.
Come along for the ride …
---
Koepka's Ceiling
Even during Rory McIlroy's four-year hiatus from winning majors, even when Dustin Johnson was beating him in every statistical category, I still believed that Rory owned an extra gear that was just a little bit better than the best stuff of every other elite player.
Not anymore.
That crown now belongs to Brooks Koepka — and even in Hot Take City, I'm not sure I could find many dissenters.
Koepka is golf's epitome of that old Santana Moss quote: "Big-time players make big-time plays in big-time games." (And, yes, I would've lost a bundle betting on who said that before I looked it up.)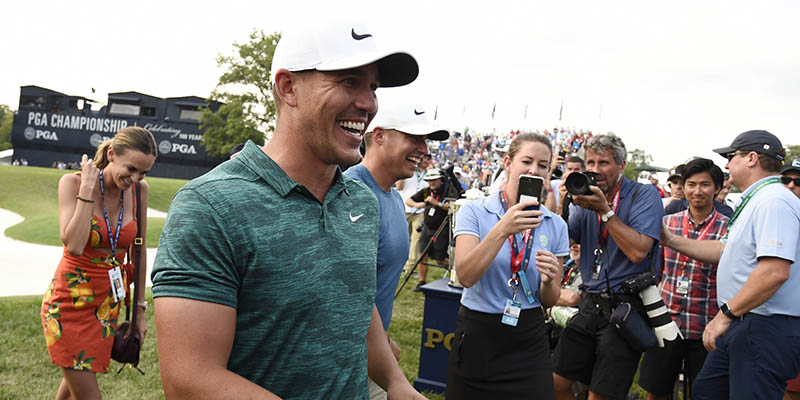 He's now won four career PGA Tour events — and three of 'em are majors.
He's now played 20 career majors — and finished top-10 in eight of 'em.
"I would think [my game] suits the majors, having won three of the last six I've played in," he said. "I'm looking forward to the next few years. If I can stay healthy and actually show up to a major, I feel like I've got a good chance."
It's tough to estimate the ceiling for Koepka. Recency bias tells us he's good enough to win seven or eight of these things, but that's some lofty territory.
I'll try to avoid that bias and set the over/under at 4.5.
---
Still Underrated?
Koepka has often spoken about feeling slighted, about not getting the same attention as that of his fellow top-five players and multiple major champions.
He might be a little right, but it's because of two reasons: One, that whole top-five/multiple-major thing is still relatively new. It's not like he's been building toward this for years.
And two, he's not exactly the most loquacious speaker. Which is fine, as I'd never want a player to be anything he's not, but if I need a money quote for a story, I'm still seeking out McIlroy or Jordan Spieth or Justin Thomas before him.
Look, if it helps Koepka to play with a chip on his shoulder and insist that everyone doubts his talents, fine. But the whole me-against-the-world act is tough to pull off when everyone understands just how damn good you really are.
There isn't a single person — in the media or otherwise — who has watched Koepka win three majors and thinks he's somehow unworthy of accolades.
During the telecast, it was brought up a few times that Woods' galleries dwarfed those of the eventual champion.
I mean, duh.
Even Koepka understood this.
"Everybody was rooting for Tiger," he said. "I mean, as they should. He's the greatest player to ever play the game, and to have the comeback that he's having is incredible."
OK, so maybe Koepka hasn't gotten the attention he deserves. Maybe he doesn't get as many interview requests or autograph demands as others do. That doesn't mean people aren't paying attention. It just means he's about to become even more popular than he was.
File that under the category of: Careful what you wish for.
---
Most Majors Next Five Years … Go!
Fun debate among a few colleagues Sunday evening: Which golfer would you take to have the most success over the next five years?
In a group of five, we had four different answers.
Koepka was an obvious mention. Dustin Johnson and Jon Rahm also received votes.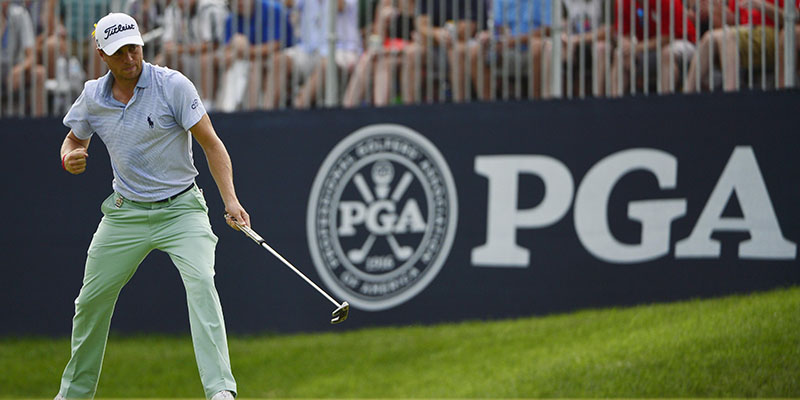 I wouldn't have had a problem with anyone taking Jordan Spieth or Rory McIlroy, either.
Me? I took Justin Thomas. I think he'll win the most over the next five years.
At least, I think that I think it'll be Thomas. I think.
Great question, though. Speaks to how much talent — and how much young talent — there is in the game right now when we can answer this question with so many different names.
---
HOF for Koepka Already?
Here's a fun party game for the 19th hole. Debate this question: Is Koepka a Hall of Famer right now?
It's an annoying hypothetical question, considering he's not calling it a career anytime soon, but it's a juicy conversation nonetheless.
He owns three majors, which easily places him above the usual threshold for a HOF induction. But he has just one other PGA Tour win, one on the European Tour and four on the Challenge Tour.
Like I said, it's a fun debate, if nothing else.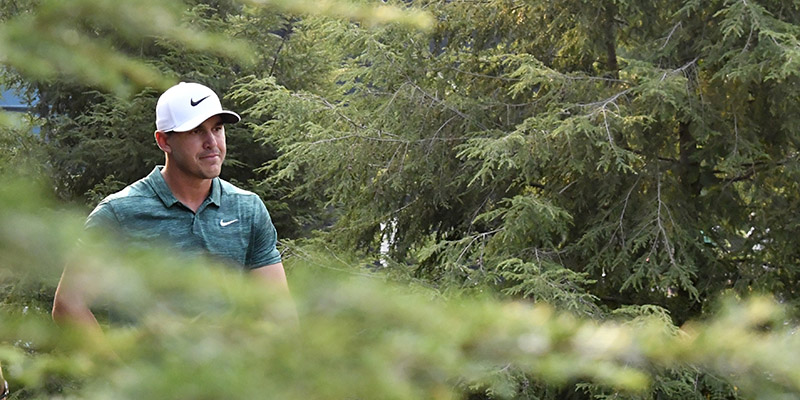 He now has more majors than Greg Norman, Johnny Miller and Ben Crenshaw. He's got as many as Billy Casper, Nick Price and Payne Stewart.
At first blush, I'd let him in right now. But ask me again tomorrow and I might have a different vote.
---
A Little Variety, Please, PGA
I received a little attention for a tweet I posted early in the week.
I'd sent a text message to a player in the field asking, "Is this course gonna suck?" To which he replied simply, "Ya."
Granted, that wasn't a whole lot of detail, but the implication was less about the architectural nuances of Bellerive and more about the fact that it was soft and soggy and ripe for target golf.
Some will insist that a great leaderboard is a reflection of a worthy course, but I'll argue that less variance will almost always result in the better players posting lower scores.
No, Bellerive isn't my favorite major venue I've ever covered, but it's certainly not the worst, either. I feel about the same way as one caddie, who told me, "I'd really like to play here … once."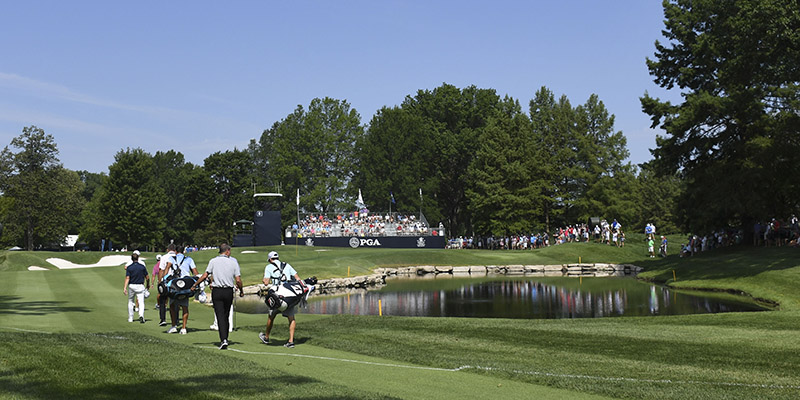 The truth is, my biggest issue with Bellerive wasn't the course itself, but its similarity to every other course in the PGA rotation. At one point, I referred to it as Medallatine — a combination of Medinah, Valhalla and Hazeltine.
Clearly, the PGA of America has a type — it likes 'em long and wide and lush. I guess I'm just a guy who enjoys some variety.
---
See You At Bethpage … In May!
All right, enough PGA of America criticism. Let's get to the nice stuff.
Next year, for the first time, the PGA Championship will move to May. It's a slam dunk for golf, for the players, for the fans and especially for the PGA itself.
This event has always endured the stigma of being the fourth of the four majors. If the others are solo superstars in their own right, the PGA is Ringo Starr, just hanging around in the background to keep the band together.
Chronologically, its place among the Fab Four has fated its existence. Even tournament officials used to celebrate this sentiment, giving it the slogan "Glory's Last Shot" before later settling on "This is Major," as if they felt the need to remind everybody.
The move to May, though, should help its status in the public eye. And kicking things off at Bethpage is like Ringo playing to a sold-out Wembley Stadium.
---
Give Webb Some Credit
Webb Simpson clinched the final automatic berth on the U.S. Ryder Cup team Sunday, much to the dismay of many American fans.
There's a feeling that Simpson isn't nervy enough or gutty enough to make a serious impact on a U.S. roster filled with stars. His record, though, in two previous starts is a not-awful 2-3-1, which suggests he can at least withstand the pressure, if not occasionally thrive in it.
And then there's this: Simpson is a much different player from the guy who won a major while anchoring his putter six years ago.
He finished top-20 in all four majors this year and won The Players in runaway fashion. If any other player was armed with these credentials, Americans would be writing songs about him to sing in Paris.
Here's hoping the tune changes on Simpson. He deserves it.
---
Adam Scott's Wacky Week
I was really impressed by Adam Scott this weekend.
The man hadn't been in the final pairing in two years. Hell, he hadn't finished top-five in two years.
But there he was, armed with two – yes, two!!! – putters in the bag, pouring in five birdies opposite Koepka and finishing in sole possession of third place.
That's some really impressive stuff for a guy who is quite obviously still trying to find something on the greens.
The only thing that would've been better is if he switched putters for each putt. The long putter for short putts and the short putter for long putts, maybe, or the long putter for uphill putts and the short putter for downhill ones.
I'm still not sure I trust a guy carrying two putters to actually make a big putt when he really needs it, but Scott somehow made it work for him this week.
How would you rate this article?
This site contains commercial content. We may be compensated for the links provided on this page. The content on this page is for informational purposes only. Action Network makes no representation or warranty as to the accuracy of the information given or the outcome of any game or event.