Sobel's 3M Open Betting Preview: Plan for a Birdie-Fest at TPC Twin Cities
Credit:
Bill Streicher, USA Today Sports.
Brooks Koepka is the betting favorite to win the 2019 3M Open at TPC Twin Cities in Minnesota.
Which players will take advantage of what figures to be a birdie-fest? Jason Sobel offers his thoughts:
I have no idea whether the winning score at this week's inaugural 3M Open will surpass last week's 25-under total at the also-inaugural Rocket Mortgage Classic. No idea whether it will equal that number or whether it'll come up a little short.
Nobody knows. That's the whole point.
Anytime a course is hosting an event for the first time, it's a guessing game. Usually this game takes place at major championships, which obviously incorporate a rotation of venues that lead to a greater unknown than an annual spot. And usually, even those heavily invested in that event can't guess it right.
---
>> IMPORTANT NOTE: If you're a fan of The Action Network's Golf Podcast, it will be released on a new feed starting soon, so make sure to subscribe here to get the same audio gold delivered to you each week.
---
My favorite example: The 2004 PGA Championship was the first tournament I covered in the role of golf writer. It was being held at Whistling Straits, which was to be unveiled to the general public on a global stage for the first time, and competitors spent the days leading up to the opening round preparing us for the impending carnage on this windswept, lakeside brute. Everyone asked about the winning score guessed something over par. One player familiar with the course estimated it would be 15-over.
Three players eventually finished atop the leaderboard at 8-under.
This guessing game extends beyond just those playing the event. I've always been amused at the notion that the USGA (in previous years, at least) tries to set up the U.S. Open course with a winning score of even-par. Go ask your favorite superintendent just how difficult it is to prep a course for months ahead of time, then have 156 players compete for four days, with the idea of having the best of the bunch right around level-par for the whole thing, weather conditions notwithstanding.
All of which brings us back to the 3M Open, held this week at TPC Twin Cities.
As we've seen over the years – and yet again last week – the PGA Tour tends to err on the side of caution when it comes to setting up a new venue. Maybe this is a conscious effort to create bunches of birdies, which in turn produce more cheers that resonate throughout the course. Maybe it's a preemptive strategy to get players to buy in, rather than having them grouse about the difficulty of a new venue.
At first glance, this track seems like it could be a tougher test than Detroit Golf Club. It plays longer, a par-71 at 7,468 yards. And it's been given a makeover since hosting a PGA Tour Champions event for the past 18 years, presumably so it plays harder for the flatbellies.
"It's going to be so long," Kenny Perry, last year's winner of the senior event, said, according to the PGA Tour's website, "I probably won't even recognize it when I come back."
Expect players to warn us in the days leading up to the opening round that this is no longer your father's (favorite player's) course. They'll insist it'll be harder than ever before – and to an extent, I'm sure they'll be right.
That said, how much harder can it really get?
Two years ago, Paul Goydos set the course record with a 60; last year, Perry equaled it. As the PGA Tour site continued in its preview, "In each of the past seven years, TPC-Twin Cities ranked first or second in birdies among 54-hole Champions stops."
It's hard to imagine the world's best players won't similarly tear it up this week.
Recency bias will have us undoubtedly looking for the next Nate Lashley – a longshot who gets hot at the right time and preys upon the relative early-summer apathy of the big names in the field.
(By the way, good luck finding anyone who had Lashley last week. Not that I would've necessarily recommended him in my preview anyway, but I'd finished writing some 48 hours before he got into the field. And I'm not sure I've seen this before: Since he didn't get in until Wednesday, Lashley wasn't available for either FanDuel or DraftKings lineups, meaning even the biggest winners were without the tourney champion.)
Maybe that will happen, but we shouldn't connect the dots from easy course to mid-level field to longshot winner so swiftly. After all, if it's a birdie-fest, it'll be a birdie-fest for the big names just as much as everyone else.
Let's get to the picks, again specified for different wagering and DFS possibilities.
Outright Winner
One player to win the tournament.
Bryson DeChambeau (14-1)
With no analytical data from a previous PGA Tour event to rely upon, we're forced to try and interpret old Champions numbers which might or might not have any correlation to this week's event. One connection, though, did jump out at me: Last year, Kenny Perry ran away with this one against the senior competition. It's probably no coincidence that he similarly ran away with that tour's total driving stats, which combine rankings in both distance and accuracy.
I'm still not overly convinced that it's enough for us to proclaim, "You've gotta drive it well at TPC-Twin Cities!" But at the very least, we can maintain that you at least have to drive it pretty well.
This season's PGA Tour leader in total driving is Brendan Steele – and while I've already declared this part of the schedule to be #SteeleSZN in recent weeks, I'm digging just a few notches deeper to find my winner.
This hasn't been the greatest year for DeChambeau, who was expected to be amongst the best after winning 4-of-9 worldwide late last year. Unlike some other star players, though, he's shown a propensity to grind for results and a motivation to win even second- and third-tier titles.
At fourth on that total driving list, I like BDC's potential to keep the ball in play, give himself solid chances and science his way up the leaderboard this weekend. OK, so that last part might've been tongue-in-cheek, but the negative public reaction to his constant use of physics shouldn't cloud our collective perspective on a really talented player, who needs a win, playing really well at this event.
---
Other OADers
Potential selections for one-and-done options.
Patrick Reed (+2200)
Following a third-round 65 and prior to a T-5 finish last week, Reed was asked how it felt to get his name back onto a leaderboard again.
"You know," he said, "it was about time, honestly."
Reed has never been quiet about his own self-belief. He added that he was hitting ball better and his putting was starting to improve, so it was all coming together. If you're searching for less tangible reasons to pick him this week, there's the fact that Captain America will tee it up beginning on the Fourth of July, not too far from Hazeltine, where he shushed Rory McIlroy and the Europeans at the Ryder Cup three years ago.
Chances are, if you're in an OAD pool where you make the picks each week, Reed's form has never looked enticing enough to pick him this year. He should be amongst the bigger names still on your list, riding that momentum from last week's top-five.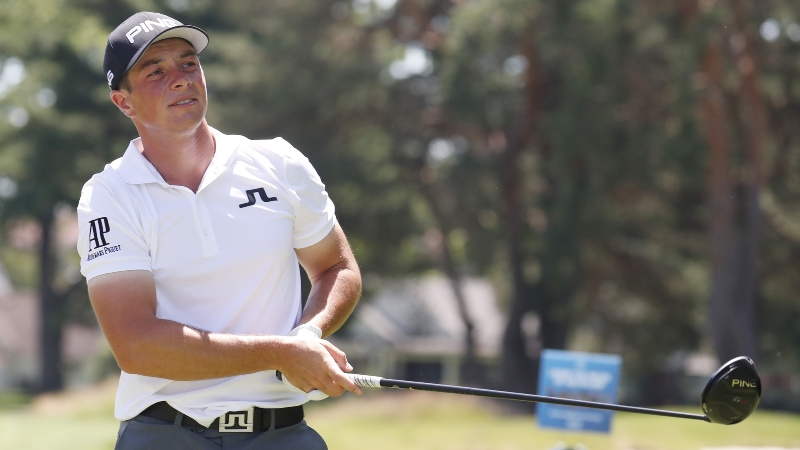 Viktor Hovland (+2800)
I feel like betting on Hovland has been the equivalent of training a puppy to fetch a stick: "No… not yet… sit down… wait for it… anddddd… now! Go get it! Go, go, go!!!"
The low-amateur at both the Masters and the U.S. Open turned pro two weeks ago with as much fanfare as any college player in the past decade – and I'm sure plenty of bettors wanted to chase that stick before it was even thrown.
That first start was good; the second start was even better. And now, if he's not absolutely wiped from playing such a long stretch of golf, this should be the point where we can legitimately start picking him.
Unless you used Hovland in either of the last two weeks, you've still got him available in OAD pools. There's something karmic about using a Scandinavian dude in Minnesota, too.
J.J. Spaun (+8000)
Trending, trending, trending. In his last three starts, Spaun has moved from T-44 to T-30 to T-13.
A solid ball-striker, I see him in sort of the same realm as each of the last two winners. Not quite as heralded as Chez Reavie, but with a better profile than Nate Lashley, Spaun might not get any votes for Best Player Without a Win, but he could rank within the top-10 in that category.
It certainly wouldn't be a surprise to see him win – and if you're simply looking for a strong OAD finisher, it would be even less of a surprise to see him post another strong finish. As an added bonus, those who are lagging behind in OAD pools should be able to capitalize here on a lesser-owned player.
Top-Five
One player to finish top-five.
Hideki Matsuyama (+240)
Déjà vu! In last week's preview, I picked Matsuyama to finish top-five, despite him not posting a result that high since January. Instead, he "only" shot 15-under and finished in a share of 13th place.
I'm going back to the well here, as he's striking the ball better and his putting is above-average, which for him should be enough to contend for a title.
Top-10
One player to finish top-10.
Joaquin Niemann (+270)
Déjà vu! In last week's preview, I picked Niemann to finish top-10, and that's exactly what he did, even cashing top-five bets with a T-5 result.
Just as I wrote in that one, the small sample size on Niemann suggests that he's a momentum player, building toward strong results. There's no reason to jump off that bandwagon now, so I'll cautiously recommend him for another top-10, with a guess that it could be even better.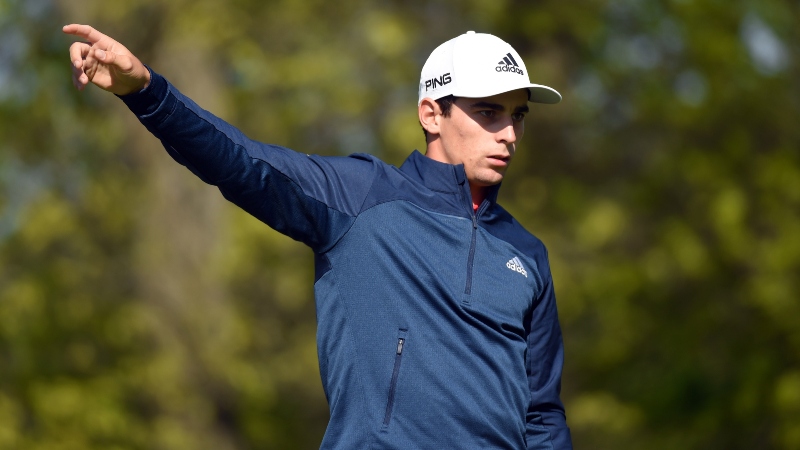 Top-20
One player to finish top-20.
Tom Hoge (+1000)
The chalk stops here. It's 230 miles from Hoge's hometown of Fargo, N.D., to Blaine, Minn., and I'm guessing plenty of Hoge's family and friends will make that trip to cheer him on.
They'll find a player who hasn't quite been tearing up the tour, but has been consistent, with six made cuts in his last seven starts.
This is a nice price for a player who only has to finish in the top 12 percent of the field to cash this ticket.
He'll still have to beat the odds, considering his last top-20 came nine months ago, but there's hope: At No. 362 in the world, he ranks just nine places lower than Lashley was before his win last week.
---
DFS Free Bingo Square
A safe plug-and-play option for DFS.
Rory Sabbatini ($9,500 DK, $10,000 FD)
Without many big names in the field, there are plenty of ways for DFS players to get creative with lineups this week, whether that means loading up with four studs and back-ending with two others, or grabbing a half-dozen safe, second-tier guys.
Sabbatini is less than $1,200 above the average on DK and right at it on FD, which should make him an extremely popular play.
Last week's T-3 was his third result of sixth-or-better in his last five starts and he hasn't missed a cut in five months. I'd expect the Slovakian – yes, he's officially Slovakian now – to be a stalwart of many lineups this week, but all for good reason.
(For a lower-priced plug-and-play option, check out Cameron Tringale, who's been top-25 in four of his last six starts, but still hasn't quite been priced up to reflect his performance.)
DFS 'Dog
A lower-priced option for DFS.
Dominic Bozzelli ($6,400 DK, $7,100 FD)
The truth is, I've wanted to give this guy a mention at some point, because I think he's got some potential, but I've never quite wanted to dip my toe into the D-Bo waters against stronger competition.
If he's ever going to contend, this would seemingly be the week.
Last week, he posted sub-70 scores in three of four rounds, closing with a 68. Perhaps more importantly, his driving distance average of 319 topped his season average by nearly 25 yards. Throw in the fact that he's a very good putter and maybe this is the week that Bozzelli finally attracts some attention. And hey, unless people are actually reading this thing, you should be able to get him at very low ownership numbers.
A few others I like for varying degrees of dart throws: Brice Garnett, Brandon Harkins, Scott Langley, Trey Mullinax, Sam Ryder and Sepp Straka.
---
First-Round Leader
One player to post the low score Thursday.
Mackenzie Hughes (+10000)
Why do I like Hughes in this situation? Oh, I don't know. Maybe it has something to do with the little fact that he's absolutely crushing Thursdays lately.
In his last five starts, here are Hughes' opening-round scores: 66-64-66-68-67.
That's a scoring average of 66.2, which blows away his second-round average of 70.8 during that same stretch.
Clearly, the Canadian has unlocked some secret to starting hot, so let's try to take advantage of it while he is.
---
Matchup Man
One player who should beat comparable players.
Luke List
I like List on any track where it appears driving will be important, though his recent record of three straight MCs has me gunshy toward taking him for a top-10 or DFS pick.
Instead, let's focus on List just beating one other player at a time.
I like him in most other potential matchups – at least, against those who aren't also mentioned somewhere in this column – as he owns an advantage with the big stick off the tee.
---
The Big Fade
One top player to avoid at this tournament.
Brooks Koepka (7-1)
Well, I'd gotten this far in the preview without ever mentioning the tourney favorite, but there's good reason for that: This isn't a major championship.
I've written previously that there might be a point when Koepka develops a peculiar reputation as a guy who "can't win the other ones" and then, playing with that preferred chip on his shoulder, decides to dedicate himself to winning non-majors and starts doing it.
Until that time, though, I just can't imagine the four-time major champion will be too motivated to dominate the field in Minnesota, just as he wasn't motivated to win in Connecticut or Canada before that.
When it comes to Koepka at a non-major, this is an easy red flag for me to avoid.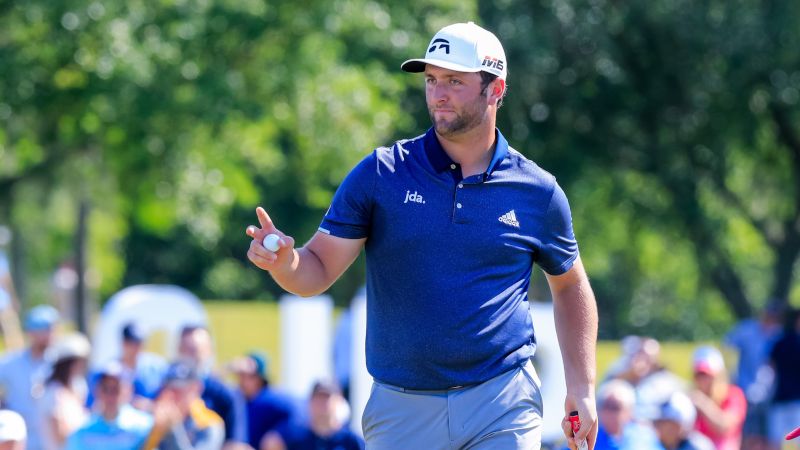 Off Tour
My favorite non-PGA Tour play of the week.
Jon Rahm: Top-five finish at the Dubai Duty Free Irish Open (+175)
This isn't hard, guys. Rahm won this event two years ago and finished T-4 last year, just two strokes back. Granted, it's at a different course this year, but he'll arrive at Lahinch on the wave of a T-3 at the U.S. Open and T-2 last week in Spain.
Sometimes we overthink these things. I'm guilty of it, too.
Let's not overthink this one.
Rahm is the best player in the field, he's in form and he loves playing links-style golf.
Give me the top-five bet just to be safe, but if you want to go for the glory and take him to win, I don't have a problem with it.
How would you rate this article?