Perry's 3M Open Betting Guide: Is Now the Time for Sungjae Im?
Credit:
John David Mercer, USA Today Sports. Pictured: Sungjae Im
Brooks Koepka (7-1) is the favorite at the 2019 3M Open at TPC Twin Cities in Minnesota.
The 3M features a weak field and there are only two weeks left before the British Open, so the elite players may not be motivated to win this tournament.
With that being the case, Josh Perry is searching for value further down the odds.
The Rocket Mortgage Classic came and went without much we could do from a betting perspective.
Nate Lashley ran away with the event from start to finish, but since he was an alternate that was added late into the field, most books didn't have him listed in the odds before the tournament. The best time we could even look to add him was after he was the first-round leader when his number was as high as +3300.
Lashley has been a guy we've had on the card a couple times this year and was trending toward a breakout, so it's not a huge surprise he came out on top of an event like this. He was sixth in strokes gained: approach at the U.S. Open and that iron play carried over into this tournament.
We move from one new event to another with 3M Open in the Minneapolis area. The course has held numerous Champions Tour events, but this will be the first time the PGA Tour will get at crack at TPC Twin Cities.
The Course
TPC Twin Cities was lengthened a bit to better fit the PGA Tour and will check in around 7.400 yards for a par 71. That is about 300 yards longer than the setup for The Champions Tour event here.
This course has typically favored long hitters who can keep the ball in play off the tee. Anyone who dodges the water and is able to handle the putter will be able to shoot in the mid-60s with regularity.
The Favorites
We're in the middle of a down stretch for the PGA Tour and the fields before the Open Championship will show it.
This week isn't an exception. We have four guys under 20-1, starting with the favorite Brooks Koepka (8-1). It's always nice to see Koepka at the top of the odds in these type of events, because he's stated numerous times that they don't have his full attention.
He's talented enough to win at any time, but he's not likely to go and grind out a result two weeks before a major.
The next two in the odds, Hideki Matsuyama (10-1) and Jason Day (10-1), have been playing well but haven't really been able to string four rounds together.
Matsuyama in particular has been finishing well in a lot of tournaments. He's climbed the leaderboards late in the tournament with strong closing performances. Usually that's a sign the guy is ready to contend, but for Hideki, that just hasn't been the case yet.
The last guy at the top is Bryson DeChambeau (14-1). He went through a cold stretch a few months ago, but seems to be getting back on track. I'm not backing him at all, but I have a bet on him at The Open so I'd like to see the good form continue and build toward that event where he can hopefully peak.
Mid-Tier
I'm not going to play any of the favorites in an event like this. We saw last week with a weaker field how longshots dominated the leaderboard. There's just not much motivation for the higher-level players other than to round into form for the last major.
I'm going with a similar strategy to last week where I'll back a couple guys in this range, then just pepper in some long shots.
I'll go with two talented youngsters in Joaquinn Niemann and Sungjae Im. Both have been on my cards at different times this season and eventually, they're going to get a win on Tour.
Motivation is key this week, so with these two having never won, I imagine they'll treat this the same as every event where as some of the bigger names may have their sights set to Royal Portrush.
We'll start with Niemann who is available at 33-1. He's finished fifth in the last two events and has gained strokes in all four areas in three of his last four events, so the all-around game is there to contend.
Im (40-1) has cooled off a bit after some strong results earlier in the year. But after a string of missed cuts, the tee-to-green game has slowly turned around and he's finished 21st or better in three straight events.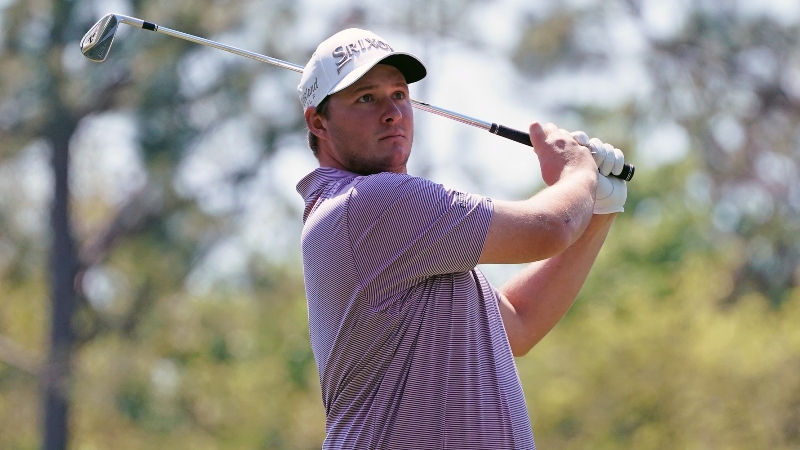 Longshots
Weak fields with an unknown course can lead to even more randomness than what we normally see on the PGA Tour.
So with that, I'll back five guys in this range and see if any of them can get into contention.
First up are Sepp Straka and Mackenzie Hughes at 125-1 each. Both made the card last week and Straka played well enough to get into the top 10. Hughes had some good tee-to-green numbers and has been gaining strokes in all aspects recently. He tends to just have a round where something isn't clicking and it keeps him from truly contending.
Next, we'll go with Wes Roach at 160-1. He climbed into third last week and was also 11th in Canada, so his game appears to be trending in the right direction.
I'll also go with Wyndham Clark at 200-1. Clark has a couple top 20s his last two tournaments so the game is in decent shape. He's a player I've had marked for longer, bomber-friendly courses, which this appears to be.
He's pretty long off the tee, but the accuracy is really down. He'll have to stay away from the hazards, but I'll take a chance with a guy who is seventh on tour in distance at the moment.
Lastly, I'll back Josh Teater at 275-1. I don't know if he has the length to really contend here, but the irons have been dialed in for awhile now and he's put together a string of decent results. If you can find a top-20 play in the +1000 range, that's probably the better option.
The Card
Joaquinn Niemann +3300 (1 unit)
Sungjae Im +4000 (.825 units)
Sepp Straka +12500 (.27 units)
Mackenzie Hughes +12500 (.27 units)
Wes Roach +16000 (.21 units)
Wyndham Clark +20000 (.165 units)
Josh Teater +27500 (.12 units)
Total Stake: 2.86 units
How would you rate this article?