Sobel's BMW PGA Championship, Sanderson Farms Betting Guides: Two Very Different Fields
Credit:
Brad Penner, USA Today Sports. Pictured: Andrew "Beef" Johnston
There are plenty of tournament host venues which only favor one type of player. Maybe it's big-hitters over straight-shooters, or guys who draw the ball over guys who fade it, or fearless ball-strikers over deft putters.
I've long believed that the most efficient courses, though, are those built for any type of player to succeed. Unbiased toward skillset, these tracks allow for more than one strategy of attack. The usual example: TPC Sawgrass, which has witnessed just about every kind of professional golfer in The Players Championship winner's circle over the past two decades.
I'm not so sure Country Club of Jackson would be one of the first courses to come to mind on such a list, but this week's Sanderson Farms Championship host has offered polar extremities in the last two years alone. Back in 2017, Ryan Armour was the winner; last year, it was Cameron Champ.
Let's take a look at their driving statistics during the seasons they won this event.
Armour, driving distance (2017-18): 283.5 yards (Rank: 185)
Champ, driving distance (2018-19): 317.9 yards (Rank: 1)
Armour, driving accuracy (2017-18): 73.58% (Rank: 2)
Champ, driving accuracy (2018-19): 55.30% (Rank: 175)
I'm a massive fan of any host venue that can yield this type of differentiation, but CC of Jackson isn't the only one on the schedule this week.
There are some obvious parallels between The Players and this week's BMW PGA Championship (now in its new September date) on the European Tour: Each is the flagship tournament for its respective circuit, the "most important" event for those members after the major championships.
There's similarly a parallel between TPC Sawgrass and Wentworth, as the latter also spreads around the wealth to various types of players. In the last decade alone, winners here have ranged from big hitters Rory McIlroy and Paul Casey to more precise players Luke Donald and last year's champion Francesco Molinari.
A greater range of potential contenders makes for a fun watch as a fan, but the unpredictability can understandably be problematic for bettors and fantasy players.
With interest in both of this week's events, let's examine them together, bouncing back and forth between each of 'em on either side of the pond.
Outright Winner
One player to win the tournament.
Sanderson Farms: Scottie Scheffler (25-1)
As I mentioned in last week's preview, I always prefer going after younger players during these fall events, for a few reasons: 1) They're hungrier and (largely) more motivated; 2) Most have played competitive golf more recently than veterans; and 3) They don't yet grasp that marathon-not-a-sprint mentality of more seasoned peers.
That strategy worked to the tune of witnessing 20-year-old Joaquin Niemann claim his first title – and I think it could similarly work for another up-and-comer in Scheffler this week. He led the field in total driving last week and as we've seen from the last two Sanderson winners, you either have to drive it long or straight on this course. Both is even better.
BMW PGA: Tommy Fleetwood (20-1)
It's been a good year for Fleetwood. OK, a very good year, by any standard, with four top-fives, including a runner-up at The Open Championship. The only thing he hasn't done is win, which is keeping his year from being better than just "very good" for a player of his caliber.
He hasn't found much success at Wentworth, his best result being a T-6 four years ago. Call this one a hunch, but it just feels like the year won't end without Tommy claiming some hardware. He'll have a few more opportunities, but off a few weeks of rest, expect him to bring his best stuff to this one.
Other OADers
Potential selections for one-and-done options.
Sanderson Farms: Brian Harman (28-1)
Last week, Harman finished T-3, gaining strokes off the tee, with his approach shots, around the greens and putting. It certainly seems like he's firing on all cylinders right now. Heading to a track which features small Bermuda greens could lead to a convergence of form and function, as yet another strong results should await.
BMW PGA: Matt Wallace (28-1)
Like Harman, he's fresh off a third-place finish last week. And like Harman, he's heading to a course which should suit his game. Wallace was T-20 in just his second career start at Wentworth last year, but I'd argue he's a much more complete player than he was only 15 months ago.
Top-Five
One player to finish top-five.
Sanderson Farms: Sungjae Im (+500 for top-five)
True story: I've got a buddy who recently vowed to place an outright bet on Im every week until he wins. If his "drought" goes much longer, that won't be a profitable proposition. My advice – not that he'll take it – is to hedge with a top-five bet this week and every other week until that inevitable winning wager finally cashes.
BMW PGA: Matt Fitzpatrick (+600 for top-five)
A popular pick to win this week, I bounced back and forth between Fitz and Fleetwood before denigrating the former to a mere each-way selection, as they call it in the overseas books. With two top-four results in his last three starts – and three in his last seven – it's hard to believe he won't be in the mix on a track where he's been T-8 and T-12 the last two years.
Top-10
One player to finish top-10.
Sanderson Farms: Emiliano Grillo (+295 for top-10)
In a way, Grillo reminds me a bit of Rickie Fowler, who sometimes needs to play an event with a weaker field, just to gain some confidence in being one of the most talented players there.
He's sort of in this purgatory where he's not quite on the same level as the elite players on the PGA Tour, but he's more talented than most others. Throw in the fact that his lone win came during the fall part of the schedule four years ago and I like him to ooze that confidence this week.
BMW PGA: Erik Van Rooyen (+260 for top-10)
If you watch the European Tour on a regular basis, you'll notice certain players who just seem a cut above the competition. I'm talking beyond the Rory McIlroys and Justin Roses. Of those who compete mainly on the Euro circuit, Wallace is a guy who strikes me as an OWGR top-10 player in the making and EVR isn't too far behind him in terms of talent. Expect him to show it off this week.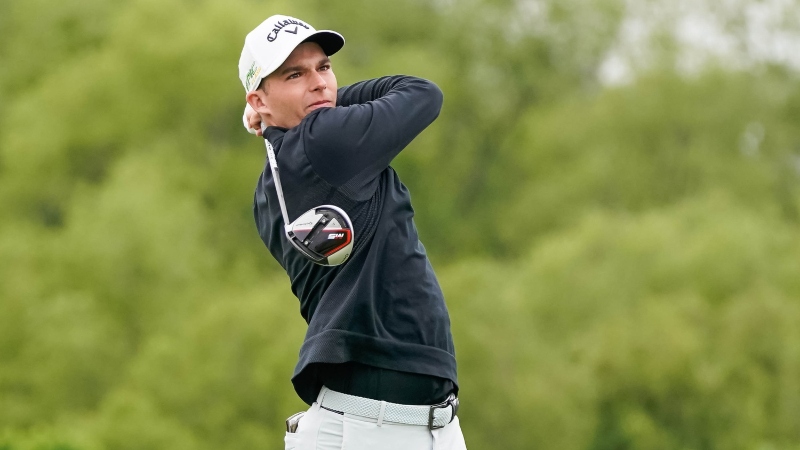 Top-20
One player to finish top-20.
Sanderson Farms: Aaron Wise (+225)
I'm not sure if this is the perfect spot for Wise, but he's about to vault a whole lot of players in terms of status and ranking, so I want to be on the right side of this too early instead of too late.
Consider this as much a long-term top-20 pick as a current week top-20, though I'd hop on the bandwagon before it gets too crowded.
BMW PGA: Andrew Johnston (+325 for top-20)
Let's all say it together: BEEEEEEEEEF! He's known as the jolly guy with a big smile, but Johnston revealed a few months ago that he'd undergone a bout with depression that seriously impacted his game.
He now says he's in a better place mentally and his game has turned around, as well. With finishes of 23-10-MC-4 in his last four starts, this feels like a nice play for the situation.
DFS Free Bingo Square
A safe plug-and-play option for DFS.
Sanderson Farms: Robby Shelton (DK $7,200; FD $8,600)
Wait a second … a guy playing his second event as a PGA Tour member is the "safe" DFS play for this week? That's right. Shelton, an Alabama product, looked solid enough last week to convince me he's about to go on a nice little run. As with Harman, the Bermuda should be to his liking.
BMW PGA: Jon Rahm (DK $11,000)
Sure, I could've easily gone with McIlroy in this spot – and nobody would be surprised if he winds up winning at Wentworth – but Rahm is the epitome of the "safe" option right now. In his last eight worldwide starts, he hasn't finished lower than 13th place. You'll have to pay up to get him, but the numbers show he's worth it.
DFS 'Dog
A lower-priced option for DFS.
Sanderson Farms: Grayson Murray (DK $7,600; FD $9,000)
I mentioned Murray in last week's column, too, and while he hardly triumphed with a T-36 result, he did drive the ball nicely throughout the week. He's the prototypical high-ceiling/low-floor type of player, even if he didn't show it last week. You might get a trunk-slam by a mile, but you just as easily might get a title contention.
BMW PGA: Mathieu Pavon (DK $6,500)
There are plenty of intriguing low-cost options for this tourney, but Pavon stands out. Sure, the world's 400th-ranked player has missed the cut in five of his last eight starts, but his other three finishes include two 10th-place results and a T-23.
If you want a player who could exceed his value, he's shown a propensity for that lately – at least when he's making the weekend.
First-Round Leader
One player to post the low score Thursday.
Sanderson Farms: Charley Hoffman
Total shot in the dark here, but then again, all FRL bets are a total shot in the dark. The Hoff had a pretty brutal 2018-19 season and finished 180th in first-round scoring average.
There's no reason to pick him here, other than the fact that he's got a nice price, owns a tendency to go low out of nowhere and he's playing this event, which isn't usually on his schedule and could mean he's a little extra motivated to get back out there.
BMW PGA: Sam Horsfield (85-1)
This kid owns a ton of game – and he's shown a willingness to go low right off the bat. Horsfield, an Englishman who played at the University of Florida, has broken 70 on Thursday in four of his last five starts and also opened with a 67 at this tournament last year.
Matchup Man
One player who should beat comparable players.
Sanderson Farms: Sebastian Munoz
Fresh off a T-7 result during which his tee-to-green game appeared locked-in, Munoz is a guy who should remain below the radar and offer some choice matchups against players who aren't nearly in the same kind of form.
His T-50 at this event last year doesn't exactly inspire confidence, but at least he's seen the course and knows what to expect.
BMW PGA: Matthias Schwab
The Austrian has been garnering some respect in the market recently – and for good reason, as he's finished top-eight in three consecutive starts.
Against a star-studded field like this one, though, Schwab's name will remain a bit more hidden. It should be impossible to find a matchup against anyone else who has played better lately.
The Big Fade
One top player to avoid at this tournament.
Sanderson Farms: Brandt Snedeker (18-1)
He's never before teed it up at this event. While I applaud him for putting a new one on his busy schedule, I can't help but believe that a player of Sneds' caliber might not be as inspired as we'd want the third man on the outright board to be this week.
BMW PGA: Patrick Reed (33-1)
There are a handful of American players competing on the Euro circuit this week, from Tony Finau to Billy Horschel to Andrew Putnam. I'm not too keen on any of them, but especially Reed, even though he ended the PGA Tour season playing his best golf of the year.
The past Masters champion fancies himself as a global player who plies his craft all over the world and while that's a commendable goal, his results show his best golf still only takes place on home turf.
How would you rate this article?