2019 FedEx Cup Betting Guide: Which Longshots Can Make A Run?
Credit:
Steve Flynn, USA Today Sports. Pictured: Justin Thomas
Brooks Koepka (2-1) is the betting favorite to win the 2019 FedEx Cup Championship.
Jason Sobel looks back at past winners and tries to highlight which players in the field actually have a chance to win this year's trophy.
JERSEY CITY, N.J. – We're now a dozen editions into the FedEx Cup, which means we can finally start spotting some trends amongst the winners. In fact, if we examine each of the playoff champions, we can break them down into three specific categories:
Best Player for the Entire Season Who Continued in the Playoffs
Consistent Player Who Flourished in the Playoffs
Longshot Player Who Got Hot in the Playoffs
Perhaps a few players overlap into multiple categories, but for the most part we can safely place each winner's name under one of these headers.
Let's take a look at which winners fit into which categories – along with two of my picks for each who can win it this year.
Best Player for the Entire Season Who Continued in the Playoffs
Tiger Woods, 2007
Tiger Woods, 2009
Jordan Spieth, 2015
Justin Thomas, 2017
The first three names on this list – Woods twice and Spieth once – each entered the playoffs at No. 1 in the standings, then won at least one playoff event to stiff-arm the competition and take the $10-million prize. Technically, Thomas "only" ranked second, but fresh off his first major win two weeks before the playoffs started two years ago, it's difficult to say he wasn't the best player at the time.
Which guys can win this year from this category? Well, there are two pretty simple answers.
Brooks Koepka (2-1)
Now that he's won the WGC-FedEx St. Jude Invitational and apparently erased that he-can't-win-a-nonmajor narrative, it wouldn't be too surprising to see Koepka, who starts at No. 1 this week, start conquering other events like he's done at majors. He's already captured $2 million from the season-long Wyndham Rewards Challenge – though someone might still have to tell him about that one – and with eight months before he needs to "worry" about the next major, he might as well just load up the bank account.
Rory McIlroy (13-2)
If Koepka stumbles – or can't quite muster enough motivation – the man at No. 2 on the list should be primed for a nice three-week stretch. McIlroy won the Cup three years ago, thanks to a brilliant final round at the Tour Championship, and he could certainly run away with it again. The secret for him will be summoning that Sunday magic; many of his nine top-10s this year have been serious title contentions through 54 holes, but he's only converted those into a pair of victories.
Consistent Player Who Flourished in the Playoffs
Vijay Singh, 2008
Jim Furyk, 2010
Henrik Stenson, 2013
Justin Rose, 2018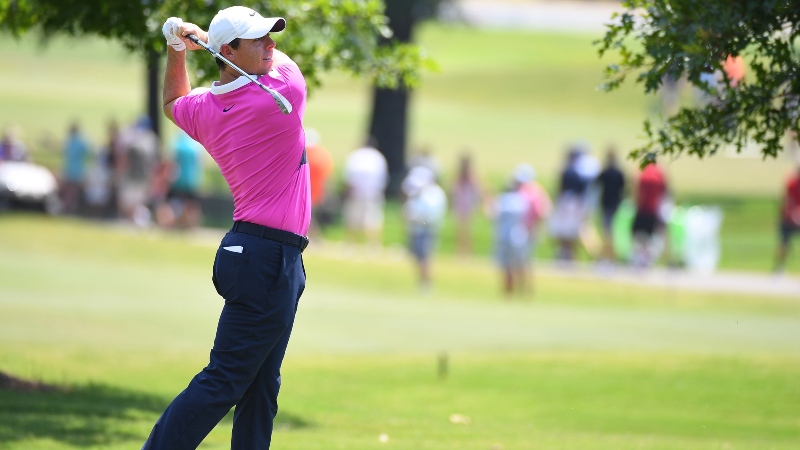 Each of these players ranked inside the top-10 prior to starting the playoffs in the year they won. Singh and Stenson won twice; Stenson won the Tour Championship; and last year, Rose became the first player in the FedEx Cup era to win it all without winning a single playoff event, as he finished top-five in three of 'em.
Obviously, there are more options from this category. Here are two of 'em who I think can win it all.
Patrick Cantlay (16-1)
To date, his win two months ago at the Memorial Tournament has been his career-defining moment, but nobody who's watched him over the past two years really believes that will hold true for much longer. Cantlay is destined for big things and a FedEx Cup title could propel him to such lofty heights. He's reached the finale at East Lake each of the last two years, finishing a disappointing T-20 and T-21, but he's a more mature and confident player now, one who should make some noise from the No. 6 position.
Justin Thomas (20-1)
At 16th in the current standings, he's further down the list than any of the four previous winners in this category, but that's largely based on the fact that he missed two months due to a wrist injury earlier this year. As I wrote before the WGC two weeks ago, I believe JT's time on the shelf could wind up being a blessing in disguise, leaving him fresher and more motivated in late-summer, while many of his upper-level peers are hitting the proverbial wall at the end of a long year.
Longshot Player Who Got Hot in the Playoffs
Bill Haas, 2011
Brandt Snedeker, 2012
Billy Horschel, 2014
Rory McIlroy, 2016
None of the players on this list would've been near the betting favorites entering the playoffs in any of these years, but they all won at East Lake to solidify their spot atop the final list. Yes, that includes McIlroy, who salvaged a good-but-not-great season that concluded with him ranking 36th before the playoffs, only to win twice. Horschel remains the largest underdog to win the FedEx Cup, coming from the 69th position to finish MC-2-1-1 in the playoffs and claim the title.
Let's take a shot in the dark on two players who could make a run this month.
Hideki Matsuyama (60-1)
Welcome to the world of Matt Kuchar, Hideki. Though he hasn't won this year, Matsuyama has been amongst the most consistent players, making 19 starts and finishing top-25 in 12 of 'em, while only missing the cut twice. As usual, it'll come down to his putting over the next three weeks. If he can start rolling it consistently, Matsuyama can make a big move from the 29th spot.
Jason Day (100-1)
What a weird season for Day. He finished top-25 at three of the four majors, finished top-10 in more than 30% of his starts and was barely a blip on the radar as so many of his elite-level peers cruised past him on the world ranking. Day enters this week at 39th in the standings, a number eerily similar to that of McIlroy three years ago, after a season that was eerily similar to McIlroy three years ago. If you believe in that template for a world-class player, then Day might be following it to perfection.
How would you rate this article?