Sobel's John Deere Classic Preview: Expect Wolff, Hovland and Morikawa to Keep Rolling
Credit:
Bill Streicher, USA Today Sports. Pictured: Collin Morikawa
The 2019 John Deere Classic begins on Thursday, July 11 at TPC Deere Run in Silvis, Illinois.
Three of golf's brightest young stars: Viktor Hovland, Collin Morikawa and Matthew Wolff are among the favorites this weekend.
Jason Sobel previews the tournament and analyzes whether or not you should invest in the young guns.
Fresh off a victory from a 20-year-old, this feels like a good time to discuss age and its correlation to success in professional golf.
Many people within the game will recite the old line about how the ball doesn't know how old the guy is who's hitting it. That's obviously true, but those same people also recite the line about golf being 90% mental — and you'd better believe that a 20-year-old and a 45-year-old own fairly disparate mentalities toward approaching the game.
Because of these specific differences, I'd argue that age doesn't just matter, it's an essential puzzle piece to finding success.
Most 45-year-olds can't win by smashing driver at 100 percent speed and playing more aggressively than strategically. By the same measure, a 20-year-old can't rely on situational experience to guide him through a final round, because, well, he doesn't own any.
I'll put it like this: If Matthew Wolff has scar tissue from previous losses, if he has worries about failure, if he has a mortgage and investments and 2.5 kids waiting to run onto the final green, it all changes his mental approach. And again, we all understand what a mental pursuit this is.
Oh, I get that some readers will downplay this idea, perhaps pointing out facts like, say, Tiger Woods winning the Masters at the ages of both 21 and 43. That is true, except the way that he won his first and fifth green jackets were eminently different. He owned a completely different mentality for each one. Which is to say, 21-year-old Tiger probably couldn't have won playing like 43-year-old Tiger and 43-year-old Tiger certainly couldn't have won playing like 21-year-old Tiger.
Let's get to this week's John Deere Classic, which might serve as Ground Zero for the argument that age matters, even if it doesn't discriminate.
Need proof? Here are the ages of the last 12 winners in the Quad Cities: 24-23-33-21-27-19-36-44-43-42-47-29. Average 'em out and it's a very normal 35.3 years old, but with only three winners in the 12-year range around that average, from 29 to 41.
Granted, Jordan Spieth, with wins at 19 and 21, and Steve Stricker, with wins at 42, 43 and 44, each help move the numbers in their own direction, but others have followed suit.
While some might analyze these numbers and assume that age doesn't matter, it's all part of my argument that age absolutely matters. There's a reason why Stricker didn't win this tourney in his 20s (he became a much better player late in his career) and why Spieth likely won't win it in his 40s (once he became an elite talent, he took it off his schedule).
Time for the weekly picks, highlighted by the twenty-somethings who are starting to set the golf world ablaze. A month ago, they were still amateurs. Now they're the pre-tourney favorites.
Outright Winner
One player to win the tournament.
Collin Morikawa (20-1)
Nothing like jumping on the bandwagon, huh?
One of the previously "overlooked" players in the recent post-college crop, Morikawa looked terrific in finishing T-2 at the 3M Open last week.
He insists he's always been a strong ball-striker and he's already proving it at the highest level. For the tourney, he gained more than 10 strokes on the field in approach shots to finish No. 1 in that category.
And yet, that was only like the third-most impressive thing I saw from him last week.
The first: This is an unbelievably mature 22-year-old. It's one thing to own plenty of game inside the ropes, but Morikawa seems just as capable dealing with fans and media off the course. Don't underestimate how important that is, either. Success comes when a player feels comfortable in all surroundings, not just with a club in his hand.
The second: Morikawa opened with bogeys on two of his first three holes Sunday and instantly plummeted down the leaderboard. Other young players — or even older players — might get dejected and chalk it up to a learning experience. He rallied to post a back-nine 30 and give himself a chance to win at the end.
Let's also not underestimate the impact that veteran caddie J.J. Jakovac can have on his game. Jakovac spent eight years on Ryan Moore's bag, but became available after the PGA Championship two months ago. He declined a few other offers, but jumped at the chance to work with Morikawa, whom he spoke to me about in glowing terms.
Just like a young quarterback needs his go-to wide receiver, I think young professional golfers need a smart caddie they can rely on. Jordan Spieth wouldn't have gotten to where he is without Michael Greller; same for Jon Rahm and Adam Hayes. Morikawa and Jakovac could be a very good team for a very long time.
Oh, and one more note to tie it all together: Three years ago, Moore was the winner of the John Deere, with — you guessed it — Jakovac as his caddie.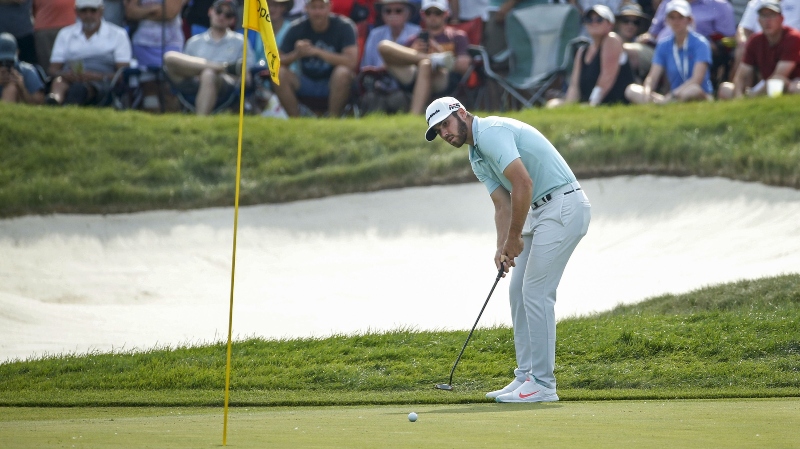 Other OADers
Potential selections for one-and-done options.
Viktor Hovland (18-1) and Matthew Wolff (25-1)
Somebody please find me a price on career wins between these two college teammates.
Combined, I think the current O/U would be too inflated right now, with most of my fellow golf media members ready to induct them into the HOF already.
The more intriguing wager is Wolff vs. Hovland over the long haul. If I was making this bet, I'd eat the 1-down current deficit and drive in the HOV lane to join the Norwegian Legion.
This isn't some referendum on Wolff's swing or a fade because I don't like his game. I just believe that, in the small sample size we've seen so far, Hovland might own a little more explosiveness.
Either way, it's a fun debate. My guess is that if we put it to a vote right now, Wolff would win, but only due to decency bias. People can't wrap their minds around forgoing a 1-0 lead.
Unless you jumped on one of these guys in the last few weeks (and kudos if you had Wolff this past weekend), then you've still got 'em all available for OAD pools. As they've proven so far, they're not scared to light it up in the big leagues already.
Charles Howell III (28-1)
As you may recall, two weeks ago, prior to the Rocket Mortgage Classic, I wrote about how Rickie Fowler's chances to win have been limited since early in his career, because he plays so many elite-field events.
I feel like Howell, another guy who's been snake-bitten by a lack of wins over the years, is sort of the opposite.
More than anyone else over the last two decades, Howell has been consistent, but also consistently on the bubble of getting into fields at majors and WGCs. As a result, he winds up playing more second- and third-tier tourneys than most others of his talent level – and trust me, he owns plenty of talent – but that's resulted in just three wins against a whopping 15 runner-up finishes.
This week, he's legitimately one of the best players in the field. Following a stretch during which he MC'd in three of five starts and WD'd in one other, he's starting to move in the right direction once again, with three straight results in ascending order.
Matt Every (125-1)
Hey, I couldn't list only chalk in this section. What I like about Every in this situation is that 1) he'll likely be very low-owned in OAD pools (and DFS lineups); and 2) he's proven he can win a tournament.
I mean, it's pretty nuts that Every owns just one fewer PGA Tour victory than Howell.
He's certainly part of the high-ceiling/low-floor gang, but if Every gets things moving in the right direction early, he should keep it going if his interest is piqued on the weekend.
Top-Five
One player to finish top-five.
Sungjae Im (+550 for top-five)
Shhh … don't ruin anyone's narratives, but Im is actually younger than Morikawa and Hovland, and less than a year older than Wolff.
Im already owns 11 top-25 finishes this year alone, including each of his last four starts, punctuated by a T-15 at the 3M last week.
Even though his last top-five came at the Valspar Championship four months ago, I still love a price bigger than 5-1 for him to replicate that feat this week.
Top-10
One player to finish top-10.
Brice Garnett (+950 for top-10)
What I like about this one is that it hasn't cashed this year – yet.
Garnett's last top-10 result came late last year at Mayakoba, but he's been trending in the right direction. After finishes of T-17 in Detroit and T-23 in Minnesota, I like him to step on the gas pedal a bit this week and make a stronger charge on the weekend.
He's accurate off the tee (eighth this season) and finds a lot of greens in regulation (28th), all of which should correlate nicely to TPC Deere Run.
Top-20
One player to finish top-20.
Talor Gooch (+260)
One of the great things about making predictions is that you can rationalize just about anything to get it in your favor.
Just as I like Garnett for a top-10 because it hasn't yet happened this year, I like Gooch for a top-20 because it has – pretty often, in fact.
In 13 starts, he's already posted five top-20 finishes, largely on the strength of his ball-striking. He's been very impressive in some bigger fields, so don't be scared to play him in a few other options, too.
DFS Free Bingo Square
Kyle Stanley (DK $8,800, FD $10,000)
Editor's note: A previous version of this article had Kevin Streelman listed. He has withdrawn from the John Deere Classic.
After a brutal start to his year, Stanley has finally gotten things moving in the right direction — especially recently, with three straight results trending better each time.
He should be one of the best ball-strikers in this field, too. As Justin Bailey wrote in his FantasyLabs piece, Stanley ranks fourth in strokes gained approach shots and 10th in strokes gained tee to green over his past 24 rounds.
It's been eight years since he finished runner-up to Steve Stricker at this event while in search of his first win, but he's a two-time winner now and a more complete player. I like this week in all formats.
DFS 'Dog
A lower-priced option for DFS.
Sam Ryder (DK $7,500, FD $8,900)
My favorite category for this week's event, because there are so many juicy possibilities.
I considered Hank Lebioda, who's been trending in the right direction lately. I thought about K.H. Lee, who's played well on some similar tracks. I almost went with Bronson Burgoon, who was T-2 here last year.
In the end, I went with Ryder, whom I've liked in a few different events recently and don't want to miss out on should he replicate last year's success here.
Like Burgoon, he was co-runner-up, though well behind winner Michael Kim. And as I wrote about a few weeks ago, his results are lagging behind his performance numbers. In other words, he's like a baseball pitcher who's given up a lot of RBI bloop doubles, but is expected to see some positive progression when those batted balls find his fielder's gloves.
At some point, his impressive stats should lead to better finishes.
First-Round Leader
One player to post the low score Thursday.
Mackenzie Hughes (70-1)
Last week, I wrote about Hughes' recent penchant for going super low early on, posting rounds of 66-64-66-68-67 in his previous five Thursday rounds.
Well, he backed it up with another 67 last week at the 3M, which was still five strokes shy of overnight leader Scott Piercy.
This is becoming a nice trend, though, and I'm going back to the well one more time for Hughes at a big number.
Matchup Man
One player who should beat comparable players.
Sam Burns
This might seem reactionary after he posted a 2019-best T-7 last week, but there's more to it than simply chasing form.
In his last 14 starts, Burns has been forced to withdraw on two occasions due to injury. In the other 12 circumstances, though, he's made the cut every single time.
As I keep writing in regard to head-to-heads, I like picking guys who regularly make a lot of cuts, because it feels like we're getting two chances to win these bets – on Friday afternoon and Sunday evening.
Burns should give us those options again this week.
The Big Fade
One top player to avoid at this tournament.
Ho Sung Choi (400-1)
I don't usually recommend fades on players who are already easy fades, but I thought this one needed a special public-service announcement.
Everybody's favorite helicopter-swinging, wide-smiling golfer is in the field this week, offering us viral videos in real time. I'll admit it: The dude owns some pizzazz. If you haven't seen him yet, just click here, or here, or here or absolutely, definitely here.
Maybe those clips are just enough to elicit a few smiles and move on with your picks for the week.
Or maybe you're thinking Choi can bottle this fun and parlay it into a big-time result.
Even if you're not betting the ultimate outright longshot, you might be thinking of putting a few bucks on him for a top-10 or top-20. You know, just to give you someone to root for.
But we should know by now: Don't put your money where your heart is. A wager on Choi is roughly the equivalent of a New York Knicks fan picking their team for an NBA title. It's a cool ticket to show your buddies, but ultimately it's not going to win you any cash.
In his last six starts, all on tours in Japan and Korea, Choi has posted the following results: 50th-MC-55th-WD-MC-WD. In his lone previous PGA Tour start, he posted scores of 72-75-77 at the AT&T Pebble Beach Pro-Am this year, beating just 14 other competitors in a notoriously weak-bottomed field.
He's a fun dude to watch. You might be drawn to the theatrics and want to bet him or put him in a few DFS lineups. Just don't do it. Enjoy the show – for free.
Off Tour
My favorite non-PGA Tour play of the week.
Matt Fitzpatrick: Scottish Open top-10 (+225)
Short odds here, but I'll be keeping a very close eye on Fitzpatrick at The Renaissance Club leading into next week's Open Championship.
He's been good this year, but still hasn't quite realized his immense potential, with a runner-up on each major tour, but no wins yet for the first time in five years.
The good news about Fitz is that he owns the talent and mentality to put his game into a different gear and go really low, as evidenced by low rounds of 67 at the Masters, 65 at the PGA Championship and 68 at the U.S. Open. The bad news is that he can similarly blow up in the same situations, as his high rounds in those same three majors this year were 78, 76 and 72, respectively.
He's listed at the same price this week as Rafa Cabrera Bello and Matt Wallace, each of whom I put in the same category – guys I like this week, but more for what it could mean next week at Royal Portrush.
How would you rate this article?