2019 Masters Round 3 Betting Picks: Jason Day, Justin Harding Both Mispriced
Credit:
USA Today Sports. Pictured: Jason Day and Justin Harding
Tiger Woods enters Round 3 of the Masters as the betting favorite to win.
Our experts detail their favorite bets for Round 3, including one golfer with odds too good to pass up.
After two rounds we have a five-man tie atop the leaderboard at Augusta, with a familiar name favored to win it at 6-1. Hat tip to you Mr. Woods.
The field is down to 65 players after the cut, but that didn't stop our experts from firing away on their favorite bets for Round 3.
Below, they'll hit on three matchups of interest, one Round 3 leader with value, and two outright futures. Good luck!
Bet: Charles Howell III over Phil Mickelson (+105)
Both Howell and Mickelson have been playing well through the first two rounds of the tournament. Howell's ball-striking has been stellar, hitting 75% of greens in regulation so far, which isn't far off from his 75-week average.
Mickelson has hit just 61% of greens in regulation — granted, a lack of greens in regulation has never held Phil back before with his elite putting and work around the greens, but I'll take the plus-money with Howell who just fired off a round of 67.
Bet: Jason Day 9-1 to win the Masters.
He could barely walk on Thursday and is now tied for the lead heading into the weekend. I believe the uncertainty surrounding his health is reflected in the markets a little too much, which makes +900 a value. Day shouldn't have longer odds than Koepka, DJ, Woods and Scott.
Bet: Bubba Watson -0.5 over Keegan Bradley -105
This play is basically a fade of Keegan. He tends to struggle with the putter as much as anyone on Tour, but on Friday, he knocked in seven from 10 feet or longer. I'm expecting some regression there.
While Bubba hasn't been at his best this week but we seen him play well here in the past and his tee-to-green game has been solid all season.
Bet: Justin Harding, Round 3 Leader (33-1)
Look, you wanna win even-money or you wanna make some real cash? The least known name on the leaderboard predictably owns the most value — but this is a great number. (One book had a tremendous number posted last night at 300-1, but that's since been taken down.)
Harding, who's won five times globally in the past year alone, stands at 6-under entering the third round, just one stroke behind a fivesome of leaders.
I can understand his price being higher than any of his big-name fellow contenders, but 33-1 seems awfully excessive. Even better: He's not paired with Tiger or DJ or any other potential intimidator; for as talented as Xander Schauffele is, I don't think his presence will make Harding too nervous at all.
And another thing: If there's a split at the top, Harding will simply chop the bet. Hell, there could be 10 guys tied for the lead; if he's one of 'em, that's still a 3-1 payout.
Count me in. I love this bet.
Dr. Lou Riccio, Ph.D.*
Bet: Brooks Koepka (-105) over Adam Scott
Adam Scott has looked great through two rounds at Augusta National, and he's proven he can win here. But in Brooks Koepka, you're getting the winner of three of the past six majors at nearly even odds.
My odds give Koepka about a +0.7 stroke advantage for the third round, enough to convince me to take this. Koepka's putter has been lights-out in all his major wins, and he had 30 putts on Friday — to go along with a bad double bogey at the par-5 second hole. Clean those areas up, and Koepka would be a favorite in the -130 to -140 range. We like Koepka here.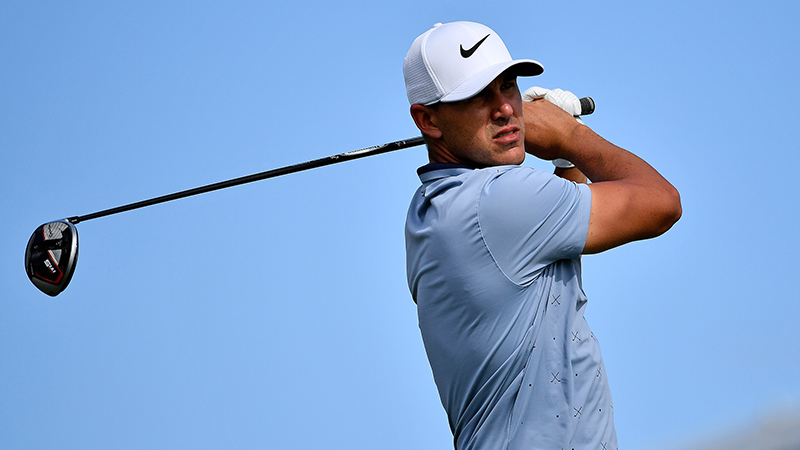 Bet: Louis Oosthuizen to win (12-1)
In Oosthuizen, you're getting a major champion (St. Andrews) who very nearly won the 2012 Masters (lost in a playoff to Bubba Watson), and you're getting nearly double the odds of others with whom he's tied with at the top of this leader board.
My model shows Oosthuizen's odds should be 10.5-to-1, so you're getting slight value here.
Dr. Lou Riccio, a PhD senior lecturer, teaches rational decision making at Columbia's Graduate School of Business and has served on the USGA's handicap research team for three decades. More of his predictive analysis can be found over at Golf Digest.
How would you rate this article?