Sobel's Waste Management Phoenix Open Betting Preview: Who Can Handle the Crowd?
Credit:
Orlando Ramirez, USA Today Sports. Pictured: Phil Mickelson
SCOTTSDALE, Ariz. — Every year when I arrive at the Waste Management Phoenix Open, a paraphrase of a classic movie line comes to mind.
That's what I love about this tournament, man. I get older, these fans stay the same age.
I'll readily admit it: Attend the PGA Tour's biggest party for a few years and you'll go from wishing you didn't have to work every day to wishing everyone else did have to work every day.
The event has undoubtedly gotten a bit out of control in recent years, as young fans who would drink and yell and scream before quieting down during players' backswings have ceded to a new crop of younger fans who drink and yell and scream, but only occasionally quiet down during those crucial moments. It's become rowdier and – if even possible – less refined in recent years.
Or maybe I'm just getting old.
All of that said, I still love this tournament. Outside of the Masters and The Open, it's the ultimate bucket-list destination for any golf fanatic. I don't know how much it grows the game; I don't know whether it suddenly turns partygoers into fans of the game.
What I do know is that having more than 700,000 spectators attend an event every year can't be a bad thing. And as long as the players know what to expect, which they do, then they won't be surprised about the raucous atmosphere.
Of course, there's a big difference between expecting it and embracing it.
If I needed another reason to love this tourney, it's that this is one of the few on the annual schedule where the impact of intangibles might usurp analytics.
It takes a special player to win in Phoenix, a player who likes playing to the crowd and enjoys being the center of attention.
That describes Phil Mickelson better than anyone else – and it should come as no surprise that he's a three-time champion here. Recent winners Gary Woodland and Brooks Koepka are a couple of bros who like flexing their figurative muscles — and their literal ones, too.
And don't underestimate the entertainment value of two-time champ Hideki Matsuyama. What, you think those one-handed finishes that land 10 feet from the hole are more function than style? Come on, don't kid yourself.
The only problem, obviously, is trying to discern which players are showing up this week to show off, as opposed to those who'd wish they'd packed earmuffs in their golf bags.
OK, I lied. There's another problem also, one that isn't specific to this event: Two weeks ago, 500-to-1 longshot Adam Long claimed the Desert Classic title; this past week, Justin Rose and Bryson DeChambeau, pre-tournament second-favorite and favorite at the PGA and Euro events, respectively, each cruised to chalky victories. Nothing like polar opposite results to make us a little gunshy.
What does it all mean? This week won't be any easier to prognosticate than any other week. I will, though, be piggybacking off last week's chalk, as a few of the biggest names in the field should have an excellent chance to be holding the trophy aloft amongst the mass amounts of humanity come Sunday afternoon.
Favorites
Jon Rahm (+700)
Justin Thomas (+800)
Hideki Matsuyama (+1200)
Look, there's not much wisdom I can impart about these three that probably don't already know if you're reading this.
Rahm once pulled a top-five here as an amateur and is coming off three straight top-eight finishes to start the year; Thomas finished T-17 last year, missing the playoff by seven shots, but piled up a triple and two doubles (both at the famous 16th hole) that would've made up that deficit; and the aforementioned two-time winner Matsuyama should be a popular play, fresh off a semi-title contention at Torrey Pines.
There's not much value in betting any of them, but I'd be surprised if at least two of 'em aren't in the mix on the back-nine Sunday afternoon.
Tony Finau (+1800)
You know it's getting serious when Finau can finish in a "disappointing" share of 13th place. That's what happened last week, when I earmarked him for the win at Torrey. The truth is, I don't like him as much this week – and the other truth is, I'm scared to ever leave him off this list, because he's more overdue than a 10-month pregnancy.
Phil Mickelson (+2200)
Let's see … he contended in his first start of the year … just gave himself a week off during a traditionally busy stretch … always plays well on this golf course … and has the perfect mentality to show off in front of these fans. You know a 44th career victory would be a nice little segue into the Super Bowl pregame show, too.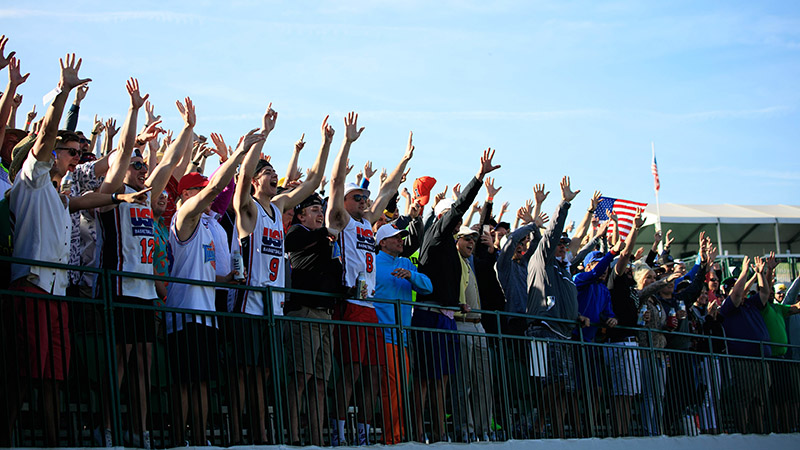 Mid-Tier
Cameron Smith (+3000)
I think this price is a bit of an overreaction to his T-9 last week, but give the oddsmakers credit for knowing that the Aussie often bunches his best results together. He's also become very consistent. In his last 11 worldwide starts, he owns nine top-25s, including three top-threes.
Billy Horschel (+4000)
Much like Smith, Horschel's best work tends to come in succession. While others can seemingly win without warning, three of his four titles have come on the heels of strong results. In related news, he finished T-8 last week.
Emiliano Grillo (+6500)
Another week, another mention of Grillo in this preview piece. Like Finau (and Sungjae Im, whom I'll get to shortly), I know this guy is going to pop soon and I don't want to miss out. I try not to glean too much from social media, but his tweet about being excited for Phoenix this week makes me think he's just the type of guy who wins here – the type who plays to the crowd.
Sungjae Im (+9000)
Told ya I was getting to him. Contrary to Smith, who had a nice result and saw his price drop, Im looked rather ordinary and his number went up. Might be time to jump on it. Im was positive strokes gained in both driving and approach shots last week; if the putter heats up, expect him to be closer to the T-12 and T-16 from his first two starts of the year than the T-52 last week.
Longshots
Lucas Glover (+10000)
Bud Cauley (+14000)
I'm grouping these two together for two reasons: The first is that they both finished top-10 a few months ago in Las Vegas, which owns a lot of correlations to the desert conditions in Phoenix; the second is that both of them are popping off the board on the latest FantasyLabs models for this tournament.
Jason Kokrak (+12000)
I recommended Kokrak at 125/1 last week and while an early Sunday rally stalled out, it was still another top-20 for a guy who seems ready to finally win his first title. Big hitters have fared well in Phoenix, which at the very least makes him an extremely enticing play for DFS, if not other formats.
Sung Kang (+15000)
Rarely is there a player who gets overlooked by oddsmakers, but I think we're seeing that in Kang. As I detailed in my daily matchup bets piece entering the final round, he was basically even-money against John Huh, who hadn't finished better than 70th since last summer. Not sure I'd play Kang to win, but I'm going to keep a very keen eye on his top-20 props and matchups for the short-term future.
Matthew Wolff (+30000)
The world's fourth-ranked amateur out of Oklahoma State, the kid with a move through the ball so aggressive it'll make your back hurt just watching it, is making his PGA Tour debut this week. There's some precedent for a strong result: As mentioned earlier, Rahm finished top-five as an amateur four years ago. That's probably the ceiling for Wolff for this week, but as a top-10 prop or low-priced DFS pick, he could provide a solid ROI.
My Favorite Bet
Phil Mickelson top-five result (+475)
Two weeks ago, my favorite bet at the Desert Classic was Mickelson to finish in the top-20 at +125. He easily took all of the sweat out of that bet with a runner-up result.
I'm going bigger this time.
We can get nearly 5-to-1 at Phil finishing in the top-five, which might seem like fair-market value considering his recent results here. He tends to finish top-five every five years, doing so in 2008, 2013 and 2018.
That hardly tells the entire story, though.
In 29 total starts, he's cashed $4,198,677, over a million more than the next closest player. He owns a share of the low 72-hole score, two shares of the low 18-hole score and a share of the low back-nine score.
And, oh by the way, he's running hot right now, fresh off that T-2 in his last start and refreshed after taking Torrey Pines off his schedule for the first time as a pro.
Expect another really good one for Lefty, as a title contention should offer a solid payday. (And for those who prefer to hedge, he's +197 to finish top-10.)