2019 Travelers Championship Betting Preview: Cantlay, Casey Among the Stars to Watch
Credit:
Patrick Cantlay is the third-favorite at the 2019 Hero World Challenge. Credit: Aaron Doster, USA Today Sports.
The 2019 Travelers Championship takes place on Thursday, June 20 at TPC River Highlands in Hartford, Connecticut.
Brooks Koepka is the betting favorite at 8-1 with Patrick Cantlay right behind him at 10-1.
Jason Sobel previews the Travelers and makes some picks for this weekend.
The Little Tournament That Could isn't just chugging along anymore. It's become a bullet train, loaded with plenty of VIP passengers.
I've written this story 10 times in the past decade, but it's worth revisiting. In late-2006, the Travelers Championship was dead. It didn't have a sponsor and was already being crossed off the PGA Tour schedule, with whispers of maybe being salvaged as a senior tour event.
At the last minute, almost quite literally, Travelers stepped in, the pieces came back into place and the tournament was saved.
As a resident of Connecticut during those years, I might not feel like a proud father seeing what it's become, but I'm at least a proud neighbor.
Full disclosure: Many of the people who run this event behind the scenes have become very good friends, so maybe I'm biased, but I don't think there's a better group at any tournament.
Apparently, I'm not alone. As the event has grown in recent years, more and more big-name stars have joined the field. Jordan Spieth won and keeps coming back. Rory McIlroy played once to fulfill his new-event requirement, but liked it so much he returned the next year.
While this could be partially explained away by players making a short trip previously after a Northeast-based U.S. Open, there's no other way of rationalizing why so many are crossing the country from Pebble Beach, including Brooks Koepka, Phil Mickelson, Justin Thomas, Francesco Molinari, Bryson DeChambeau, Patrick Cantlay, Paul Casey, Patrick Reed, Tony Finau, Spieth and defending champion Bubba Watson.
The folks at the Travelers aren't just friendly, though. They're also pretty damn smart. Other events have mirrored this strategy, but this one is in a perfect spot in the schedule to offer exemptions to guys who have just turned pro.
They did this years ago with the likes of Spieth and Cantlay; now that those guys are elite players, they keep coming back as a form of repayment, not to mention an homage to those years of relationship-building.
This week, the Travelers will welcome Oklahoma State teammates Viktor Hovland and Matthew Wolff in their pro debuts, plus Collin Morikawa and Justin Suh, each of whom turned pro a few weeks ago.
All of this adds up to a field with as many studs as just about any non-major, WGC or playoff event, plus a buzz in the air around the fresh meat.
The tournament after a major usually feels like a week-long hangover, but the party will keep on rolling here.
I don't live nearby anymore, but I'm still a proud neighbor. This tournament was dead. Now it's very much alive, thanks to those resuscitation efforts. Some of the world's best players — and some of the brightest phenoms — will once again join the party this week.
Let's get to the picks for TPC River Highlands, a course which continues to be a player favorite each year.
Favorites
Patrick Cantlay (+1000)
Not many people remember this, but before the proliferation of 59s (and even a 58 at this event) in recent years, Cantlay nearly had one here as a 19-year-old amateur.
His approach shot on the final hole almost dropped; instead, he tapped in for 60. Eight years later, he's starting to realize his potential, fresh off a slow start at Pebble Beach before a strong finish. Quite honestly, I might be at the point right now where Cantlay makes this list whenever he plays, no questions asked.
Paul Casey (+1800)

Each year during Masters week, the Travelers folks hold a dinner for the media. It's always a first-class event and in recent years, the defending champ usually joins us.
Well, Watson couldn't make it this year, so instead Casey showed up — the same Casey who blew a big lead entering last year's final round. The guy should have a bad taste in his mouth about this tourney; instead, he's doing favors for 'em. This is what we like to call good karma.
Mid-Tier
Emiliano Grillo (+5000)
It's going to happen. At some point, he's going to have a week that combines his usual sublime ball-striking with an above-average putting performance and Grillo is either going to win or come very close. Why not here, where he was T-19 last year with four rounds in the 60s.
Ryan Moore (+5000)

All that stuff you just read about Grillo? It goes for Moore, too. Before last year's MC, he'd been 17th or better at this tourney in six of the previous seven years.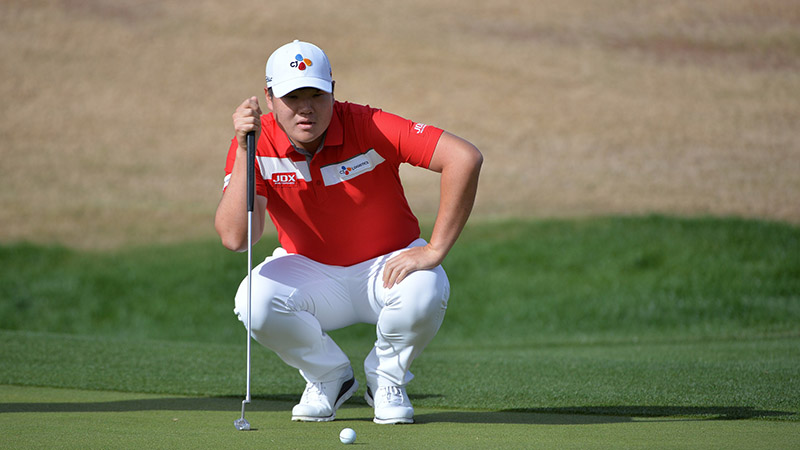 Sungjae Im (+6600)
I was all aboard the #USSSungjae for the first few months of the year, but kept riding when the ship started sinking (six finishes outside the top-30) and had already started swimming ashore when it was rescued (a T-7 in his most recent start in Canada).
Following a rare week off, I'm hopping back on, assuming he's refueled for this one.
Jason Kokrak (+6600)
If nothing else, he's your plug-and-play DFS option at this point. Kokrak hasn't missed a cut in 11 months and though he MC'd here last year, it was his first time failing to reach the weekend in five career starts at this event.
Daniel Berger (+6600)
Everyone remembers the Spieth bunker hole-out and ensuing club/rake throw from two years ago, but we tend to forget that once the dust settled, Berger very nearly holed a lengthy birdie putt to keep the playoff going.
Despite being a South Florida native, Berger has played a lot of golf in the New England area and feels comfortable on these courses. He's put together some nice rounds lately, too, suggesting he's ready to play four good ones in a row very soon.
Viktor Hovland (+6600) and Matthew Wolff (+10000)
Yup, I'm grouping these teammates together in their pro debuts. A lot is being expected from each of them and while Hovland will likely receive more attention in the betting markets and DFS this week, Wolff was the better collegiate player and should be more rested.
Players traditionally play well in these situations — see Morikawa's T-14 at the Canadian Open in his first pro start two weeks ago — as they're both amped up for the opportunity and literally playing with nothing to lose.
Longshots
Beau Hossler (+15000)
During this year's Waste Management Phoenix Open, Hossler was a houseguest of our man Sleeze. He somehow wormed away without being a podcast guest, but we did pepper him with some off-air questions, including the all-important: "If we were going to pick you at one event, which one would it be?" Without hesitation, he said the Travelers is the one he likes the best and the one he believes he has the best chance of winning. No surprise he was co-runner-up last year.
Brendan Steele (+20000)
I'm usually pretty in-tune with how my former loop is playing and while it hasn't been the best stretch of golf for him this year, he's too good to not turn it all around soon. In eight career starts here, he has six top-25 finishes, thanks in large part to a Sunday scoring average of 66.50.
Colt Knost (+50000)
I was fortunate enough to spend a little time with Knost at the U.S. Open last week and I can assure you he saw some things that will motivate him to play much better golf over the next three weeks.
My Favorite Bet
Martin Kaymer to win the BMW International Open (+1600)
We'll have to cross the pond for my favorite bet of the week, but I realllly like this one.
Kaymer is fresh off a U.S. Open during which he gained more than 10 strokes on the field on approach shots – which is a spectacularly silly number, especially for someone who wasn't in contention.
Now, he'll head back to familiar surroundings in his native Germany, where he was T-2 last year when he wasn't playing nearly as well as he is right now.
Against a decent field, though nothing like the ones he's seen in the U.S. recently, expect him to make a few more putts and be in the mix come Sunday. And really, with his propensity to run away from fields when he's playing his best golf, there's a chance this one isn't even a sweat down the stretch.
How would you rate this article?