2020 Arnold Palmer Invitational Odds, Betting Picks: Can You Buy Low on Brooks Koepka, Justin Rose at Bay Hill?
Credit:
Andrew Redington/WME IMG/WME IMG via Getty Images. Pictured: Brooks Koepka, Justin Rose
Jason Sobel is eyeing an English golfer at the 2020 Arnold Palmer Invitational, which begins Thursday morning from Bay Hill, just outside of Orlando.
He also likes a few bombers to get inside the top 20 at a course where distance is crucial.
Get Sobel's full Arnold Palmer Invitational below.
ORLANDO – You've probably seen the photo, but might not know the context.
During a practice round for the 1967 Houston Champions International, Arnold Palmer and Jack Nicklaus played a little money game. Details are fuzzy so many years later, but the end result is undeniable.
A photographer, William F. Thompson, captured Palmer handing a $50 bill to Nicklaus after the match. The photo, later titled "The Lost Bet," wasn't released until after Thompson's death in 2001, but framed copies can now be found all over the Internet, the scene beautiful in its dichotomy – two of the game's legendary players engaging in the exact post-round scene known to golfers worldwide of all levels.
By all accounts, Palmer wasn't shy about having a little action. Dow Finsterwald, his old buddy, once declared, "I would never bet against him." Even Arnie himself told Golf Digest at the age of 78: "I'm still winning most of the skins in the games I play at Latrobe in the summer or Bay Hill in the winter. Pretty much the same group of friends. If I can take a skin off a 33-year-old guy who hits it for miles, you bet I enjoy that."
This week, the action on the PGA TOUR heads to the Arnold Palmer Invitational, where the secret password is "value."
I realize that with this week's announcement of GolfBet, a co-branded venture between our own Action Network and the PGA TOUR, there might be some newbies to the golf betting stratosphere reading along here, so this is for you. (Old standbys, you guys can keep reading, too).
Value is important in wagering. In fact, it's crucial. You want to shop for the best price and find a bargain for a specific product.
Let me put it into terms we can all understand: You go to the grocery store for a gallon of milk. There's one for $4 which doesn't expire until next week. You'll have to pay up, but it's a nice, safe pick. There's another one for $2 which expires tomorrow. Sure, there's value, but there is also some, uh, risk involved. Don't you wish you could buy the $4 gallon for $2? Of course you do, but that's not how the store operates. So you need to make a decision: The safe pricey milk or the potentially sour cheap milk?
Now, I get that the betting neophytes might take offense with this analogy: Hey, you can get sick on sour milk, but you can't get sick from betting longshots.
Oh, trust me. Just wait.
With that in mind, we'll often buy potentially sour milk in the golf marketplace, hoping it somehow stays fresh long enough to offer a valuable return on investment.
Of course, sometimes it's just not worth it. This week might be one of those times.
It was a bit jarring to check the opening outright odds for the API and find Brooks Koepka seventh on the board at +2700 ($10 bet wins $270), Rickie Fowler at +3300 (12th on the board) and Justin Rose at +3400 (13th). For three world-class players, this is what we call value. Just like that soon-to-be expiring milk, though, their value comes with plenty of risk. Each of them is fresh off a missed cut at last week's Honda Classic, which only magnified their continued struggles so far this year.
I'm going to pass on those admittedly enticing bargains this week, because even Arnie knew a "Lost Bet" when he saw one. Let's get to those I do like this week – and why we should be following the trends.
---
Odds via FanDuel. Get up to a $500 risk-free bet at FanDuel today or see more offers and reviews for the best online sportsbooks.
---
Outright Winner
One player to win the tournament.
Matt Fitzpatrick (+4000 — $10 bet wins $400)
Betting specific trends can be dangerous on a weekly basis, but when you're staring at a field list of more than 100 names, there's gotta be some way to differentiate.
In each of the primary PGA TOUR events over the last three weeks, we've seen a trend for the winners: Adam Scott was 30-1 (tied for 11th on the board) entering the Genesis Invitational; Patrick Reed was 40-1 (also T-11) before the WGC-Mexico Championship; and Sungjae Im was 30-1 (T-8) prior to the Honda Classic.
Last year's runner-up, Fitz is in that recent sweet spot, at 40-1 and tied for 16th on the board. This track obviously fits his eye – he also owns a T-13 and T-27 in five career starts – and that's important this week. As we've seen over the years, Bay Hill is a horse-for-the-course type of place. Play well here once and a guy is likely to play well here again. That should be the case for Fitzpatrick this week.
Other OADers
Potential selections for one-and-done options.
Hideki Matsuyama (+2000 — $10 bet wins $200)
Did somebody say trends? (Oh right, it was me.) How's this for a beauty: So far this calendar year, four players from the Presidents Cup International team have won PGA TOUR events – Cameron Smith, Marc Leishman, Adam Scott and Sungjae Im. There's no doubt that playing the competition in December, later than usual, has better prepared these players for the impending year. Matsuyama could be next on this list.
He's at a very nice convergence of form (top-six finishes in his last two starts) and history (five made cuts in five API starts, including a top finish of T-6). I like playing Hideki not just in OADs this week, but all formats.
Bryson DeChambeau (+1600 — $10 bet wins $160)
Three weeks ago, minutes after his T-5 result at Riviera, I spoke with DeChambeau about his offseason weight training, during which he gained about 25 pounds.
He told me that while he almost immediately added lengthy off the tee, it had taken a while to get his wedges dialed in. It was that week, though, when everything clicked – as evidenced by his runner-up finish the very next week in Mexico. Now making his first start after those back-to-back top-five results, he returns to the site of another runner-up two years ago. Like Matsuyama, I'm in favor of taking Bryson in any format this week.
Top-Five
One player to finish top-five.
Scottie Scheffler (+2000 — $10 bet wins $200)
After posting four finishes of seventh-or-better in his first eight starts of the season, Scheffler has fallen off the pace a bit lately. He chased a pair of MCs with a T-30 at Riviera and a T-26 in Mexico and while those results might not be enough to make us crazy about him, he's shown a propensity for high finishes early in his career.
This is a guy whom I've written a lot about in the past year and one I recommend taking while he still owns plenty of value. (There's that word again.) This is a good price for what should be an attainable goal.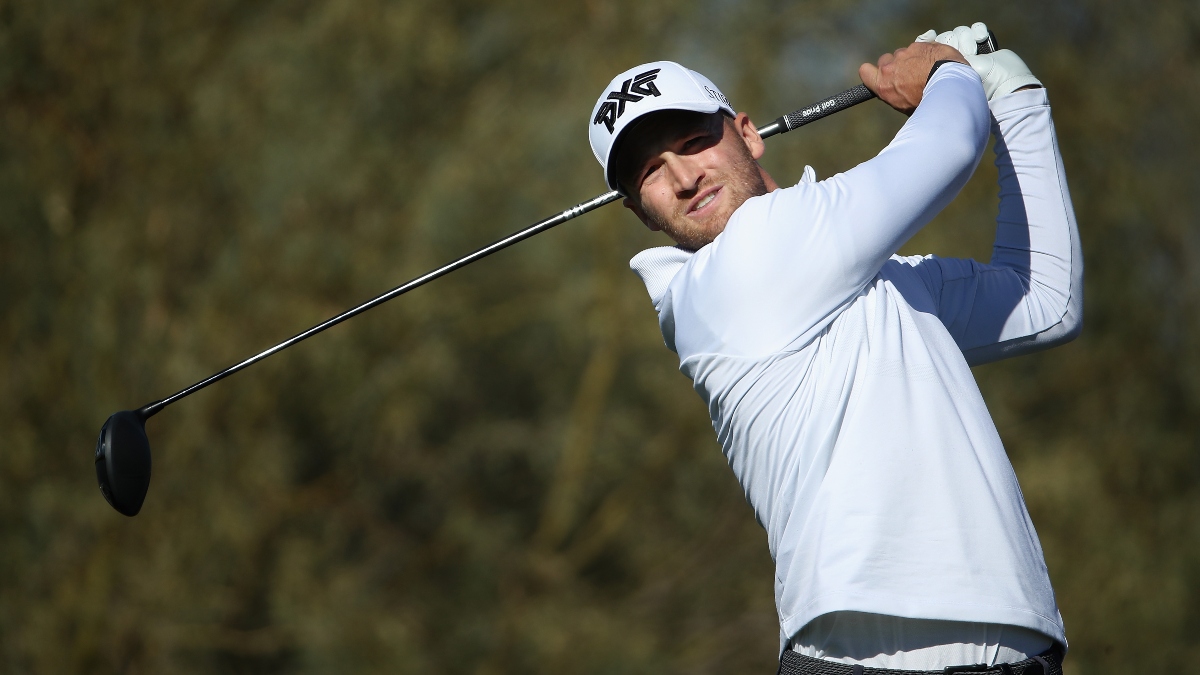 Top-10
One player to finish top-10.
Wyndham Clark (+900 — $10 bet wins $90)
Some trends are easier to spot than others. In his last four starts, Clark is really starting to put it together, posting ascending results of T-34, T-18, T-17 and T-11, the last of which was punctuated by a final-round 66 at the Honda Classic.
This will be his first start at Bay Hill, but quite frankly, Clark's skills are useful at any track – he hits it a long way off the tee and is a tremendous putter. If those recent results see any improvement this week, this bet cashes.
Top-20
One player to finish top-20.
Sam Saunders (+1800 — $10 bet wins $180)
First things first: Saunders has been injured lately, which explains both his trio of missed cuts in three starts and the reason why he hasn't played more. So, you're definitely getting damaged goods here. What you're also getting, though, is a guy who knows Bay Hill better than anyone else in the world. Palmer's grandson grew up right on the course and will have the support of the entire gallery.
He's never finished top-20 in 10 previous starts here, but it might be least expected this week. Look, I wouldn't exactly throw the mortgage at this one, but as one of the highest-priced top-20 bets in the field, I don't mind taking a shot on experience being a factor and his health holding up.
DFS Free Bingo Square
A safe plug-and-play option for DFS.
Rory McIlroy (DK $11,800; FD $12,200)
If you need me to explain why the world's No. 1-ranked player is a safe option this week, then you're probably doing this wrong. McIlroy has finished top-five in his last six worldwide starts and won this event two years ago.
I have a difficult time recommending him as a favorite at just +550, but in DFS, sometimes you've just gotta eat the chalk, take the presumably highest-owned player on the board and try to differentiate elsewhere.
DFS 'Dog
A lower-priced option for DFS.
Rob Oppenheim (DK $6,100; FD $7,100)
While Saunders owns the title for most rounds at Bay Hill, few have played more golf in the Orlando area than Oppenheim, who lives nearby. Playing as a sponsor's exemption this week, he's fresh off a T-9 in Puerto Rico two weeks ago before missing the cut at PGA National.
If you're looking to build a stars-and-scrubs lineup – and apologies to Oppenheim for the scrubs connotation – he's a guy who will free up plenty of salary.
First-Round Leader
One player to post the low score Thursday.
J.B. Holmes (+7500 — $10 bet wins $750)
There are few all-or-nothing players in the game today like Holmes, who last year won at Riviera, then failed to post another top-20 for the rest of the year. Lately, though, he's offered more consistency, with three finishes of 16th-or-better in his last four starts. A guy who tends to fade on Sunday afternoon, I don't mind playing him to start hot. He's been under par in each of his last four opening rounds, including a 64 in Phoenix, and he's broken par in four of his last seven openers at Bay Hill.
Matchup Man
One player who should beat comparable players.
Charl Schwartzel
Playing with the freedom of new clubs in the bag and injury-free, Schwartzel might not be back to his Masters-winning level, but he remains extremely undervalued in the marketplace. If you can get him against a guy like defending champion Francesco Molinari – they're each listed at 90-1 – you should be getting the right end of the proverbial two trains heading in opposite directions.
The Big Fade
One top player to avoid at this tournament.
Brooks Koepka (+2700 — $10 bet wins $270)
Oh, the choices. On many weeks, it's tough to pick a fade out of the top tier of players, but this one offers a few strong options. I'm going with Koepka for a few different reasons. First, if he couldn't get motivated enough to play his best golf in his backyard at PGA National, why should we believe he'll drive a few hours up the turnpike and play better? And second, he said just a few weeks ago that his knee might never be fully healthy again, then insisted after MCing last week that it wasn't bothering him. He's talking out of both sides of his mouth here. While just the fact that he's teeing it up should offer some reason for optimism, I'm fading Koepka until he shows some form or until we reach a major – whichever one comes first.
Off Tour
My favorite non-PGA TOUR play of the week.
Adri Arnaus to win the Qatar Masters (+3300 — $10 bet wins $330)
It remains to be seen how new host course Education City GC, a Jose Maria Olazabal design, plays for the pros, but it should highlight length over accuracy. That alone could eliminate some of the potential candidates, but here's another helpful stat: Each of the last two winners, Justin Harding and Eddie Pepperell, claimed their first Euro Tour title at this event, but neither was much of a surprise, having been highly regarded beforehand.
Enter Arnaus, who owns similar expectations, having been a close-but-no-victory-cigar selection on plenty of betting cards over the past year. He also has the driver strength to succeed here, averaging nearly 320 yards off the tee this season and ranking fourth in strokes gained off the tee. Throw in a T-14 last year in his debut at this tourney and it might finally be the week for the Spaniard to break through.
How would you rate this article?