A Honda Classic Odyssey: Fear and Loathing in Palm Beach Gardens
Credit:
Matt Sullivan/Getty Images. Pictured: Brendan Steele
"I've never seen a guy win with three 4-irons in his bag."
PALM BEACH GARDENS, Fla. – Like all good stories, this story should probably start at the beginning and build to a crescendo, but I'm not really sure where the beginning is.
Maybe it's when I became friendly with Brendan Steele during his rookie year. Another golf writer took something he'd said out of context, so I stood by Steele, citing the if-we-want-players-to-be-candid-then-we-can't-rip-'em-when-they-are defense, and he actually emailed me to say thanks.
Since then, we've killed a lot of time during practice sessions and pro-ams talking about hockey and football and pretty much anything besides golf. I even caddied for him during the final round of the 2018 BMW Championship. (Career caddie scoring average: 68.00. I'm available for any elite pros who need a looper, but warning — I charge a lot.)
Or maybe it begins a few months ago, when my buddy Jason S. signed us up for the DFS Open, a golf tournament being held during Honda Classic weekend featuring 87 of the brightest minds in the fantasy golf industry. (And me.) We'd turn it into a three-day gala of gluttony, replete with lots of golf and betting and, of course, golf betting.
---
Looking to bet on the PGA Tour? Check out FanDuel. Get up to a $500 risk-free bet at FanDuel today or see more offers and reviews for the best online sportsbooks.
---
Really, I don't know where this story begins, so I'll start it when I feel like starting it – on the 10th tee of PGA National at promptly 2:25 p.m. Wednesday afternoon.
That's when Steele was starting his nine-hole pro-am – instead of 18 holes, amateurs split their time with two pros, an act which might garner PGA Tour commissioner Jay Monahan some write-ins votes for president from his constituency – and I'd decided to go take a walk with him.
By the time we reached the fairway, I was already asking for a favor.
I explained to Steele that my buddy Jason S. was coming into town and, if possible, I'd like to relieve him of a few of his extra tickets that players are allotted each week. I don't usually make a habit of asking players for tickets, but I still haven't gotten paid for that caddying gig, so he owes me. Steele obliged and I immediately texted Jason S. to let him know.
Now, this is the point where I should mention that Jason S. is a real person. This isn't me talking about my so-called friend – hold up fingers to create air-quotes — that's really just an allusion to myself. Trust me: If this story was going to end with me losing money, I'd go full first-person. Actually, it does, and I will.
Within a minute of my text to Jason S. about the tickets, he texted me back. It was a screenshot. He'd immediately thrown $100 on Steele to win this week's tournament at 100-1 odds, meaning he would net $10,000 if Steele won the Honda Classic.
Right at that moment, I was also busy watching Steele hit a flaccid 4-iron into the 10th green that wound up too far right.
"I have three 4-irons in the bag right now," he explained. "That one fades."
"Well, hit a different one," I offered in my infinite wisdom.
"The other ones fade more," he said, my foolishness apparently countered by some of his own.
I looked back down at my phone. The screenshot was staring back at me.
It was cool that Jason S. had enough faith in Steele that he'd bet him outright – or maybe he's just a degenerate who was rationalizing the cost of free tickets – but I had some bad news for him.
"Good luck, bro," I texted. "But I've never seen a guy win with three 4-irons in his bag."
---
"I feel like it's going to be a good weekend."
Less than 24 hours after I'd warned against that Steele wager, he was leading the tournament.
Don't get me wrong: I wasn't recommending a total fade, I was just being a little cautious. And in full disclosure, I tailed that Jason S. bet, because, I mean, I couldn't have one of my buddies winning money from another one of my buddies and me sitting there like a dope for doubting either of them. Besides, I like betting. That will be a recurring theme in this story.
Starting his opening round in chilly winds at 7:15 a.m. Thursday morning, Steele birdied his third hole. One of us was already getting excited – and it wasn't me or him.
"I feel like it's going to be a good weekend," texted Jason S. "We're going to ship something besides the DFS Open."
(Spoiler alert: We did not ship the DFS Open. Not even close. Another recurring theme.)
Steele added a second birdie on his sixth hole and my phone buzzed again.
Another text from Jason S., this one a screenshot of a MAN OF STEEL t-shirt that he wanted to buy for the weekend. Presumably he'd just tell people he lost the last E off the shirt in an underground poker game or whatever other degenerate activities he'd been getting himself into.
Ninth hole. Another birdie. Another buzz.
"Don't talk to Steele," he texted. "He's in the zone. No-hitter treatment."
By the time he'd finished, Steele had posted an opening-round 2-under 68 on the brutally difficult track.
"Overall," he told the assembled reporters, "it was very good."
My other buddy wasn't so measured with his assessment.
"Three more of those," came another text, "and we're going to Sizzler!"
---
"AAAAARRRRGGGGGHHHHHKWPWSMSCDKFG!!!"
Friday morning, Jason S. arrived on the scene. We started the day by playing golf on a nearby course – and if you promise not to tell my bosses, each of whom hilariously thought I was working the whole day, I'll even tell you what time we arrived at PGA National that afternoon.
Needless to say, Steele was already well into his 12:05 p.m. tee time.
We decided to take a walk and watch our money at work. Hitting a few bottlenecks on the way, the attendee revelry already in full swing, we finally chased down Steele on the 15th hole. Standing about 40 yards from the green, on the left side of the hole, we were just in time. I pointed to the slender figure in a white shirt and dark pants, taking a few practice swings on the tee box.
"There he is," I said to Jason S., who was already eyeing him up like one of those cartoon desert-island scenes where a hungry lug sees his buddy as a life-size ham.
If you've seen any highlights from this week, you know exactly what happened next. Steele swung his 8-iron "as hard as I could hit it," hoisting his ball into the afternoon sky. It bounced on the green. It bounced again. It rolled a few feet, right at the hole and … power-lipped out. The ball went right around the hole and back again, as if mocking everyone who thought it had disappeared. As close to a hole-in-one as you'll ever see without it being a hole-in-one.
Once again, Steele offered a measured response, later saying, "I was more than happy to tap-in and go to 16."
Once again, Jason S. wasn't quite as measured.
"AAAAARRRRGGGGGHHHHHKWPWSMSCDKFG!!!" he screamed, though I might be spelling that wrong.
He threw a $12 Corona into the air, then ran toward me for a chest bump, but caught a shoulder instead. Who could blame him? The first shot he'd seen, from the player in which he'd most invested and it was a damned hole-in-two.
Meanwhile, as Steele reached the 16th tee, he looked at me and without hesitation joked, "I hope you didn't have a hole-in-one prop today." Or maybe he wasn't joking.
By day's end, he owned a one-stroke lead.
And don't worry about Jason S. – he found plenty of other beers to make up for that one.
---
"It's a sign!"
Let's fast-forward to Sunday, because Saturday is kind of foggy. I guess Jason S. wasn't the only one who'd found other beers the previous night.
Actually, there is one story of interest. At about 11:55 p.m. and still needing more action, Jason S. wearily looked at his phone and sang the degenerate's anthem: "Hawai'i is playing at midnight."
At this point, I wasn't going to cool off his heater, even if that Steele ticket hadn't actually cashed yet. I stared at him while he stared at his phone like he was wagering in hieroglyphics or something. He knew a little bit about Hawaii's basketball team, but knew less about their opponent that night – including, and this is usually important when you're betting on a game, what school it was.
"Who is UCR?" he asked me.
"Cal-Riverside," I answered, then laughed for a second because I knew the next few words would put him on tilt. "That's Steele's alma mater."
"It a sign!" he yelled and immediately put $400 on a school he'd never heard of before.
That's not the only thing, either. Just the previous day, I happened to be speaking with Steele about his team and he allowed a non-partisan opinion. "Just bet against them," he said of the Highlanders, then boasting a tolerable 16-14 record. "If you bet against them, you'll win a lot more than you'll lose."
I tried telling Jason S. this information. I tried telling him that the one person we knew who had real information on UCR had suggested we fade them, even before we'd asked. I tried. I tried, I tried, I tried.
He didn't listen to me, though. And you know what? Riverside didn't just cover as five-point underdogs — they won the damned game.
Maybe it really was a sign.
---
"Do you want to hear my strategy?"
Sunday started with Steele trailing tournament leader Tommy Fleetwood by one stroke, the two of them playing together in the last tee time of the day. My Sunday, though, started at 6:17 a.m., when my phone buzzed with a text message. It was a screenshot from Jason S., putting another $200 on Steele to beat Fleetwood in their head-to-head matchup. He was clearly pot committed.
(For the record, Jason S. was crashing in my room and had texted me from about 10 feet away. It was that kind of weekend.)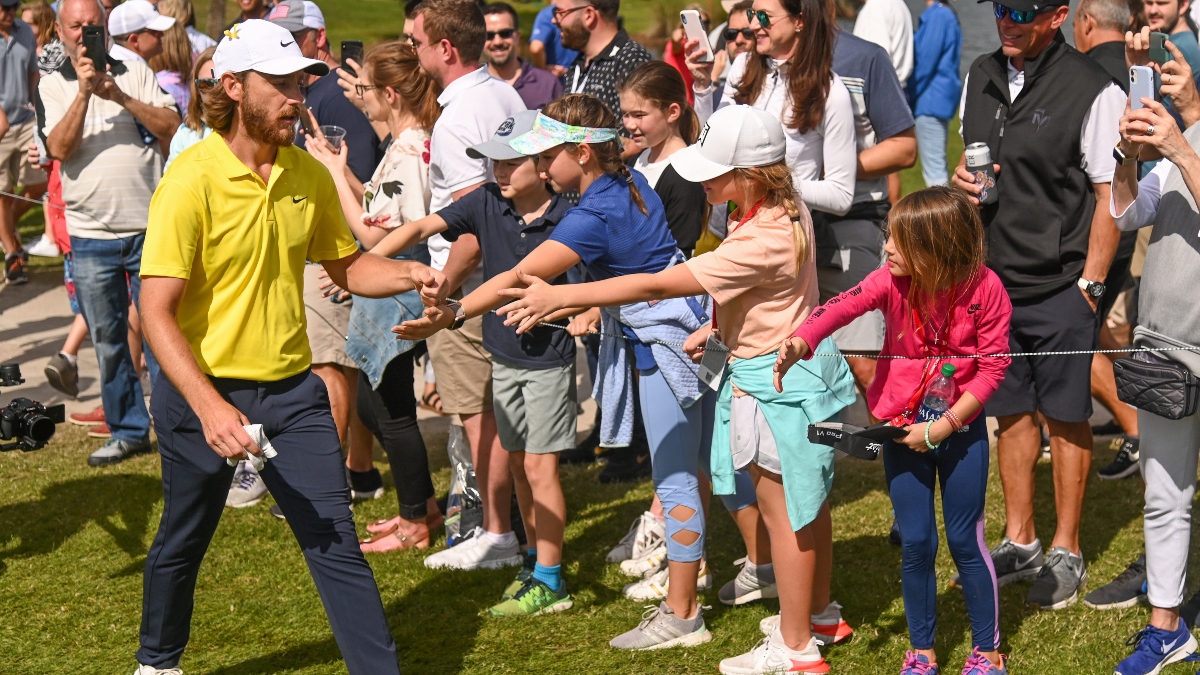 I was a bit pot committed myself. You were going to be reading this story, I'd decided, whether Steele won or lost. No offense to the other guys, but this was a sweat that needed to be relived.
And so, armed with nothing but a fully-charged phone and a healthy dose of optimism, I started out with the final pairing on the first hole at 1:45 p.m., knowing something was about to happen – good or bad.
It didn't start very good, or so I thought.
Fleetwood birdied the first hole, then birdied the second to increase his lead. Even pot committed to Steele – and this story – it's tough to root against Fleetwood, a likeable Liverpudlian who was searching for his first career PGA Tour victory and, by the sound of the choir, had the support of about 90 percent of the surprisingly vociferous gallery.
After that second birdie, there was a wait on the third tee. Steele and I started talking – a little hockey and college hoops, the kind of small talk you'd make with anyone while waiting for the group ahead to get moving so you could tee off. Then he asked a question I didn't expect: "Do you want to hear my strategy for today?"
I mean, as an intrepid reporter trying to get a scoop, I wasn't going to say no. Hell, who am I kidding? As a guy standing next to a tournament contender who was making that kind of offer, I wasn't going to say no.
"I'm just going to be patient," he told me. "If [Fleetwood] shoots 6-under and runs away with it, fair play to him. But a start like this is perfect. He's going to think, I've got this. Then I'm going to pounce. I just need to be one or two back with about five holes left to play."
The strategy worked. It worked too well, really. It worked too quickly.
Fleetwood negated those birdies with a pair of ensuing bogeys on the front-nine, while Steele added a birdie of his own. They were all tied up at the turn, but others were making a run, too – Mackenzie Hughes, Sungjae Im and Byeong Hun An were each climbing the board, all while Steele was trying to maintain his strategy, preaching patience to himself.
Remember what he'd said about being within one or two with five holes to play? It happened. By the time Steele reached his 11-foot birdie putt on the 14th green, he was trailing by one. This was the time to pounce.
"Hell yeah," said Jason S., his analysis stunted as he became more tense than any of the actual competitors.
The pouncing didn't happen. He missed that putt, remaining one back for the moment.
"Dammit," said Jason S., the analysis dwindling from two words to one.
Steele then entered the famed Bear Trap, the dreaded 15th, 16th and 17th holes at PGA National. Earlier in the week, he'd reminded me of a tweet that someone had posted the previous year in the form of a trivia question: "Who has played the most holes in the Bear Trap without a single birdie?" The answer was him, but he bristled at the connotation. "You're not supposed to make birdies there!"
Maybe not, but he'd already posted four of 'em on these holes this week, including that near-ace on Friday afternoon. With Im soon getting to 6-under and Steele stuck at 4-under, he'd need at least one more to give himself a chance – and keep that $10,000 ticket alive.
In other words, it was time to pounce.
Again, though, the pouncing didn't happen. He made par on 15, then par on 16, then par on 17, eminently respectable scores on brutal holes that, as he'd said earlier, nobody is supposed to birdie anyway.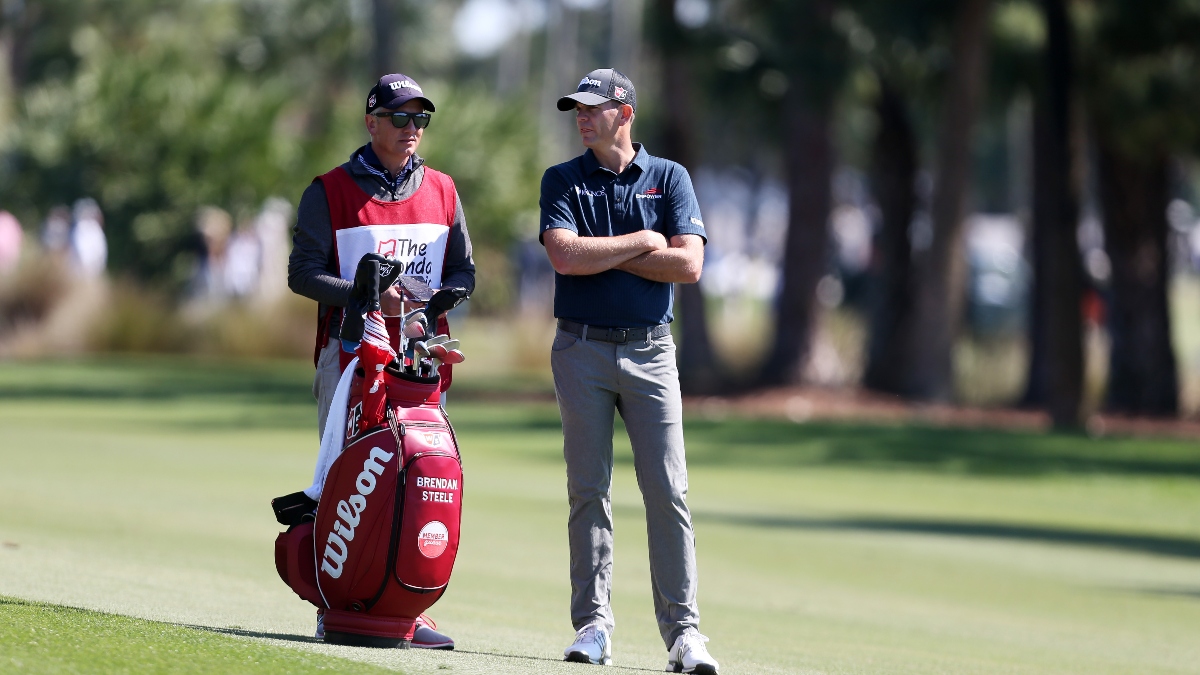 On the par-5 closing hole, needing eagle to force a playoff, he took a chance and hit a shot that he'd never hit under any other circumstance.
"It was pretty easy to make the decision, but it was hard to execute," he'd later tell me. "I tried to hit a 3-wood and take 20 yards off of it and hit a big slice. I started it too far right and I got the slice, so it went into the water."
He made a bogey, finishing in a share of fourth place, a valiant effort that left him positive about how he'd performed under pressure and hopeful about what it might mean moving forward.
Perhaps the bigger surprise is that Jason S., the sweat from his $100 ticket to win $10,000 now fully evaporated, was similarly upbeat about the experience.
"That was a blast," he said. "I've never had so much fun losing $100."
And that's the whole story, exactly how it played out for a few guys who had a chance to win big this weekend. Now if you'll excuse me, I've gotta run. We didn't win, but we're still going to Sizzler anyway.
How would you rate this article?