Sobel: Tips and Strategies for 2020 PGA Tour One-and-Done Pools
Credit:
Ross Kinnaird, USA Today Sports. Pictured: Tommy Fleetwood
For many people, the holiday season means cherished time with loved ones, reliving old memories and creating new ones, the smell of gingerbread floating from the kitchen while Bing Crosby croons about dreaming of a fresh dusting of fluffy snow.
I mean, that stuff is cool and everything, but let's not lose sight of the real message of this season: It's time to start making selections for those annual One and Done golf pools.
Ah, there's nothing better than kicking back with a cup of warm cocoa and perusing your plentiful options for the Rocket Mortgage Classic, visions of top-five payouts dancing through your head.
Before we get to the meat and potatoes of those options in the upcoming schedule, a few words for the uninitiated who have yet to discover the world of OAD pools. The premise is simple: Pick one player for every PGA Tour event, with your success on a given week mirroring their own.
There are plenty of variations, depending on the pool. Some might include two weekly picks instead of just one; some might tally FedEx Cup points instead of earnings; some might include select European Tour events; some might offer bigger bonuses for the major championships; some might've even started already, coinciding with the beginning of the 2019-20 season back in September.
---
Check out PointsBet, where Action Network users can access an exclusive promotion to get a 200% deposit match (deposit $50, bet with $150). No strings attached. No rollover required.
---
(Quick note to those with 11 tourneys under your belts already: You guys are the real heroes. It's enough for us mere mortals to ignore Week 17 games in the NFL to decipher which player we want to take for the John Deere Classic, but grinding over the Sanderson Farms in early-autumn and picking a Tour Championship winner about 51 weeks before it'll be played takes some serious inner fortitude. I'll put some respect on that every time.)
Other than the comically impossible task of picking a whole bunch of winners, there isn't too much strategy for OADs, but you'll definitely need a game plan.
Here are my tips to at least put you in the right frame of mind for the selection process – and yes, for those who remember this piece from last year, I'm repeating my own thoughts.
Give yourself a chance.
There's nothing worse than taking a DNS, watching your player's name never show up on the entry list while your fellow pool competitors wave to you from the passing lane.
You'll always endure some MCs, but do some research and pick guys who should at least play in those given events.
Nobody is Nostradamus.
Don't get too discouraged. You might start out in DFL on your pool's leaderboard after the West Coast Swing, but things can change in a hurry.
Somebody might peel off a few early wins, but it's difficult to maintain consistency in these pools. Just like a pro who shoots 78 in the first round, keep your head up and stay positive.
Don't overrate the majors.
I used to break this rule every year. They're the four biggest tournaments, I'd reason, so I should pick four of the best players. Sure, there's more money available at the majors, but how often do we see chalk anyway?
For example, you might like Justin Thomas at the Masters, but really like him at the Sony Open, which he won three years ago. If you think it's a sure thing, do it. Here's another reason: History doesn't always repeat itself in golf. If your major selections are, say, Paul Casey, Tony Finau, Bryson DeChambeau and Tommy Fleetwood (ahem, in that order…), you're likely to cash a few nice checks while never taking the pool fave in any of those four events.
Remember the young 'uns.
This always happens: A month into the calendar, an up-and-comer will have posted three top-10s and you'll be kicking yourself for leaving him off your final list.
It's impossible to predict how every Web.com promotion will perform, but don't get so locked in to past results that you forget to include guys like Viktor Hovland and Scottie Scheffler on your list.
Play some hunches.
You know that thing I just said about history not always repeating itself? Sure, there are times when you look at a player's recent results at an event, see he finished 2-5-3 the last three years, and lock him in. Nothing wrong with that. But don't fall into the trap of thinking that just because a player was top-five the previous year, he'll easily do it again.
In particular, I like looking for outlier scores. If you notice a player finished 29th at a tourney with three rounds of 68 and a third-round 79, there's a good chance that course fits his eye and he simply had one bad day.
For this article, I've included three potential selections at every upcoming PGA Tour stop.
Old Reliable (OR): A player who traditionally fares well at that given event.
Course Horse (CH): A player whose game should match up with the host venue.
Wild Card (WC): A player who I particularly like at a specific event, whether because of an underlying narrative, a home-field advantage or just as a "hunchy" play.
Let's get to the picks, based on a standard OAD league (which means no defending champions included).
---
Sentry Tournament of Champions (Jan. 2-5)
Defending champion: Xander Schauffele
OR: Dustin Johnson
CH: Jon Rahm
WC: Nate Lashley
There are two ways of looking at the year-opener: With only 34 players in the field, it's a chance to use a big gun against limited competition, or … with a guaranteed payday, it's a chance to use one of the less attractive winners from last year and know you'll get something out of him.
Johnson has finished top-10 in his last seven starts here, including two victories, but with half the field earning six figures, you can still get off to a solid start without burning a stud.
---
Sony Open in Hawaii (Jan. 9-12)
Defending champion: Matt Kuchar
OR: Justin Thomas
CH: Sungjae Im
WC: Dylan Frittelli
We're looking for a few things at the Harbour Town of the Pacific (and yes, I just coined that term): Terrific ball-strikers and solid wind players. On one of the few PGA Tour tracks that doesn't overly reward distance, accuracy is vital, but so is one intangible factor: Playing the week before. I usually try to pick a player who's already spent a week in Hawaii on neighboring Maui.
Their body clocks are adjusted, they've already enjoyed a few mai-tais and, most importantly, they have a week of competition under their belts while the majority of their peers are shaking off the holiday rust. It's a strategy that's worked, too, with each of the past six Sony champions having played at Kapalua the previous week.
---
The American Express (Jan. 16-19)
Defending champion: Adam Long
OR: Charles Howell III
CH: Adam Hadwin
WC: Nick Taylor
Formerly the Desert Classic and the CareerBuilder Challenge and (my personal favorite) the Bob Hope Chrysler Classic, the biggest characteristic necessary might be patience, as potentially windy conditions and pro-am rounds can lead to some long days. Use a big-name player at your own risk here; for every Jon Rahm and Patrick Reed on the recent winner's list, there's a Hudson Swafford and Adam Long.
If you're intent on going big anyway, you should know that Rickie Fowler, Tony Finau, Francesco Molinari, Paul Casey, Matthew Wolff and Phil Mickelson are among the early commitments already.
---
Farmers Insurance Open (Jan. 23-26)
Defending champion: Justin Rose
OR: Tiger Woods
CH: Gary Woodland
WC: Tony Finau
I was absolutely convinced last year that Finau was going to win this tournament. He did finish a respectable T-13, but my convictions are usually a year off, so a little reverse psychology should tell us to double-down this time around. Or you could always go with, you know, that Tiger guy who owns a little history at Torrey Pines.
---
Waste Management Phoenix Open (Jan. 30-Feb. 2)
Defending champion: Rickie Fowler
OR: Hideki Matsuyama
CH: Chez Reavie
WC: Cameron Champ
I once had a theory that lesser-known, under-the-radar players might stand a better chance in the lion's den known as TPC Scottsdale, but witnessing Fowler's triumph while a few hundred thousand fans chanted "Big D–k Rick" pretty much confirmed my growing suspicions that popularity doesn't matter.
Even though short-knocker Reavie has finished top-four in each of the past two years, I've always believed this course plays better for the longer hitters, hence my hunch that Champ could do some damage here.
---
AT&T Pebble Beach Pro-Am (Feb. 6-9)
Defending champion: Phil Mickelson
OR: Dustin Johnson
CH: Jordan Spieth
WC: Collin Morikawa
At this point, I'm not sure we should feel confident writing Spieth's name in the space next to a major, but I also wouldn't be so pessimistic that I'd suggest excluding him altogether.
The 2017 champion at Pebble has a fat contract with those three letters – AT&T – on it, which pretty much assures he'll be in the field. I can't say the same for Morikawa, but we've got to take the NorCal-schooled kid somewhere and this feels like a place where he could succeed.
---
Genesis Open (Feb. 13-16)
Defending champion: J.B. Holmes
OR: Bubba Watson
CH: Adam Scott
WC: Rafa Cabrera Bello
I'd hardly categorize Watson as "reliable" these days, but we do know the following three things: He only plays well on courses where he's comfortable, he's only comfortable on a handful of courses and Riviera is certainly one of those courses.
To be fair, Scott is probably a safer pick. I've often struggled to find the right place for him, but he owns a nice track record here.
---
WGC-Mexico Championship (Feb. 20-23)
Defending champion: Dustin Johnson
OR: Justin Thomas
CH: Rory McIlroy
WC: Louis Oosthuizen
With only two previous editions of this event in Mexico, there's not much history to use here. Instead, with the high altitude, I like taking a big banger and letting him use that to his advantage. If you can't fit JT or Rory or Jon Rahm into a major on your list, this one might be the next-best option.
---
Puerto Rico Open (Feb. 20-23)
Defending champion: Martin Trainer
OR: Scott Brown
CH: Sepp Straka
WC: Scott Harrington
The year's first alternate-field event offers us an opportunity to discuss strategy for secondary tourneys that are opposite bigger ones.
I wouldn't waste time poring over too much historical data for these events, nor would I waste a player who doesn't need to tee it up in one of these. Instead, take a flier on your favorite journeyman or Korn Ferry graduate; I wouldn't be surprised if late-bloomer (and great story) Harrington wins one of these events.
---
The Honda Classic (Feb. 27-March 1)
Defending champion: Keith Mitchell
OR: Rickie Fowler
CH: Sergio Garcia
WC: Daniel Berger
The hallmarks of PGA National are that it's usually windy and always difficult. I'm a firm believer that Fowler is one of the world's preeminent players in breezy conditions, which should explain why he's the all-time leading money-winner at this event. When in doubt about which players might show up, go with a local resident who's currently living the #JupLife.
---
Arnold Palmer Invitational (March 5-8)
Defending champion: Francesco Molinari
OR: Tiger Woods
CH: Henrik Stenson
WC: Sam Saunders
Stealing this write-up straight from last year's piece: It says OR next to Tiger's name, but it should probably say "OG." If you want to save him for a bigger tourney, Stenson is a guy I always have a tough time finding the right spot for, but owns an exemplary records here. As for Palmer's grandson Saunders, well, you know you're not getting a DNS.
---
The Players Championship (March 12-15)
Defending champion: Rory McIlroy
OR: Adam Scott
CH: Hideki Matsuyama
WC: Billy Horschel
Prior to last year's move from May back to March, I posited the theory that longer hitters would have a greater advantage at TPC Sawgrass, because the course will be softer and soggier two months earlier – and wouldn't you know it, the winner was indeed a bomber, but he was followed by a handful of pea-shooters inside the top-10.
Moral of the story: What's great about this track is that it doesn't play favorites, which also makes it amongst the toughest of the year to handicap. Without a blueprint for making picks here, just go for talent.
---
Valspar Championship (March 19-22)
Defending champion: Paul Casey
OR: Patrick Reed
CH: Webb Simpson
WC: Jason Kokrak
I'm not a big fan of betting on defending champions, but I don't mind seeing 'em for the sake of OAD pools, from the perspective of, "If my guy can't win, then at least nobody else's guy can win, either."
Casey has gone back-to-back at Innisbrook and while you can't pick him in most versions, you can try to find a player with his skillset – namely, a high-ball hitter who takes aggressive lines. I'm not sure Kokrak is Casey Lite, but he owns those same talents, which means it shouldn't come as a surprise that he was co-runner-up last year.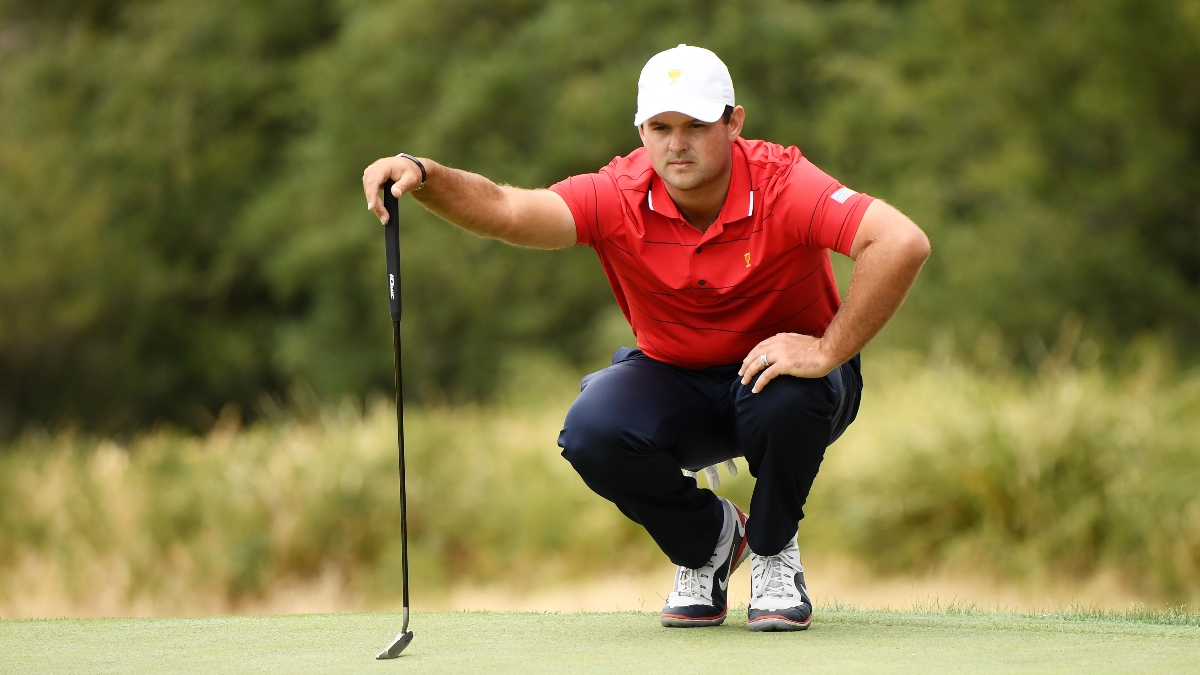 WGC-Dell Technologies Match Play (March 25-29)
Defending champion: Kevin Kisner
OR: Ian Poulter
CH: Jon Rahm
WC: Matt Wallace
We've all heard about the so-called "vagaries of match play," which is just a golf-fancy way of saying that we have no idea who the hell is going to win any match on any given day. With that in mind, I prefer not wasting a big name at this event. Sure, guys like Rory and DJ have won and could certainly repeat that success. But they could just as easily get bounced in the round-robin portion and never reach the weekend.
My preference is to pick a non-PGA Tour regular who is currently inside the top-40 or 50 in the world, which should assure him a spot in this 64-man field.
---
Corales Puntacana Resort & Club Championship (March 26-29)
Defending champion: Graeme McDowell
OR: Kelly Kraft
CH: Joel Dahmen
WC: Xinjun Zhang
Another opposite event where we should take some chances. While the popular G-Mac won last year, it's a rarity for a player with his pedigree to even play these tourneys, let alone win. You'll have a better chance sticking with a lesser-known guy.
---
Valero Texas Open (April 2-5)
Defending champion: Corey Conners
OR: Charley Hoffman
CH: Kevin Chappell
WC: Brendan Steele
How hard is it to make these picks so far in advance? Last year, Conners squeaked through a Monday qualifier, then claimed his first PGA Tour win six days later. He wasn't just off the radar before the year started, he was off the grid. The common bond with Conners and others on last year's leaderboard is that – as I've mentioned for other events already – they're ball-strikers and good wind players.
---
Masters Tournament (April 9-12)
Defending champion: Tiger Woods
OR: Rory McIlroy
CH: Jon Rahm
WC: Patrick Cantlay
Look, if you're reading this, then you follow the game; and if you follow the game, then you don't need me to tell you who plays well at the Masters every year.
But I'll offer this: There's something extremely gratifying about getting to the year's first major and seeing a different player next to your name than anyone else in the pool. Don't be afraid to go (slightly) off the popular path.
---
RBC Heritage (April 16-19)
Defending champion: C.T. Pan
OR: Matt Kuchar
CH: Kevin Kisner
WC: Adam Hadwin
There's a reason why so many players like playing at Harbour Town: Not only is the island vibe a perfect chaser for the stress of Masters week, but it remains one of the few courses where bomb-and-gouge is a foolish strategy. Find your favorite wedge wizard and Bermuda greens specialist, then plug him in at this one.
---
Zurich Classic of New Orleans (April 23-26)
Defending champion: Jon Rahm/Ryan Palmer
OR: Patrick Reed
CH: Kevin Kisner
WC: Scott Piercy
In one of my OAD pools, we skip this team event at the beginning of the year, then draft based on the leaderboard one week beforehand. Otherwise, you're simply picking a player and hoping he's one-half of a solid partnership.
---
Wells Fargo Championship (April 30-May 3)
Defending champion: Max Homa
OR: Rory McIlroy
CH: Jason Day
WC: Aaron Wise
Much like Phoenix and Valspar, this is a tourney where studs have flourished, but picking one hardly yields a perfect ROI, as Homa and others have proven. If you're looking elsewhere, I really like Wise, who was runner-up here two seasons ago, to have a big bounce-back campaign.
AT&T Byron Nelson (May 7-10)
Defending champion: Sung Kang
OR: Brooks Koepka
CH: Jordan Spieth
WC: Scottie Scheffler
Conspicuous in his absence on my list so far is a certain No. 1-ranked player in the world. That's not a coincidence. Koepka recently missed the Presidents Cup due to a lingering knee injury. While he might be good to go early in the year, I'd hate to burn him in an OAD pool when he isn't 100%, so I recommend holding him for at least a few months.
There are plenty of places to use a guy with his talent level – and really, I'd advise holding him for a major, when he obviously puts forth the most effort.
---
PGA Championship (May 14-17)
Defending champion: Brooks Koepka
OR: Tiger Woods
CH: Rory McIlroy
WC: Xander Schauffele
The last time a PGA Tour-sanctioned event was held at Harding Park, it was McIlroy who defeated Gary Woodland in the final. This won't be the longest course we've seen in the PGA Championship rotation, but as per the customary setup, a double-digit under-par score – perhaps as low as 16- or 18-under – should win it, so expect all the usual suspects to be in play for this one.
---
Charles Schwab Challenge (May 21-24)
Defending champion: Kevin Na
OR: Kevin Kisner
CH: Emiliano Grillo
WC: Ryan Palmer
Much like the RBC Heritage, find your favorite wedge player and ride him at Colonial, where distance off the tee isn't overly important.
That said, don't automatically write off the longer hitters, either; notably, Tony Finau was runner-up last year. Grillo is a potential breakout candidate and I've always liked him on this track.
---
Rocket Mortgage Classic (May 28-31)
Defending champion: Nate Lashley
OR: Joaquin Niemann
CH: Viktor Hovland
WC: Sungjae Im
Well, picking this event is only slightly easier than its inaugural edition last year, but that's not saying much. One theory here is to stick with guys who found success on Donald Ross tracks in the past.
Another is to use this as a dart throw on a formidable young player, as Niemann, Hovland and Im were each inside the top-21 a year ago.
---
The Memorial Tournament (June 4-7)
Defending champion: Patrick Cantlay
OR: Justin Rose
CH: Tiger Woods
WC: Byeong Hun An
There's a definitive pattern brewing at Jack's Place over the past few years. In each instance, a sure-fire up-and-comer – not some young kid still hoping to make a name for himself, but an established player needing a win to make that leap toward stardom – used this as his launching point, first Bryson DeChambeau, then Cantlay.
There are plenty of potential candidates who could follow in these footsteps, including An, who lost here in a playoff two years ago.
---
RBC Canadian Open (June 11-14)
Defending champion: Rory McIlroy
OR: Adam Hadwin
CH: Corey Conners
WC: Nick Taylor
No Canadian-born player has won his country's national championship since Pat Fletcher in 1954, but if you're the sentimental type like me, Hadwin is easily the home nation favorite, followed in order on the world ranking by Conners and Taylor. At some point, another Canadian is going to win this event and I don't want to be on the wrong side of that history.
---
U.S. Open (June 18-21)
Defending champion: Gary Woodland
OR: Brooks Koepka
CH: Jon Rahm
WC: Patrick Cantlay
What you see is what you get with both the U.S. Open and this year's host course, Winged Foot, which still echoes from the ghosts of Phil Mickelson and Colin Montgomerie.
I find major championships on venues that haven't held one in a while to be the toughest to predict so far in advance, but we have seen a definitive change in the style of U.S. Open champion, with Koepka-Johnson-Koepka-Woodland the past four years, a collection of bombers who have less trouble than most players slashing buried balls out of thick rough. If you're seeking another similar player for this year, perhaps Rahm will be that guy.
---
Travelers Championship (June 25-28)
Defending champion: Chez Reavie
OR: Paul Casey
CH: Marc Leishman
WC: Abraham Ancer
There used to be a methodical order to picking players for this one – a Bubba Watson here, a Stewart Cink there – but as this event has grown in stature over the past few years, bigger names have started showing up, making this a more unpredictable venture.
That's a nice problem to have for the tournament, but when guys like Jason Day and Tommy Fleetwood show up and contend, it only accentuates how this one has changed.
---
WGC-FedEx St. Jude Invitational (July 2-5)
Defending champion: Brooks Koepka
OR: Dustin Johnson
CH: Billy Horschel
WC: Cameron Smith
I respect anyone who puts in the time to do some serious research for OADs, but you've gotta be careful with that Internet surfing. An example: If you look it up, the all-time leading money-winner for this event is Tiger Woods, with just over $11 million – which is great, except for the fact that he's never once played in Memphis.
Records from the old FedEx St. Jude didn't carry over to the event when it became a WGC last year, so you'll just have to remember that DJ twice won on this course before it earned that three-letter classification.
---
Barracuda Championship (July 2-5)
Defending champion: Collin Morikawa
OR: Vaughn Taylor
CH: Chris Stroud
WC: Brendan Steele
Up against the WGC in Memphis, my advice is to find the thinnest of margins: A player who is capable of winning a PGA Tour event, but one who isn't capable of winning against much better players earlier in the year, therefore getting into the other tourney being played this week. Good luck with that.
---
John Deere Classic (July 9-12)
Defending champion: Dylan Frittelli
OR: Zach Johnson
CH: Sam Ryder
WC: Beau Hossler
My guess is that the majority of OAD players simply go down the list of events and plug in names where they want to use 'em. Makes sense. But I'd also recommend having your own system of checks and balances by also having a list of names and making sure you get everyone you like into an event.
For me, as I've written a few times, I think Ryder has some strong upside for the impending season, so I'd keep his name on that secondary list and plug him in somewhere he plays well, like this one, where he was T-18 a year ago.
The Open Championship (July 16-19)
Defending champion: Shane Lowry
OR: Tommy Fleetwood
CH: Rickie Fowler
WC: Matt Wallace
This year's host course is Royal St. George's, which after producing an exemplary winner's list for a full century, has yielded Ben Curtis and Darren Clarke as champions in its two most recent versions. I wouldn't read much into that small sample size, but I do like using The Open to squeeze in an elite links player who I might otherwise have trouble finding the proper tournament for elsewhere.
Fleetwood and Wallace are on my short list right now – and I'd be surprised if both aren't on my short list of predicted winners when we're heading into this event in six months, too.
---
Barbasol Championship (July 16-19)
Defending champion: Jim Herman
OR: Sepp Straka
CH: Denny McCarthy
WC: Dominic Bozzelli
Admit it: If his name wasn't staring back at you from the screen, you never would've guessed that Herman had won this tourney last year. There's yet another lesson in there, I suppose: Take chances.
---
3M Open (July 23-26)
Defending champion: Matthew Wolff
OR: Viktor Hovland
CH: Bryson DeChambeau
WC: Wyndham Clark
In its PGA Tour debut, this one turned out to be one of the best tourneys of the summer, as a final-hole eagle by Wolff was enough to climb past DeChambeau. Having been on-site for this event, something about it – the community, the buzz, the fans – reminds me of the Travelers, which has seen a bevy of good finishes and great champions. I wouldn't be surprised if that trend continues here, which means we should choose our pick accordingly.
---
Wyndham Championship (Aug. 6-9)
Defending champion: J.T. Poston
OR: Webb Simpson
CH: Si Woo Kim
WC: Ryan Moore
Long-time readers know my lone hard-and-fast rule about fantasy golf: If a past champion named one of his children after the title sponsor, take him every single time. Simpson… hello!
---
The Northern Trust (Aug. 13-16)
Defending champion: Patrick Reed
OR: Justin Rose
CH: Rickie Fowler
WC: Keegan Bradley
The every-other-year rotation moves this one from New York back to Boston this time, and there's plenty of history at TPC Boston for us to peruse. That's only part of it, though. I've always believed certain players just enjoy playing Northeast golf courses more than others – and it shows in their results. Look at history from both this event and the erstwhile Dell Technologies Championship to find some guys with that common bond.
---
BMW Championship (Aug. 20-23)
Defending champion: Justin Thomas
OR: Tiger Woods
CH: Bryson DeChambeau
WC: Jordan Spieth
Olympia Fields, the oft-forgotten Chicago home of Jim Furyk's lone major title at the 2003 U.S. Open, will once again play host to the big boys, getting into the BMW rotation this year. While there isn't much course history to work off from 17 years ago, here's a little tip: DeChambeau won his U.S. Amateur title on this track five years ago. It doesn't mean he'll repeat that success this time around, but it's a better clue than we have for anyone else.
---
Tour Championship (Aug. 27-30)
Defending champion: Rory McIlroy
OR: Xander Schauffele
CH: Hideki Matsuyama
WC: Sungjae Im
Too often, OADers will make the mistake of filling in the majors, then the Players and WGCs, then maybe a few of the invitationals, then they'll get to the playoff finale with something less than a group of A-listers. Make sure you save a guy for this event whom you trust will make it this far. There's nothing worse than getting into contention to win your league at the end of the year, only to take a goose-egg in the last week.
How would you rate this article?