2020 PLAYERS Championship Odds, Betting Picks: Can Finau, Cantlay Find Form at TPC Sawgrass?
Credit:
Harry How/Getty Images. Pictured: Patrick Cantlay
The 2020 PLAYERS Championship kicks off from TPC Sawgrass on Thursday morning, and Jason Sobel is eyeing a pair of undervalued golfers to win outright.
He also takes a look at matchup odds, one player to fade, a first-round leader and more.
Get Sobel's complete 2020 PLAYERS betting guide below.
PONTE VEDRA BEACH, Fla. — Welcome to the toughest golf betting week of the year.
If the U.S. Open remains the world's most diplomatic tournament for entry — thanks, Roy McAvoy — then The PLAYERS Championship is the most diplomatic based on leaderboard status, as host course TPC Sawgrass doesn't play favorites.
How else to explain a winner's list over the past two decades that has included big hitters like Rory McIlroy and Jason Day, and pea-shooters like Tim Clark and Fred Funk? Or all-time greats like Tiger Woods and Phil Mickelson, and relative one-hit wonders like Stephen Ames and Craig Perks?
The truth is, while most host venues cater to a specific type of player, this one only offers an advantage to those who are playing well.
[PLAYERS Championship Promo! Bet $5 and Win $150 if Rory makes a single birdie this week]
Doesn't matter who you are or how you do it, if you play your own brand of golf well at TPC Sawgrass, you'll be rewarded for it – and if your game conversely has a few cracks, well, they'll be exposed by this place.
This tournament – especially back in its erstwhile March position, as it was last year for the first time since 2006, provides a stringent litmus test for its competitors. For the most part, you either have your game when you arrive here or you don't – it's rare that a player digs a secret out of the dirt on this range and turns it into success by the weekend.
Let's take a look at the last 10 winners of this event and how each one had fared previously during that calendar year:
Of these 10 winners, seven were in solid form entering The PLAYERS, with at least three top-10 results prior to playing this tournament. While it can be argued that Kim and Kaymer truly came in cold and triumphed without warning, Fowler's lone top-10 at least came in his most recent start before his victory here, so there was at least a signal.
I'm on record as saying I love everything about the condensed schedule that was implemented last year, which moved The PLAYERS from May back to its previous date in March. The season feels more streamlined now, it has more purpose and direction than before.
The only negative I can find is that TPC Sawgrass doesn't play as nearly fast and firm as it did later in the spring. And so, perhaps it should come as little surprise that in the first event back in March, the game's best player, McIlroy, was able to claim the title.
On a longer golf course this time of year, the advantage not only goes to players who favor length over accuracy off the tee, but those who similarly own this skill with their approach shots.
We tend to think of distance as simply how far a player drives the ball, but I've always been fascinated with distance for other shots. For example, if two players each average 305 yards off the tee for the season, they'll often be left with similar yardages into the greens. But if that specific yardage, whatever it might be, is a 7-iron for one of the players and a 9-iron for the other, then the latter holds an obvious distance advantage that isn't detectable from driving statistics.
In this particular instance, players will have plenty of longer-than-wedge distances into many of the greens.
---
More PLAYERS Championship Betting Coverage
---
For this event, I like looking at approach shot success from different yardages as an underutilized metric which should offer a strong hint at those who find success here.
From 150-175 yards, Adam Scott leads the PGA Tour, followed by Branden Grace, Rory McIlroy, Jon Rahm and Adam Hadwin.
From 175-200 yards, McIlroy leads, followed by J.B. Holmes, Jason Day, Rahm and Bubba Watson.
And from greater than 200 yards, well, there are some random names who aren't playing this week (Isaiah Salinda leads?!), but Patrick Cantlay, Daniel Berger, Emiliano Grillo, Gary Woodland and Hadwin are among those near the top.
A cross-section of those who are accurate from lengthier approach distances and those who have shown recent form should account for a list of potential contenders this week. Let's get to some of those names.
---
Odds as of Monday at 1 p.m. ET and via FanDuel. Get up to a $500 risk-free bet at FanDuel today or see more offers and reviews for the best online sportsbooks.
---
Outright Winner
One player to win the tournament.
Patrick Cantlay (+2700 — $10 bet wins $270)
I don't usually recommend players just off surgery, but it's not like Cantlay had a torn ACL or anything. He reportedly was to undergo surgery for a deviated septum during the past few weeks, which (not having heard from him yet this week) we can only assume will help his life outside the ropes, which should translate to more success inside the ropes, as well.
In my recent Q&A will golf oddsmaker Jeff Sherman, he specifically mentioned Cantlay as the game's most undervalued player. These things don't last very long, so you'll want to jump on that value while it's still available.
Cantlay is ranked sixth in the world, but is still looking for that post-Memorial Tournament coming-out party. I think it can happen this week.
[Bet now at FanDuel. NJ, PA, IN and WV only.]
Other OADers
Potential selections for one-and-done options.
Tony Finau (+4400)
Look, you don't need me to tell you that McIlroy and Rahm are solid OAD options at an event where (if you're using a replica money list for your pools) there's more cash available than anywhere else. If you want to stray from the norm just a bit, though, I have a sneaky suspicion that Finau will seriously contend this week.
Much like Cantlay – OK, even more than Cantlay – he's been waiting for the coming-out party and this could be a perfect fit.
Sungjae Im (+2700)
Let's not overthink it. Nobody has played better golf – on very difficult courses, no less – over the past few weeks than Im, who is realizing the potential that we'd all seen in him.
"The Machine" appears immune to celebration fatigue – or really, any fatigue – and just keeps throwing darts at flagsticks, while almost amused by the struggles of everyone else around him. Unlike others who have ebbed and flowed this year, it's tough to see him suddenly backing up this week.
Top-Five
One player to finish top-five.
Brandt Snedeker (+2200)
I've had him pegged for a title contention here for a while now, even though his recent results (two MCs in his last three starts) and results at this one (seven MCs in his last 10 starts) suggest we should be very cautious. Even so, I love the fact that he plays well on tough courses and might've "figured out" TPC Sawgrass a bit last year, finishing in a share of fifth place, his highest finish at this event.
He said during that one that he'd become more patient and was focused on limiting the mistakes and letting the birdies come to him. I love that strategy on most weeks, but especially this one.
Remember: Last year's leaderboard also had Jim Furyk, Jhonattan Vegas and Eddie Pepperell in the top-five. It's easy to look at all the studs and think they'll have the market cornered on top-fives this week, but there will be a few guys who are a bit off the grid and I love the number on Snedeker to be one of those guys – again.
Top-10
One player to finish top-10.
Jason Day (+650)
Hey, stop wiping your screen to see if you're really reading this right. I get it, I'm well aware that Day withdrew during the second round of last week's API with back stiffness, just as I'm well aware that there's an excellent chance he might do it again.
But I do have a bit of déjà vu on my side here. In the very same situation last year, Day WD'd from the API, then finished T-8 at The Players one week later. In fact, in his very next start after his three previous WDs before that (one in 2016, two in 2014, by the way; he doesn't do it as much as most people seem to think), he's finished T-12, T-4 and T-15.
Whether being cautious has paid off, whether he's less injured than he wants us to believe or whether lowered expectations have led to better results, there's evidence that Day traditionally plays well after withdrawals.
Top-20
One player to finish top-20.
Collin Morikawa (+185)
Once Tommy Fleetwood missed the cut at the API, the current cut-streak leader on the PGA Tour instantly became Morikawa, who's still never missed one since turning pro. I know a lot of people liked him last week – and they were rewarded with a T-9 result – but I took a wait-and-see approach to learn how the West Coaster would handle a Florida-based tourney, where he hasn't played nearly as much golf.
Well, turns out he plays well here, too. One of the most mature young players I've ever spoken with out here, I think he's going to be a poor man's Matt Kuchar or a rich man's Charles Howell III – which is to say, he's going to be very good and very consistent for a very long time. Actually, he might wind up being more successful in the long run than either of those two. That consistency continues this week, as I like him for (at least) a top-20 finish.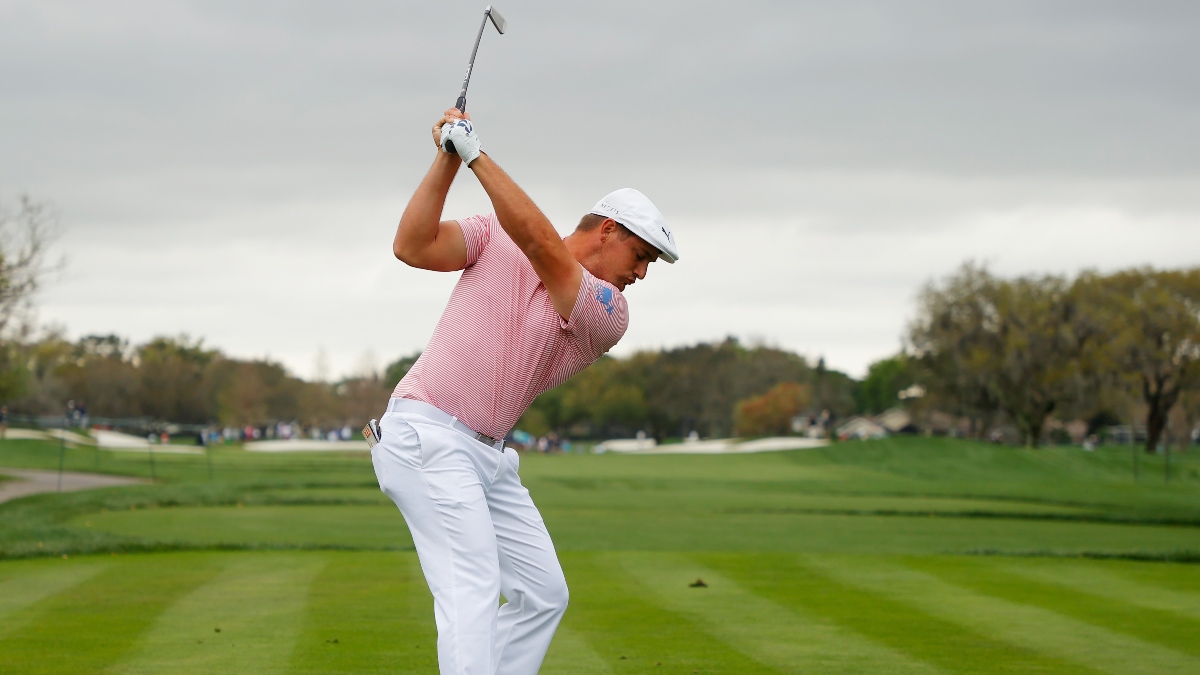 DFS Free Bingo Square
A safe plug-and-play option for DFS.
Bryson DeChambeau
Once again, anyone can give you McIlroy and Rahm here. I don't disagree with either of those choices, so consider this just a slightly less safe plug-and-play option instead.
DeChambeau has now finished top-five in each of his last three starts. I've written a bunch lately on how I believe he's going to start trending in the right direction – and he will undoubtedly show very strongly on my Masters lists next month – but the thing that's really impressive right now is that Bryson doesn't seem to be playing nearly his best golf, yet he's right up there near the top of the leaderboard each week. If he gets a few more things just a bit more dialed in, he's going to start winning – and as he's shown in the past, those wins might come in bunches.
DFS 'Dog
A lower-priced option for DFS.
Max Homa
Sung Kang
Joel Dahmen
Just because I like you guys, I'm going to list three lower-priced options for this week. Remember what I wrote in the intro about playing needing to have their games coming into this one, because they can't find it here?
That's the thought behind each of these players, fresh off strong performances at Bay Hill and still flying a bit under-the-radar, as if their results to date this year are more fluky than talent-driven. I'll stick with the hot hands instead of hoping someone else finds something this week.
First-Round Leader
One player to post the low score Thursday.
Lucas Glover (+15000)
Two years ago, Glover opened with a 4-under 68 at this tournament, just two strokes off the lead. He remained in contention with a 71 the next day, but faded on the weekend and, well, things happened.
Call me a romantic, but I think it would be poetic justice for Glover to make a bunch of birdies and jump out to the first-round lead this week – not to mention, one hell of a Thursday story.
Matchup Man
One player who should beat comparable players.
Ian Poulter
Armed with the best field we'll see all year, some players will undoubtedly slip through the cracks on the oddsmakers' boards, falling further than they should. I don't necessarily like Poulter for outright or even top-10 wagers, but at 170-1 – and looking at other players at or near that number – I like his consistency to beat other similarly ranked players.
Poulter has finished 32nd-or-better in each of his last four starts and has only missed three cuts in 16 career starts at this event, including a pair of runner-up finishes.
The Big Fade
One top player to avoid at this tournament.
Brooks Koepka (+3900)
If you hadn't paid attention to anything in golf over the first three months of the year and only checked odds for The Players to gauge how guys have fared, you'd quickly understand who isn't playing well. Justin Rose at 70-1? Day at 80-1? Sergio Garcia at 85-1? Jordan Spieth at 95-1?
Each of them has clearly struggled – and the books are reacting to those struggles.
Perhaps, though, nobody has endured a more precipitous decline than golf's resident bad-boy in Brooks, whose ubiquitous DGAF attitude has turned into a negative after so many years of offering an advantage. That might change by the time we reach the majors, his bread-and-butter events, but I have little faith that the game's third-ranked player can turn things around quickly enough to be a factor this week.
How would you rate this article?