Sobel's Golf Betting Preview for the 2020 Wyndham Championship: Doc Redman Could Be Next in Line
Credit:
Darren Carroll/PGA of America via Getty Images. Pictured: Doc Redman.
Check out Jason Sobel's betting preview for the 2020 Wyndam Championship at Sedgefield Country Club.
Below, you'll find his favorite outright bets, sleeper picks, player props, and DFS plays for this week's PGA TOUR event.
Since I wrote all about this past weekend's tremendous PGA Championship here, I won't spend much time rehashing it as we start to look ahead to this week's Wyndham Championship.
There are, though, some residual remnants left over from the year's first major which will factor into this one.
Four of the players who left TPC Harding Park with the biggest questions surrounding the state of their games are in the field at Sedgefield CC, each with varying degrees of unfamiliarity about their short-term outlook.
Brooks Koepka boasted to the entire world after Saturday's third round about how he'd enjoyed major success and nearly no other contenders had. So, what happened? He posted a final-round 74 the next day, beating only one player in the field. Now he heads to the Wyndham for his sixth event in six weeks (for some reason) and we have absolutely no idea what to expect off that Sunday finish.
Jordan Spieth appeared outclassed against "good buddy" Justin Thomas in the third round, grinding to try to find some semblance of a swing. He might've found just a little something on Sunday, which I'll get into below, but there are still way more questions than answers surrounding Spieth.
Tommy Fleetwood posted a second-round 64 and appeared primed to seriously contend for yet another major title, following his three top-four finishes in the last three years. It never happened, though, as he posted scores of 70-73 on the weekend to finish in a share of 30th and leave us wondering about the state of his game.
Justin Rose entered last week with three consecutive missed cuts, recent splitting from both an equipment company and a swing coach. His finish of T-7 left him in better shape than the aforementioned three players, but it's still fair to voice concern over whether Rose's game is where it needs to be entering an important few months in the schedule.
Let's get to this week's picks, where we'll start with some players who have fewer questions about their games right now.
Outright Winner
One player to win the tournament.
Doc Redman (+6600, $10 bet wins $660)
One week after Collin Morikawa's brilliant victory that featured two other members of the 2017 U.S. Walker Cup team in the final two pairings, I'm picking a fourth member of that squad as my favorite outright this week.
There should be some concern that Redman has MC'd in each of his previous two Wyndham starts, but he's a more polished player now than he was for either of those. Instead, I'm looking at correlating performances.
First, he finished T-21 this year and runner-up last year at the Rocket Mortgage Classic, played at Detroit GC – like Sedgefield, a Donald Ross design. Then there's the fact that he's trending in the right direction, with four top-30 results in his last six starts, including a T-29 at the PGA.
Perhaps emboldened by another young twenty-something, Redman should feel comfortable this week in his home state of North Carolina.
[Bet Doc Redman at DraftKings and get a $1,000 sign-up bonus.]
Other OADers
Potential selections for one-and-done options.
Patrick Reed (+1400)
If you've still got Reed as an OAD possibility, there's no point in letting him sit on the shelf any longer.
He won this event in 2013, beating Spieth in a playoff for his first career victory, and since then has played here three times and finished between 20th and 25th each time.
As I've chronicled previously, the best thing about selecting Reed right now is that he's been playing his best golf on the weekends, moving up the leaderboards even if he's well out of contention, as he did once again at the PGA, going from 25th to 13th over the final two rounds.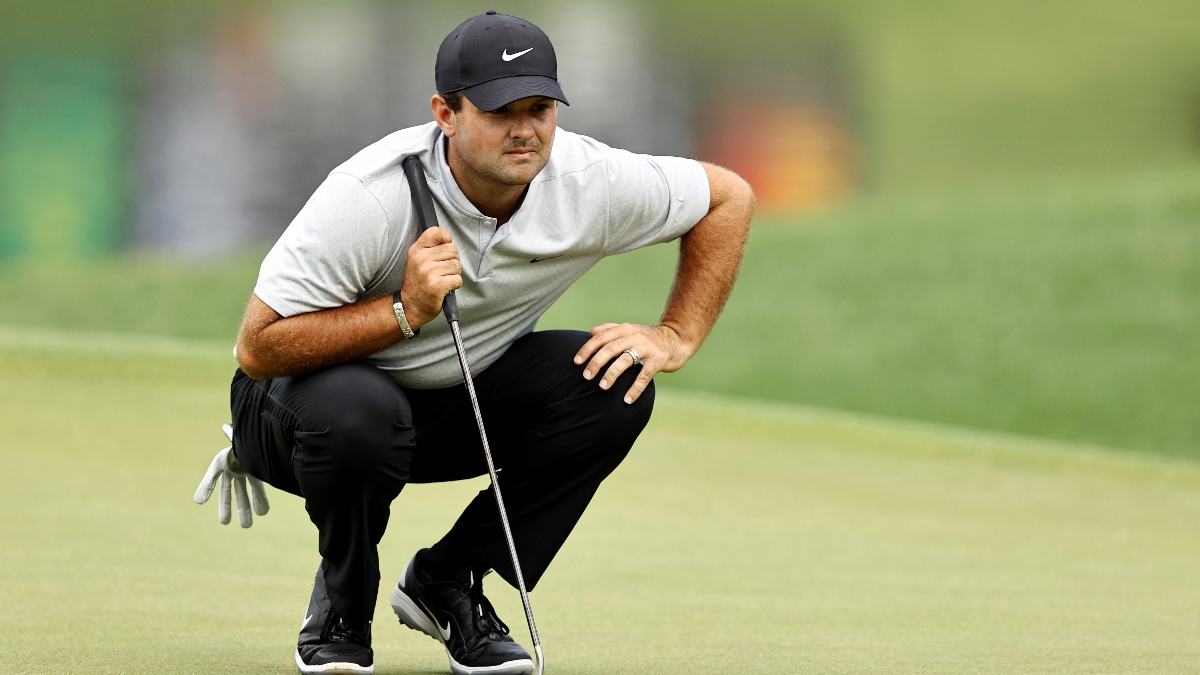 Harris English (+2500)/Lucas Glover (+6600)
As long as they each continue to be the most consistent options from the mid-tier, I'll keep lumping them together each week. This one should be especially up their collective alleys.
English has made the cut in all six Wyndham starts, with a best finish of T-10. He's been top-20 in each of his last four starts, including a T-19 at the PGA.
Glover, meanwhile, owns eight top-25 results in 15 career starts. Even though a pair of MCs in his last two starts might scare you away, this should be a better fit for him.
Maverick McNealy (+8000)
As I mentioned above in regard to Redman, I don't think it's a bad idea to see how some players have fared at other Donald Ross track. Unfortunately, there's not a huge sample size, but it does bring us back to last month's Rocket Mortgage.
Kevin Kisner, Danny Willett, Sepp Straka and Tom Lewis are some of the names that should jump out to us from that week, but like Redman (and Morikawa and Cameron Champ and Scottie Scheffler), McNealy was yet another member of that 2017 Walker Cup team, which could be flourishing at just the right time.
Top-Five
One player to finish top-five.
Webb Simpson (+335)
Those of you who recall Wyndham preview pieces from previous years will also remember my No. 1 rule of golf betting: If a player names one of his kids after the tournament sponsor, you take him. Don't worry about form or course fit or anything else – that's an insta-play.
So, why only top-five here? Well, it's the smart play. In 11 career starts at this event, Simpson owns top-five finishes in five of 'em, including each of the last three years, as he's gone 2nd-2nd-3rd during that time.
There are few players who are as much of a lock as Simpson at this event. It would be a shock if he's not somewhere on the leaderboard.
[Bet Webb Simpson at DraftKings and get a $1,000 sign-up bonus.]
Top-10
One player to finish top-10.
Si Woo Kim (+500)
If you've been betting golf long enough, you know all about Si Woo, who has a propensity to have more variance than most other players. Maybe he's getting a bit more predictable lately, though.
Kim won this event in 2016 and finished fifth last year. He's also fresh off a T-13 at the PGA and hasn't missed a cut in two months. Perhaps his consistency is finally coming around, right before our eyes.
[Bet Si Woo Kim at DraftKings and get a $1,000 sign-up bonus.]
Top-20
One player to finish top-20.
Jordan Spieth (+200)
I spent a lot of time hosting shows for SiriusXM PGA Tour Radio this past weekend, which was enjoyable and informative for about a million different reasons.
One of 'em was getting a chance to hear Fred Albers call live golf shots throughout our pregame programming, but he also threw in a juicy nugget about Spieth. He mentioned that he'd walked 18 holes with Spieth during the final round of the 2017 U.S. Open, as he was finishing up a T-35 performance.
Afterward, Spieth suggested that he might've found a little something down the stretch at that major. Well, the very next week he won the Travelers Championship, then followed it with a win at The Open Championship in his next start after that.
A final-round 67 at TPC Harding Park similarly suggests Spieth could've "found something" this time, too, and while I'm not ready to dive headfirst into this theory, I'll at least dip my toe into the water with a top-20 prediction.
[Bet Jordan Spieth at DraftKings and get a $1,000 sign-up bonus.]
DFS Free Bingo Square
A safe plug-and-play option for DFS.
Billy Horschel
He might not win or even seriously contend, but Horschel is a guy who shouldn't kill your lineups this week. In eight previous starts at this event, he owns a pair of top-10s, but – most importantly for this category – only one missed cut.
Likewise, he's made the cut in four straight events over the past month-and-a-half. With so many questions surrounding so many of the big names at this one, he feels like one of the best "safe" options in the field. 
DFS 'Dog
A lower-priced option for DFS.
Robby Shelton 
Total hunch play here, as he's never competed at this event before, but Shelton was T-3 at the 3M Open two starts ago and the Alabama native should be a guy who enjoys getting back to some Bermuda greens in the Southeast.
I think there's enough solid options to favor balanced lineups this week, but if you want to include guys like Simpson and Reed together, you'll need to find a few lower-priced options and Shelton could be the right guy at the right price.
First-Round Leader
One player to post the low score Thursday.
Harold Varner III (+8000)
Full disclosure: My pick to win came down to Varner and Redman, with recent results pushing the latter over the edge, but I do really like HV3 this week in what he considers his home event (though he grew up about 90 minutes away).
I have no problem with a small outright play on Varner, plus a few other top-10/20 props, but my favorite bet is FRL, as he's known for getting off to some hot starts. He was co-FRL at the Charles Schwab Challenge right after the PGA TOUR restart and in his last three Wyndham appearances, he's opened with a 63 and two 66s.

[Bet Harold Varner III at DraftKings and get a $1,000 sign-up bonus.]
Matchup Man
One player who should beat comparable players.
Russell Henley 
His record at this event isn't anything to get too excited about, but Henley's ball-striking stats last week certainly were, as he ranked up there with some of the game's elite players with his iron play. Here's banking that a return to Bermuda greens should do him well.
On a course where birdies are plentiful, there are few in the field who can make 'em in bunches like Henley. If he's on his game this week, he can get hot in a hurry. 
The Big Fade
One top player to avoid at this tournament.
Rafa Cabrera Bello (+15000)
You might be thinking: Not many big names in the field, so maybe I'll take a chance on RCB, who's at least a solid player.
Yes, he is – but not recently. He's now missed the cut in three of his last four starts and one of his "made cuts" was a 78th-place finish in the 78-player WGC-FedEx St. Jude Invitational field. Last week, he ranked 10th from the bottom in strokes gained tee-to-green in the two rounds he played at TPC Harding Park.
I generally like Rafa as a player – and trust me, he's a great dude to catch a soccer game with – but until he show signs of turning things around, I'll fade him. 
Off Tour
My favorite non-PGA Tour play of the week.
Will Zalatoris (+1000) and Braden Thornberry (+10000) at the Albertsons Boise Open
What can I say? I'm a sucker for a good story. Just as Morikawa, Champ and Scheffler contended at the PGA, and just as I've listed Redman and McNealy above, might as well take a shot on just about the entire 2017 Walker Cup roster this week.
Zalatoris is a strong pick any week, with seven straight finishes of 14th or better, including his first Korn Ferry victory. Thornberry isn't quite on the same level, but that should mean some depressed pricing for a guy who still owns a ton of talent.
[Bet The Korn Ferry Tour at DraftKings and get a $1,000 sign-up bonus.]
How would you rate this article?