2021 3M Open Betting Picks, Odds, Predictions: Our Staff's Favorite Outrights, Props & Longshots at TPC Twin Cities
Credit:
Andy Lyons/Getty Images. Pictured: Cameron Champ
Golf's major season is over but the 3M Open kicks off Thursday morning from TPC Twin Cities in Blaine, Minn.
There are only a few weeks left to the PGA TOUR season, so who can close it on with a flourish?
Our staff delivers their favorite bets for this week's tournament, below.
With the Open Championship in the rear-view, we're officially out of major championship season. That means it's full speed ahead to the FedEx Cup Playoffs and the Ryder Cup.
With just a few weeks between now and the culmination of the 2020/21 PGA TOUR season, now is the time for golfers to make a run up the table. Who is best suited to make a charge at this week's 3M Open? Check out our favorite outright bets to find out:
Outrights
Jason Sobel
Patton Kizzire (+6500)
I've covered enough editions of The Open Championship over the years to know that I'm completely useless for a handful of days upon returning. That futility would increase tenfold if I was actually trying to compete in a physical pursuit at the top of my profession instead of just pounding away on some keyboard. In any case, I'm surprised at how many big-name players are making the trip from Royal St. George's to TPC Twin Cities and I'm sure some of them will play well, but I'm still giving an edge to those who remained stateside last week.
That leads me to Kizzire, who's been better than advertised this season. He's top-20 in both R1 and R4 scoring average, total birdie average and in the all-around ranking. Why is that last one so important? It measures how proficient players are in every major category — and there's a correlation here, too.
At the beginning of this year, I wrote about expecting big things from Seamus Power, who was the highest-ranked non-star in that category last season. He, of course, just claimed a first PGA TOUR victory. Now that honor belongs to Kizzire, who appears ready to add a third career title with some pretty tasty odds this week.
Josh Perry
Bubba Watson (+3500)
Bubba missed the cut here a year ago, but the form wasn't anywhere near as good as it is now. Watson finished sixth in his last start and he did post a 67 at TPC Twin Cities, so he has shown he can go low at this track.
Chris Murphy
Ryan Moore (+6500)
I am going off the board a bit this week as I think there is a wide range of players that could make a run at the win this week at TPC Twin Cities. Moore is a player that shows up a certain courses every single year and one of those tracks is TPC Deere Run, which has a strong correlation with TPC Twin Cities.
Moore finished second at the John Deere two weeks ago and a has win there, so I wouldn't be surprised if he posts strong results over his career at the 3M, where he already has a 12th-place finish to his name.
This season has been a run of players finding their first wins in several years, and I'm taking a dive on Moore, who opted out of the Open Championship, this week to find his first victory since 2016 on a course that will suit his game well.
Matt Vincenzi
Sergio Garcia (+3500)
Garcia is quietly coming off of three consecutive top-20 finishes. In his past two measured events, the Spaniard has gained an average of 5.9 strokes tee to green. We know how poor of a putter Garcia is, but he hasn't been quite as bad lately; only losing 0.3 strokes to the field putting.
The 3M Open is an event that favors ball-strikers, and Sergio is still one of the best ball-strikers on the planet when he is in form. In his past 24 rounds, the 41-year-old ranks seventh in Strokes Gained: Off the Tee and fifth in Strokes Gained: Approach.
I don't see much value at the top of the board this week, so Garcia at +3500 is a good place to start a betting card.
Landon Silinsky
Jhonnatan Vegas (+6000)
I am pretty bullish on Vegas this week in all formats. He's been playing some incredible golf of late and it feels like he's knocking on the door of his fourth PGA TOUR victory. TPC Twin Cities is said to be a ball-striker's course, which is good news for Vegas, as he ranks No. 1 in this field in SG: Ball-Striking over his past 16 rounds.
He's coming off a T-11 at the John Deere where he shot a final round 70 to keep him from contending. The same thing happened at both the Palmetto (T-2) and the Byron Nelson (T-9,) where one bad round did him in. If he can just keep it together for all four rounds this week he has final group potential in this weak field. He's been striking it too well to stop backing him now, and we're getting a nice price at 60/1 here.
Rob Bolton
Bubba Watson (+3500)
Dustin Johnson is the board favorite and rightfully so, and the other fellas here have presented compelling testimony for their choices, yet it feels like we're leaving so many of the worthy on the cutting-room floor. So goes a 3M (wide) Open.
As Jason states at the top, there is concern for the guys traveling from England, and I can appreciate the context as it pertains to our pursuits, but consider that each of the last three winners of the tournament immediately following The Open (2017-2019) competed in The Open the previous week. So, I'm not a buyer of that narrative even though you could argue that it applies to my reasoning for Watson.
The lefty qualified for The Open but he was among the 20-plus who didn't make the trip. (He cited direct exposure to someone who tested positive for COVID-19.)
After struggling to regain traction a year ago at this time, he found another gear during the FedExCup Playoffs and has sustained it throughout the 2020-21 season, posting five top 10s and another three top 20s, including in his last start in Detroit (T6).
The other component to my argument is how much he's settled into the fulfilling lifestyle as a difference-maker in Pensacola, Florida. Maybe I'm reading too much into it (because his success has transcended sites), but he seems to have a deeper connection to the tournaments in between the tentpole stops.
For a guy who has acknowledged the importance of feeling comfortable, I'm all-in on one more.
I rest my case.
Bryan Berryman
Sergio Garcia (+3500)
Sergio has been mostly M.I.A. of late, playing in just two events since the beginning of June. He had some success at those events, quietly finishing 19th at both the U.S. Open and Open Chanpionship last week. His ball-striking prowess was on full display at the U.S. Open, gaining 4.5 strokes on approach and 5 total strokes tee to green.
Now we enter an event where we're seeking ball-strikers and birdie-makers. Over the last 12 tracked rounds, Sergio ranks 10th in this field in birdie or better percentage, and even gained 2 strokes putting at the U.S. Open. Things seem to line up nicely for Sergio this week.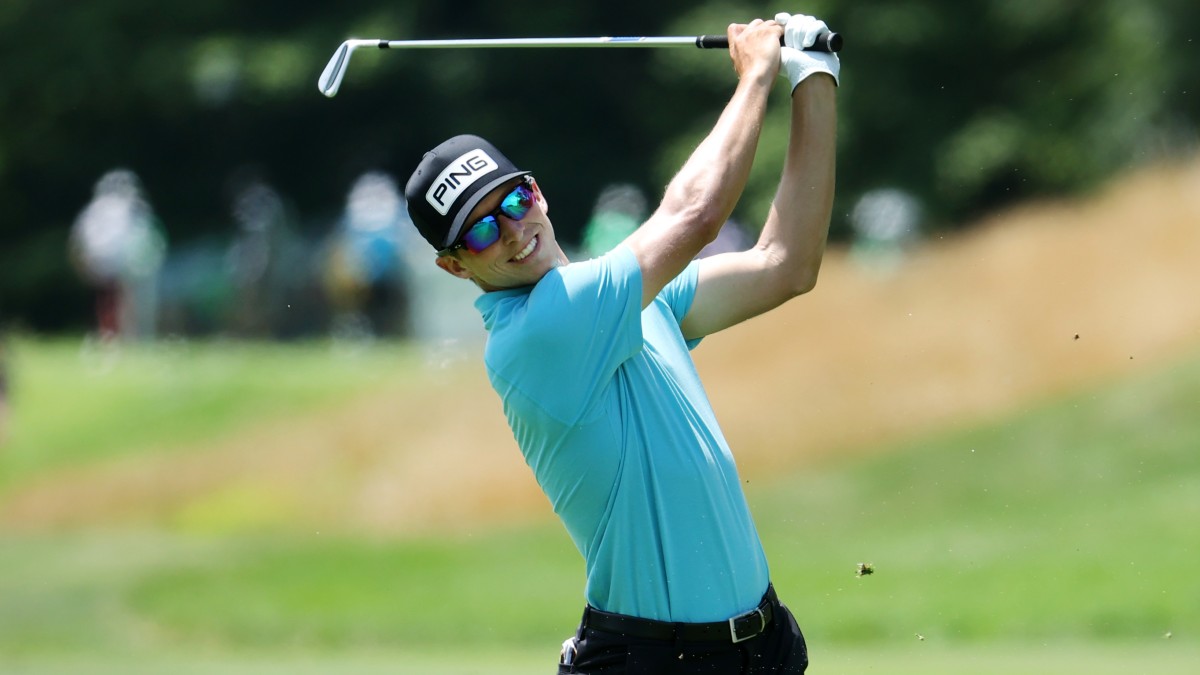 Longshots
Jason Sobel
Brandon Hagy (+13000)
Two weeks ago, we watched Hagy pound away at drives with reckless abandon at the John Deere Classic, a strategy which kept him on the leaderboard until faltering Sunday. If that plan found success there, then it certainly can here, as well. The Dylan Frittelli lookalike owns a ton of offensive firepower and should be able to keep up if (alright, when) this one turns into a birdie-fest.
Finished of 18th-6th in his last two starts shows he's trending upward and a check of his full results this season shows he's probably better than you'd think. Expect another solid run this week.
Josh Perry
Brandon Stone (+20000)
Stone is eighth in Strokes Gained: Off the Tee in Europe this year and also gains strokes with the putter.
I mentioned long players who can putt, and this is my real flier.
Stone's form isn't great, but he does have three wins on the European Tour under his belt and picked up a win in Africa earlier this year.
But he's never a guy who will show any kind of form. He will just boom or bust. He might miss the cut by five. But if the driver and putter both show up this week, he can contend in this type of field.
Chris Murphy
Kyoung-Hoon Lee (+20000)
I am going down narrative street for my longshot pick this week as Kyoung-Hoon Lee is set to tee it up on a style of track that he has had great success on in recent events. Lee has shown up on TPC courses time and again this year, including his first TOUR win a few months ago at TPC Craig Ranch for the AT&T Byron Nelson. He also showed during that win that he had the ability to go really low to get it done as he got to 25-under par, which sets up well for another low scoring event this week in Minnesota.
While he missed the cut in his last event a few weeks back at the Rocket Mortgage, he may have been distracted as he had his first child that Sunday. I'll add the baby swag narrative to the TPC fit, and we have ourselves a cheap longshot at +20000 on DraftKings.
Matt Vincenzi
Cameron Champ (+15000)
Cam Champ certainly fits the bomber narrative we saw in 2019. It has been a struggle for the 26-year-old this season, but his best start of the year came in his most recent appearance at the John Deere Classic, where Champ finished 11th. He did so while gaining an impressive 6.2 strokes off the tee, which led the field.
If Champ has indeed found some form, TPC Twin Cities should be a nice fit for his skill set. Champ's previous wins have seemingly come out of nowhere and while volatile, is a golfer who carries outright win equity.
Landon Silinsky
Kyle Stanley (+7000)
Stanley is another elite ball-striker that's been held back by his short game of late. He hasn't missed a cut since the RBC Heritage back in April and ranks No. 1 in this field in SG: Ball-Striking over his past 24 rounds. He's a little over a tenth of a stroke better putting on bentgrass than other surfaces, so hopefully he won't bleed away strokes on the greens this week.
It helps that he's seen the course before, finishing T-32 here last year. Overall Stanley is in much better form this year than he was last, and I'll gladly take a shot at 70/1 he gets hot with the putter for four days.
Rob Bolton
Satoshi Kodaira (+24000)
We're in Boomstick country, so let's swing for the fence.
When he broke through at the 2018 RBC Heritage, he scaled to a career-best 27th in the world. He already had won six times in his native Japan and did again later that year, so he knows how to close.
It's just been a minute.
His fully exempt status is on the line with the clock ticking this summer and he's responded nicely with four top 20s in his last seven starts to reach 149th in the FedExCup. Already among the most accurate off the tee and now coming off a performance in Kentucky where that precision paid off in the form of a career-best-tying 58 greens in regulation in a single tournament.
Bryan Berryman
Bo Hoag (+13000)
Bo has been a guy I've been watching closely over his last year on TOUR. There's no question the talent is there to win, but consistency has plagued him over his 51 career starts. But this is the longshot section, so we can't be afraid to take a shot on potential.
Over the last 12 rounds, Bo ranks first in strokes gained on approach and 14th in birdie or better percentage. That's enough to warrant a small position on my betting card. As always with longshots, I recommend pairing it with a top-5 or top-10 bet in case they can't close the deal come Sunday.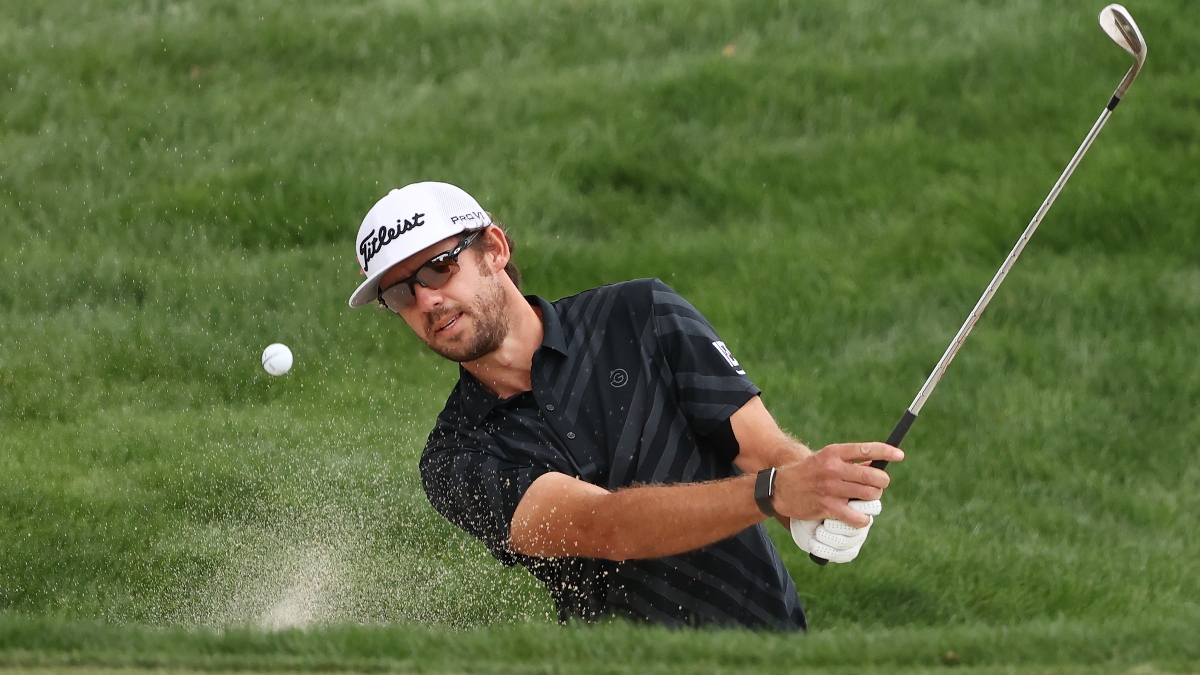 Props & Matchups
Jason Sobel
Maverick McNealy Top-10 Finish
An all-everything amateur in college, this son of a tech billionaire pondered life as a career amateur before deciding to give it a go as a pro. A few years in, we're starting to get a feel for what type of player he's going to be over the long haul. Essentially, I see him as a poor man's (ha!) Matt Kuchar or Charles Howell III — a guy who rarely plays poorly, but doesn't exactly peel off victories, either. He's finished top-30 in his last four starts, as his tee-to-green performance has been catching up to his proficiency on the greens.
Those four top-30s don't include a top-10, which sort of underscores the point about his consistency, but I do like him to take another step this week and finish on the first page of the leaderboard.
Chris Murphy
Lanto Griffin Top-10 Finish (+400)
I toggled with the idea of playing Lanto as my pick to win this week, but ultimately decided on Moore. This tells you the range of players I am looking at for my best bets of the week, as I ultimately will have both players in a number of markets.
Griffin comes in off a made-cut at the Open, where he finally showed some form on approach. That will be the key for him to have a successful week in Minnesota as we know he will putt well, but he has to be dialed in with his irons to really compete.
Lanto has a win on TOUR from the 2019 Houston Open, and seems to be trending towards another top finish for the 3M.
Matt Vincenzi
Keegan Bradley Top-5 Finish (+600)
TPC Twin Cities is a ball-striker's paradise where putting (while always helpful) may not be an absolute requirement. Bradley is always one of the first players to come to mind when searching for elite ball strikers.
Bradley has had an impressive season to date, and has maintained form through the Rocket Mortgage Classic two weeks ago, where he gained 5.5 strokes on approach. His putting was abysmal once again as he lost 4.3 strokes to the field. In 2019, Wolff and Morikawa dueled down the stretch and both gained less than one stroke putting. If Bradley can putt to field average, he will have a chance to get himself into contention this week.
Landon Silinsky
Patrick Reed (+110) over Dustin Johnson
Prior to this past week, Reed had missed three cuts since the beginning of 2021. In the subsequent three tournaments after each MC, he finished T-22, T-6 and T-5. He takes this stuff personally and never lets himself get into a malaise for an extended period of time. DJ on the other hand we know sleepwalks through certain periods of the season.
Yes he has been playing better of late and is coming off a top-10 at the Open, but I just dont think this is an event he marks on his calendar. Give me Reed at plus-money here.
Rob Bolton
Satoshi Kodaira Top-20 Finish (+600)
If you limp in as my longshot at +24000, then this is a no-brainer. Heck, it still is even if you balked on that outright (but at that reward, why would you?).
The message here is simple. There are golfers who are entirely speculative as they feel the pressure to perform with the finish line to qualify for the Playoffs in view. Then there are guys elbowing for the same space who won't be scrambling as much because of the foundation of their careers that got them here in the first place. Among the risky, they are the conservative plays. I prefer them because they have less to lose in the big picture.
Bryan Berryman
Hank Lebioda First-Round Leader (+6000)
We were a 7-foot par putt on the 18th hole away from hitting this same bet two weeks ago at John Deere; I'm going back to the well this week.
Lebioda has been playing the best golf of his career over the past month. In the last 24 rounds, Hank ranks fifth in birdie or better percentage, fifth in bogey avoidance, and 16th in strokes gained on approach in this field.
I'm going to continue to ride the hot hand, and hope he comes out firing on all cylinders in Round 1.
How would you rate this article?
This site contains commercial content. We may be compensated for the links provided on this page. The content on this page is for informational purposes only. Action Network makes no representation or warranty as to the accuracy of the information given or the outcome of any game or event.