AT&T Byron Nelson 2021 Betting Picks & Predictions: Our Best Outrights, Longshots, Matchups & Props (May 13)
Credit:
Jared C. Tilton/Getty Images. Pictured: Satoshi Kodaira
The AT&T Byron Nelson begins Thursday morning from TPC Craig Ranch in McKinney, Texas.
Our staff compiled their favorite bets for the week, including outrights like Scottie Scheffler, longshots like Sebastian Munoz and matchups like Marc Leishman over Will Zalatoris.
Get all our AT&T Byron Nelson bets below.
With the second major of the season just around the corner, the PGA TOUR heads to a new venue this week for the 2021 AT&T Byron Nelson. One of the great things about betting on golf is that every week is different. No two fields, courses or tournaments are the same week to week. It's like you get to be a bite-sized sports season every seven days. It's truly beautiful.
All reports from Dallas seem to indicate that the scoring will come easy and that this tournament could turn into a birdie-fest. Which players are best set up to take advantage of the conditions at TPC Craig Ranch? Check out our favorite outrights, sleeper picks, props and matchup bets for the AT&T Byron Nelson to find out:
AT&T Byron Nelson Picks
Outrights
Jason Sobel
Scottie Scheffler (+1900)
I expect this to be a popular play this week, considering Scheffler owns some very Spiethian vibes at this event. The 24-year-old first played here at the age of 17, posting his final three scores in the 60s and finishing in a share of 22nd place – good enough to beat the likes of Martin Kaymer, who was only in between winning The Players and the U.S. Open that week.
While most players use a return to a specific course to give them a little mojo for the week, Scheffler might have it here – even at a different venue – just based on familiarity with the community and the tournament staff. On a week with so many unknowns, that's as good a reason as any.
Even with some big names in the field, this event feels like it could wind up being the domain of a first-time winner – and few are more deserving of a first victory than Scheffler. Also, I went down the rabbit hole of the dark web and found that 9-year-old "Scott Alexander Scheffler" won the nine-hole, coed, age 7-9 division of the Metro Area Championship by seven strokes right at this very same TPC Craig Ranch.
Yup, those are actual things that happened – him winning here and me actually researching it.
Josh Perry
Matt Kuchar (+7000)
I'm going to take a stab on Matt Kuchar in this range. Kuchar hasn't really played much of a factor since the restart about a year ago, but he's found his game the past month.
Kuchar has three top-20s in his last four starts, including a couple of solid results in Texas with a third at Match Play and a 12th at Valero. With his approach game coming back around and his usual strength on the greens, this could be a spot for the veteran to play well.
Chris Murphy
Bryson DeChambeau (+800)
I typically don't backing players this high up the board and I know it's not a sexy pick, but from what I have gathered this week, everything sets up well for Bryson.
This appears to be a course where he can simply set up to bomb it off the tee, with little to no trouble around most landing areas. He will be able to reach all of the Par 5s with ease, and will be one player in the field that can challenge both of the drive-able Par 4s without much additional thought.
One thing that I continue to harp on is just how good Bryson is with the flat stick. He ranks 38th on TOUR in Strokes Gained: Putting this season, and with the large greens around TPC Craig Ranch, it could turn into a bit of a putting contest.
I don't like the odds we are getting this week, but I believe DeChambeau will be the winner, possibly going away, which locks him in as my favorite outright for the AT&T Byron Nelson.
Matt Vincenzi
Sergio Garcia (+5000)
Against my better judgment, I'm going back to Sergio once again. Hear me out: Sergio was playing excellent golf prior to back-to-back missed cuts, and the pressure of Augusta National seemed to have gotten to him in the 2021 Masters.
However, before his most recent victory at the 2020 Sanderson Farms Championship, the Spaniard was also coming off back-to-back missed cuts. Relative to the guys around him on the oddsboard, I see a lot of value with Garcia here.
He still stripes it off of the tee and can take advantage of the four short par-5s and drivable par-4s.
Yes, he is a horrific putter, but bentgrass is his best surface and he has an excellent history in the state of Texas, having won the Byron Nelson twice. Just close your eyes and bet it.
Landon Silinsky
Matt Fitzpatrick (+2100)
It feels as though Fitz has the reputation of being more of a tough course guy, but believe it or not he ranks 30th on the PGA TOUR in Birdie or Better percentage this season. He has really been lighting it up.
A lot of this is thanks to his elite putter, as he ranks No. 1 in this field in SG: Putting across his last 48, 36, 16 and 12 rounds. We always knew about the Englishman's prowess with the flat stick, however, it's his ball-striking that has vastly improved, as he also ranks ninth in this field in SG: Off-the-Tee, and 11th in both SG: Tee-to-Green and Ball-Striking across his past 36 rounds.
Fitz has gotten himself up to No. 17 in the world and is in the midst of the best stretch of golf in his young career. He finished T-4 at the RBC Heritage, T-9 at THE PLAYERS, T-10 at the API, T-11 at the WGC Concession and T-5 at Genesis. That doesn't even include his respectable T-34 at Augusta as well. Whichever way you slice it, the man is locked in right now and it's simply a matter of time before he posts his first career win stateside.
This would be a great week to get it done, as a hot putter could carry him, while the bigger greens at TPC Craig Ranch will mitigate his recent approach play doldrums.
Rob Bolton
Marc Leishman (+3400)
The legend of his value in the wind, at least as we know it in the U.S. today, was launched at the Korn Ferry Tour's WNB Golf Classic in 2008. In a gale in Midland, Texas, he prevailed by 11 strokes at 21-under 267.
Remarkably, while known mudders don't always deliver on their promise in inclement conditions, the Aussie is as close to a lock as it gets when the trousers are flapping.
The winds will front the equation by the weekend at TPC Craig Ranch where confident ball-striking is required on a largely unknown test.
Bryan Berryman
Ryan Palmer (+4000)
The winning score this week should eclipse 20-under par and with little trouble to worry about off the tee, I'm looking for bombers who can make a ton of birdies.
Over the last 50 rounds, Palmer ranks 9th in this field in Birdie or Better percentage and 29th in driving distance. That's going to be the recipe for success this week. If he can get the putter going like it was earlier in the season, I like his chances to win this event at +4000.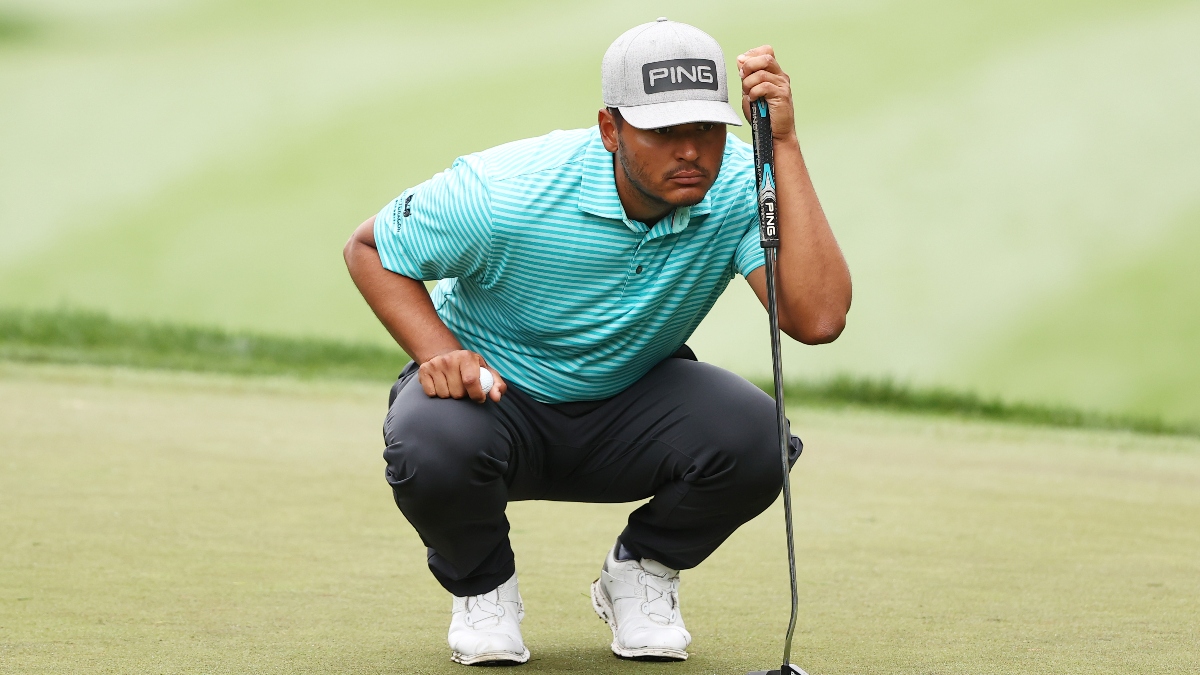 Longshots
Jason Sobel
Keith Mitchell (+6600)
I don't usually like chasing non-superstars after title contentions. There are a finite number of times that these players will contend in a given season and chances aren't great that they'll happen in back-to-back weeks.
That said, I can't resist this number for Mitchell, who held the 54-hole lead at Quail Hollow and finished in a share of third place. I love how he's driving it right now. In fact, during the weekend telecast, Jim Nantz quoted Brandt Snedeker, who was Mitchell's partner at the Zurich Classic and said he put on the greatest driving exhibition he'd ever seen that week, then added that Mitchell would've won by 10 if it was an individual event.
That's undoubtedly some hyperbole, but we get the point. On a TPC Craig Ranch course which should play relatively easy for its first run as host venue, I want players who make birdies in bunches. Mitchell totaled 20 of 'em just a week ago, second in the Wells Fargo field.
I expect him to step on the gas pedal and keep it going this week.
Josh Perry
Satoshi Kodaira (+40000)
This is a play solely off what we saw last week. Kodaira had no business being near the top of the board at Quail Hollow, but he managed to gain strokes both off the tee and on approach for the event. The irons deserted him on Sunday, but overall, it turned out to be a solid event for the former Harbour Town winner.
He's shown he can come through at long odds when everyone is recovering from a major. Maybe he can duplicate that with everyone looking ahead to one.
Chris Murphy
Sebastian Munoz (+10000)
I have a soft spot for Munoz, I seem to go back to him at every opportunity I get. I will again this week for his potential fit at the course and an added Texas narrative.
Munoz is one of the top birdie-makers on TOUR when he's on — and if we catch him on the right week — he can finish well in top-flight fields. He is a player that I don't put too much stock in week to week because he seemingly flips the switch on and off without much notice.
I'll take a flyer on the North Texas grad with the hopes he's got his sharp game this week at a place where his game is long enough and has the scoring ability to contend throughout the weekend.
Matt Vincenzi
Cameron Champ (+8500)
Cam Champ is a guy who will just show up and win a PGA TOUR event every few years.
A few years have passed since his 2019 win at the Safeway Open, and the time has come for him to hoist another trophy.
He is flashing some form recently with a 34th-place finish at the Valero Texas Open and a 26th-place finish at The Masters. He also made a run at the Zurich Classic with Tony Finau as a running mate.
This is low-risk, high-reward bet that presents excellent value this week.
Landon Silinsky
Carlos Ortiz (+7000)
I was going to write up Sebastian Munoz in this spot but Mr. Chris Murphy already illustrated why he's worth backing this week, so instead we'll go back to the Ortiz well. I don't know why I have such an affinity for this man, but I do believe he's a much better golfer than what he's shown of late and that we won't be getting 70/1 prices on him for very much longer.
Ortiz ranks 34th on TOUR in BoB% and as we know is one of the better putters on the planet. I like to target him at birdie-fests, which is what we should have this week with the wide open fairways and large greens. He finished T-12 at this event in 2019 back when it was at Trinity Forrest, but that was also a course with pretty wide fairways and prime scoring conditions, so I'll take my chances that he plays well again this week at a really nice price.
Rob Bolton
Talor Gooch (+8000)
As I wrote for my own Sleepers at PGATOUR.com, I love that he's pegging it this week. It's his fourth straight week on the road and there's no urgency to compete, so there's no reason to think that he'll look past it for next week's PGA Championship.
His athleticism plays everywhere, but in the winds of Texas on a new track, it doesn't hurt having a native of Oklahoma taking aim in a shootout. The non-winner also has a little history on his side as the last two winners of the AT&T Byron were first-timers.
Bryan Berryman
Jhonattan Vegas (+12500)
Sticking with the profile here of guys who bomb it and then score it, Vegas is one of the few players in this field that ranks top-20 in both driving distance and birdie or better percentage over the last 50 tracked rounds. He's quietly put together a very solid season, highlighted by the solo second-place finish at the Puerto Rico Open in February.
If you're looking to take a shot further down the board this week, I think Vegas is a worthwhile gamble at +12500.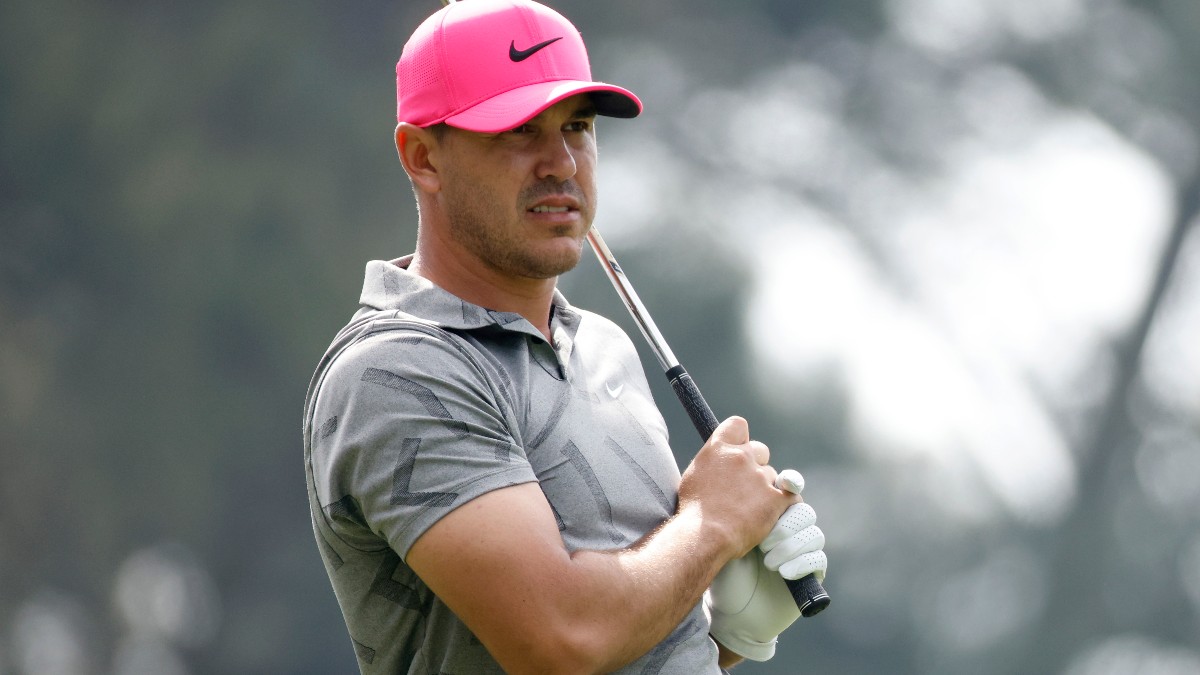 Props & Matchups
Jason Sobel
Ryan Palmer (+105) over Brooks Koepka
I'm admittedly lukewarm on Palmer as a title contender this week, but he's a guy I like targeting in H2H matchups, because he gives us a chance to win on both Friday and Sunday. That's because he's made the cut in 13 straight starts and 19 of his last 20, dating back to last summer. This one, though, is as much a Koepka fade as a play on Palmer. Making his first start since the Masters, Koepka is competing here after a five-week absence. Over the past two years, he's had six breaks of at least five weeks, for injuries or other reasons. His results in the first event back: MC-MC-28th-32nd-34th-MC.
For a guy who very possibly just wants a few competitive reps before getting motivated for next week's major, don't fool yourself into thinking he'll come back full-throttle this week.
Chris Murphy
Kristoffer Ventura Top-30 Finish (+650)
As I've covered extensively this week, I am targeting the bombers at this track, and one player that stuck out to me was Kris Ventura. He is the lesser known Oklahoma State teammate of Viktor Hovland and Matthew Wolff, but he too has quite a bit of talent.
He was a player I took a flyer on last week and while he fell short of the cut, he fought hard from the more difficult wave and actually had nine birdies in his two rounds.
Ventura is a player that's long off the tee, but he also ranks 6th in putting this season, which is the combo in player time I am looking for this week. His odds are too long across the board this week, but the conservative approach is the top-30 at a strong price +650.
Matt Vincenzi
Charl Schwartzel Top-10 Finish (+550)
I wrote up Charl as a sleeper last week at +12500, and he didn't disappoint with his performance. He finished in 14th-place while gaining an eye-opening 6.8 strokes on approach and 10.2 strokes tee to green.
His putter held him back at Quail Hollow (-3.5), but throughout his career, he has been an above-average putter, so I think a bounce back with the flat stick is in order.
The Johannesburg, South Africa, native has had somewhat of a resurgence of late with four consecutive finishes in the top 26, including a narrow playoff loss at the Zurich Classic with Louis Oosthuizen as his partner.
I am going to ride Schwartzel's excellent form for one more week and hope it leads to Charl getting in contention at TPC Craig Ranch
Landon Silinsky
Doug Ghim Top-10 finish (+550)
Ghim is one of the most frustrating players on TOUR right now, because he has the ball-striking chops of the game's elites, but putts like I do when playing mini golf. Ghim ranks No. 10 on the PGA TOUR in SG: Approach on the season. That is not just in this field, that's out of all the players on the PGA circuit. He's been a better approach player this year than Jon Rahm, Dustin Johnson, Xander Schauffele, Bryson DeChambeau, Tony Finau and Daniel Berger, just to name a few.
This 25-year old is no joke, and if he could just improve his putting even a little bit, he's going to be hoisting some trophies in his future. Ghim has some local connections to TPC Craig Ranch as well, as he played his college golf at the University of Texas and also finished in solo fourth place at this very course at the Korn Ferry Tour Q-School tournament back in 2019.
We've seen this season that when he gets a few putts to drop he boasts elite upside, so I'm willing to wager he makes enough to post a top-10 for us.
Rob Bolton
Marc Leishman (+138) over Will Zalatoris
Such love for Zalatoris, who is (-164) to beat Leishman. Zalatoris could bike to work from home this week and he's antsy to turn the page on the missed cut at Quail Hollow, but I stopped in my tracks when I saw this line in favor of the Aussie, who is my outright above.
Bryan Berryman
Luke List Top-20 finish (+220)
Luke List is no longer in the pool of golfers that I consider when taking outright bets. I've learned the hard way that his putting is just too inconsistent to rely on for the entirety of a golf tournament.
However, his bomb-and-gouge style of play should set up nicely this week. He averages 313 yards off the tee which ranks sixth on TOUR, and ranks 20th in this field over the last 50 rounds in birdie or better percentage.
Coming off a sixth-place finish last week where he gained strokes in every tracked category, I think he follows it up with another solid week and cracks the top 20 at +250.
How would you rate this article?