2021 British Open Bets & Picks: Our Favorite Outrights, Longshots, Props, Sleepers & Matchups
Credit:
Jane Barlow/PA Images via Getty Images. Pictured: Robert MacIntyre
The 2021 British Open begins on Thursday, July 15 at Royal St. George's in Sandwich, England.
Jon Rahm is the favorite to win the Claret Jug, but the Open is known as the most unpredictable of all the major championships.
Check out our best bets, sleeper picks and more for the 2021 Open Championship:
There is nothing quite like The Open Championship. From the iconic links-style courses to the rugged scoring conditions, this major championship stands out as one of the best betting events on the sporting calendar.
The Open tends to produce winners from all over the board. We've seen favorites like Jordan Spieth and Rory McIlroy lift the Claret Jug. But we've also seen some big prices come through with Darren Clarke, Zach Johnson and Shane Lowry. In other words, the betting can be just as chaotic as the tournament.
Here are our favorite outright bets for the 2021 Open Championship at Royal St. George's:
Outrights
Lee Westwood (+5000)
This play has been percolating for 16 months now. It was at last year's Honda Classic when I spoke with Westwood for a little bit and he just seemed … different. Refreshed, relaxed, recharged. When I mentioned that to him, he smiled and told me how happy and comfortable he is with both his life and his career. I walked away from that conversation muttering to myself, "Holy crap, he's going to win The Open this year." Of course, there was no Open last year. Just a few weeks later, the schedule was suspended for COVID and the tourney eventually went from postponed to canceled. I don't know that Westwood would see it as a missed opportunity any more or less than anyone else who's trying to add a Claret Jug to his collection, but now at 48 years old, his window for that career climax is indeed closing a bit. Perhaps, though, that window is only closing more gradually than ever before. Phil Mickelson recently proved a player can win a major at age 50 and Tom Watson had already shown that one can contend at this specific major well into his late-50s.
I expect this week to be much less about analytics regarding driving stats and ball-striking numbers than guile and creativity around the greens, patience in the wind and maybe a little magic in the air. It can be argued that each of the year's first three major champions owned some sort of fate-meets-destiny conclusion and it can similarly be argued that a win by Westwood in England would rival the significance and popularity of the win by Mickelson at Kiawah.
I don't like Westwood by leaps and bounds over the other contenders I'll have near the top of my list this week, but he is my favorite outright play for this one – just as he's been for the past 16 months.
Marc Leishman (+6600)
Leishman has finished sixth or better in three of his last six Open starts. He's also started playing a little better, just missing the Harris English/Kramer Hickok playoff at the Travelers by a shot after gaining 4.5 strokes off the tee.
The Aussies are riding a bit of a heater in Europe with Lucas Herbert and Min Woo Lee winning back-to-back events, so we'll see if Leishman can add to the success of his compatriots.
Rory McIlroy (+2200)
Jordan Spieth's odds have dipped and that, in turn, has boosted Rory McIlroy back onto my radar. Rory has said all of the right things for me to go back to the well after I backed him at a similar number to win the U.S. Open.
Rory had an early exit at last week's Scottish Open, which on the positive end allowed him to get to Royal St. George's early and start working through the course. He mentioned on Tuesday that he "found something" in his swing that has translated well in his work leading up to the event.
Rory also has a track record of great finishes and wins off of missed cuts, showing that we really shouldn't buy into his prior result too much. I'm looking past that and also excusing him from the 2019 Open in his home country where he seemed to fold under the pressure with an awful opening hole and subsequent round.
I've been a week or two early on a number of guys this year, but I'm getting back in on Rory here before that happens again.
Justin Thomas (+2000)
Justin Thomas is due for another major championship victory. His one and only major championship came at the 2017 PGA Championship at Quail Hollow, but there are signs pointing to the 2021 Open Championship as his inevitable second major.
While the Open Championship doesn't feel like a natural fit for JT, recent events have shown that he is making a concerted effort to change that. After missing two straight cuts at The Open in 2017 and 2018, Thomas finished T11 at Royal Portrush in 2019. The 28-year-old has placed an added emphasis on playing more in Europe the past few years to refine his skills on links tracks. Thomas has played in the two most recent Scottish Open's, finishing T9 and T8 in those two starts.
Thomas' appearance at The Renaissance Club last week was very encouraging for his chances at Royal St. George's. He gained 4.5 strokes off the tee, which had been a cause for concern during much of the season. He seems to have gotten his driver back on track just in time to contend this week. JT's around the green game is always spectacular, but it was on full display in Scotland where he 6.2 strokes and led the field. Being able to get up and down from difficult spots will be crucial this week and there is no one I trust more to do so than Thomas.
JT has corrected his driving mistakes, made improvements with the putter, and put in the work to make sure his game is well suited for links golf. That sounds like a perfect recipe to lift the Claret Jug at Royal St. George's.
Patrick Reed (+4000)
This is the first number that immediately stuck out to me. Reed is priced the same as Lee Westwood, Justin Rose, Joaquin Niemann and Tommy Fleetwood on certain books. No disrespect to any of those guys, but Reed is a nine-time PGA TOUR winner that turns it up when the lights are brightest; the same cannot be said for anyone else priced 40/1 or above this week. Reed's Open record is pretty solid, making four of six cuts with a T-12 and T-10 in that span.
Reed has been sort of humming along lately which is why his odds are as long as they are. His last top-10 was at the Memorial back in early June. Captain America is no stranger to links golf, however, as he has three Euro Tour wins in addition to all his PGA victories. His long-term rolling numbers look great, as he ranks 12th in this loaded field in total strokes gained over his past 48 rounds, including ninth in SG: Putting.
It's usually when Reed goes overlooked that he does the most damage, and I feel like that's what's happening this week with all the big names we have up top. Getting 40/1 on the former Master's champ in this spot is pretty juicy.
Marc Leishman (+6600)
Never mind what the boards say, we can agree to agree that there are no favorites at The Open Championship. You can call it a value play all you way, but boards are relative and this is where the bettors get over on the houses. Play the favorites all you want, but your focus should be on the next tier, wherever that circle squares.
The Aussie is a monster in the wind. It's going to gust to 25-30 mph every day, and he's thrived in it throughout his career.
Our initial exposure to the madness occurred at the 2008 WNB Golf Classic on what is now the Korn Ferry Tour. In gusts that registered 29 mph, 20 mph, 30 mph and 35 mph in each round, respectively, he hung up 21-under 267 and won by 11 shots. It's one of my favorite performances on that circuit because it's translated to the big leagues.
He's also played his best major golf in The Open with a playoff loss at St. Andrews in 2015 among a trio of top-six finishes.
Bryson DeChambeau (+3500)
This number jumped off the page for me.
On one hand I get it; his Open Championship history isn't great, his caddie recently left him, and his meltdown that occurred down the stretch at the U.S. Open is still fresh in everyone's mind. On the other hand, he's still an elite and cerebral golfer who hits it a mile and is an excellent putter. Taking everything into consideration, this number is a complete overreaction.
Over the last 50 rounds, Bryson ranks third in this field in bogey avoidance, which is always a key stat to consider when trying to handicap the Open Championship. Combine that with the wide fairways and tame wind forecasts we're seeing for Royal St. George's this week, I think Bryson's game sets up well here. He should be able to take advantage of his length and have a lot of wedges into these large and undulating greens, which should present a lot of birdie opportunities.
Let's take advantage of the public's hesitation on Bryson, and grab this number which presents solid value.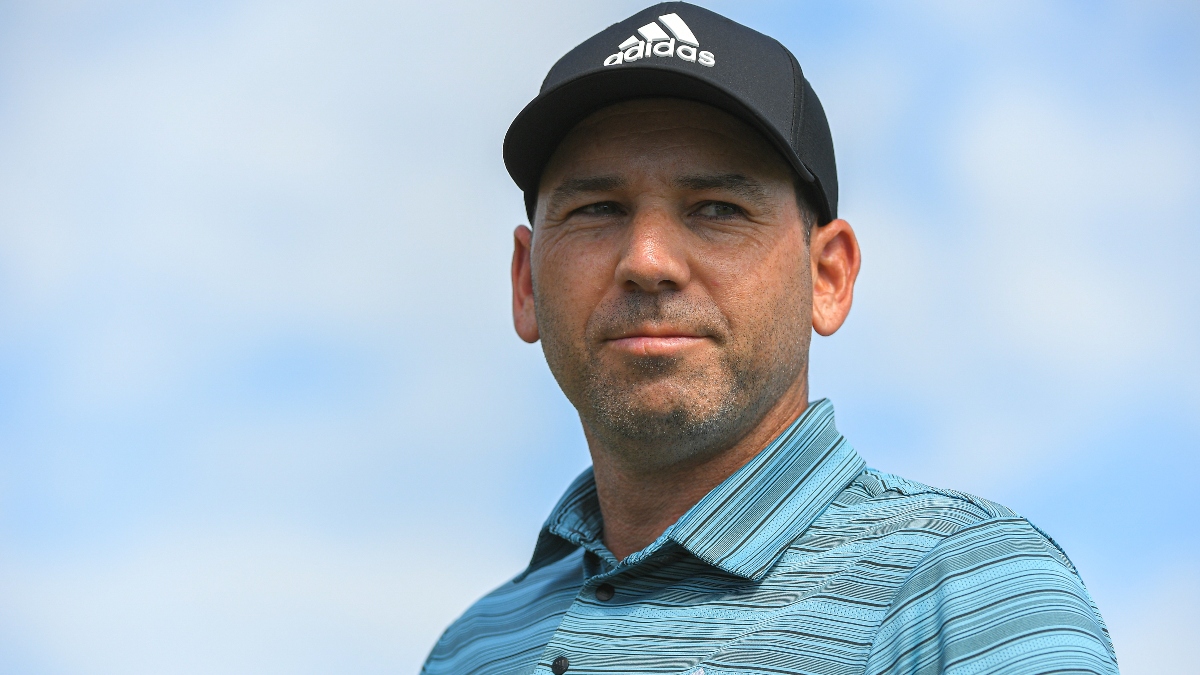 Longshots
Marc Leishman (+6600)
In poker terms, I'm pot committed on Leishman right now. After a T-5 result at the Masters, I really liked him at the PGA Championship, where he wound up missing the cut. Employing the reverse psychology defense, I doubled down for the U.S. Open, on a course where he's won in the past, only to see him finish in 64th place. This is the point when I'm probably supposed to abandon ship, but the truth of the matter is that there was a reason in the first place that I liked him at those previous majors and it's the same reason I like him here. He owns experience, bombs his long irons and hits a low trajectory shot. That type of game should work better at Royal St. George's than it did at Kiawah or Torrey Pines.
Sergio Garcia (+7000)
Of all the majors, The Open is where Sergio has been the most consistent. He's finished inside the top 10 on 10 different occasions, compared to 13 at the other three majors combined. He's also played well twice at Royal St. George's, taking 10th in 2003 and ninth in 2011.
The approach game struggled a few months back, but he's got the ball-striking on track in the past couple events, leading to top 20s at Colonial and the U.S. Open.
Sergio Garcia (+7000)
One player that jumped out to me as I started my research for this event last week was Sergio Garcia. He hasn't had the best track record at majors of late, but his history at The Open shows four top-5 finishes earlier in his career. As always the big question is what will he do on the greens, but the ball-striking seems to be reliable for him and is trending in the right direction.
Garcia gained 4.5 strokes on approach in the elite field at the U.S. Open as he posted his first top-20 at a major since his Masters win. It's a sign, even if very small, that things could be coming back for Garcia who captured a win last fall at the Sanderson Farms and has shown more signs of life this season.
We often see this major as the one where players seemingly come out of nowhere, at older ages and compete for the Claret Jug, and I can see that happening with the Spaniard this week.
Marc Leishman (+6600)
Marc Leishman is a golfer who has what I covet most when making outright bets in golf: win equity. Win equity is something bettors often overlook when betting golfers who may have stats that jump off the page but rarely win tournaments. Leishman is the antithesis of that. With six career PGA TOUR wins, he has gotten the most out of his talent to this point in his career.
Additionally, the Aussie should be a perfect fit for the 2021 Open Championship. Historically, golfers who have won that season have won this event, and Leishman accomplished that with at the Zurich Classic (with Cameron Smith as his partner). He also comes into the tournament with a strong showing in his most recent start, having finished third at the Travelers Championship where he narrowly missed getting into the playoff.
The Open Championship is most definitely an event where past success is important and may indicate future success. Nine of the past 10 Open Championship winners have had a previous top-10 in the event. Leishman passes that test with flying colors as he has three top-6 finishes in the past Open Championships including a playoff loss to Zach Johnson in 2015.
One of the most difficult aspects of Royal St. George's are the pot bunkers on the course. The 37-year-old Australian has the necessary skill to manage those bunkers as he ranks ninth in the field (past 24 rounds) in sand saves gained. While driving of the golf ball has been a concern for Leishman at times, he gained 4.5 strokes off the tee in his most recent start at The Travelers; indicating that his driver may have come around.
If Leishman gets himself in the mix on Sunday, he has the mettle to go toe to toe with an elite player and win the Claret Jug.
Scottie Scheffler (+5000)
Scheffler has been a marvel at Majors this season, posting a T-18 at the Masters before going T-8 and T-7 at the PGA Championship and U.S Open. We're all well aware that this tournament has been dominated by 30-year old's in the past, however, there's something about Scheffler in that he plays like a grizzled vet. He stays out of trouble off-the-tee which will be paramount this week and is actually both pretty good on and around the greens. Over his past 48 rounds in this field he ranks 26th in SG: Short Game, which encapsulates both ARG play + putting.
He does not have a ton of links experience, but he showed zero issue last week at the Scottish Open, finishing in a tie for 12th place. If you've followed my content this year you know I am a huge Scheffler truther, as I believe he's close to breaking through for his first career win, which could open the flood gates. Either way, I think 50/1 here is a pretty decent number for someone with his talent.
Kevin Kisner (+15000)
Although it appears that I overreached with my outright compared to my brethren here, I'm no less allegiant to the philosophy that we need to think differently in this tournament.
First and foremost, do you care what event it is when you can get Kisner at 150:1 to win? Of course not. You're getting a relentless performer in the most challenging of conditions who wakes up and goes to work. He was a co-runner-up at Carnoustie in 2018 and he's comin' in hot with a pair of top 10s as his most recent results.
Look around. By comparison, recent Irish Open champ Lucas Herbert is as long as only +10000 (at BetMGM), 51-year-old PGA champion Phil Mickelson is no more favorable than +8500 (at FanDuel) and you can't do any better than +8000 (at DK) for an inconsistent Rickie Fowler.
The irritating component of Kisner is what I love most about him in this space. He'll surprise you when you least expect it, and then when he delivers, you default to, "Well, of course he did. Dammit, I missed out." That's called having an upside, and that's the juice we need in the value play.
Daniel Berger (+7000)
This number just seems flat out wrong. By any statistical measure you want to look at, Berger has been playing at an elite level over the past two seasons.
Since the beginning of the 2020 season, he has played in 30 total events. In those starts, he has collected two wins, 12 top-10 finishes and has only missed three cuts. One of those top-10 finishes was at the most recent major, where he gained 8.3 strokes tee to green on his way to a seventh-place finish at the U.S. Open.
Since the Masters in April, Berger ranks 11th in bogey avoidance and fourth in strokes gained approach averaging over 4 strokes gained per tournament against the field average. To boot, he has gained strokes putting in five of those last six events; yet another sign that his game is peaking heading into this week.
How this number drifted out to +7000 is truly a head-scratcher, but certainly one I'll be looking to take advantage of. If this number is still hanging, go grab it!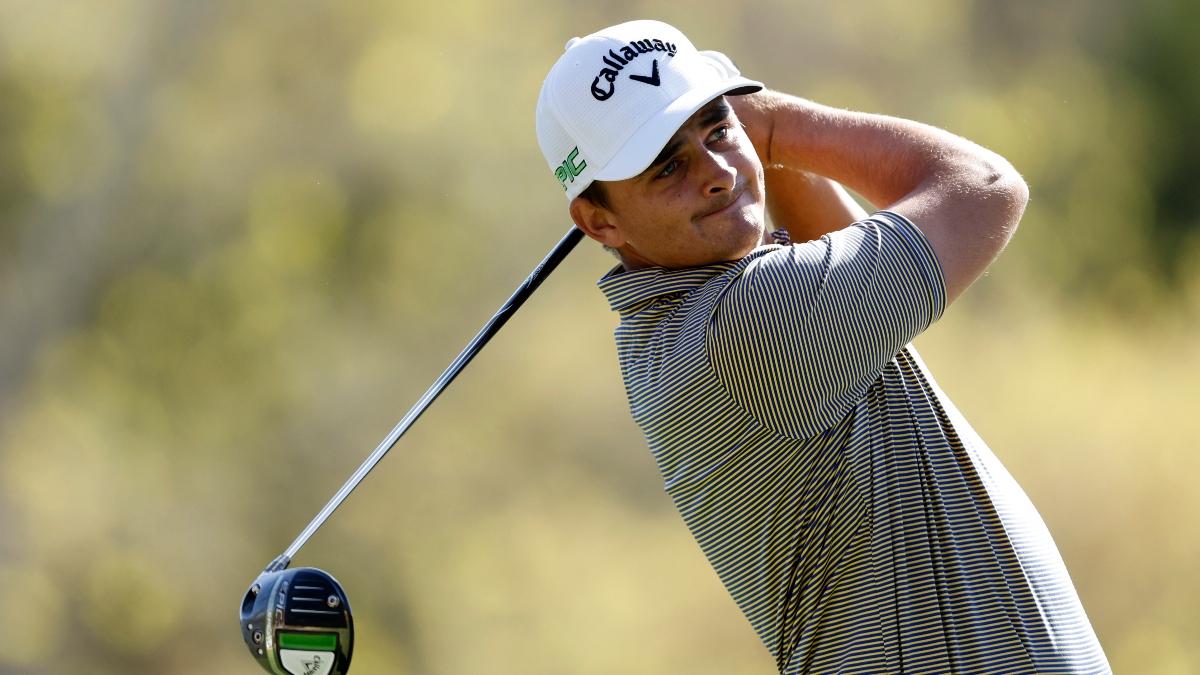 Props
Christiaan Bezuidenhout Top-10 finish (+650)
Let me know if you can spot the pattern here: At the PGA Championship, Bezuidenhout was T-5 entering the final round, then shot a 77 to finish T-30. At the U.S. Open, he was T-9 entering the final round, then shot a 76 to finish T-31.
For a player whose story of drinking rat poison as a young child and developing a stutter, amongst other health issues, could explain a potential reluctance to perform better in front of a massive media contingent and be forced to tell his tale once again, there could be more to these poor final-round scores than just failing to hit the right shots.
I'm going to bank on something else, though. Instead, I'll chalk this up to a young player needing to learn how to feel confident and gain experience in these situations. Bezuidenhout obviously has the game — and his wedges around the green are some of the best in the world, which should suit him well this week.
At some point, it's going to click for four rounds on a bigger stage and I think a major outside the U.S. seems like the right week for it.
Kevin Kisner Top-10 finish (+1400)
It has been an ugly season for Kevin Kisner, which featured a stretch of six missed cuts in seven events prior to the U.S. Open. He has bounced back after making the cut at Torrey Pines to then post two top-10 finishes at the Travelers and Rocket Mortgage.
Kisner has always been a streaky player, and he has always had a game that suited the difficult conditions at the Open. He has made his last four cuts at this event, including a runner-up finish in 2018 to Francesco Molinari. I'm happy to take the form, momentum and positive course fit at double-digit odds for Kisner to finish on the first page of the leaderboard.
Lee Westwood Top-5 finish (+1000)
At the 2019 Open Championship, we saw Shane Lowry earn an emotional victory in his home country of Ireland.
This week, Lee Westwood will be looking to do the same thing in England.
The 48-year-old Englishman has had an excellent season with two second-place finishes back in March. Although he has cooled off since, he showed last week in Scotland that he should not be a forgotten man this week at Royal St. George's.
If there is any event where age is not a major factor, it is the Open Championship. Westwood helped to prove that by finishing fourth in 2019 at 46 years old. The average age of winners is higher at the Open than any of the other three majors, and I am confident that age won't preclude Westwood from coming out on top this week.
The putter has let Westwood down in the past, but he has been a better putter in Europe than in the United States. After gaining 4.8 strokes with the putter last week, he should be able to roll that momentum into the slower greens in England this week.
Robert MacIntyre Top-10 Finish (+700)
The big lefty from Scotland has shown to be impervious to pressure in big-time events over his young career. He's now 6-for-6 in making cuts at major championships, including a T-12 this past April at Augusta and T-6 at this very event back in 2019.
MacIntyre is strong off the tee and around the green, both of which will be hugely important this week at Royal St. George's. Overall, he's having a really strong season, making 13 of his 14 cuts including a T-18 last week at the Scottish Open. I do think it's possible he contends this week, so betting him to be in the top 10 is a worthwhile wager.
Bryson DeChambeau to miss the cut (+275)
The parlays at BetMGM are intriguing – they should be for a major – but this isn't a typical week, so asking for any combination of players to make the cut at a value greater than +100 is bait not worth a nibble.
As I stated in my Fantasy Insider at PGATOUR.com on Tuesday, DeChambeau's fit for links golf will require more time, just as it does at Augusta National where less data is available. Don't get me wrong, I'm not denying his artistic quality, but I prefer it in a more controlled, measured environment. Royal St. George's is not that.
So, I'm advising to belly up to "The Cut" board and dine à la carte. Also consider Jason Day, Abraham Ancer and Brian Harman at +200 each to miss the cut. Since The Open is going to unleash carnage, you might as well benefit from it.
Stewart Cink Top-30 Finish (+300)
There's no doubt that the 48-year-old has put together a very impressive 2021 campaign, which includes six top-30 finishes and a win. He does not get the credit he deserves from the betting public, which makes finding props like this all the more satisfying.
Over the last 24 rounds, Cink ranks in this field in strokes gained approach, which is quite impressive given the quality of players at Royal St. George's. He certainly has the iron game to compete here.
Cink's experience in this event should also give him a nice leg up on the competition. In eight career starts, he has five top-30 finishes at The Open Championship.
While he may not have the firepower it takes to win a major at this stage of his career, his consistent ball striking and experience across the pond should be able to catapult him into the top 30, where he's +300 at DraftKings.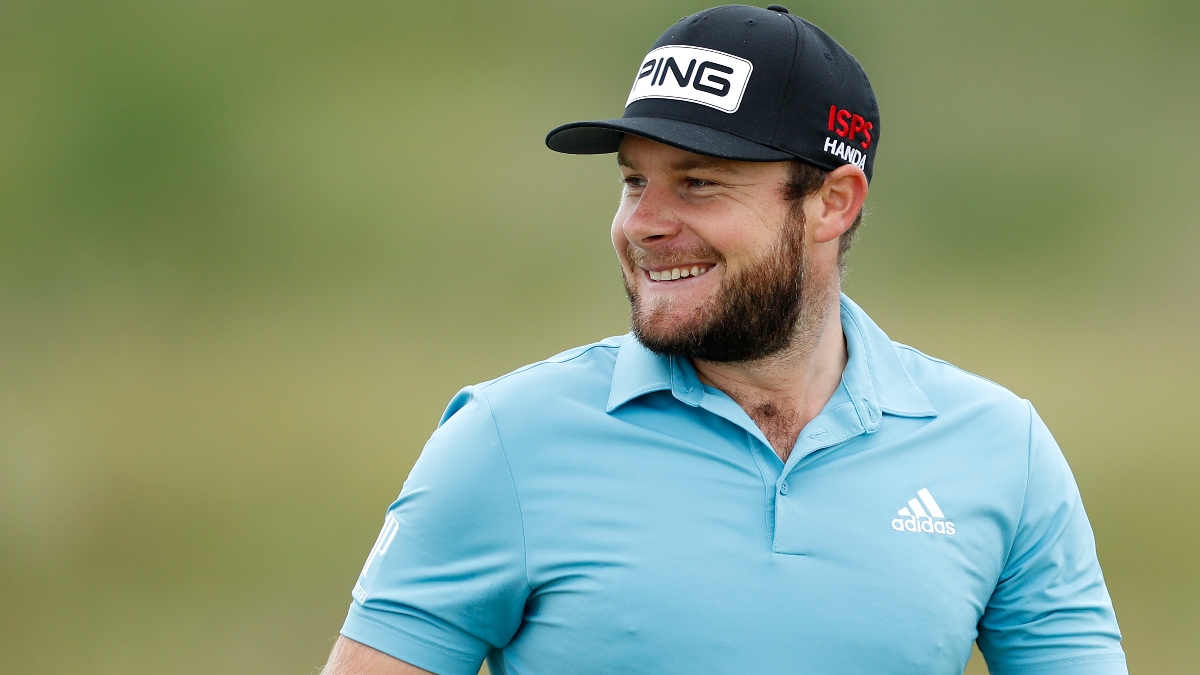 Matchups
Jason Sobel
Tyrrell Hatton (-120) over Bryson DeChambeau
Gimme the whole world against Bryson this week.
I've written this before, but one of the ways I believe golf betting can (and, fingers crossed, will) improve in coming years is the implementation of matchups for any player against any other player — whether this means through balanced odds as it's done now or a "point spread," which would allow you to take, say, an amateur against Jon Rahm at +9.5 strokes over two days or something like that. Such implementation would offer a true way to fade players that you really don't like on a given week.
Of course, for major championships, more of these H2Hs are available, so we're able to play such fades, to an extent.
I believe that every advantage DeChambeau owns in an event like the U.S. Open is neutralized this week. Distance should be a non-factor, and he's just an average wedge player. Throw in a new caddie and the extra noise rattling around in his head right now and he's a major fade for me.
Among the players he's matched up against, I don't mind taking Tony Finau, Patrick Cantlay, Dustin Johnson or even Adam Scott, but in my 1-156 ranking of the entire Open Championship field, the biggest discrepancy I have between DeChambeau and a player he's matched up against is with Hatton, whom I expect to linger on the leaderboard throughout the weekend.
Chris Murphy
Tyrrell Hatton (+105) over Collin Morikawa
This is simply a play where I think the wrong player is favored for this particular event.
Hatton has shown over his career to be one of the best links-style golfers in the world, and while he hasn't shown up too many times at most Major Championships, he does have two top-10 finishes at The Open.
Morikawa is an elite player, but we have seen that this layout can play much differently than what TOUR players see weekly in the states, and it often takes multiple appearances to post a top finish.
If the winds kick up as expected and the course begins to dry out, I trust Hatton to figure out how to grind his game for a solid finish better than Morikawa.
Matt Vincenzi
Brooks Koepka (-110) over Xander Schauffele
Koepka is quite easily the best major championship player in golf.
At the U.S. Open, Koepka came into the event in relatively poor form and more than delivered in relation to his price tag. He comes to Royal St. George's coming off of back-to-back top-5 finishes, having gained an average of 8.6 strokes tee to green in those starts. I expect the four time major champion to be there, one way or another, come Sunday.
Schauffele is certainly capable of a high finish but is overvalued in this matchup, as he typically is. I'll take the guy I know can actually win.
Landon Silinsky
Patrick Cantlay (-110) over Bryson DeChambeau 
These are two guys heading in opposite directions at the moment. It sort of feels like Bryson is in freefall mode after splitting with his long time caddie right before the Rocket Mortgage. Cantlay on the other hand is back in peak form after a brief four week stretch of four play. He won at Memorial and backed that up with a T-15 at the U.S Open.
This being a par-70 I give the massive edge to Cantlay here, as distance is largely irrelevant at a course like this. It will be all about keeping the ball in the fairway and avoiding the pot bunkers. DeChambeau ranks 112th in this field over the last 48 rounds in driving accuracy, while Cantlay sits 43rd. The line is essentially pick 'em here, so give me the in form rock solid option over the head case.
Rob Bolton
Brooks Koepka (+148) over Jon Rahm
This one stopped me in my tracks. I took a peek at Koepka v. DeChambeau at FanDuel (because ya gotta, right?), and then I spotted this. Bryson who?
Just like with every value play, it doesn't matter what you think could or could not happen, it's about multiplying profits. My recurring theme this week can be found at the intersection of Random and Crapshoot, so to have major championship trophy-hoarder Koepka at +148 over anyone in this tournament is free money.
How would you rate this article?