2021 Genesis Invitational Betting Picks: Our Favorite Outrights, Longshots, Matchups and Prop Bets at Riviera
Credit:
Ross Kinnaird, Getty Images. Pictured: Kevin Na
The 2021 Genesis Invitational is absolutely loaded with starpower. Twelve of the top 15 golfers in the world have made the trip to Riviera, meaning we've basically got a Major-level field to bet on this week.
Dustin Johnson, who has four wins and three second-place finishes in his last 10 starts, is the clear favorite at +550. Nobody is arguing that DJ shouldn't be the favorite, but that is a ridiculously low price when you see names like Jon Rahm, Rory McIlroy, Justin Thomas, Xander Schauffele and Brooks Koepka right behind him.
Can anybody stop the PGA TOUR's current boogeyman? Here are our 19 favorite bets for the 2021 Genesis Invitational:
Outright Bets
Jason Sobel
Viktor Hovland (+3500)
We should never feel overly confident with an early-week pick to win, but I admittedly feel especially uncertain about this one. There was a whole Goldilocks vibe as I surveyed the list of potential candidates: This one had odds too low; this one has ball-striking numbers that are too concerning; this one has too much scar tissue; and this one doesn't have enough.
Eventually, I landed on Hovland, who isn't without his detriment, either, having never played Riv in a professional competition, but his recent form and stats were too difficult to ignore.
The Norwegian is enjoying a coming-into-his-own experience right now, having finished in the top-six in four of his last five worldwide starts. He also ranks 19th this season in strokes gained tee-to-green. It's a long way from Riviera Maya (where he won the Mayakoba last year) to Riviera, but his game should translate well.
During a week when none of the favorites feels like a slam-dunk, I think the 30/1-40/1 range should be a sweet spot and Hovland is the one who felt "just right" in this bunch.
Josh Perry
Joaquin Niemann (+5000)
I'm betting on Niemann's ball-striking to be a difference-maker at a difficult course this week. We haven't seen Niemann in a month, but he finished second in both events in Hawaii and his approach game was dialed in, so I'm happy to back the Chilean, who could be flying under the radar because of his four-week layoff.
Niemann doesn't have much of a track record at Riviera, but I'm anticipating that his ball-striking is where it was when we saw him last. If that's the case, he'd be a decent putting week away from contending in this deep field.
Chris Murphy
Patrick Cantlay (+1800)
Patrick Cantlay has finished T13-2-T3 in his three starts in 2021. Those results tell us that Cantlay is right there and ready to break through for a win.
Cantlay was the best player in the field tee-to-green last week at Pebble Beach, gaining more than a stroke on the field both off the tee and on approach. His game is in great form and now he heads to a course where he's posted three straight top-20 finishes.
I like this to be the week he gets it done.
Matt Vincenzi
Rory McIlroy (+1300)
When the Genesis Invitational begins on Thursday it will have been 473 days since Rory McIlroy's last victory on the PGA TOUR. To say Rory is due is an understatement, and we are starting to see flashes of Rory's peak form returning. In his two most recent starts he has gained 7.3 and 6.4 strokes tee-to-green, respectively.
When playing his best, Rory is immaculate off the tee and is an excellent long iron player; two skillsets that are a requirement for competing at Riviera. Rory has seemed to figure out his putting woes for the most part and is back putting roughly at or above field average in his past six starts.
With perfect weather in Los Angeles this week, the most challenging aspect of Riviera will be it's firm conditions. In firm conditions over both the past 50 and 36 rounds, McIlroy ranks first in Strokes Gained: Total. Rory consistently ranks top three on TOUR in average apex ball height, which should help combat the firm conditions this week.
Course history also seems to be an important factor at Riviera. Rory has made four starts at the course with no finishes worse than 20th, including a 5th and a 4th, respectively, in his past two tries.
In his career, the Northern Irishman has thrived on long, classic courses and seems destined to eventually win here as well. The stars are aligning for McIlory to end his long winless streak and "Rory at Riviera" has a nice ring to it.
Landon Silinsky
Xander Schauffele (+1500)
Schauffele is currently in the midst of the best stretch of golf he's played in his young career. He's now finished inside the top-25 in 26 of his past 28 PGA TOUR starts dating back to the 2019 BMW Championship. He technically doesn't have a win in that stretch, but he finished with the lowest 72-hole score in the TOUR Championship and would have won if not for the starting stroke rules.
In that ridiculous stretch he's posted 14 top-10s and nine top-fives. He ranks No. 1 in this field in total strokes gained over his past 48 and 36 rounds and No. 2 over his past 24 and 16 rounds. You get it, he's good. He has back-to-back runner-up finishes at the WMPO and Farmers and is clearly knocking on the door of winning very soon.
In three starts at Riviera he's gone T-23, T-15 and T-9, so he has some nice familiarity with the course and is definitely poised to contend yet again this week.
I like him at 15.5/1 on DK, but you can also bet him at 11/1 on Fanduel WITHOUT DJ, Rory, Rahm and JT, which actually may be the preferred way to play this.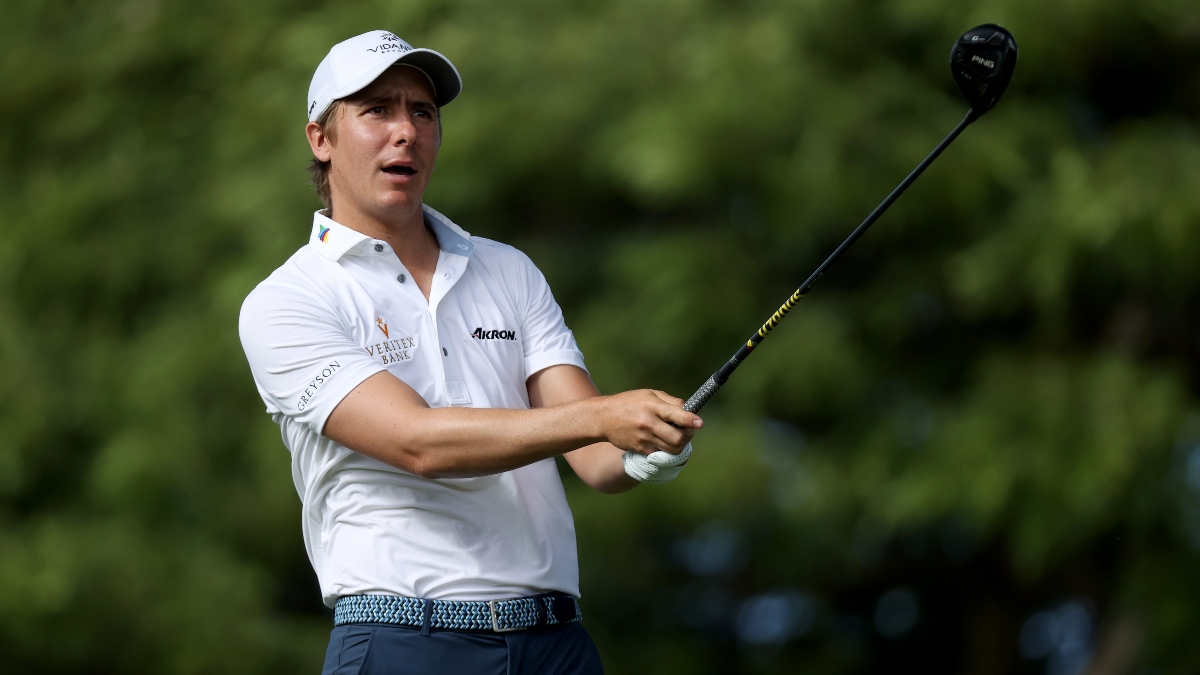 Longshots
Jason Sobel
Doug Ghim (+20000)
So, how deep do you like your sleeper? I mean, I can go Max Homa (+7000) deep, or Carlos Ortiz deep (+8000), or Lanto Griffin (+15000) deep, or even Keegan Bradley deep (+17500). But I'll go even deeper for you guys, with a 200/1 shot who's enjoyed some success at Riv in the past.
Just four years ago, Ghim was the U.S. Amateur runner-up to Doc Redman (a favorite play of mine recently and, yes, another potential sleeper at +27500). Ghim has really started to come into his own lately, with six top-25 finishes in his last 10 starts, including a T-21 at Pebble last week.
I'm not ready to believe he can cash us a 200/1 ticket against this strong field, but he's certainly worthy of top-10/20 plays this week.
Josh Perry
Cameron Tringale (+9000)
We are left to wonder if Tringale will ever get to the winner's circle, as he's still searching for that maiden victory after over 300 events as a pro. That said, I'll take a chance on him based on his recent form. Tringale has finished inside the top-20 in four of his last five events and he's gained strokes with his ball-striking and putting in each of those four events.
From top to bottom, Tringale's game is clicking about as well as it can, so I'll back him at these odds.
Chris Murphy
Carlos Ortiz (+8000)
I think it's likely that this week's winner will come from the top of the board, but I keep coming back to Carlos as a player that could get it done from further back. He has taken his game to the next level over the last year, which included his first win on TOUR where he outdueled Dustin Johnson down the stretch in Houston.
With that win under his belt, Ortiz should be playing with a different level of confidence, and his ball-striking skillset is exactly what I am looking for at Riviera.
Ortiz has already posted a Top 10 at this event in 2019, and he fits the mold of a longshot that could come through and contend this week.
Matt Vincenzi
Kevin Na (+9000)
This is simply a win equity play on Na. This is a guy who has proven time and time again that if he gets in contention he has the confidence to win the tournament.
Despite his recent win at The Sony Open, Na plays his best golf on the West Coast. At Riviera it is important to be able to get up and down and make tough par saves. Na has an excellent short game, gaining in Strokes Gained: Around the Green in seven of his past eight starts.
If you get a 90-1 on Kevin Na, you take it first and ask questions later.
Landon Silinsky
Scottie Scheffler (+5000)
I am fully aligned with Mr. Chris Murphy this week on Carlos Ortiz, but he already laid out beautifully why he's a strong bet at 80/1, so I will be siding with Scheffler here instead.
He's not been the same player since being diagnosed with COVID, but that can easily be coincidence being that he's now a few months removed at this point. We did see some signs of life both at the WMPO and at Farmer's despite his MC there.
Scheffler gained strokes tee-to-green all four rounds at TPC Scottsdale and looked like his old self for much of the tournament. His long-term form is very strong as he ranks 17th in this field in both SG: Tee-to-Green and total strokes gained over his past 48 rounds.
We know Riviera is a bomber's paradise and Scheffeler's distance will certainly play here. He finished 30th last year and I will gladly take my chances at 50/1 that he finds his first career win this week. Getting players of his caliber at this number usually don't last very long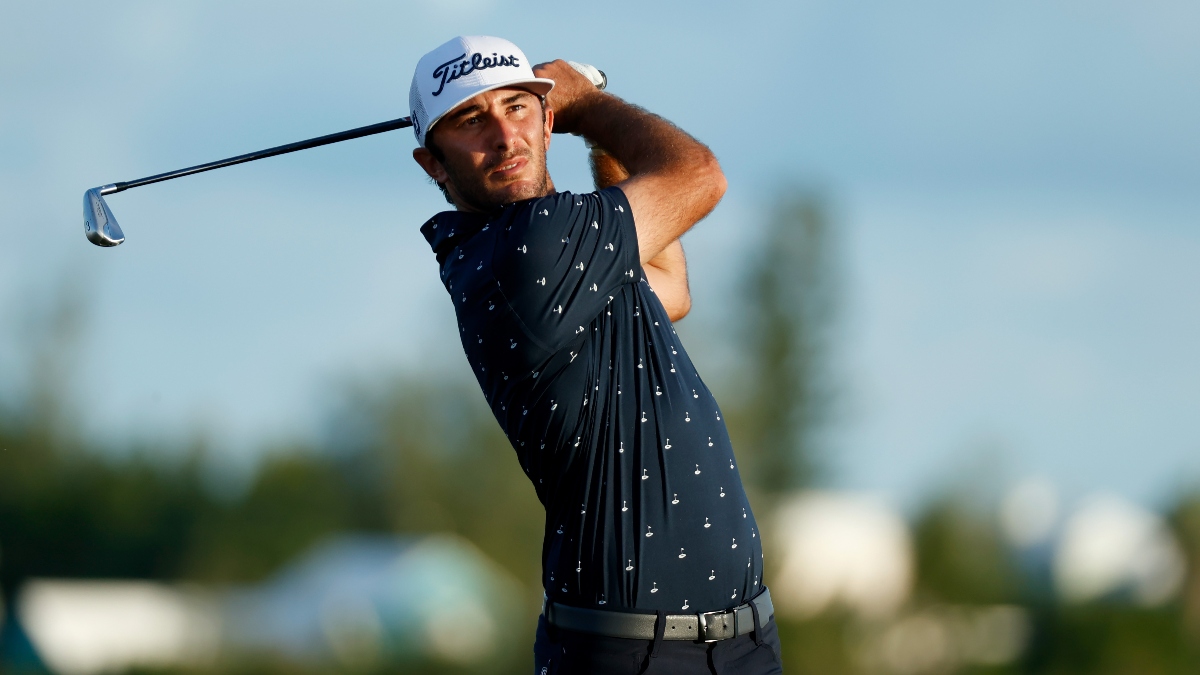 Props
Jason Sobel
Max Homa Top-20 Finish (+200)
Clearly playing some of the best golf of his career, Homa returns to his hometown, where he finished T-5 last year. This comes fresh on the heels of a T-7 at Pebble Beach, after which he admitted his swing didn't feel great during the week.
"I guess maybe a sign of good things that I didn't panic," he said, "and I trusted what I'm doing and kind of change the game plan up a little and then played some really good golf."
That should be a very good sign. On a week that's tough to predict, this is one of my favorite plays.
Josh Perry
Kyoung-Hoon Lee Top-40 Finish (+200)
I'm looking for a way to get some money down on Lee this week and this looks like the best option. The 29-year-old South Korean has finished inside the top-40 in three of his four starts in 2021 and he's also ended up inside that mark in both of his starts at Riviera, so this line seems generous.
This seems like one of those combo situations where a guy is in a good run of form and heading to a course where he's had success.
Chris Murphy
James Hahn Top-20 Finish (+410)
Death, taxes, and James Hahn at Riviera. The guy simply loves the place and it never seems to matter how he is playing coming into the event. Hahn got the first of his two career wins at Riviera in 2015, and has three Top-20 finishes in seven appearances.
Hahn has flashed some form recently as he took the lead into the back nine on Sunday at the Waste Management two weeks ago, before faltering down the stretch.
I'll give him a pass on the badly missed cut last week at Pebble off of that disappointing finish in Phoenix, and jump back in as I'm expecting another solid performance from Hahn this week in LA.
Matt Vincenzi
Marc Leishman Top-5 Finish (+1100)
Leishman has been playing some excellent golf of late with a fourth-place finish in Hawaii and a 21st at Torrey Pines in his title defense. He has gained at least 2.5 strokes with his approach in his past three starts proving that his iron game is in great shape.
I also think there is something to Australians playing well at Riviera due to the similar Kikuya fairways and rough that are common Down Under. Adam Scott has won twice at this course and Leishman has two top-5 finishes in his past five trips here. Torrey Pines also features Kikuya and both Leishman and the other Aussie's have had great success there as well.
I see Leishman keeping his hot streak going at Riviera.
Landon Silinsky
Talor Gooch Top-20 Finish (+500)
Gooch has played Riviera two times and finished 20th and 10th respectively, so getting 5/1 in this spot is super enticing. He's not been hitting the ball very well of late, but we've seen him pop in big time fields before and this number on him is well worth the risk. He's also a better putter on Poa than other surfaces, gaining .13 strokes more per round.
Gooch finished 21st at the Amex, fourth in Houston and fifth at the CJ Cup, so it's not like we're that far removed from seeing him play good golf. I'll take my chances here and hope the course familiarity is enough to get him going.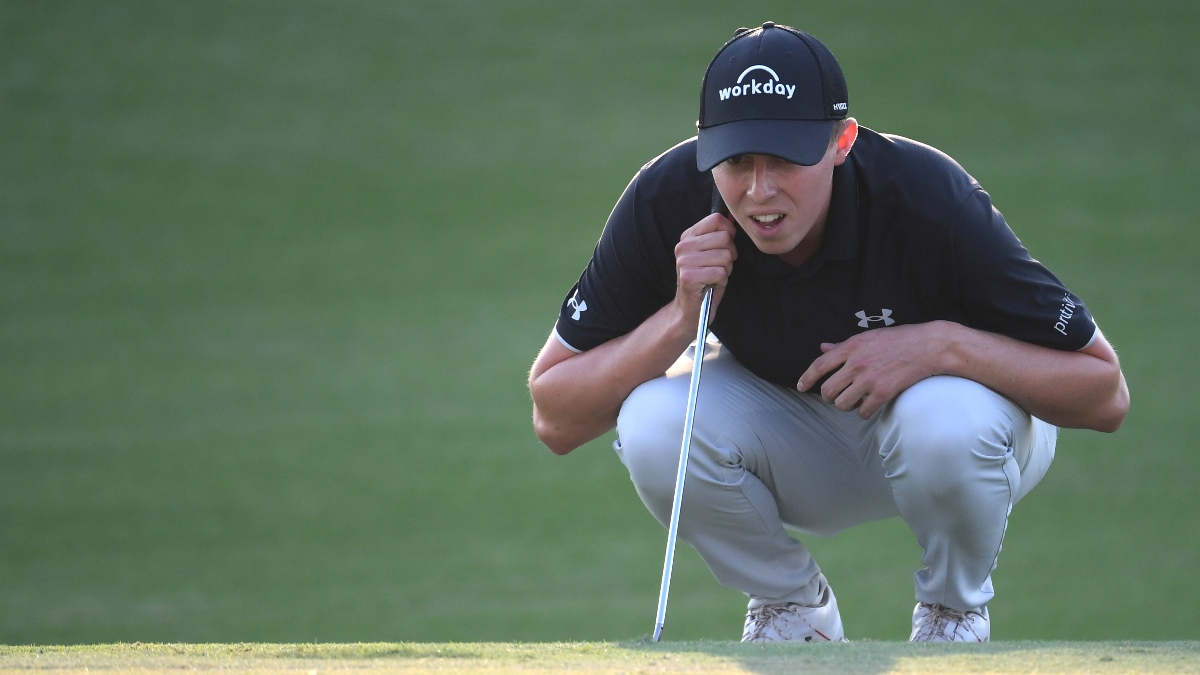 Matchups
Jason Sobel
Tony Finau (+100) over Bryson DeChambeau
Why do I like this matchup? Well, for starters, only five players have beaten Finau head-to-head over four rounds in his last three starts. We all understand his modest win equity, but we similarly need to understand that he's really talented and keeps coming close.
I especially like this play, considering something hasn't quite seemed right with Bryson over the past few months. He's spoken about trying to get leaner and cutting back on the protein shakes and ditching the idea of a longer driver, but for a guy who's forever tinkering it doesn't feel like he's figured out a combo of things that is working for him right now.
Anytime I can get a player I like better at higher odds than the one I like less, well, that's pretty much the ideal formula for a matchup bet.
Chris Murphy
Jon Rahm (-112) over Rory McIlroy
The more I dive into the week, the more I like Jon Rahm. While I like the number better on Patrick Cantlay as an outright play, Rahm is a 1B for me this week.
I think the Spaniard is on the cusp of a big year, and I wouldn't be surprised if it starts at Riviera. We get him in a toss up with Rory, who has had some notable issues on Sunday when in the hunt and that is just enough of an edge for me to bite on this matchup.
If you dare, you can get some decent plus money on Rahm against DJ too.
Matt Vincenzi
Carlos Ortiz (-106) over Cameron Tringale
While Tringale had a nice week at Pebble Beach, I can't fathom why Carlos Ortiz would be an underdog in this matchup. In his past six starts, Ortiz has four top-15 finishes including a win at The Houston Open.
Carlos rode a hot putter to a fourth-place finish in Phoenix when we saw him last, but POA is by far his best putting surface so I don't see why that can't continue at Riviera. Ortiz is also very good around the greens gaining 2.0 and 3.0 shots on the field in his past two starts. With tricky green complexes at this classic setup, strong short game and putting may prove to be the key this week.
Tringale has lost strokes around the green in four of his past five starts; which is something that just won't get it done at Riviera. I'll take the consistency and short game of Ortiz in this matchup.
Landon Silinsky
Matthew Fitzpatrick (-106) over Jordan Spieth
I, like the rest of the golf community, am very happy to see Spieth playing well again. However, I certainly am not ready to start betting him as a favorite yet.
Fitzy has not been playing that great which is why he's a dog here, but he did finish 17th the last time we saw him in Dubai his last time out. He's still the No. 20 player in the world and I will gladly bet on his long term form in this spot as an underdog. He finished 30th last year in his debut at Riviera and unlike Spieth I trust him to avoid the big number.
I'm expecting big things from Fitz this year and it's likely we look back and laugh in a few months that he was a dog in this spot.
How would you rate this article?