2021 Pebble Beach Odds & Picks: 20 Outright, Longshot, Sleeper, Matchup & Prop Bets
Credit:
Maddie Meyer, Getty Images. Pictured: Harold Varner III
Kevin Streelman to win outright. Scott Piercy to have a top-20 finish. Francesco Molinari over Si Woo Kim.
Find our 20 favorite outright, longshot, matchup and prop bets for the 2021 AT&T Pebble Beach Pro-Am below.
All of a sudden, the 2021 AT&T Pebble Beach Pro-Am looks wide open. That's because Dustin Johnson, who opened as a prohibitive +400 favorite to win the tournament, withdrew on Monday afternoon, leaving a pretty substantial hole at the top of the betting board.
With DJ out, Patrick Cantlay is now the betting favorite at +750 and there's a bit of a drop between Cantlay and the next group, which starts with Daniel Berger and Paul Casey at +1400.
A field like this should leave plenty of room for chaos. With that in mind, here are our 19 favorite bets for Pebble Beach:
Outright Bets
Jason Sobel
Jason Day (+2000)
Am I trying to tap into some of that Big Koepka Energy from last week? You're damn right I am. Like Koepka, Day missed the cut in his first two starts of 2021. Like Koepka, Day is returning to an event where he's owned a lot of success. And like Koepka, Day is undervalued based on his overall talent level. Maybe it's asking too much for this formula to succeed for a second week in a row, but I've got more than just synergy in my corner.
Despite an MC last week in Phoenix, Day gained strokes in every major category except for putting. Moving from the Bermuda greens of TPC Scottsdale to the poa annua of Pebble should help that number. And while he's never won this tourney, Day has been otherwise terrific here. In 11 career starts, he owns seven top-10 finishes, including top-fives in each of the past four years.
I liked him a lot better at the original +3500 number, before Dustin Johnson withdrew, but this price could pay off, as there's certainly plenty of reason to believe he can turn it around this week.
Josh Perry
Kevin Streelman (+4000)
Streelman was the first guy on my card this week. Not only is he starting to round into form off a solid performance in Phoenix, but Streelman has a great track record at this event, finishing inside the top-20 five years in a row, including a runner-up finish in 2020.
Streelman also figures to benefit from the removal of Monterrey from the rotation for this year's event. He's lost strokes on Monterrey in three of his last five trips to Pebble Beach, so getting him on the two tracks where he does his best work is a plus.
Chris Murphy
Kevin Streelman (+4000)
I am staying away from the top of the board this week (though I will admit to a FOMO play on Will Zalatoris) as this tournament always seems to bring out the longshots. Streelman's number has shrunk this week along with everyone else's when Dustin Johnson withdrew, but he is still at a nice number for a player that hasn't finished worse than 17th in the last five years and was runner-up in 2020.
As I noted in my strokes gained article to start the week, he comes in with good form off of his 22nd-place finish at the Waste Management where he gained more than a stroke on the field per round with his irons.
His approach game will be the key at Pebble Beach where the greens are the smallest on TOUR, and Streelman looks poised to take advantage.
Matt Vincenzi
Francesco Molinari (+2200)
When Tiger Woods ruthlessly snatched the Green Jacket from Moli at Augusta National in 2019, he seemed to have taken his skill along with it. In a scene analogous to the Monstars taking the basketball skills from Patrick Ewing and Charles Barkley in the 1996 movie Space Jam, Tiger left Francesco talentless and visibly shaken.
Almost two years later, the Italian has finally rounded back into form. Coming off of back-to-back top 10's on the West Coast, Molinari's approach game is clicking on all cylinders, gaining 4.1 strokes in the category at Torrey Pines.
We now go to a course that is much more suitable for Molinari to contend. While he is an excellent iron player, length off of the tee isn't Francesco's strong suit. Luckily for him Pebble Beach is the shortest Par 72 on the PGA TOUR measuring 6,816 yards. With six European Tour wins on his resume including the 2018 Open Championship at Carnoustie Golf Links, Moli is no stranger to coastal links tracks.
Since 2006, no golfer has won at Pebble Beach without a previous top 21 finish at the course. Although this will be his first appearance at the AT&T Pebble Beach Pro-Am, he did finish 16th at the 2019 U.S. Open played at Pebble Beach while gaining 7.1 strokes tee to green.
This is the right course at the right time for Molinari to make his triumphant return to the winner's circle.
Landon Silinsky
Daniel Berger (+1400)
It feels like Berger is the forgotten man this week. Everyone is discussing how DJ withdrawing improves the chances of all these decent-to-mediocre type golfers, but that also applies to the top of the board, and 14/1 for Berger in this type of field offers a bit of value.
Despite being a Florida guy, Berger's preferred putting surface appears to be Poa, as he's about .3 strokes better compared to other surfaces. A brutal Friday round last week led to a MC at the WMPO, but the three-time TOUR winner still ranks ninth in this field in total strokes gained across his past 12 rounds. His short game is a major strength, which if you've heard may be important at Pebble.
It's also evident Berger loves this coastal track, as he's played here twice finishing fifth and 10th respectively. Experience matters at this event, and with DJ's WD, Berger has as good a chance as anyone of being in the final group come Sunday.
Longshots
Jason Sobel
Harold Varner III (+7000)
There are plenty of worthy sleeper candidates at decent odds, though none who stand out as a slam-dunk selection. In the end, I went with HV3 for a combination of reasons.
The first is that his ball-striking was among the best in last week's field in Scottsdale. The second is that I just think he's overdue for a serious title contention after a long stretch of solid performances.
A missed cut last year in his only previous start at this event should rightfully leave us a bit skeptical, but I'm willing to take my chances here.
Josh Perry
Scott Stallings (+10000)
It's tough to pick just one sleeper this week, but Stallings grabs my attention a lot — especially when he's on the West Coast.
Stallings has had a solid run of results at Pebble Beach and is coming off a decent week in Phoenix. He's also a solid iron player who puts up decent numbers putting on poa.
We often think of him as more of a longer hitter, but he tends to benefit from clubbing down on shorter courses. He's recorded five top-10s over the last two years at Pebble Beach, The Valspar, Barracuda, Travelers and Sanderson Farms — none of those events are played on bomber's courses.
Chris Murphy
Chez Reavie (+9000)
I went back and forth in this range this week as I think there is a good bit of value down the board. I chose to go with the course history of Chez Reavie who seems to always show up at Pebble Beach.
He's made the cut in four of the last five years at this event, including a runner-up finish in 2018. Reavie was also in the running down the stretch at the 2019 U.S. Open at Pebble Beach before ultimately finishing third.
He doesn't have a lot to lean on to start the season as he hasn't been able to put many consecutive strong rounds together of late, but that's never seemed to matter to him coming into Pebble and with this watered down field he offers plenty of value.
Matt Vincenzi
Kyle Stanley (+10000)
Stanley has been putting on a ball-striking clinic of late, gaining 4 strokes on approach at Torrey Pines and another 5.2 last week in Phoenix. While his 36th-place finish at the Waste Management Phoenix Open was unspectacular, he did so while losing 4.6 strokes putting. Stanley isn't a good putter (that may be an understatement), but he is certainly capable of putting to field average on a good week.
With Monterey Peninsula being ousted from the course rotation this year (the easiest of the three), I expect a higher than usual winning score. If the conditions play difficult, I like Stanley even more. His two career wins have come with winning scores of -15 (2012 Waste Management Phoenix Open) and -7 (2017 Quicken Loans National) so this may be an event that sees a winning score in that range.
I'll take my chances with the superb ball-striker on a second short golf course.
Landon Silinsky
Brandt Snedeker (+10000)
The two-time winner at this event should not be 100/1 regardless of form. I get he's been atrocious of late, but he's at least shown some sign of life, making the cut and finishing 32nd last week at the WMPO. We know he can still win a putting contest against anyone in the world and on Sunday he gained 2.16 strokes on approach. That's more than enough for me to chance him at these odds.
I'll happily trust his short game to carry him at a track he adores, and even if you have trepidation of him winning, you can get him +800 to top 10. Let's turn back the clock.
Props
Jason Sobel
Andrew Putnam Top-40 Finish (+150)
This is hardly the sexiest prop you'll ever see, but there's nothing wrong with a simple, smart, plus-money wager. Fresh off a week during which he finished T-7 and posted exactly zero bogeys in 72 holes, Putnam is still severely undervalued at this one.
I'm not ready to think he can replicate those numbers and that result, but as a guy who does play some of his best golf on his native West Coast, there's a better chance that he'll cash this bet than the odds suggest.
He's one of these momentum-type players we like to target, the kind of guy who tends to be a bit streaky, which makes him a bit more predictive than many others.
Josh Perry
Kevin Streelman Top-20 Finish (+163)
I'll double down on Streelman here. As I've mentioned already this week, he may benefit as much as anyone from the tournament ditching Monterrey this year. It tends to be an easy course where players rack up birdies and he just hasn't taken advantage.
Despite that, he's finished inside the top-20 five straight times and will face an unusually weak field for this event.
Chris Murphy
Doug Ghim Top-20 Finish (+410)
I went back and forth with Ghim and Reavie as my longshot, and I'll look to take both through the finishing positions. Ghim has always had the talent in him to compete at this level and he's finally showing some results dating back to a solid fall swing.
While he doesn't have the course history at Pebble, with two missed cuts, it is a course that should fit his game. I really like the number on Ghim to finish in the Top 20 this week with his solid form and a new opportunity to figure out Pebble Beach.
Matt Vincenzi
Phil Mickelson Top-10 Finish (+450)
This week I am looking at a former major champion with immaculate course history who's best days are long behind him. No, it isn't Jordan Spieth (and yes, his best days are long behind him) it's Phil Mickelson!
In his past five trips to Pebble Beach for the AT&T Pro-Am, Phil has four top-three finishes including a win (2019). While Phil is certainly past his prime, his game isn't much different than what it was in 2019 and I see no reason why he can't compete here. Pebble Beach is a very short course meaning Phil can hit his signature wedge shots into the small greens rather than a long iron.
While he may miss yucking it up with the celebrities in the pro-am, I still like Lefty to get himself in the mix this week.
Landon Silinsky
Scott Piercy Top-20 Finish (+400)
Piercy is coming off back to back missed cuts, so we're getting a decent number here on a track he's had a ton of success at over the last few years.
He hasn't even been that bad despite missing his last two cuts, as he sits 31st in this field in total strokes gained over his past eight rounds. He posted top 20s at the RSM, Bermuda and the Shriner's back in fall swing, so it's not like he's that far removed from playing decent golf either.
His history at Pebble reads 18th, 10th, 20th the last three years and I like getting 4/1 here and hoping his familiarity with the course gets him back on track.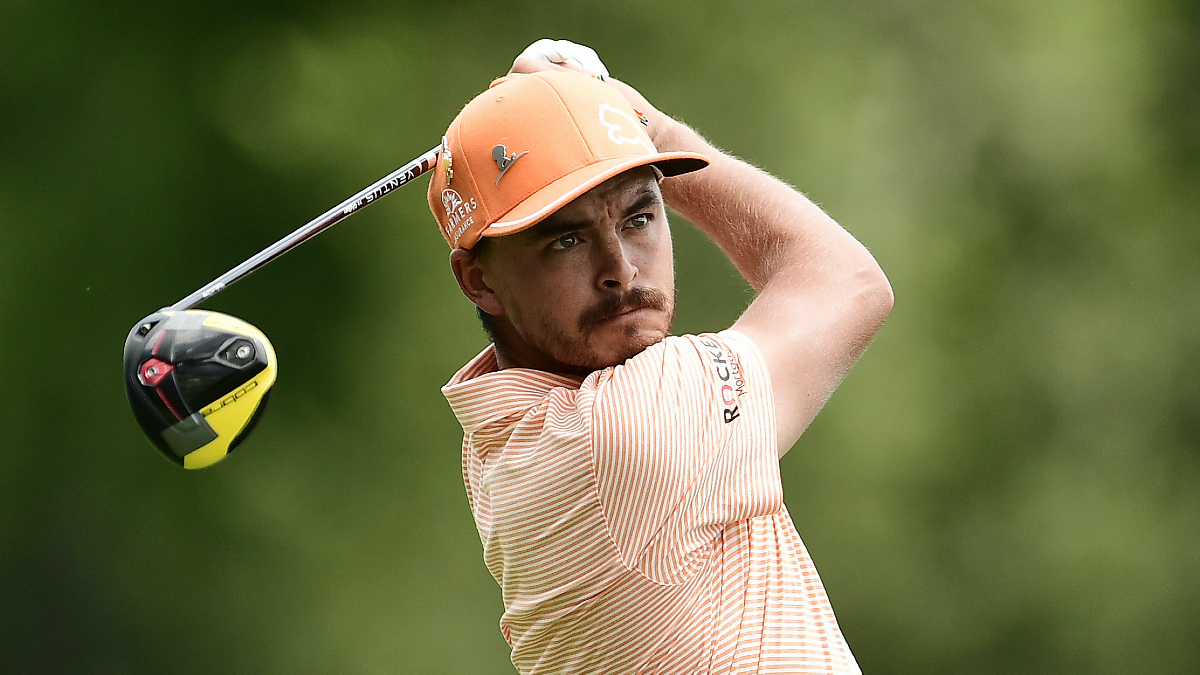 Matchups
Jason Sobel
Kevin Streelman (+120) vs. Will Zalatoris
On our Action Network podcast this week, my new pod partner Justin Ray of the 15th Club sang the praises of Streelman at Pebble, reeling off stats to show how and why he's been so proficient at this tourney over the past several years.
There are only a handful of courses where the short-hitting Streelman can still be a major factor each year, but as the shortest course on the schedule, Pebble is certainly at the top of that list. Throw in the fact that players will have three rounds on the famous course this week instead of the usual two and I think that could be a huge benefit for him.
Nothing against Willy Z., who's a tremendous ball-striker, but I think the plus-money is a sneaky-strong play here.
Chris Murphy
Kevin Streelman (-118) over Rickie Fowler
As I mentioned in my pick of Streelman to win, I really like his form and fit this week at Pebble Beach. I am definitely bullish on Streelman, but this play is equally against what I've seen from Rickie over the past several events.
He has been out of sorts in several aspects of his game and there simply isn't there to expect him to make the weekend much less compete to the level I expect from Streelman at Pebble Beach.
I'll happily eat a little extra juice for a matchup I really like this week.
Matt Vincenzi
Francesco Molinari (-106) over Si Woo Kim
After Si Woo Kim's impressive win at The American Express he missed the cut at The Farmer's. A down week after a PGA TOUR win is nothing new and at times even expected. However, he followed that missed cut with a 50th at the Waste Management Phoenix Open while losing 2.3 strokes off of the tee.
If Si Woo sprays it at Pebble Beach he is going to get himself in serious trouble and may have to deal with a minor body of water called the Pacific Ocean.
Si Woo is a talented player but he has his spots, and I don't see this as one of them. Molinari is my pick to win this week and getting him as a slight underdog to Kim here is great value.
Landon Silinsky
Scott Stallings (-106) over Michael Thompson
Stallings pops up at a few tournaments every year for a big finish, and Pebble Beach is one of those events. His rolling numbers are all pretty solid at the moment, ranking 25th in this field in SG: Tee-to-Green as well as 13th on Approach both over his past 24 rounds. He missed the cut here last year, but prior to that went third, seventh, 14th.
Thompson has been hit or miss at this event over the years and I do not trust him as a favorite. Take the slight value on Stallings.
How would you rate this article?