2021 PGA Championship Picks & Best Bets: Outrights, Sleepers, Longshots, Props and Matchups at Kiawah
Credit:
Jared C. Tilton/Getty Images. Pictured: Tommy Fleetwood
The second Major Championship of the year has arrived. The 2021 PGA Championship will begin on Thursday, May 20 at The Ocean Course at Kiawah Island.
Checking in at 7,849 yards, the Ocean Course will play the longest of any major in PGA TOUR history. In addition to the length, Mother Nature also figures to play a pretty big impact this week as there is some wind in the forecast.
Check out our favorite outright bets, sleeper picks, props and matchups below:
PGA Championship Outright Picks
Marc Leishman (+7000)
Full disclosure: I actually made this wager two weeks ago, knowing that Kiawah should fit Leishman's skill set perfectly.
There are three aspects of his game in particular that I really like.
The first is that growing up in windy Warrnambool, he learned early how to flight his ball with a low trajectory that can't be impacted as much by the breeze. So many of today's top players launch their approach shots into the air, which works just about anytime there isn't a two-club wind. Those high-arcing shots won't look so impressive when they're getting blown off target, though.
The second thing I like about Leishman is his length. I know what you're thinking: He only ranks a lowly 148th in driving distance this season. Ah, but length should not be measured with a driver alone. You won't find it in the stats, but the Aussie hits his low- and mid-irons longer than most other players, which should serve him well on this course playing 7,800-plus yards.
And lastly, I believe that scrambling is going to be extraordinarily relevant this week, as GIR numbers will be lower than at most other events. When he's on with his wedges, Leishman can get up-and-down from the proverbial trash can.
Need more? Fine, there's more.
Leishman joined SiriusXM PGA TOUR Radio's "Gravy and the Sleaze" last week and said of Kiawah, "I think it actually sets up as good as one will for me."
Last but not least, he's also in form, finishing top-30 in his last three individual starts and winning the Zurich Classic alongside Cameron Smith. I mentioned above that I bet Leishman two weeks ago, but nothing that happened at the AT&T Byron Nelson changed my mind.
In fact, a T-21 result during which he played solidly but didn't have to expend the mental energy needed for a serious title contention is exactly the type of precursor I'm seeking for major championship picks.
I know the knee-jerk reaction is to play the big boys on a big course at a big event, but I think there's a lot of value just a little bit further down the board, and Leishman is the epitome of this value.
Daniel Berger (+3000)
Berger's form is right where we want it heading into a major as he's finished inside the top-20 in four of his last five starts and is coming off a third-place finish at the Byron Nelson.
The 28-year-old has been one of the most consistent performers on TOUR since the hiatus and I have no worries about his skillset at this course.
Jordan Spieth (+1800)
It's time for Jordan's Spieth resurgence to come full circle as I think he is  poised to take home the PGA Championship this week and complete the career grand slam. Everything I have dug into this week leads me back to Spieth, who I believe has the complete tee-to-green to excel at The Ocean Course.
Spieth heads to Kiawah in tip-top form and has been putting up eye-popping numbers since February. He my top-ranked player by a long way this week and I believe the 18/1 at FanDuel is a solid number to buy in on a player that could arguably be the favorite on any course he plays right now.
This is set up to be a historic week for Spieth.
Viktor Hovland (+2200)
Viktor Hovland checks all of the boxes for me this week. Coming off of back-to-back third-place finishes, the young superstar enters the PGA Championship in immaculate form.
The stats back that up as well. In the two aforementioned starts, Hovland gained 8.7 and 8.8 strokes on the field from tee to green.
The 23-year-old Norwegian is also a perfect fit for Kiawah Island. He has the length and driving ability to tame the Ocean Course's 7,849 yard scorecard, ranking third in the field in Strokes Gained: Off the Tee in his past 24 rounds.
Hovland also has had amazing success on golf courses that feature paspalum greens, which we will see this week. Vik has two career PGA TOUR victories, and both of them were on paspalum (Puerto Rico Open and Mayakoba Classic).
Throughout TOUR history, we have seen many golfers get their breakthrough victory at the PGA Championship, and I believe this young superstar is next in line.
Brooks Koepka (+5000)
This is one of the most disrespectful things I've seen in quite some time. I am fully aware of Koepka's knee surgery, and the fact he looked more than a little rusty at Augusta. However, we are now six weeks removed from the Masters and if you listened to his presser on Tuesday Koepka stated that he's no longer injured, just hurt. He also said the only club that gives him any discomfort when swinging is his driver, which he said only happens on about "one of 20 swings."
The four-time Major Champion is being severely undervalued this week, and it's preposterous to me he's priced around guys like Abe Ancer and Paul Casey, while others such as Scottie Scheffler are 15 points shorter.
Despite missing the cut at the Byron Nelson, Koepka gained strokes tee-to-green on both days and actually ranks 11th in SG: Off-the-Tee and 10th in SG: Around-the-Green over his past two rounds in this field. There are very few players, maybe in PGA history who get up for big time events quite like Koepka, and we very well might be looking back asking how in the heck did this price ever get to 50/1.
The two-time PGA Champion should not be taken lightly under any circumstances, as he has both the length off the tee and short game chops to hoist his third Wanamaker Trophy come Sunday evening. I believe it's a mistake to not have some action on him.
Corey Conners (+7000)
Conners was the first name I clicked on when the odds came out. This course demands supreme accuracy off the tee and a solid approach game into the greens in order to post competitive scores. Over the last 50 tracked rounds, Conners ranks first in good drives and second in Fairways gained. As far as his approach, over the last 12 rounds he ranks ninth and in the last 50 rounds he ranks seventh. From a ball-striking standpoint, there is no denying he is an excellent fit for the Ocean Course.
My only concern with Conners is his putting, which is historically bad and what holds him back from being one of the elite players on TOUR. We can speculate that the perceived slowness of the paspalum greens will help Conners, but at the end of the day nobody truly knows how this type of grass will play.
Regardless, at +7000 this number is just too good to pass on for one of the premier ball-strikers in the world.
Daniel Berger (+3000)
When there's an embarrassment of riches on the board, as there always is at the PGA Championship, it boils down to personal preference. From my perspective, I'll default to a line no shorter than +2500, so this even better.
I'm entirely in agreement with Matt about Hovland, who I've slotted No. 3 in my Power Rankings, but the same defense can be made for Berger (who is No. 8).
These guys are machines. Both are members of separate memorable surges of talent that hit the scene at the same time, and both have watched at least one other in his class capture a victory in a major. The difference right now is that Berger presents a little more bang for your buck.
Marc Leishman (+7000)
The big Aussie, who is also part of my top-five picks for the tournament, should probably be closer to +6000 odds in my opinion. Leisman has finished top 10 or better in three tournaments, plus he's landed inside the top 25 on seven occasions in 16 TOUR starts.
I firmly believe you're going to need to keep the ball low on the windy Ocean Course at Kiawah, so this should play into his skill set. Leishman, who was in the mix all week at the Masters before finishing T5 at Augusta National, is coming off a T21 at the Byron Nelson Classic.
You're not going get north of this number prior to Thursday's start, so jump on these ripe odds now if you're interested.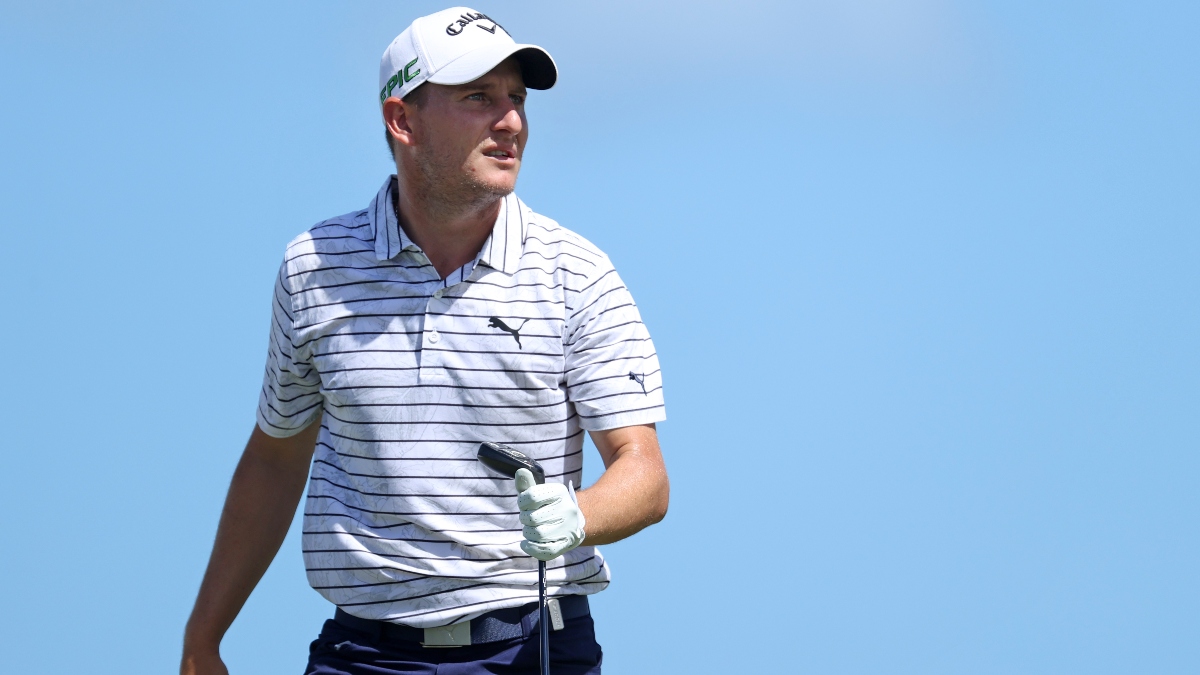 PGA Championship Longshots
Jason Sobel
Si Woo Kim (+13000)
It doesn't take an expert to know that Si Woo thrives on Pete Dye tracks, which means he should love what he sees when he shows up here this week. He didn't have his best stuff at the Nelson, but his ball-striking numbers did improve in the final round, which portends good things.
Josh Perry
Matt Wallace (+9500)
It seems like everybody is focusing on a few things at The Ocean Course. It's a long course, it will likely play difficult and there is wind in the forecast. All of that leads me to Matt Wallace.
Wallace is really strong off the tee and he did play to a third-place finish at Bethpage, another PGA Championship where driving was very important.
Chris Murphy
Tommy Fleetwood (+7500)
There are certain guys that just simply play better when the conditions are tough, and one of those players is undoubtedly Tommy Fleetwood. The Merseysider seems to relish the opportunity to play in firm, fast, and windy conditions all of which should come into play this week in South Carolina.
Fleetwood hasn't had the best start to the year, but he seems to have found some form over his last few events, most recently with a 14th-place finish at the Wells Fargo. The Englishman is another player that isn't the longest off the tee but his accuracy and ball-striking will put him in position to contend this week and the number is just simply too long for his skillset and fit at this course.
We saw in 2012 that the internationals led the way on the leaderboard at The Ocean Course as it has a links type feel to the course and the weather tends to suit better to those types of players. Fleetwood is a guy that has feasted and flashed in similar style events in his career, and at +7500 we are getting fantastic value on an elite golfer.
Matt Vincenzi
Joaquin Niemann (+7000)
Joaquin Niemann is a really nice fit for Kiawah Island Resort's Ocean Course.
Ranking fifth on TOUR for driving distance, he has the necessary firepower off the tee to make the course a bit more manageable.
"The Wonder Kid" is also solid in wind and gains over a half-shot on the field per round in windy conditions. He has the ability to create a low ball flight that pierces through the wind off his tee shots, and that should play nicely at Kiawah.
Niemann is another golfer who has a chance to have a major breakthrough on the PGA TOUR by adding a major championship to his resume at just 22 years old.
That may be a tall task for such a young golfer, but historically, the PGA Championship has been the most likely major for a young player to come out on top.
Landon Silinsky
Thomas Pieters (+17500)
The Belgium bomber does not play on the PGA TOUR very often, but when he does it's usually for major championships or other big-time events. In his career he has shown to do his best work when the lights get bright, as the 29-year old has a bunch of strong finishes in big boy fields. He boasts a T-4 at Augusta, a T-5 at the WGC Mexico and a T-6 at 2018 PGA Championship at Bellerive.
Last week he missed his first cut of the season at the Byron Nelson, but that turned into a putting contest and he only missed by a stroke. Prior to that Pieters posted four consecutive top-15's on the Euro Tour and certainly looks primed to make a run at what should be quite the difficult test at Kiawah Island this week.
He can absolutely send it off the tee and ranks 20th on approach in this field over his past 48 rounds. Getting 175/1 here is delicious.
Rob Bolton
Gary Woodland (+10000)
Hardly a sleeper colloquially but relative to the board, shazam! If he was feeling any discomfort in his last start at Quail Hollow, it wasn't reflected on his scorecard. En route to a solo fifth, he averaged 311.2 yards in distance of all drives, T20 in greens hit and eighth in Strokes Gained: Putting. He also was T10 in scrambling, eighth in conversion percentage inside 10 feet and T7 in par-5 scoring.
Since he's as an elevated value on long tracks, has proven to play well enough amid the doubt of his hip injury and already a major champion, this is a steal of a kickback.
Bryan Berryman
Emiliano Grillo (+15000)
This is a name that I did not expect to be writing up this week. However, every time I researched a specific stat I felt was applicable to the course, Grillo kept popping up.
For example, I did a quick search for players who perform well in approaches from over 200 yards, Grillo Ranked fourth. I wanted to gather a list of players who hit the most fairways over the last 50 rounds on TOUR, Grillo ranked 20th. The list of golfers who have gained the most strokes on approach over the last 12 rounds, Grillo ranked sixth. At some point I just could not ignore him. He was showing up everywhere, so he snuck his way onto my card.
On a different course, with different weather conditions, I wouldn't have enough belief in him actually winning to justify the wager. However, with the way this course is setting up this week, a player of Grillo's profile does suit exactly what I am looking for. I believe if things break correctly, he can be in the mix to raise The Wanamaker Trophy come Sunday.
Jeremy Pond
Tommy Fleetwood (+7500)
I've honestly lost count when it comes to how many times I've backed Fleetwood in a major championship. So, to say picking the British golfer triumph has been frustrating would be the definition of an understatement.
Well, we're going to back to our favorite well once again and this time we're hopeful he can finally break through for his first major championship on The Ocean Course.
What led me to coming back to Fleetwood is the fact the world's 28th-ranked player is someone who can succeed in what could turn out to be challenging conditions. The weather forecast this weekend for Kiawah Island, S.C., is calling for plenty of wind that could reach 20 miles per hour.
That signals to me it's going to take someone like Fleetwood (or the others from across the pond being highly touted) to navigate potentially challenging conditions, much like he did when nearly broke through at the U.S. Open three years back when he fired a final-round 7 under par. He came up short, finishing second to Brooks Koepka in some brutal Sunday conditions at Shinnecock, but it was a performance that was almost good enough to win.
Fleetwood, who finished T-14 last time out at the Wells Fargo Championship, has to be played at these long, generous odds. Let's hope this where he finally comes through in his quest for that long-awaited major championship.
PGA Championship Props
Jason Sobel
Matt Wallace Top-40 Finish (+100)
Yet another form play, Wallace has been unsurprisingly impressive in his first full season in the U.S., posting a pair of top-10s and nothing worse than 34th in his last five starts.
He's another player who might be rooting for the wind to play this week, as a lower ball-flight could translate into success this weekend.
Josh Perry
Dean Burmester Top-20 Finish (+1400)
While Garrick Higgo has drawn a lot of the attention over in Europe in the past month, his South African compatriot Dean Burmester has been in a fine run of form as well.
Burmester picked up a win three weeks back and has five top-10 finishes in his last nine starts overseas.
He hits the ball a mile and tends to be a strong putter which should help him on this set up.
I think given how well he's been playing lately, it's worth a look at this price. You could also drift down to Top 30 or 40, where he's +700 and +400, respectively, and give yourself some more margin for error.
Chris Murphy
Charley Hoffman Top-10 Finish (+900)
There aren't many players on any TOUR that have been playing better than Charley Hoffman. He nearly snuck in the backdoor for a ticket to The Masters when Jordan Spieth edged him out to win the Valero back in April. He's come back and posted two more top-20 finishes since that time and hasn't had a missed cut in that timeframe.
Everything Hoffman does well checks out for The Ocean Course, and he has been known as a solid wind player throughout his career. I fully expect Hoffman not only to make the weekend, but to contend to have his name on the first page of the leaderboard when all is said and done on Sunday afternoon.
Matt Vincenzi
Emiliano Grillo Top-5 Finish (+2000)
Despite being one of the most infuriating golfers to bet on a regular basis due to his horrific putting, Emiliano Grillo offers a great deal of value this week. On paper, he is a perfect fit for the course.
In this field the Argentine boasts impressive ranks of: 16th off of the tee, 16th in total ball striking, sixth on courses longer than 7,400 yards, sixth on courses that feature paspalum greens and fourth in strokes gained in windy conditions.
In what should be a difficult test at Kiawah, elite ball-strikers have a big advantage and putting prowess may not be as big of a factor with the velcro-like paspalum greens.
Landon Silinsky
Cameron Smith Top-5 Finish (+800)
Smith is playing the best golf of his career at the moment, now whether you want to attribute that to his new mullet is entirely up to you. Very quietly the Aussie is up to No. 25 in the world and seemingly always goes overlooked in these big time fields. Considering he has three top-10's at Augusta and an additional T-4 at the US Open at Chambers Bay, maybe it's time we stop doing that.
This week may very well turn into a battle of the short games, and very few have been better than Smith in that department of late. The 27-year old ranks fifth in this field in SG: Around-the-Green and third in SG: Putting both over his past 16 rounds. He also quietly ranks 27th on approach in that same time frame, and it seems his game is in a very good place at the moment.
I'll take my chances he posts another top-five at a major at this price.
Rob Bolton
Steve Stricker Top-20 Finish (+500)
The ageless wonder was 51 when he finished T20 at similarly challenging Shinnecock Hills in 2018. Now 54, his top-20 line at Kiawah Island is +600, so I'll give back a bit to cast a wider net. Further consider that DK has him at +200 also for a top 30. That's DK's same line for guys like Charl Schwartzel, Lee Westwood and Adam Scott.
Thanks to red-hot form on the PGA TOUR Champions, Stricker has maintained a groove on the PGA TOUR this season and has a pair of top 15s in his last four starts in the big leagues. And while it's been nine years, he wasn't overwhelmed at Kiawah Island when he connected for a T7 in 2012.
Except for a very small percentage, this isn't about overpowering the test that Pete Dye has presented. It's about taking what it gives and relying on experience and intelligence on where to push back to achieve this objective. It's also about rooting for a senior to show the kids how it's done.
Because I don't shy away from being parlay-happy, that I didn't lead with the line of +1300 that both Finau and Morikawa would finish inside the top 10 gives you some comparative evidence of my confidence in Stricker.
Bryan Berryman
Cameron Tringale Top-20 Finish (+280)
I've written about Tringale before, and will continue to do so as long as the books continue to disrespect how good and consistent he has been. Since the start of this season, he has finished in the top-20 nearly 50% of the time, with eight top-20 finishes in 17 starts.
He has gained strokes tee-to-green in every tracked event he has played in since November, and is only two weeks removed from a third-place finish at Valspar. As a consistent fairways and greens player who doesn't rely on bombing and gouging a golf course, I love how his game sets up for Kiawah's Ocean Course this week.
I like his chances at cracking the top-20 at +280.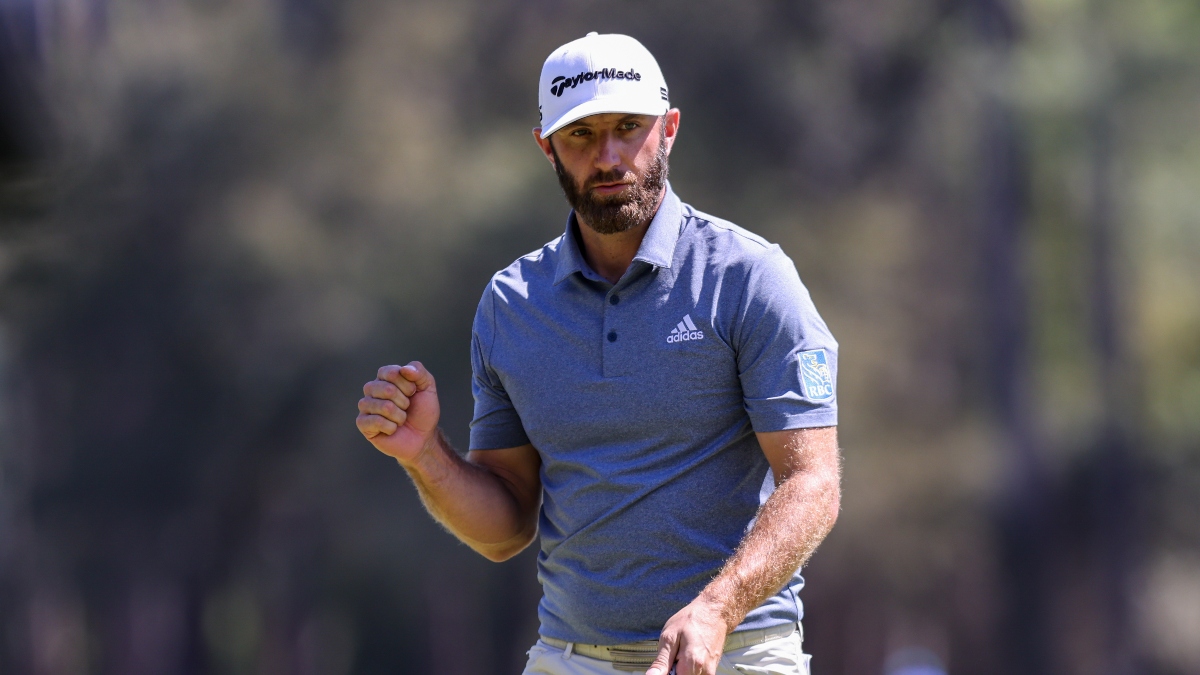 PGA Championship Matchup Bets
Matt Vincenzi
Dustin Johnson (+185) over Bryson DeChambeau & Jordan Spieth
Any time you can get the number one ranked player in the world as the third favorite in a three ball, you take it. DJ hasn't been great lately but he can turn it on as quickly as anyone in golf.
His odds across the board are flat out disrespectful this week and I plan on taking advantage and buy the dip in multiple ways for the PGA Championship.
Landon Silinsky
Xander Schauffele (-112) over Viktor Hovland
Hovland is everyone's darling this week both in DFS and in the betting market. There's no denying he's been sensational of late, however, for him to be basically a pick 'em against a big game hunter like X is more than a little disrespectful.
This has been discussed, but in Schauffele's career he's teed it up at a major 15 times, making the cut in 14 of them and posting top-10 finishes in eight of those starts. That's not human. If around the green play becomes an important factor this week like many believe, there's no way Hovland should be priced the same as Schauffele.
There is just too much value on the X man to pass up here.
Bryan Berryman
Webb Simpson (-126) over Cameron Smith
Based on 10,000 simulations of this matchup, my model makes this line -144 in favor of Webb Simpson. That's a solid edge that I plan on hammering.
Both players are coming into this week in excellent form, with two top-10 finishes in each of their last four starts. In terms of how their games match up with this course, I believe Webb has a distinct advantage. I've made it clear that I'm looking for accurate drivers of the golf ball this week, as there is trouble lurking off of fairways that are missed. Webb has always been one of the most consistent and accurate drivers on TOUR. This season is no exception as he ranks 15th in this field in fairways gained over the last 50 rounds.
On the other side of this matchup, Cameron Smith ranks 113th in fairways gained in that same time frame. Smith tends to find success at courses that allow him to spray it a bit off the tee. Just look to his history at Augusta National, a course that historically favors long drivers of the golf ball who tend to miss a lot of fairways. He will not have that luxury at his disposal this week. Fire up Webb in this matchup.
How would you rate this article?