2021 Ryder Cup Odds & Picks: Our Favorite Bets for Sunday Singles Matches (Sept. 26)
Credit:
Getty Images. Pictured: Xander Schauffele (left) and Rory McIlroy.
The United States, which is on the verge of a Ryder Cup win, is favored in 11 of the 12 singles matches on Sunday's card.
Steve Stricker's team is up 11-5 going into the final day after taking five of eight points on Saturday.
Check out our GolfBet staff's picks below for the final day at Whistling Straits.
Ryder Cup Sunday Singles Matches & Schedule
| U.S. | Europe | Tee Time (ET) |
| --- | --- | --- |
| Xander Schauffele (-150) | Rory McIlroy (+130) | 12:04 p.m. |
| Patrick Cantlay (-160) | Shane Lowry (+140) | 12:15 p.m. |
| Scottie Scheffler (+155) | Jon Rahm (-180) | 12:26 p.m. |
| Bryson DeChambeau (-135) | Sergio Garcia (+115) | 12:37 p.m. |
| Collin Morikawa (-140) | Viktor Hovland (+120) | 12:48 p.m. |
| Dustin Johnson (-190) | Paul Casey (+160) | 12:59 p.m. |
| Brooks Koepka (-180) | Bernd Wiesberger (+155) | 1:10 p.m. |
| Tony Finau (-160) | Ian Poulter (+140) | 1:21 p.m. |
| Justin Thomas (-165) | Tyrrell Hatton (+145) | 1:32 p.m. |
| Harris English (-165) | Lee Westwood (+145) | 1:43 p.m. |
| Jordan Spieth (-150) | Tommy Fleetwood (+130) | 1:54 p.m. |
| Daniel Berger (-155) | Matt Fitzpatrick (+135) | 2:05 p.m. |
Odds as of Saturday night.
Out of the 12 singles matches set for Sunday at Whistling Straits, the U.S. needs just 3 1/2 points to take back the Ryder Cup from Europe.
After going 3-1 in the first three sessions, Europe was able to take a pair of points on Saturday afternoon. The talent just doesn't appear to be there for the Europeans, who have gotten 3 1/2 of their five points from Jon Rahm.
Sunday at the Ryder Cup is one of the best days in sports, with the game's best players going head to head for their team. This year's competition might be settled earlier in the afternoon than usual, though, assuming the Americans continue performing at this impressive pace.

Here are our picks for Sunday at Whistling Straits, which could be a historic win for Steve Stricker's Americans:
Jason Sobel
Tony Finau over Ian Poulter
Prior to the Saturday matches, I offered up the American underdog duo of Brooks Koepka and Daniel Berger as my favorite bet and all they did was take a 3-up lead through three holes before taking an L.
So instead, I'll take a favorite here — and I'll throw in the added bonus that Finau could be the man to clinch the title for the U.S. side, if he disposes of Poulter early on.
'Nuff said there, so I'll take a crack at the other 11 matches, too.
Rory McIlroy (+130) over Xander Schauffele
He's been terrible, but Sunday Rory knows how to go low when the pressure is off.
Patrick Cantlay (-160) over Shane Lowry
Tough luck for Lowry since nobody was beating Cantlay.
Jon Rahm (-180) over Scottie Scheffler
Might be closer than you think, but Rahm is just too good.
Bryson DeChambeau (-135) over Sergio Garcia
I'll put Bryson down for seven birdies and a few X's on the card, which is just fine for match play.
Collin Morikawa halves Viktor Hovland (Tie: +550)
Yep, I'm taking the copout here.
Dustin Johnson (-190) over Paul Casey
Looks like somebody is going 5-0-0 this week.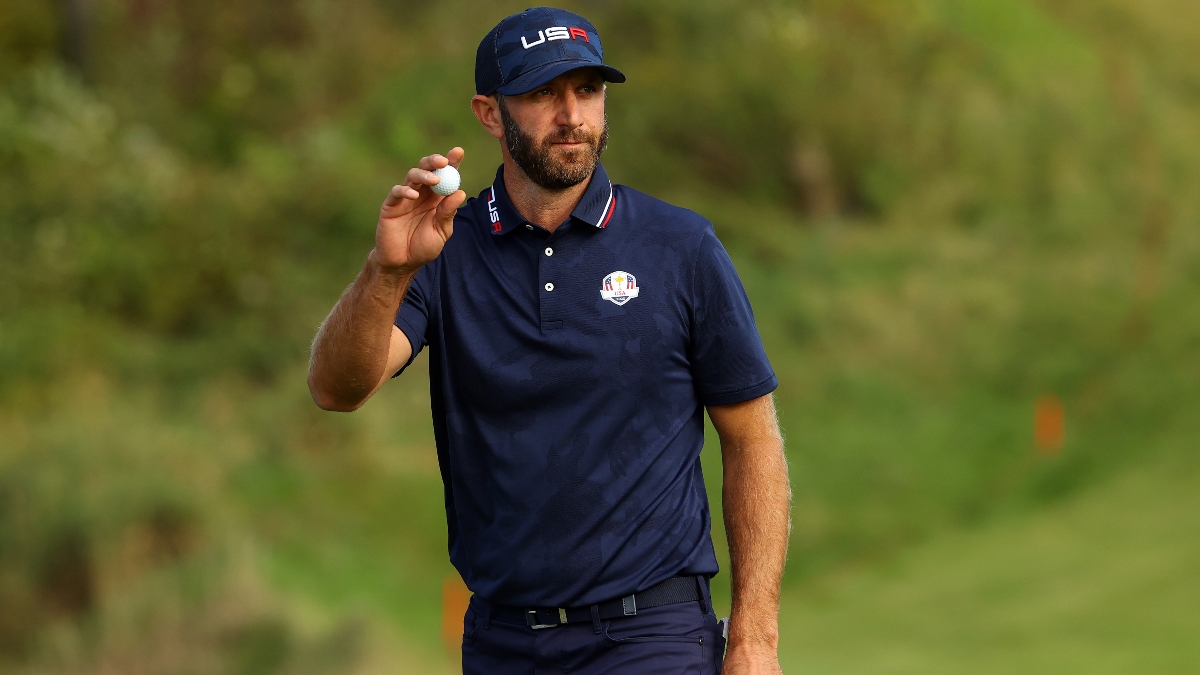 Brooks Koepka (-180) over Bernd Wiesberger
After going 0-2-0 on Saturday, Brooks needs to prove a little something.
Tony Finau (-160) over Ian Poulter
My favorite play, even giving up the juice. This one could end early.
Justin Thomas (-165) over Tyrrell Hatton
Give us a rules controversy or a short putt that isn't conceded. These dudes could brawl.
Lee Westwood (+145) over Harris English
Poor NBC, trying to sell us on the exciting conclusion of this one when the result is a done deal and there's football on TV.
Jordan Spieth (-150) over Tommy Fleetwood
Spieth hasn't putted well the past two days, but Fleetwood hasn't putted well the past two years.
Daniel Berger (-155) over Matt Fitzpatrick
Don't bet this one, though, as Berger could just bail to join the celebration.
If it all happens this way, well, I guess I've got it 19½ to 8½, which would set the modern-era record for point differential for a single Ryder Cup.

---
» Return to the table of contents «
---
Chris Murphy
Tyrrell Hatton +145 over Justin Thomas
I have been less than impressed by the play of Justin Thomas this week. He simply hasn't had it for much of the week and has really struggled to get going in the opening nine of his matches.
On the other side, Hatton was the other half of the European team that finally broke through for another point on Saturday evening, and I think he can carry some of the momentum into Sunday.
Hatton is a fiery competitor and won't give in even with the cup seemingly in hand. These odds are just simply too heavy on Thomas for the form he has shown and for that reason Hatton is my top play for an upset on the final day.
Collin Morikawa -140 over Viktor Hovland
This is one of the matches I am most excited to see on Sunday — a matchup of two young stars, both of whom have played fairly well this week despite Hovland's record.
The reason I am siding with Morikawa is not just how he has struck the ball this week, but how hot his putter has been in big, hole-deciding moments. We know that Morikawa can run hot in a given week on the greens and he has had the flatstick in good form across his rounds at Whistling Straits.
I expect this one to be a long battle to the late holes on Sunday, but in the end I see Morikawa posting a full point for the Americans.
---
» Return to the table of contents «
---
Matt Vincenzi
Sergio Garcia (+115) over Bryson DeChambeau
There's a reason why Sergio Garcia is the all-time points leader in European Ryder Cup team history.
Throughout his career, he has always risen to the occasion in this event. Much of the spotlight has been on Jon Rahm in their matches this week, and I don't think Sergio has gotten the credit he deserves in regards to the role he has played in those matches. His ball-striking has been great and he bailed Rahm out on multiple occasions with his superb around-the-green play.
DeChambeau has been solid this week, but historically he has been less than spectacular in singles matches as he is 2-5-1 in his career. Garcia has much more singles experience and is 41-31-4 lifetime.
I expect Sergio will win this match and earn his fourth point of the week.
---
» Return to the table of contents «
---
Shane McNichol
Xander Schauffele (-150) over Rory McIlroy
Based on their play this week, Schauffele should be considered a heavy favorite in this contest. Schauffele has been one of the best players on the course in both days of play. He's played three matches and won all three, including the largest margin of victory thus far in any match, a 5&3 thumping in Friday's foursomes.
That win came over Rory McIlroy and Ian Poulter. It was McIlroy's first loss, but not his last, with another Friday afternoon and a third Saturday afternoon, after his first ever Ryder Cup session on the bench. McIlroy hasn't even survived a match long enough to reach the 16th tee yet.
Maybe Padraig Harrington is hoping to shake some Ryder Cup magic into Rory McIlroy by sending him off first. Without a miracle turnaround, Schuaffele should put the first point on the board for the U.S.
Harris English (-165) over Lee Westwood
Captain Padraig Harrington is sending off Lee Westwood late for a reason. He's been balky this week, losing both of his foursomes matches with an ice cold putter. Westwood is thought of as a successful Ryder Cup player, but recent years have not been kind to his record. He's now lost five Ryder Cup matches in a row and hasn't earned a single point (or half point) since 2014! Westwood is also 3-7 in his career in singles matches.
English hasn't been a world beater this week, yet he has shown some flashes. He has a win under his belt and his two rounds of four-ball likely have him in a better rhythm than Westwood after he has only played in foursomes.
If English can get his putter going like it normally performs – he's 5th in the world in Strokes Gained: Putting over the last six months – then he should be able to take care of business in this match.
Tony Finau (-160) over Ian Poulter
We all know how effective Poulter has been in the Ryder Cup. He has a strong overall record, yet singles has been his true calling. Poulter has never lost his singles match, winning five times and earning a halve for a 5-0-1 record.
This is a tall task for Tony Finau.
But he's up for the challenge. Finau has quickly become a stalwart for the Americans in team play. He's 1-1-0 this week, with his loss coming in dramatic fashion on the 18th hole on Saturday afternoon. In Paris back in 2018, he was one of the bright spots for the US, going 2-1, including a singles win over a red-hot Tommy Fleetwood.
As the U.S. looks to avenge recent Ryder Cup losses, burying longtime villain Poulter would be a huge symbolic piece of that puzzle. Finau's the man for the job.
---
» Return to the table of contents «
---
How would you rate this article?
This site contains commercial content. We may be compensated for the links provided on this page. The content on this page is for informational purposes only. Action Network makes no representation or warranty as to the accuracy of the information given or the outcome of any game or event.