2021 WGC-FedEx St. Jude Invitational Best Bets: Outrights, Sleepers, Longshots & Props for TPC Southwind
Credit:
PAUL ELLIS/AFP via Getty Images. Pictured: Sergio Garcia
The 2020/21 PGA TOUR season is winding down with a bang. A week after the Olympics, the game's brightest stars will descend on Memphis for the WGC-FedEx St. Jude Invitational, the final WGC event of the campaign. And with just two weeks remaining before the FedEx Cup Playoffs and then the Ryder Cup, there is plenty at stake for every player in this week's world-class field.
Here are our favorite bets for the 2021 WGC-FedEx St. Jude Invitational at TPC Southwind.
Outrights
Jason Sobel
Dustin Johnson (+1800)
The results will show that after an uncharacteristic three-month dark spell, DJ was trending in the right direction before hitting a speed bump in his most recent start at the 3M Open. Those who were watching that Friday afternoon might've noticed that – how can we put this nicely? – he might not have fully had his heart into advancing through the weekend in Minnesota, for whatever reason. I do believe, though, that he's intent on kicking things into a higher gear for the remainder of this summer, even if he doesn't quite voice those intentions as, well, intently as some other players.
This has always been a good track for him and even though those two victories came against more inferior fields than we'll see this week, we all know that DJ is capable of lapping a group of even the world's best players. His odds would be a couple of points longer if top-ranked Jon Rahm had entered this event, but even so, he's sandbagged enough lately to offer us a solid discount at this price.
Course horses are nice. Course thoroughbreds are even better.
Josh Perry
Scottie Scheffler (+3100)
Scheffler's form is great heading into this event and he seems to play better in these strong fields. He's racked up top-10 finishes in four of his last five starts on TOUR, and three of those came in majors. He's close to breaking through it seems, but he's also teetering on that Tony Finau territory where he's always in contention but doesn't actually win.
Chris Murphy
Viktor Hovland (+2500)
Hovland is one of several players that will make the long trip back to the States after participating in the Tokyo Olympics last week. I don't love that he is going to have the jetlag factor, but the young Norwegian found some form in his game across his final round in Japan and should be a great fit this week at TPC Southwind.
He'll be guaranteed four rounds, so even a sluggish start won't end his week early, but I don't expect that to happen.
Matt Vincenzi
Brooks Koepka (+1100)
Going to the top of the board to bet Brooks Koepka feels like a no-brainer this week. There are numerous signs pointing to the four-time major champion adding a second WGC win to his resume.
Already a winner at this track in 2019, Koepka boasts immaculate course history at TPC Southwind. In addition to the win, he has two runners-up (2016 and 2020) and a third-place finish (2015) in his past six trips to Memphis. As impressive as his course history is, Koepka's recent form is just as spectacular.
The 31-year-old has four top-6 finishes in his past five starts where he has gained an average 7.8 strokes from tee to green on the field. In his past 24 rounds, Koepka ranks second in the field in Strokes Gained: Ball Striking, eighth in Strokes Gained: Approach, and eighth in Greens in Regulation: Gained.
The Bermuda greens at TPC Southwind should also be a nice fit for Brooks as Bermudagrass has historically been his preferred putting surface. The list of WGC winners in recent years is littered with almost exclusively elite players. Koepka has a great chance to log his name as a WGC-FedEx St. Jude champion once again.
Landon Silinsky
Brooks Koepka (+1100)
I think betting the top of the board is usually a -EV proposition considering everything we know about golf and how hard it is to win, however, I believe Koepka stands out among the rest of his peers this week. Matt laid out the case for him above quite eloquently, but just to reiterate, Koepka is coming in red hot. He's finished T-6 or better in four of his past five events and six of his last 10. We know he's the preeminent big game hunter in the sport and when there's a WGC or Major on the docket he absolutely has to be on the short list.
With Morikawa, Xander, Rory and JT all flying home from Tokyo, and DJ's game all over the place at the moment, it's just Spieth and Brooksy at the top for me. Koepka gets the nod, as his ball striking has been as locked in as anyone on TOUR all season. He ranks No. 1 in this field in that department over his past 16, 12 and eight rounds, and with his history at TPC Southwind reading T-2, WIN, T-2, T-3 in four of his seven trips, he's our Huckleberry this week.
Rob Bolton
Daniel Berger (+2200)
With the majors and the Olympics in the rear-view mirror, and with the FedExCup Playoffs on the horizon, the World Golf Championships-FedEx St. Jude Invitational slots at a curious time.
Nineteen of the guys who chased a medal in Japan made the trip to Memphis. While many are positioned prominently in my Power Rankings at PGATOUR.com, including gold medalist Xander Schauffele, investing in an outright who didn't have to endure the rigors of the quarantined experience and the travel is a smart, timely play.
Someone of note will prevail. I love Brooks Koepka because he's rested and owns one of the best recent records at TPC Southwind, but Berger also checks both boxes and for twice the reward.
Bryan Berryman
Louis Oosthuizen (+2200)
TPC Southwind is a course that is going to test every facet of a player's game, so I'll be avoiding the one-trick ponies and instead focusing on players who have solid all-around games that can navigate the trouble lurking all over this golf course.
Oosthuizen has been on an absolute tear of late, finishing inside the top-3 in four of his last five starts. Over the last 24 rounds, Louis ranks third in approach, 10th in birdie or better percentage and first in bogey avoidance. He finished sixth at this event last season, and is the kind of all-around player that I believe can get the job done. I'll be starting my card here.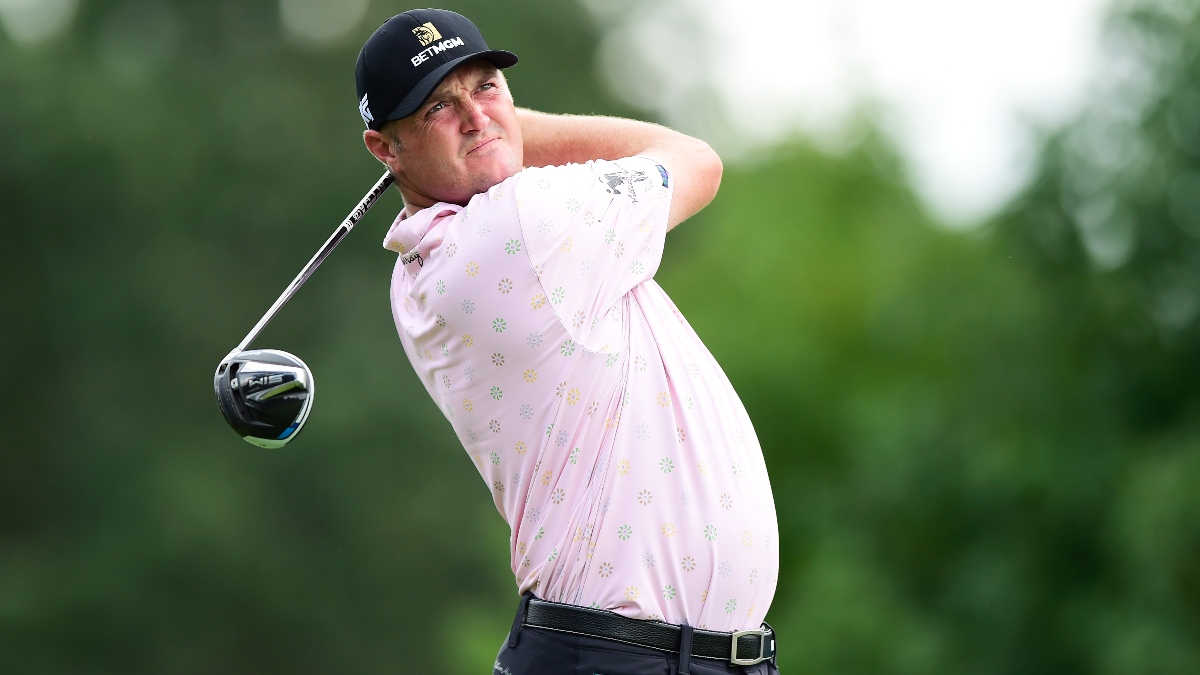 Longshots
Jason Sobel
Min Woo Lee (+18000)
There is usually a somewhat lesser-known, usually international player who climbs the leaderboard at these WGCs. At this one last year, it was Tom Lewis, who tied a bunch of big-name players for second place. Two years ago, we really have to scroll down to Aaron Rai in a share of 12th as the best finisher who fit this idea. My pick to fill that role this week is a guy whose popularity is a lot greater after winning the Scottish Open last month.
Lee is a gifted young player, but so far hasn't been able to test his game against the world's best, playing in just one major (MC at this year's Open Championship) and one WGC (T-28 at the Workday) so far. Those experiences, though, could be enough to allow him to feel more comfortable this week. An outright play might be overly optimistic, but I think a top-five/top-10 has a strong possibility.
Josh Perry
Jason Kokrak (+6000)
Kokrak is in the middle of the best year of his career, especially on the greens. In his last two trips to TPC Southwind, he struck the ball well but lost a little over 11 strokes combined with the short game. With that part of the game in much better shape this year, I'll take a chance he wins again at a nice price.
Chris Murphy
Sergio Garcia (+7000)
Eventually Sergio is going to come through, right? Even as I write that, I realize how ridiculous it is that I am going back to the well once again, but here we are. The thing is, there is no predictability to the most important club in the bag for Garcia, his putter. He loses a bunch of strokes putting, then somehow finds a way to be field average or even better seemingly out of nowhere.
The big thing with the Spaniard is that we don't need him to be an elite putter, he just needs to avoid being awful. Sergio gained 13 strokes on the field tee to green at the 3M Open, but gave more than half of them back on the greens. He was the best player in the field getting to the putting surface during the week, and ranked third on approach.
If he can keep his ball-striking going, and find a way for the putter not to kill him across four rounds, then he can be there with a chance, which is all we are asking for at +7000.
Landon Silinsky
Shane Lowry (+4500)
On a normal week Lowry would not be a sleeper, but with this being a smaller WGC field, some bigger names get pushed down the board a bit. The Irishman has been playing great golf of late, finishing T-12 or better in four of his past six PGA events.
He ranks 13th in this field in SG: Tee-to-Green across his past 16 rounds and has some strong history at TPC Southwind, finishing T-6 last year to add to his T-30 in 2018. At over 40/1 he makes for a worthwhile wager despite flying home from Tokyo.
Rob Bolton
Cameron Champ (+9000)
During the week of The American Express in January, I wrote the following: "With the way he was striking it late in 2020, I began to wonder if he'd be a fixture in the Power Rankings every time he played. He still could one day but that perspective doesn't wash over me often. When it does, it's usually associated with a talent in his third year on TOUR, which he is."
He shot a zillion and missed the cut at PGA WEST. Oof. The drought extended five-and-a-half months until he connected for a T11 at the Deere and victory at the 3M, but he telegraphed it with a public acknowledgment that he needed to check himself. I didn't listen because, you know, what else is he going to say? Still, it was unexpected from him specifically, so I shouldn't have dismissed his sincerity.
In retrospect, it comped Chesson Hadley's similar admission in early February of 2014. He tweeted the following: "New attitude coming out on the golf course today. I have been arrogant and lost that sense of thankfulness just to be out here…" That week at Pebble Beach, he ended an 0-for-5 skid with a T10. A month later, he broke through for victory in Puerto Rico. The power of a positive attitude can be everything.
We'd agree that Champ's ceiling is much higher than Hadley's, so he sizes up as the kind of talent who could be posing for pictures with the Gary Player Cup with a second consecutive title.
Fool me once and only once.
Bryan Berryman
Sergio Garcia (+7000)
I still have a bad taste in my mouth from last time I wrote up Sergio as my pick to win the 3M open a couple weeks back. In that event he gained 13 strokes tee to green, but lost 7.3 strokes putting; a truly abysmal performance on the greens.
While I have my doubts he can put together four decent rounds of putting to actually win this event, this number on him is just too good to pass on. Over the last 24 rounds he ranks seventh in this field in strokes gained approach, and 14th in strokes gained: off the tee.
We know he's going to give himself plenty of great birdie looks, so at +7000 I'm willing to take a chance on his shaky putter in hopes that this is the week he capitalizes on his tremendous ball striking.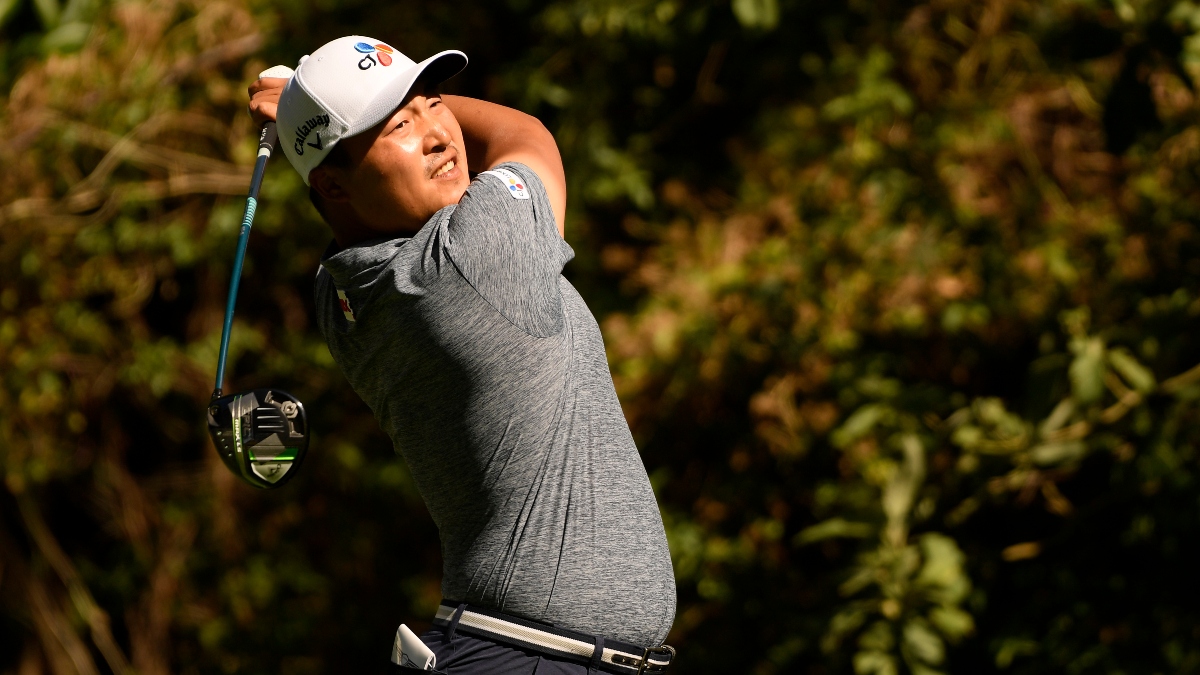 Props & Matchups
Jason Sobel
First-Round Leader: Sam Burns (+6000)
For a guy who tends to start strong in the opening round of tournaments, I suppose you could start calling him First Degree Burns. I mean, I'd never call him that. Way too cheesy for me. I wouldn't even think of it. But you? Yeah, go for it. All jokes aside, this season Burns has posted three Thursday totals of 64, one 65, two 66s and two 67s.
The reason he's "only" ranked 22nd in Round 1 scoring average is because those scores have been joined by two 77s and an 81. If we're banking on him having his best stuff, though, the ceiling remains very high for a guy who knows how to jump out of the blocks.
Chris Murphy
Kyoung-hoon Lee Top-20 Finish (+400)
We are going back to Kyoung-Hoon Lee this week at another TPC course, which has been the theme for his success this season. He got his first win at TPC Craig Ranch a few months back, and most recently finished in a tie for sixth at TPC Twin Cities at the 3M Open. It will definitely be more difficult this week as the field is stronger than either of those, but the top-20play is conservative to that extent. I'll dabble on him on up the board at longer odds and even sprinkle his +20000 to win on DraftKings, but this top-20 bet is a full play for his form and course fit.
Matt Vincenzi
Dustin Johnson Top-5 Finish (+350)
The 37-year-old has a long and impressive history at TPC Southwind, including a win in 2018 and a 5th place finish in 2016. DJ certainly has not had his "A" game of late but did finish 8th at The Open Championship despite his lack of form. His missed cut at the 3M Open wasn't ideal but he actually gained 2.1 strokes on approach that week. Simply put, this is a DJ track and looks to be a perfect spot for him to right the ship and contend this week.
Landon Silinsky
Daniel Berger (+105) over Collin Morikawa
Morikawa is coming off a T-4 at the Olympics and before that won his second career Major Championship at just 24-years old. However, he may be a bit jet lagged flying home from Tokyo and he's facing Berger in what's essentially a home game for him at TPC Southwind. In four starts at this event Berger has two wins and a runner up, and is coming in with strong form after back to back top-10s at the last two Majors.
I do not advocate betting against the golf wunderkind that is Morikawa very often, but at plus-money I like Berger to edge him this week.
Rob Bolton
Matt Fitzpatrick Top-10 Finish (+320)
So many tasty choices valued at +300 or longer for a top 10, but the Brit's track record at TPC Southwind is the most impressive. He finished T4 in his debut in 2019 and T6 last year, and he's averaged 67.5 per round for eight rounds on the par 70. If you're feelin' frisky, push it to a top five at +700.
Looking at some of the other props, I don't agree with, but I love Bryan's angle at K.H. Lee. It's in the same lane as my endorsement for Daniel Berger as the outright.
We might as well test the house to see if last week will have an impact. Typically, guys traveling from great distances start sluggish before finding a groove, and the house is benefited by the absence of a cut, but it's a timely, calculated risk. As it concerns the usual variables influencing our decisions, the combination of this week's set is a one-off, so exploit it.
Bryan Berryman
Top Asian Player: Kyoung-hoon Lee (+650)
I decided to go off the board a bit and have a little fun for the props section this week. The four players that K.H. Lee will be going against to win this bet are Hideki Matsuyama, Sungjae Im, Si Woo Kim and Ryosuke Kinoshita. Three of whom played in the Olympics last week, and had to make the long trip back from Japan to be here for the St. Jude this week. Lee did not have such obligations last week, and will have the advantage of rest of on his side. Coming off a sixth-place finish at the 3M where he gained 7.5 strokes tee to green, I'll take a shot on him to best this group at +650.
How would you rate this article?