2021 Wyndham Championship Betting Preview: Our Staff's Best Outrights, Sleepers, Longshots & Prop Bets for Sedgefield Country Club
Credit:
Getty Images. Pictured: Rickie Fowler (top left), Russell Henley (top right), Doug Ghim (bottom left) and Mito Pereira.
The PGA TOUR heads to Sedgefield Country Club for the final tournament before the FedEx Cup playoffs.
Some of the biggest names are taking the tournament off for a final bit of rest, but there's still plenty of compelling players looking to close the season on a high.
Our staff delivers their favorite bet for the final weekend before the playoffs, below.
Our team of golf betting analysts are ready for the FedEx Cup playoffs, but we first take a stop at Sedgefield Country Club, where some of the world's best will be looking to extend their PGA TOUR seasons.
The likes of Webb Simpson and Hideki Matsuyama are atop the oddsboard this week for the 2021 Wyndham Championship in North Carolina. Although most of golf's biggest names are missing from this tournament, there's plenty of depth and betting value to be found in the build-up.
We have you covered on all fronts: outright picks, sleepers, props and matchups. You name it, we have identified the best picks for the week below.
Outrights
Will Zalatoris (+2800)
Jason Sobel: Just one month ago, it looked like Zalatoris' special rookie/not-a-rookie season might be coming to a premature end. He took a big swing from the thick heather at Royal St. George's, causing back pain that forced him to withdraw the next day. He didn't compete again until this past week, but perhaps a little time away was just what he needed.
Zalatoris finished T-8 in Memphis, his best result since the same one at the PGA Championship three months ago. At TPC Southwind, he was dead neutral in strokes gained on approach shots in the opening round, then picked up strokes on the field with his irons in each of the ensuing three rounds. That, of course, is a pretty common occurrence for Zalatoris, who has quickly established himself as one of the better second-shot players in the game.
What isn't common is the fact that he gained at least 0.88 strokes putting in three of the four rounds. Like so many of the game's better ball strikers that we speak about on a weekly basis, he really only needs to roll the rock just a little above average in order to contend on a given week. But trending in the right direction with his flatstick is only one reason to like him here.
Another is that he's got some local ties, having played his college golf at Wake Forest, which is about 30 minutes away from Sedgefield Country Club. And then there's the much bigger reason that despite top-10s in three majors during the current campaign and a world ranking inside the top-30, this will be his final start of the season because he's not an official PGA TOUR member.
Unless, of course, he wins.
That's the only way for Zalatoris to qualify for his rightful spot in the FedEx Cup playoffs. As silly as it sounds that he's on the outside looking in, that should be enough motivation for him to step on the gas pedal and go for broke this week. There's nothing he can do to harm his status as a rising star, but something he can do about being a disruptor in a system that has left him out, if only because the powers-that-be never envisioned a player getting to this level without official membership.
Look, nobody will cry for Zalatoris if he's forced to take a few weeks off before restarting the 2021-22 season next month as a full-time member, but he'll still have plenty of support rallying him to the impending playoffs. With so much else in his favor this week, there's no better time to bag his first career victory.
Russell Henley (+3300)
Chris Murphy: Full disclosure, my first click was Will Zalatoris, and I really like his opportunity this week as well, but since Sobel has us covered there, I'll highlight another option in this range.
Russell Henley has been playing great of late, outside of a missed cut at The Open, which really isn't a tournament that will ever suit his game too well. Prior to that short week in England, he had three straight top-20 finishes including his run at the U.S. Open. He has really found his game this summer, and this is a course that is ideally suited for what he does well.
Henley is best known for his approach game, specifically his wedges. He will get a ton of opportunities to display that this week at Sedgefield where a high percentage of shots will come from less than 175 yards out.
He also has an extreme split putting on the Bermudagrass greens he will see at the Wyndham, and that combination of approach and putting play will give him every opportunity to score enough to contend in what has historically been a birdie-fest.
Charl Schwartzel (+5000)
Matt Vincenzi: Charl Schwartzel is finishing up one of his best seasons in recent memory and ranks 45th in the FedEx Cup standings. Coming off of a runner-up finish at the 3M Open, the South African returns this week to a course where he has had some success, including a third-place finish in 2015.
Schwartzel has been an inconsistent putter throughout his career but ranks seventh in this field in Strokes Gained: Putting on fast Bermuda greens in his past 24 rounds.
Sedgefield Country Club has been a spot on the schedule where veterans have had some resurgent wins, and it feels like a spot where the 36-year-old could get it done.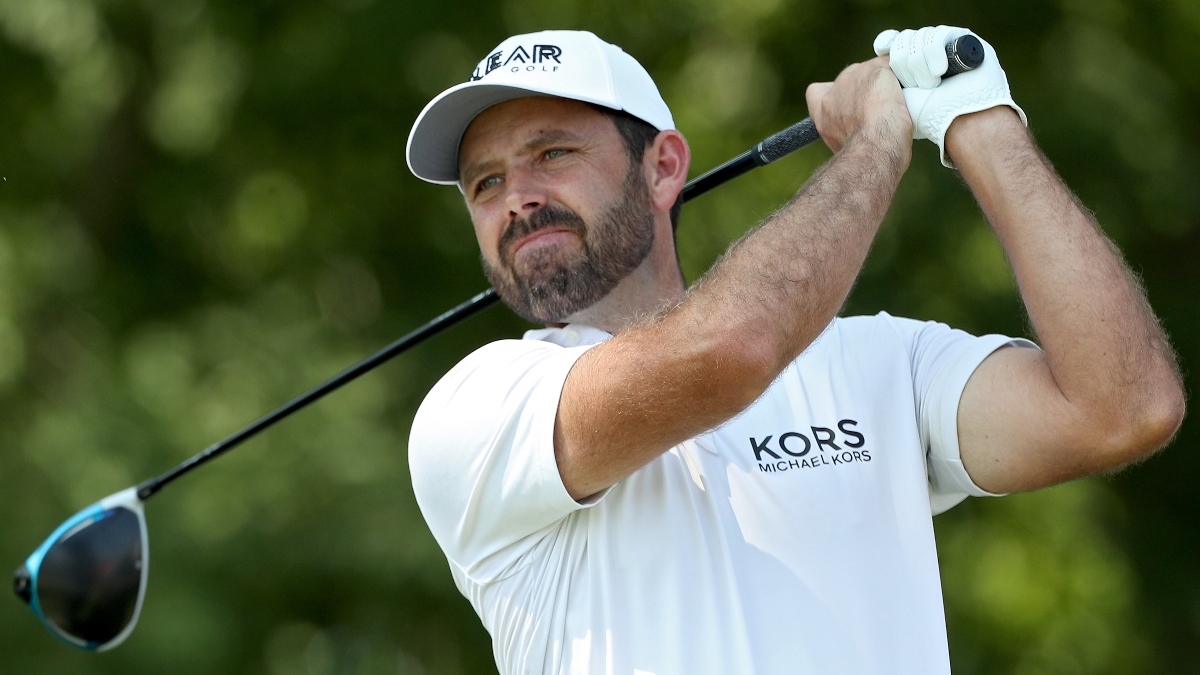 Charl Schwartzel (+5000)
Josh Perry: Schwartzel doesn't play here often but was third in 2015, so the course should suit his game. He's also coming off a second-place finish in his last start at the 3M Open, so the game should be in good shape.
Webb Simpson (+1200)
Landon Sillinsky: I hate to be that guy who touts the favorite, because this isn't exactly reinventing the wheel here telling you to bet the shortest player on the oddsboard.
However, if there was ever a tournament where a player fits a specific course, it would be this week with Webb. His history at Sedgefield is well-documented, as he's finished outside the top six just once since 2014 and won this event in 2011.
While many of the game's elites take this week off to prepare for the FedEx Cup Playoffs, Simpson treats this as his Super Bowl. He grew up and still currently resides in North Carolina and played his college golf at Wake Forest. Also, as you may have heard already, he named his daughter Wyndham because he loves this place so much.
I saw all I needed to see out of Simpson last week at the St. Jude, posting a final-round 64 while gaining over three strokes on approach and 2.6 with the flatstick. We know Simpson is one of the premiere wedge players in the sport and can white hot on fast bermuda greens. It's also a bonus that Patrick Reed withdrew, making his path to the winner's circle that much easier.
I think the stars are aligned this week for Simpson and he could run away and hide in this weaker field.

Rickie Fowler (+5500)
Bryan Berryman: The names at the top of the board this week simply do not intrigue me at their given prices, so I'm dipping down a bit to Fowler here. Rickie seems to be going a bit overlooked by the betting public in a field that is lacking true starpower, and I think he's a better course fit than he's getting credit for.
At Sedgefield, it is imperative that golfers consistently find the fairway to give themselves a chance to win. This statement is corroborated by the course's historical data.
I took a deep dive into the winners of this event since 2014; their ranks in driving accuracy for the week were fifth (Camilo Villegas), 10th (Davis Love III), sixth (Si Woo Kim), eighth (Henrik Stenson), 51st (Brandt Snedeker), second (J.T. Poston), and fourth (Jim Herman). As you can see, six of the seven previous winners of this event ranked inside the top 10 for the week in driving accuracy.
Looking at some of these names, the player profile is clear. They all rely on accuracy, rather than distance, to compete and win on tour.
I think Fowler fits the mold of a Wyndham Championship winner. Over the last 12 tracked rounds, Rickie ranks 17th in this field in fairways hit and has consistently ranked well in this category over the course of his career. His biggest weapon, the putter, has awoken in a big way over the last five events gaining an average of 2.64 strokes per tournament.
Needing a 21st-place finish or better to avoid missing the FedEx Cup Playoffs for the first time in his career, we're getting a motivated player who has been on the rebound.  I think Rickie breaks through this week for a big win, stamping his ticket into the playoffs.
Sungjae Im (+3000)
Rob Bolton: Unlike Landon, I'd harbor zero shame in circling the favorite, but since he's already done that…
But seriously, Jon Rahm delivered on that position at the U.S. Open at Torrey Pines, so I'll never forget why it matters. Your job is to multiply the investment when it presents so strongly. I compare favorites in betting to No. 1 choices in One & Dones, and if you were going to rank the No. 1's in every tournament, Simpson at Sedgefield would rank near if not at the top.
In my attempt to distract you, I'll state a case for Sungjae Im, who sits at No. 2 in my power rankings at PGATOUR.com.
All five of the most recent Wyndham champions have scored 22- or 21-under par, which means that they've averaged under 65 for all four rounds. Im has recorded top 10s in both appearances at Sedgefield. While he's among the busiest on the planet, it's no less impressive that he's leading the TOUR with 63 red numbers (second-most is 58) and 57 sub-70s (second-most is 47).
Even if he's lethargic from traveling from Japan to Memphis to Greensboro over the past three weeks, I always remember how valuable a shootout can be for the fatigued. In 2010, when Stuart Appleby prevailed at the Greenbrier with the walk-off 59 to clip Jeff Overton by one, it was the Aussie's 11th consecutive week on the road. I doubt even Im would blush at that agenda.

Longshots
Chris Kirk (+14000)
Jason Sobel: Ever since a T-2 finish at the Sony Open in the first full-field event of the year, I've thought that Kirk was going to win before the calendar turned over – and, well, technically we've still got a few months, even if this is the last event of the current regular season.
This could be a good spot for him to do it, though. Even though Kirk has never finished in the top 10 at this event, topping out with a T-11 three years ago, his career scoring average of 68.50 suggests he could certainly put four solid rounds together to at least contend this week. I think there's value at this number, as he owns greater potential win equity than a handful of players with shorter odds.
Patton Kizzire (+8000)
Chris Murphy: I've gone to this well a few times this year, though those were typically at shorter numbers, and this +9000 on Kizzire on DraftKings is too good to pass up.
Sedgefield Country Club is really well suited for everything Kizzire does, as he should be able to dial it back a bit off the tee to find fairways. If he can avoid getting himself in trouble from that standpoint, his approach play and elite putting can have him scoring birdies in bunches.
The former Georgia Bulldog has gained 13.6 strokes putting at this course over the past two years, and 2.9 more with his approach. As mentioned above, we need him to play it well from the tee as he's lost 7.3 in that category during that same stretch, but that seems to be baked into his numbers. He has gained 6.9 strokes off the tee in his last two TOUR events, which I am hoping will carry over into the Wyndham Championship and have his name in contention this weekend.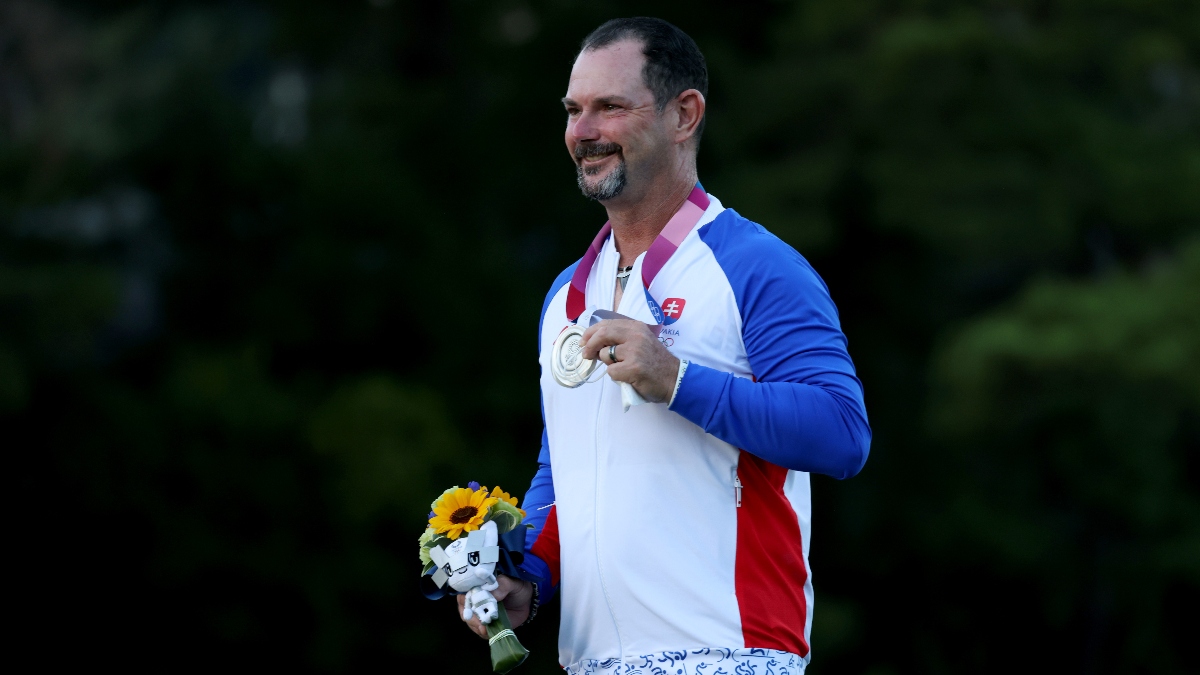 Rory Sabbatini (+10000)
Matt Vincenzi: Rory Sabbatini has a few reasons to be extremely confident heading into the Wyndham Championship.
His most recent round of golf was one of the most impressive in recent memory and took place on the world stage. Sabbatini shot 61 in the final round of the Olympics to claim the silver medal and finish just one shot behind gold medalist Xander Schauffele.
Another reason Sabbatini should enter the week with some confidence is his excellent course history. He has a top-six finish in three of his past five trips to Greensboro, with his most recent coming in 2019 (sixth). The 45-year-old has been a Donald Ross design specialist throughout his career and ranks third in the field in Strokes Gained: Total on Ross designs in his past 36 rounds.
Prior to the Olympics, there is no doubt that Sabbatini was struggling, but both his confidence and comfortability should be sky high this week and that can make all the difference in golf.
Bo Hoag (+15000)
Josh Perry: I'll stick with rehashing my Barracuda Championship plays and go back to Bo Hoag. It wasn't a great week for Hoag at Lake Tahoe, but it was another made cut, which means he's made five in a row.
Doug Ghim (+8000)
Landon Sillinsky: Many will scoff over Doug Ghim this week because of his woes with the putter, a rather important club at Sedgefield as history has shown us in the past.
However, I believe that may be overblown, as Ghim sits 47th on TOUR in Birdie or Better percentage on the year, so clearly he makes enough putts when he has to. His ball striking is otherworldly, as pretty much any metric would illustrate. He ranks 12th in driving accuracy, third in greens in regulation and eighth in SG: Ball-Striking all over his past 36 rounds in this field.
Ghim has the ability to absolutely carve up this course, and lord watch out if he's even average with the flatstick. He's also seen the course a couple times and posted a T-20 in 2018.
I'll take my chances here at 80/1.
Joel Dahmen (+8000)
Bryan Berryman: As a leader in both driving accuracy and birdie or better percentage in this field, Dahmen fits what I'm looking for this week.
Unfortunately, as with most longshots, his putter can get shaky at times. No better example of this than his most recent performance at the 3M Open, where he gained 5.4 strokes tee to green but lost it all back, and then some, on the greens.
However, the premium on driving accuracy this week is real, and Dahmen is one of the most consistent and accurate drivers of the golf ball there is on TOUR. In every measured time frame, Dahmen ranks inside the top 25 in finding fairways off the tee.
Combine that with his fifth ranked birdie or better percentage over the last 12 rounds, and fourth ranked strokes gained approach numbers over the last 36 rounds, and I'm really liking the way this week is setting up for him. If we get a spiked week with the putter, Dahmen can definitely win this event.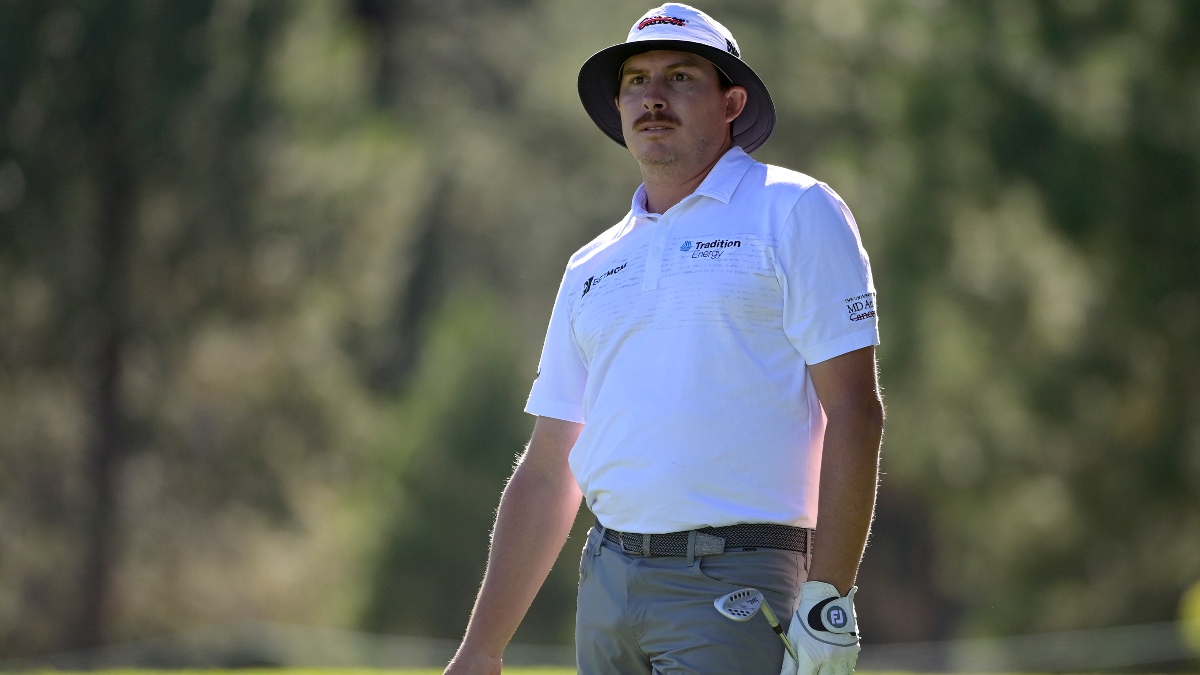 Harold Varner III
Rob Bolton: You're familiar with converging trends but try on the intersection of five points for size.
Ever since Harold Varner III crashed onto the PGA TOUR in 2015-16, he's made the annual trip to Sedgefield. It'd be surprising if he didn't, however, given its location just 90 miles from his hometown of Gastonia to the southwest, also in North Carolina. Ding.
The loyalty has paid dividends, too, as two of his 13 career top-10s (in 163 starts) have occurred here. Ding.
Beginning with a T10 in 2017 and extending to his T7 in 2020, his scoring average was 67.19. An opening 62 last year is his career-low aggregate in 522 rounds. Ding.
Half of his 16 paydays this season have gone for a top 25. Two of his last three are top 15s, so he arrived with some momentum. Ding.
And while all those facts would make any touring pro feel good, he owns the unique distinction that his birthday coincides with the final round on Sunday.
Ding ding!

Props
Russell Henley Top 10 (+360)
Jason Sobel: If I'd asked you 11 months ago to name the Georgia Bulldog who would win twice this season, ascend to top-10 in the world ranking and make a run at the U.S. Ryder Cup team, there's a good chance you would've listed Henley before Harris English.
Really, Russell Henley is just a few bad bounces and burned edges from mirroring the type of breakthrough campaign that English has enjoyed. He owns three top-fives and eight top-25s in the current season, including three results of 19th or better in his last four starts.
This should be another good spot for him to show off his ball-striking skills, coming off a 63-65 weekend here last year that led to a T-9.
And file this one away, too: If you're looking for a player to enjoy an English-like resurgence next season, Henley just might be the guy.
Mito Pereira Top 10 (+550)
Chris Murphy: As I spread out my card this week, I will be adding Mito Pereira to it at +7000. He has shown time and again that he is ready to compete at this level. I'll add him here for a top-10 finish since it has strong value for the Chilean, who has put his name in contention several times over the last month.
Pereira will be coming in off of a long stretch of golf, but he needs to keep racking up these opportunities and will be fully motivated this week. I am not going to worry about the narrative of his travel and play since we saw last week with two-thirds of the playoff in Memphis having just traveled in from Tokyo.
Pereira looks to have the potential for long-haul, elite-level ability, and we know he knows how to close out wins. It wouldn't surprise me a bit to see him in the mix on Sunday at Sedgefield.
Ryan Armour Top 20 (+400)
Landon Sillinsky: There's only a handful of courses Ryan Armour could compete at in this stage of his career, and the Wyndham, as we've seen the past half decade, just happens to be one of them.
Since 2017 he's gone T-4, T-8, T-22 and T-25 at this event, firmly putting him on the radar for me this week. He's actually coming in with pretty decent form, finishing T-6 and T-5 at the 3M and Barbasol in recent starts.
We know Armour will be playing out of the fairway, since he sits second in this field in driving accuracy across his past 36 rounds. He ranks 29th in SG: Putting in the same time frame and it's very possible he just knows his way around this Donald Ross design.
I don't think he can win, but getting him at 4/1 to finish in the top 20 is a pretty nice consolation. If you're feeling frisky, you can also get him at +900 to top-10.

Doug Ghim Top 10 (+750)
Bryan Berryman: I so badly wanted to write Ghim up as my longshot for the hundredth time this season, but I just couldn't do it. While I will have him on my outright card this week, I think the more responsible play is to take him to finish inside the top 10 at +750.
This man has been a fairway machine in his time on tour, ranking seventh in the last 24 rounds and 19th in the last 50 rounds in this field in fairways hit. Over the last 36 rounds, he ranks third in this field in approach. The numbers truly do pop off the page as an incredible course fit, but his well-documented putting woes keep me from fully endorsing him as an outright play.
Let's slightly lower our expectations this week and limit the amount we need to rely on his awful putter to still cash this bet.
Kevin Kisner, Charl Schwartzel & Adam Scott To Make the Cut (+280)
Rob Bolton:What's with this?! I thought that the houses like to stay in business.
At Sedgefield, this trio is a combined 9-for-11. Kisner is perfect in six trips.
Upon arrival, Kevin Kisner and Adam Scott have cashed in five straight starts. Charl Schwartzel has connected four cuts made with his last a co-runner-up at the 3M Open. Of the three, Scott is the least tantalizing as a single, but he's missed only one cut in the last 17 months, and that was at a major (2021 PGA Championship).
There are shorter lines on parlays than this one, but I can't walk away from it. It's a magnet.

Matchups
J.T. Poston (+100) over Sebastian Munoz
Jason Sobel: I like Sebastian Munoz's game. He's a solid ball striker who shows up on a decent amount of leaderboards throughout the year. In fact, he's fresh off reaching that bronze medal playoff in Tokyo in his most recent start.
Munoz doesn't own a great history at this one, though, with nothing better than a T-48 in three career starts at the Wyndham. He's not a total fade for me this week, but I'm not buying him, either.
Instead, this is more of a play on J.T. Poston, who won this tourney two years ago, is in good current form and still remains the underdog in this matchup. There are a lot of mid-tier players whom I like this week, which means a lot of ways to attack H2H wagers, but this one should hold plenty of value in what is essentially a home game for the trending Poston.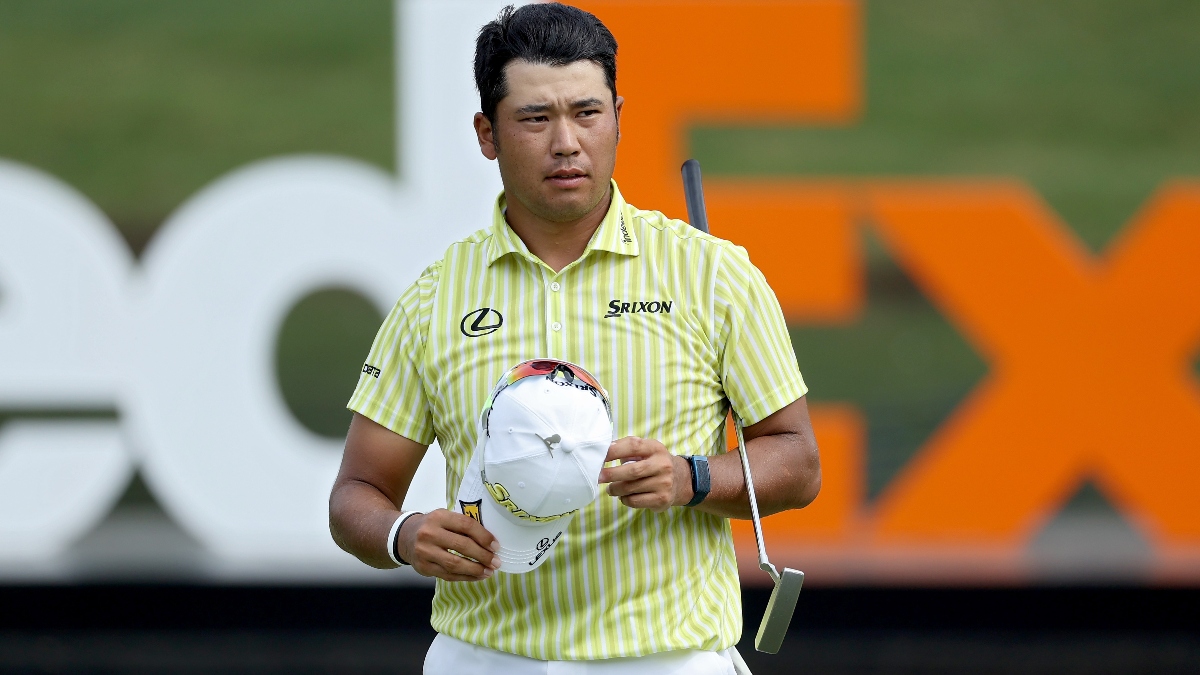 Hideki Matsuyama (+115) over Webb Simpson
Chris Murphy: As you can see from all of my picks above, I'm really looking for a longer shot to win this week, and I could've picked two or three more in the range above +5000.
The one player who I have come to be concerned about as the week goes is actually Hideki Matsuyama, rather than the Wyndham stalwart, Webb Simpson.
Matsuyama's run of golf since finally closing the deal on his first major for himself and his country seems to have brought out a different player. He seems to have some new confidence about him and that was never more apparent than his closing 63 to sneak into the playoff at WGC St. Jude.
It's really the opposite end of the spectrum for Simpson, who hasn't been the same since he withdrew prior to the Wells Fargo. Even when he's shown flashes, he hasn't been able to do much of anything consistently.
I don't love targeting him here, but this is more of a testament to my belief in Matsuyama this week.
Charl Schwartzel (-110) over Adam Scott
Landon Sillinsky: I don't think this line has any business being a pick'em considering the state of both of these guys' games at the moment.
Schwartzel has been knocking on the door of winning while Scott has been rather mundane of late. The South African ranks seventh in this field in total strokes gained over his past 12 rounds.
Meanwhile, Adam Scott's ball-striking has been non-existent of late, which is normally his bread and butter. I just don't like how he's been playing, and it's conceivable to think Schwartzel contends this week.
Give me Schwartzel in a landslide.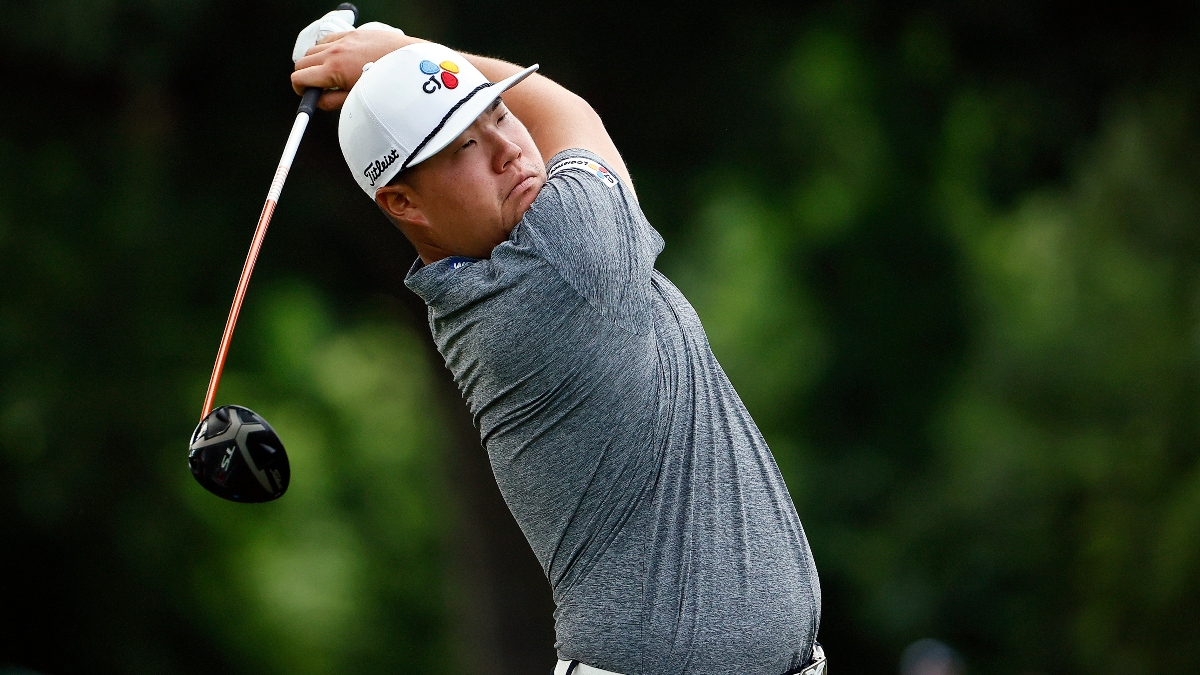 Sungjae Im (-110) over Will Zalatoris
Rob Bolton: With only DraftKings offering matchups for the Wyndham Championship, there's only one board to review. As a result of the simplicity, I'm trusting that this exercise pays dividends.
I don't dive into this pool often, but when I do, I size up my outright against others. There are options for Sungjae Im vs. Russell Henley and vs. Kevin Na, but Henley always is too dangerous and Na has been my Kryptonite over the years.
So if I'm going to lose your money, it should be responsibly.
Ever since he virtually secured his 2021-22 PGA TOUR card last fall, Will Zalatoris has been on a win-or-bust barnstorm. What a great place to be for a 24-year-old, who remains only a Korn Ferry Tour member for a few more weeks. He's adapted almost everywhere he's played, so that's not the issue.
I love how the broad strokes face off here. Im brings his brief but strong record at Sedgefield to the table, and he's been slump-proof.
In the other corner is Zalatoris, who has only one goal all the while he continues to play through discomfort in his lower back. He's discussed it in some detail but he's yet to pinpoint the cause or precise location of the pain.
Basically, I'm leaning on the known commodity over the attractive question mark.

How would you rate this article?
This site contains commercial content. We may be compensated for the links provided on this page. The content on this page is for informational purposes only. Action Network makes no representation or warranty as to the accuracy of the information given or the outcome of any game or event.