2021 Zurich Classic Betting Picks & Predictions: Our Favorite Outrights, Longshots, Props & Matchups at TPC Louisiana
Credit:
Ezra Shaw/Getty Images. Pictured: Akshay Bhatia
The 2021 Zurich Classic, the only team-based event on the PGA TOUR, begins on Thursday at TPC Louisiana.
Team GolfBet picked out their favorite outright bets, sleeper picks, props and matchups below:
The PGA TOUR brings bettors a different look this week at the 2021 Zurich Classic at TPC Louisiana.
Rather than a traditional stroke-play event, this tournament features pairings playing both best ball and alternate shot formats throughout the weekend. That'll provide a different experience for both viewing and betting.
Teams will play best ball on Thursday's opening round, which means both players will use their own shot throughout the round. However, only the lowest score on the hole will count for the scorecard. For example, if one player pars a hole and the other birdies, the birdie will go on the official scorecard.
On Friday for the second round the format changes to alternate shot. Players on each team will alternate who tees off on each hole with his partner taking the next shot and switching back and forth from there. For example, if one player tees off on the first hole, his partner will take the second shot and the player who teed off takes the third shot. On the next hole, whoever didn't tee off will take the tee shot on hole No. 2.
The top 33 teams plus ties will make the cut. There are 80 teams in the tournament.
Saturday's third round goes back to best ball. The final round on Sunday will be played as alternate shot.
Here are our favorite outright bets, sleeper picks, props and matchups for the 2021 Zurich Classic:
Outrights
Bubba Watson & Scottie Scheffler (+1600)
When the pairings were first released, this is the one that struck me as a partnership with potential. There's not much to say about Scheffler, who's risen to 21st in the world ranking and appears on the verge of a first career win very soon.
Watson might have a reputation as "doesn't play well with others," but it isn't a deserved one. In six stints on the U.S. Ryder/Presidents Cup team, he owns a 9-8-1 record in partnered matches, which isn't remarkable, but supersedes that rep. In fact, while unquantifiable, Bubba owns the sort of personality which offers more motivation when alongside a teammate rather than competing as an individual.
For a couple of players who can ham-and-egg birdies for the 36 holes of best-ball format, this could be the team to watch all week.
Sam Burns & Billy Horschel (+2500)
I noted this pairing in my lead-up article following the RBC Heritage and I am going to back them to win this week. Both of these players have shown to be streaky and while Horschel has a recent match play win, Burns is also showing some signs of bouncing back after missing three of the last four cuts.
They can really balance off of each other in the Four-Ball format, especially with Burns, who on his own has a tendency to run off a string of birdies then make a big mistake. Those mistakes won't be as amplified in two of the rounds, and if they can combine well in alternate shot, they will be a tough team to beat.
They have the best value to me this week as the favorites are just too short to take before the event, and I believe this team has the upside to win.
Thomas Pieters/Tom Lewis (+5000)
Thomas Pieters is a mega-talented European with a lot to play for. The big-hitting Belgian is making a strong case to be a part of the European Ryder Cup team at Whistling Straits and they could certainly use a bomber at such a long track.
Pieters is in great form with four consecutive top-15 finishes on the European Tour, and has finishes of 15th and 13th in his two 2021 PGA TOUR starts. With experience in similar formats at a previous Ryder Cup and a World Cup, he should not be overlooked as a force in this setup.
Tom Lewis is a nice compliment to Pieters, as he is a prolific birdie maker who is known for producing some very low rounds. This team of Euros is very talented and highly motivated which gives them a great shot this week.
Cameron Tringale/Roberto Castro (+5500)
Tringale is having a renaissance season in 2021, posting seven top-25s and three top-10's in 15 starts. He's also made the cut in 12 of those starts, including nine of his past 10. He's shown exquisite ball-striking chops in this stretch, ranking sixth in SG: Ball-Striking in this field over his past 24 rounds. He also ranks seventh in total strokes gained in the same time frame.
As for Castro, he's made each of his past two cuts at both the Puerto Rico Open and at Corales. This pair also has some history here, finishing fifth at this event back in 2019.
Being that this tournament is more fickle than others, I like chancing teams that have some built in continuity. Tringale has made 10 starts at TPC Louisiana and gains 1.879 strokes on the field tee-to-green per round, which ranks him third only behind Benny An and HV3.
We've seen Tringale knock on the door multiple times this season and I'll gladly take 55/1 in this spot.
Brendon Todd & Chris Kirk (+2500)
Everything about this format screams, "Don't pick a favorite!" However, while these fellow University of Georgia products aren't tagged with the longest of odds, they're hunters. Targets are on other backs. This gives them the space to do what they do best, which is to say that they really don't need the room. They keep the ball in play and they complement each other well.
Talor Gooch & Max Homa (+3100)
This is a tough week to pick a winner. Without a heavy dose of course-specific data to reference, I am forced to go off a generic model that focuses heavily on the key ball-striking statistics that are generally indicative of success.
Outside of the obvious favorites at the top of the board, this pairing provides the highest combined score in the model ranking third overall. The combination of Homa's consistency and Gooch's upside provides an interesting setup. One that I am willing to back at +3100.
Longshots
Jason Sobel
Justin Suh & Doug Ghim (+7000)
In the first year of this event's team format, Blixt and Smith used a victory as motivation for a two-year exemption, the same one which comes with individual wins. Suh and Ghim should each have long tenures in the big leagues, but a massive week could help launch their careers a little quicker.
The combo of Ghim's irons and Suh's flatstick could work nicely.
Chris Murphy
Matthew NeSmith & Chase Seiffert (+8000)
The stats we have from this event show that ball-striking, with a heavy lean on the approach shot, is the key to success at TPC Louisiana. The one team with two players inside the top-20 in SG: Approach over the last two months is the NeSmith/Seiffert tandem.
Both of these players also putt better on bermudagrass and have the scoring upside to contend down the stretch.
Matthew Vincenzi
Scott Piercy & Akshay Bhatia (+15000)
Bhatia is supremely talented but at 19 years old, lacks consistency. In this format, I like the idea of pairing Akshay with a reliable veteran like Scott Piercy who can help steady the ship for the tandem.
A previous winner here, Piercy loves this event and may be able to get the best out of Bhatia.
Landon Silinsky
Nick Taylor & Martin Laird (+7000)
I like this pairing quite a bit, as it features two former PGA TOUR winners, which is something not many other groups in this field can say. This twosome finished in a tie for ninth place in 2019 and both have been playing pretty decent golf this season.
Both Laird and Taylor gain strokes tee-to-green at this course on a per round basis in their respective careers. Laird also has an additional T-7 back in 2018 with a different playing partner, so it seems as though both these guys feel somewhat comfortable at this track, which is enough for me at these odds.
Rob Bolton
Roger Sloan & Aaron Baddeley (+15000)
If you're keen on comparing odds at the various houses, I'll do this homework for ya. Consider that street sweethearts Richy Werenski and Peter Uihlein are on the board at +9000 at FanDuel, but at BetMGM, both the Sloan-Badds combo and the Werenski-Uihlein team are at +8000. Talk about value for the international duo at FanDuel.
Baddeley is fresh off a top-five finish on the Korn Ferry Tour in Vegas. Sloan recently connected a trio of top 25s on the PGA TOUR. They also happen to be one of my three Sleepers at PGATOUR.com.
Bryan Berryman
Charley Hoffman & Nick Watney (+7000)
If Hoffman was paired with someone who had been playing remotely decent in the last calendar year, this number would be closer to +2500. Referencing my same ball-striking model from the outrights section, Hoffman ranks first in this field while playing partner Nick Watney ranks 119th. Watney has missed the cut in his last 13 events. Hoffman has made the cut in his last seven events, a run that includes three top-10 finishes.
Clearly this is a pick based on riding Charley's recent hot stretch. I'm hoping he can carry the team, while at the same time hoping Watney can just keep the ball on the course.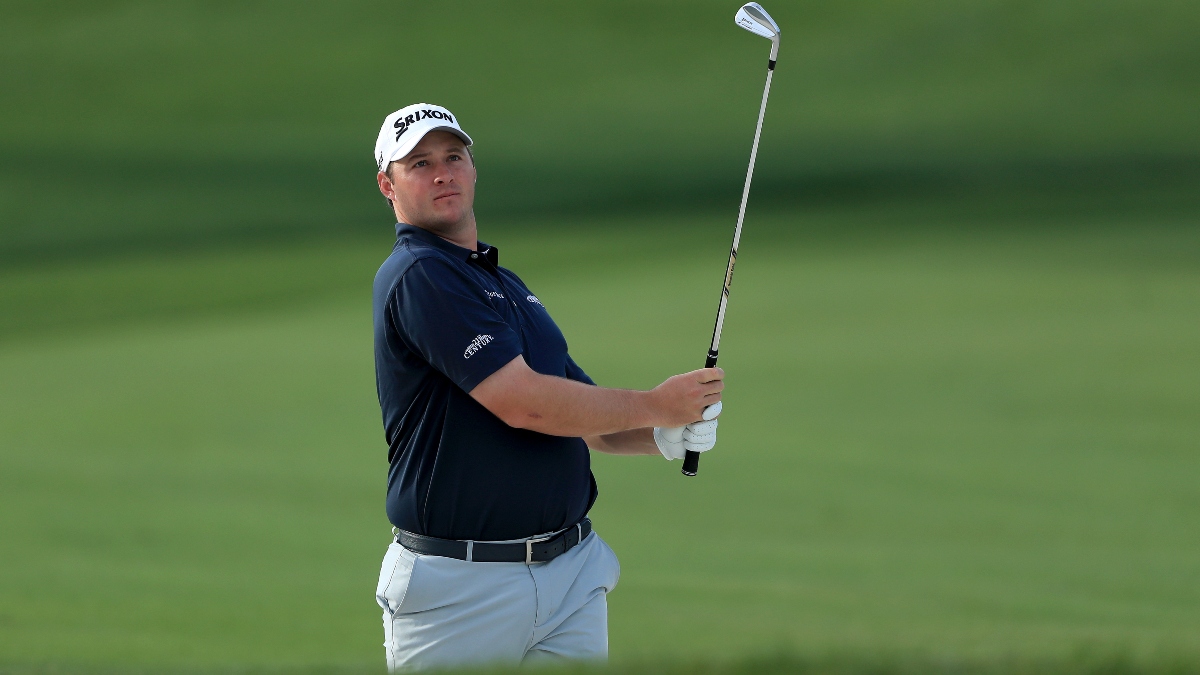 Props & Matchups
Jason Sobel
Josh Teater & Sepp Straka First-Round Leader (+7000)
There are a whole lot of variables involved when trying to pick a two-man team for low score during the first round of the best-ball format, so let's go with one that has a bigger price next to its name. Teater ranks 17th in R1 scoring average this season; Straka is 42nd. They can each make a handful of birdies, as well, without worry that a big number will hurt the team.
You're going to have to take some chances this week and this feels like one worth pursuing, both for FRL and maybe top-20 props.
Chris Murphy
Akshay Bhatia & Scott Piercy Top-20 Finish (+300)
It's only an 80 team field this week, with the top-35 and ties making it through to the weekend. This makes the odds for everyone a bit shorter than normal, but +300 for a top-20 finish with all of those factors is a good-looking number on Bhatia and Piercy.
They are a bit of an odd team in this event, but there is no doubt that their ball-striking abilities should pair well, and give them a solid opportunity to play all four rounds. I'll take the good number and look to bet this pair all the way up the board.
Matt Vincenzi
Keegan Bradley & Brendan Steele Top-5 Finish (+650)
One thing I am looking for in this event is a pairing that has a similar skillset, and few in this field fit that better than Bradley and Steele. Both guys are elite ball-strikers who have a hard time making putts.
In the four-ball format, they will have double the chance of getting their putts to fall and should get themselves more opportunities than much of the field due to their outstanding tee-to-green prowess.
In the foursome format, making birdie putts won't be so crucial, as scoring should be difficult; and the recipe of hitting greens in regulation as a pairing should be enough for them to contend.
Landon Silinsky
Rahm/Palmer (-114) over Cantlay/Schauffele
There is just no way I could trust Patrick Cantlay right now. He's looked completely disinterested these past few events, missing three straight cuts for the first time in his career. While Schauffele seemed to have found his game at Augusta, it's still not enough for me to side with them at what's basically a pick'em.
Rahm and Palmer won this event back in 2019 and both have been playing great this year. Rahm ranks fourth in this field in SG: Ball-Striking over his past 12 rounds and Palmer has two additional top five's at this event with a different playing partner.
This price should be higher in my opinion and I like the defending champs to win this matchup quite handily.
Rob Bolton
Matthew Wolff & Collin Morikawa to miss the cut (+215)
Wolff needs this more than his fellow young stud because he's been lost since suffering the injured right wrist at Torrey Pines early this year. Meanwhile, Morikawa proved how bad putters can hide at Harbour Town where he placed T7. (He co-led the field in GIR but ranked 57th in Strokes Gained: Putting.)
TPC Louisiana doesn't offer the same curtain and this format demands that they go low to survive the cut. I'd tiptoe into this wager but it has merit rooted in quantifiable logic.
Bryan Berryman
Matthew NeSmith & Chase Seiffert Top-10 Finish (+500) 
Ranking sixth out of the 80 groups in my ball-striking stat model, NeSmith and Seiffert are definitely in position to compete this week. They both rank top-20 in SG: Approach in this field over the last 12 rounds, and have the upside needed in this team event structure to be a factor come Sunday.
I love the value at +500 for this pair to finish in the top 10, and definitely don't hate a sprinkle on the outright if you're feeling a little frisky.
How would you rate this article?