2022 RSM Classic: Expert Seeks Value in Crowded Leaderboard
Credit:
Pictured: Andrew Putnam. (Photo by Mike Mulholland/Getty Images)
With another questionable board for wagers on Sunday, let's use my model's long-term information to see if we can narrow this player pool into a compact list of options.
I have yet to encounter a final-round leaderboard with as many glaring outsiders (when it comes to my pre-event research) as we are getting here, but it should make for a fun article since more is at stake.
If you aren't doing so already, you can find me on Twitter @TeeOffSports. There I will provide my pre-tournament model, a powerful and interactive data spreadsheet that allows user inputs to create custom rankings for golf. That sheet is free and released every Monday, so be sure to check it out and construct your own numbers from my database of information.

Leaderboard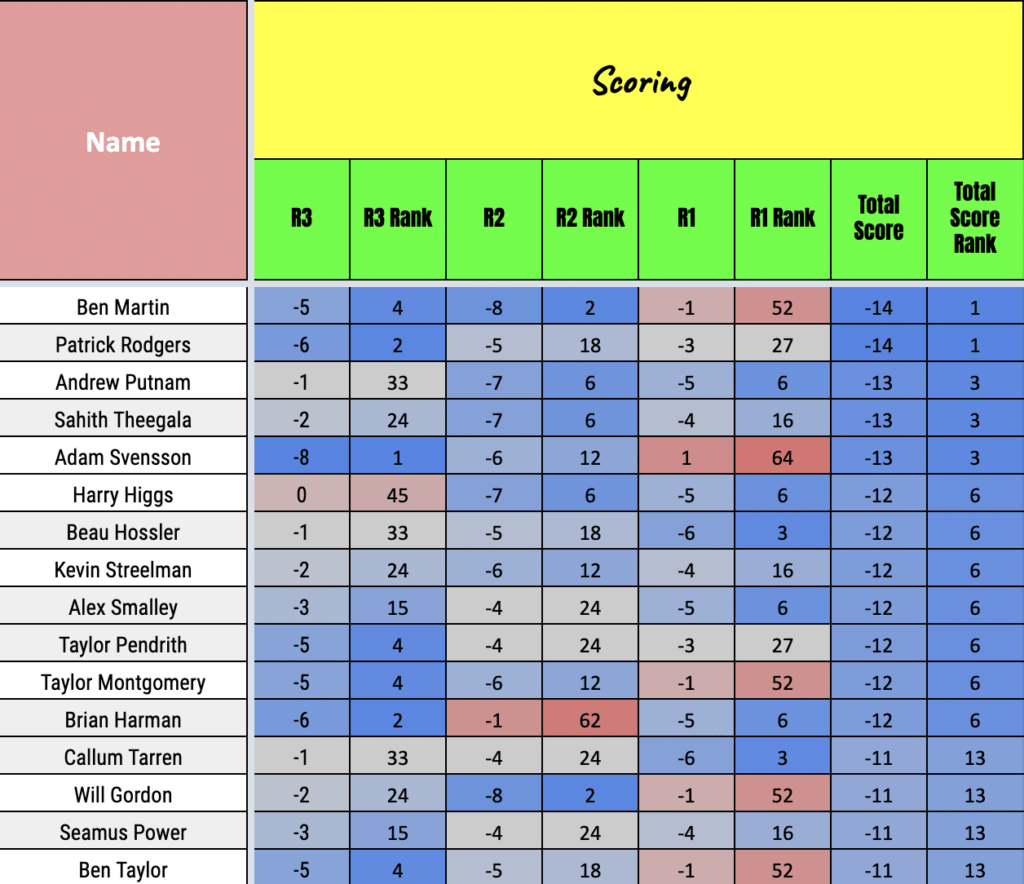 Long-Term Data
I am missing a few tournaments for various reasons, but here is a little information to keep in mind. 
82/85 have entered Sunday inside the top 10 (96.4%)

71/85 have been within three shots of the lead (83.5%)

No golfer has ranked outside the top 60 while looking at some iteration of my pre-tournament model in 2022. 

36/39 have been top 41 pre-event (92.3%)
It is worth noting most of the winners who have come from off the pace did so during an event with fewer names between them and the lead. 
Sunday Pretenders
Ben Martin – Pre-Tournament Model Rank (108th)
What Martin has going for him is that he has tasted victory in the past, but it was hard to see this outcome occurring after he failed to generate a result better than 49th in six attempts on Tour this season. Perhaps the lack of data I have on hand doesn't correctly depict his actual chances, but I am okay with the making him beat me Sunday.
Harry Higgs – Pre-Tournament Model Rank (112th)
My data refused to believe anything other than severe volatility was in store for Higgs at Sea Island. The 147th-place rank for weighted par-four scoring continues to grade as troubling when we look into the importance those holes play when deciding the winner. I don't love his chances during a pressure-packed Sunday.
Beau Hossler – Pre-Tournament Model Rank (92nd)
I am willing to acknowledge I likely went wrong somewhere on Hossler. The American had quietly provided three top-40 finishes before last week's hiccup in Houston, but numbers are numbers when I run these trends for the event, and there is nothing I can do at this point to fix a profile that doesn't grade as a tangible target if I am to believe the historical tendencies.

Kevin Streelman – Pre-Tournament Model Rank (59th)
Streelman is an oddity who lands in the middle of multiple trends. Yes, he qualifies after entering the day top 10 and within three shots of the lead as a top-60 pre-event option, but it also means something to me that 36 of the past 39 winners have been top 41 in some iteration of my model.
Sunday Contenders
Patrick Rodgers – Pre-Tournament Model Rank (12th)
I have been one of the biggest advocates for Rodgers over these past few months, so can you even imagine the pain I am going to feel on Sunday when he steps across the finish line without me holding an outright ticket?
Andrew Putnam – Pre-Tournament Model Rank (2nd)
Putnam remains one of my substantial rooting interests tomorrow.  The 55/1 outright price I grabbed pre-event is live if he can steady the ship, and the projected par-four scoring that placed him first in my model could prove to be a massive advantage.

Sahith Theegala – Pre-Tournament Model Rank (14th)
I noted in my Wednesday article how Theegala possessed top-15 upside when I recalculated a handful of stats, and the increase in driving accuracy has been on full display after he switched to a high-lofted driver. Theegala's birdie-making potential is noteworthy, and while his round-four performances haven't always resulted in the outcomes he's desired, some of the lack of win equity has been overblown because of a poor shot here or there.
Adam Svensson – Pre-Tournament Model Rank (13th)
Svensson (160/1) provided another Sunday runner for me after rising up the leaderboard. Svensson is ranked eighth in my model for weighted proximity, third in Bermuda putting from 25 feet and beyond and the combination of short course dominance and recalculated par-four scoring continues to heighten his chances for upside.
Alex Smalley – Pre-Tournament Model Rank (16th)
With outright tickets pending on Putnam, Harman and Svensson, I am going to add Smalley as a fourth choice at 18/1. The 106th-ranked golfer in the world has been trending up with back-to-back finishes inside the top 11. The ceiling might be ready to burst for his first victory.
Taylor Pendrith – Pre-Tournament Model Rank (17th)
My numbers didn't love Pendrith this week for the price we had to pay to grab exposure, but now that we are at this point of the festivities, there isn't anything from a numerical sense that would disqualify him from being one of the better win equity candidates in the field. The Canadian has shown massive upside when conditions pick up in the wind, and his ninth-place GIR tally trails only Ben Taylor and Ben Martin.
Taylor Montgomery – Pre-Tournament Model Rank (3rd)
Montgomery is one of the better putters with an opportunity on Sunday and the countless top-15 results he has provided since joining the Tour at the Fortinet Championship should give him a little of that extra push in confidence.
Brian Harman – Pre-Tournament Model Rank (1st)
I wouldn't discount Seamus Power and Will Gordon if we push this to golfer's three-back, but I will stop here since a top 10 has typically been a pre-requisite to finding a winner come Sunday. Harman was the top-ranked golfer in my model when I ran the final numbers on Wednesday night and his ability to catch fire was pronounced on Saturday after he birdied seven of his opening 10 holes.

How would you rate this article?
This site contains commercial content. We may be compensated for the links provided on this page. The content on this page is for informational purposes only. Action Network makes no representation or warranty as to the accuracy of the information given or the outcome of any game or event.