2022 RSM Classic First-Round Matchup Bet: Target Sahith Theegala Over Cameron Champ
Credit:
Photo by Mike Mulholland/Getty Images. Pictured: Sahith Theegala.
With the last full-field tournament of the 2022 season upon us this week at The RSM Classic, there will hopefully be ample opportunities available for us to take advantage of throughout the week if we shop around.
That hope remains present amongst a board that has shifted for the worse in value over the past few weeks of posted prices in the space, but let's keep our fingers crossed that the new year will bring unstacked betting options and lower-juiced matchups throughout the market.
As bettors, we must have those things to be successful, and the ever-growing landscape of the industry should help to provide better betting boards moving forward!
If you aren't doing so already, you can find me on Twitter @TeeOffSports. There I will provide my pre-tournament model, a powerful and interactive data spreadsheet that allows user inputs to create custom rankings for golf. That sheet is free and released every Monday, so be sure to check it out and construct your own numbers from my database of information.
The 10 Most Overrated Golfers In My Model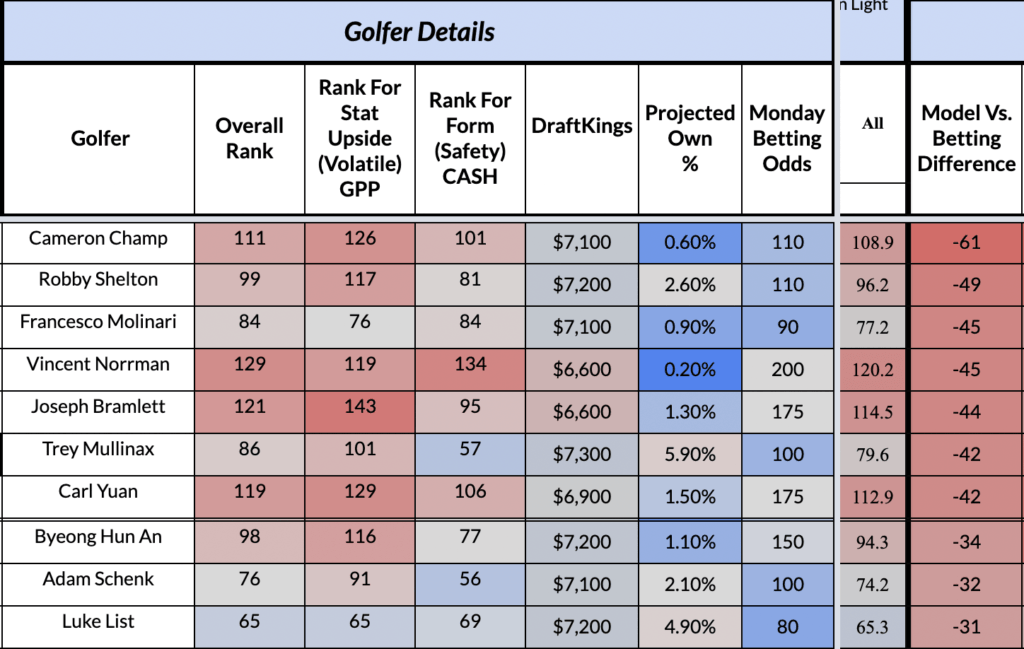 Sahith Theegala -143 over Cameron Champ in Round 1 (BetRivers)
I run my model more times than I can even tally throughout the week to account for various deviations that occur from hour to hour, but the current makeup of my sheet has presented the 10 options listed above as my "most overrated" golfers on the board for The RSM Classic.
None of that suggests that those players won't find a way to have a respectable week, but what it does imply is that at the current going rate in projected price/equity, my model is uncovering an overinflation in their total for one reason or another.
A lot of that discovery will have to do with the long-term statistical data I have collected and how the data recalculates poorly to fit a venue like Sea Island. However, I don't want the general nature of current form or course history to be lost in translation with how it can heighten a market's perception of a golfer, even if the numerical facts are pushing us in a different direction.
And I say all of that upfront to encourage everyone to look around at their books and see if they can find any matchup(s) that might vary from the legal sector of the space.
There are thousands of shops throughout the world that offer countless head-to-head battles for us to consider, and the ability to decipher details and use them to our advantage will always be where our best edge comes into play since mastery of how you run your data will allow you an easier time traversing that information from shop-to-shop.
I am going to go down a path for my round one selection that is a lot more aggressive than usual since not only do we have an inferior board that isn't presenting a ton of opportunities on the surface, but I also feel like this is a spot where both players are being placed into the same bucket because of their volatility.
Sure, we can all agree on the fact that Sahith Theegala and Cameron Champ have been known to be the poster children when it comes to boom-or-bust results, but I don't believe this is quite the same situation since one golfer is trending with eight made cuts in his last nine appearances, while the other is struggling to get out of his own way, producing five early exits in six starts.
I don't believe any of that is worth a wager at its core since a shop like BetRivers is making us pay -143 juice (a 58.85% implied win probability if we want to breakeven), but here is where we enter this dichotomy of what to expect since the image of my model above is running solely to account for Sea Island, a course that won't be the location of where these two will play on Thursday (they will play at the Plantation on Thursday).
That means that Champ's par-five scoring acumen is going to give him a natural boost of production, which we see by the American jumping from 111th in my model to just inside the top 90.
I am willing to overlook that projected improvement since not only does he still grade as a massively overvalued commodity on the board when the course plays better into his style, but it also gives Theegala similar improvement – shifting him from a golfer who projected outside my top 30 and into one who was a top-15 play for the track.
I will cautiously approach this wager by downgrading my exposure to 1.15 units to win 0.80, but I believe Champ remains a name-recognition fade candidate weekly until shops stop pricing him in a range where he doesn't seem to belong at this moment. You can juice it up some to try and bait the public onto his side, but I believe BetRivers should have moved it more if they wanted to keep sharp money off of Theegala in round one.
How would you rate this article?
This site contains commercial content. We may be compensated for the links provided on this page. The content on this page is for informational purposes only. Action Network makes no representation or warranty as to the accuracy of the information given or the outcome of any game or event.