2023 Masters Pool Strategy, Picks: How to Finish First or Dead Last
Credit:
Photo by David Cannon/Getty Images. Pictured: Patrick Reed.
Whether you like it or not, I'm about to help you win your Masters pool, or finish dead last. It will all make sense soon.
There are so many ways you set up a Masters pool, but a typical pool involves "Tiers" in which you pick one golfer from each tier, and their total scores will be added up to create your team's overall score.
In many pools, you pick around eight players, and the top six scores will be counted and the other two will be thrown out. The tiers approach prevents everyone from taking the same top golfers, and instead forces you to go further down the board with your selections.
The typical Action Network-approved strategy for any mass-entry pool like this (in which everyone can select the same players if they want) involves ignoring the most popular selections and trying to find comparable players who will be far less selected.
We've written about it this style of selection (successfully at times, I might add!) for NHL playoff pools, NCAA Tournament brackets, NFL survivor pools and more.
We'll use EasyOfficePools' standard tiers that use betting odds to sort the tiers, picking one player from the top five tiers and three players from the "everyone else" tier. Let's assume there are 100 people in the pool, and the top four finishers get paid.
Alright, to the tips and strategy.
1. If You're Not First, You're Last
The goal of these pools is to win, or come very close to winning. Placing 20th of 100 is the same as finishing dead last — you get nothing. Too many people unknowingly play it safe by taking the same golfers as everyone else, but if you want to win, you need to get comfortable coming in last, too. If your goal is to tell your friends you finished 27th of 200 while getting zero money, this philosophy is not for you.
This concept will inform the rest of my strategy. Again, I don't mind finishing last two years in a row if I can have a chance to win the third year. These are big pools, and they're hard to win, but when it breaks right, differentiating your lineup can pay off in a big way. Just look at the NCAA Tournament this year — fading the top seeds and going with UConn paid off.
Of course, the size of the pool matters here. The bigger the pool, the more creative you need to get.
2. Pick Good Golfers
Wow, real expert advice.
But you should really just pick the good players who hit the ball far and put it close to the hole.
I hate using this meme to describe anything but it's the best way to sum it up: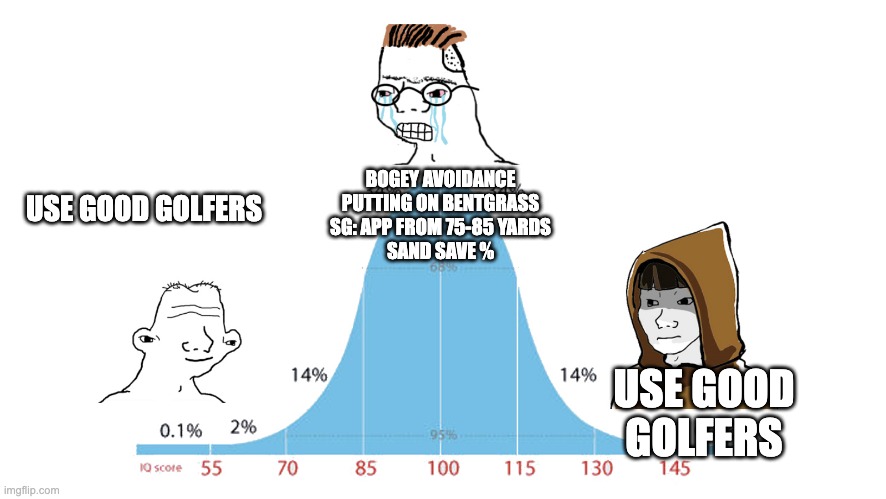 The more information and the more eyeballs on an event, the more bettors tend to overcomplicate and over-research it.
Golf is an inherently random game. So why take something like putting, the most random part, and decrease the sample size to a specific type of grass? Just take the good players who hit the ball far and put it close to the hole.
A few years ago at FantasyLabs, we analyzed millions of DFS lineups and found that floor is much more important than ceiling, because the only thing that matters in golf DFS is making the cut. If you stay in the tournament, you raise your ceiling. Despite this, we analyze everything instead of just trying to find guys who will make the cut.
One of my favorite golf tropes is when analysts call a course a "second-shot golf course." But they say it every week. It's every course. The course could be 6,000 yards or 7,500 like Augusta, and having good second shots will still be the most important thing.
Just take the good players who hit the ball far and put it close to the hole.
Anyway, I like to use DataGolf's rankings as a measure of ability. Here are a few guys who are higher than you might expect, who you should consider using:
4. Patrick Cantlay
9. Cameron Young
22. Mito Pereira
27. Tom Hoge
36. Taylor Moore
3. Get Contrarian & Find Leverage
Leverage is the idea that you can create value by choosing lower-owned players who have a comparable chance to win/compete as a similar, higher-owned player.
Here are the top players in our FantasyLabs DFS models in leverage score, which compares projected ownership to upside. It's mostly guys who are either boring, on the LIV Tour, hurt, or in poor form — Cam Smith, Shane Lowry, Patrick Cantlay, Sepp Straka, Adam Scott, Will Zalatoris.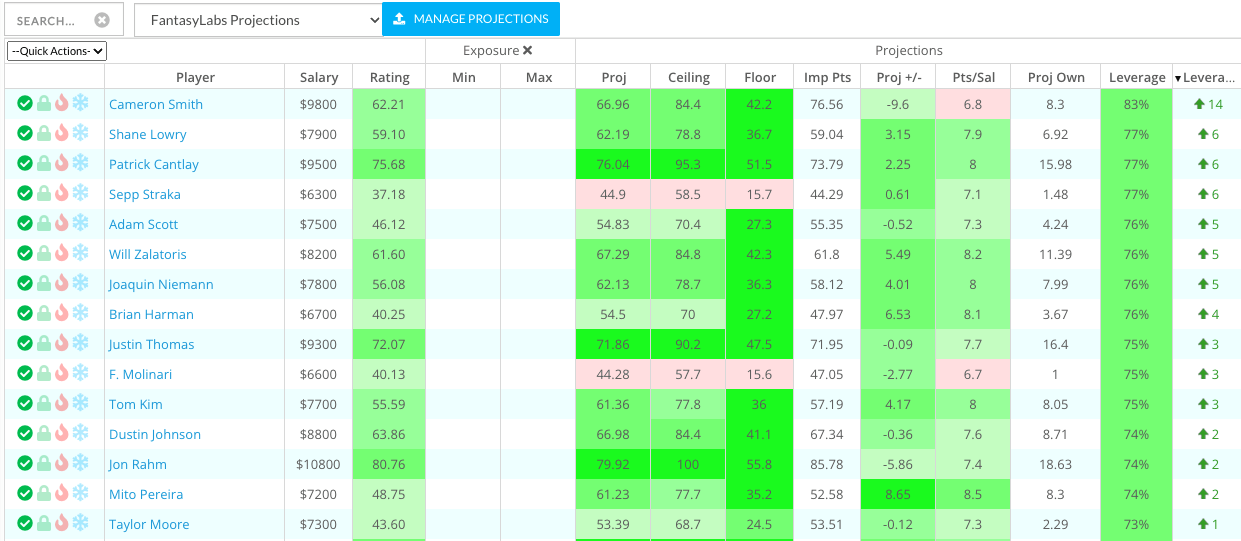 But why is leverage so important, anyway?
Check out the visual below. When you use the same player as everyone else, it doesn't really help you, because the other entries also move up in the standings when that same player does well.
In this graphic, pretend Scottie Scheffler and Jon Rahm are tied coming down the stretch at the Masters; everyone else is in the clubhouse. Eight of the top 10 used Scheffler; only two used Rahm.
Watch what happens when Rahm birdies a hole and Scheffler doesn't — the Rahm teams jump a huge pack of entries. When Scheffler birdies and Rahm doesn't, those entries are just keeping pace with the rest of the field, not gaining any edge. And this happens throughout the entire tournament, it just becomes more obvious in the end when you're in fifth but you can't move up because everyone above you has the same player.
The hard part is, you don't know who will be most-owned golfers in these pools. It's not like the NCAA Tournament, where Yahoo! and ESPN will actually tell you.
So we have to make some assumptions. We do DFS ownership projections at FantasyLabs which can give you some idea. Tyler Tamboline on Twitter also does a good thread that highlights the most-selected picks from around the golf betting industry, and you'll generally want to avoid the most-recommended players.
Last year, Tier 1 in my pool looked like this. Rory McIlroy turned out to be the second-best choice from this tier behind Scottie Scheffler as Rory finished second, despite just 2.8% of entries using him. He had been just OK in the months leading up to the Masters, and given his odds were in the middle of the pack among this tier, most people didn't want to use him.
4. Use Odds, But Not Blindly
As I just illustrated, many people will gravitate toward the player in each tier with the best odds to win. Most people don't follow golf closely enough to distinguish between Cam Young and Sungjae Im, let alone Taylor Moore vs. Adrian Meronk, so they let the betting market do it for them. Which is generally a good approach.
But if you can get a 22% Sungjae Im vs. a 13% Cam Young and their chances of winning the tournament are about the same, you should take Young.
Let's look at another tier from my pool last year, which was the "best of the rest Americans" tier. The ownership follows the odds board pretty closely — almost half the pool used Brooks Koepka, because he had the best odds by a pretty significant margin.
But everyone ended up being a better play than him, as only he and Bryson DeChambeau missed the cut. Tony Finau was probably the most sensible leverage play at just about 10%, and he finished 35th.
Kevin Na and Jason Kokrak actually both finished top 20, and would have provided excellent value for this tier.
You should also not use the betting odds that your pool site gives you. Take Tyrell Hatton for example — EasyOfficePools has him at 50-1 and toward the top of his tier, but Pinnacle and Circa, two sharper sportsbooks, have Hatton north of 70-1. So rely on real betting market data, as what the pool sites give you can often be stale.
5. "Ignore" Course History
Course history does actually matter at Augusta National, but I think people tend to overrate it in the context of these pools.
Would you rather have:
An aging player who has played well at the Masters at times in the past, but isn't playing well right now?
A rising star who is simply a much better golfer, but hasn't played Augusta more than once or twice?
I'm often choosing the second option, especially because the "Augusta guys" will be over-selected relative to their value. Last year, for example, Justin Rose was picked by about 30% of the entries in my pool, despite entering in average form. He missed the cut.
Tommy Fleetwood was used by about 40% of entries in that pool, and he did pay off with a T-14 finish, but I'm always going to skip those guys in favor of comparable players who have a similar chance to contend but will be far less selected.
6. Be a Hater
I would venture to guess the LIV Golf guys will be under-owned in Masters pools this year because 1) most of them have played pretty poorly, and haven't played many events in the last year and 2) because most golf fans don't like them anymore (or never liked them at all).
So don't be afraid to take a stab on players no one wants to use, like Patrick Reed. It's possible the LIV player truly are out of form and no longer very good, but it doesn't matter if you finish dead last. If they hit, it's going to give you a huge leg up.
Cam Smith and Dustin Johnson are the two LIV players I'd expect to still garner interest, because they're likeable, haven't said anything disparaging about the PGA Tour players, and have played really well at Augusta in the past.
A few LIV guys way down the board I'm interested in are Jason Kokrak, Mito Peirera, and Kevin Na.
7. Tier-by-Tier Breakdown
Alright, let's dive into the actual tiers on EasyOfficePools.com. Again, your pool may be slightly different, so use the general concepts — if Cantlay headlines a tier in which you think everyone will use him, don't use him.
I've listed the odds from EasyOfficePool alongside the odds from Circa Sports as of Wednesday morning to give you an idea of how the real, live betting market views these players.
Tier 1
There's a clear top 3 right now, and I expect them to occupy 85% or more of the ownership. It's hard to choose between the three but I believe Rahm will come in less-owned than Scheffler or McIlroy, so he would be my choice.
It's terrifying to skip these three, but I'm using Patrick Cantlay. In my pool last year, he came in at 1.1% owned in the first tier. He's never finished better than T-9 at Augusta, but there's no reason to think his game doesn't fit here, and I really don't think anyone else will use him.
Tier 2
This is an interesting tier for a few reasons:
Max Homa is always popular, but he's been bad at pretty much every major he's ever played in.
Johnson is a LIV guy I could actually see people wanting to use.
Viktor Hovland is so bad around the greens that popular opinion says it will hold him back.
Im and Corey Conners have strong course history here, and Conners won last week, so I expect them to garner some attention.
For me it came down to Will Zalatoris, who has been in poor form and doesn't seem popular in DFS this week but has excelled here, finishing runner-up to Hideki Matsuyama in 2021 (in his debut), and Cameron Young. I'll go with Young.
Young has the second-best real odds in the group, but was bad at Augusta last year which may keep people off him. He's got the ball-striking ability to match almost anyone, and his short game and putting aren't as poor as some of the other players in this tier.
He finished T-3 or better in two majors last year. I'm not entirely sure he'll be low-owned, but this tier has enough interesting names that I'll take a shot.
Tier 3
I'll go a little chalkier here and take Matthew Fitzpatrick, which I don't mind since my Tier 1 choice in Cantlay will differentiate me a lot. Fitzpatrick will probably be the highest-owned or second to Matsuyama but at sharper sportsbooks, there's a clear gap between those two and everyone else in the tier (around 48-1 compared to 68-1 for Min Woo Lee, and 80-1 or longer for everyone else).
In a really big pool or if you have multiple entries, I'd consider Patrick Reed. He is a Masters winner, with two additional top 10s at Augusta. He finished fourth in the LIV event last week and was second to McIlroy at a Euro Tour event in January.
Tier 4
This is a weird tier, as you'd expect Tiger Woods to draw a good bit of the action, but after that, I'm not really sure who will.
I'll go with Mito Pereira, a top 25 player in the world by DataGolf's rankings, but unknown to most people. He's making his Masters debut and was really, really close to winning the PGA Championship in 2022. I am started to see him recommended as a sleeper more and more throughout the week, so my backup would be the steady Si Woo Kim.
Tier 5
Most of these guys are packed in a pretty tight range of odds and none of them are big names. Russell Henley has the most consistent course history here, and Danny Willett won it in 2016.
I'll go with Chris Kirk, who's played some really good golf this year and might be the best player of this group right now. He's been decent at Augusta at T-33 or better in two of three tries but hasn't qualified for the Masters since 2016, so he won't fall into the "course fit" narrative, I don't think.
Tier 6
Alright, here's where things get fun. Pick three players from the "everyone else" tier. There are so many directions you can go, but surprisingly people still gravitate toward the guys with the best odds.
In my pool last year, 45% of entries had Tommy Fleetwood, and north of 30% had Justin Rose, Gary Woodland and Max Homa.
None of these players will win, but you'll probably need one or two to finish top 20 or so to have a chance to win your pool.
I'll skip the first handful of guys and start with Adam Svensson, who's been in good form and has a fairly all-around game. He's 61st in DataGolf's rankings, one of the best in this tier, but he'll get lost among the bigger names.
Next I'll go with Kevin Na, another guy I can't imagine anyone will use. He's been bad on the LIV Tour but he's finished top 20 in three straight Masters.
And lastly, let's go with Harris English, who has been hurt for a good part of the last year but has started to find his game a bit with two T-12 or better finishes in the last two months.
That's it! That's all I've got for you.
Again, try to poke around and get a sense for who everyone is talking about, and avoid those guys. Use betting market data, but don't trust it blindly, because everyone will do that.
And most importantly, don't be afraid to finish last. You will more often than you win, but when you win, you'll actually win money.
How would you rate this article?
This site contains commercial content. We may be compensated for the links provided on this page. The content on this page is for informational purposes only. Action Network makes no representation or warranty as to the accuracy of the information given or the outcome of any game or event.