Jason Sobel's American Express Betting Preview: Taking a Chance on Longshots a 'Wise' Move
Credit:
Cliff Hawkins/Getty Images. Pictured: Aaron Wise.
Shoot your shot. Take a chance. Hit and hope.
That's my expert advice for this week's American Express tournament on the PGA TOUR.
Over the past decade, the winners list has been as eclectic as the varied group of title sponsors, with a few big names, a few big hitters, a few short hitters and a handful of guys claiming this trophy whose odds were anything but short.
This is the week to try some triple-digit longshots and leave some DFS money on the table. It's the week to trust your heart over your head and maybe even some hunches over analytics.
Don't believe it? Check out the pre-tourney prices of the last 10 winners:
| Year | Winner | Odds |
| --- | --- | --- |
| 2020 | Andrew Landry | +20000 |
| 2019 | Adam Long | +50000 |
| 2018 | Jon Rahm | +800 |
| 2017 | Hudson Swafford | +5000 |
| 2016 | Jason Dufner | +4000 |
| 2015 | Bill Haas | +2500 |
| 2014 | Patrick Reed | +8000 |
| 2013 | Brian Gay | +8000 |
| 2012 | Mark Wilson | +15000 |
| 2011 | Jhonattan Vegas | +15000 |
The average odds for winners here have been just north of 125/1 — if you could even get 'em before it started. In the archive at golfodds.com, four of these players (Long, Reed, Wilson and Vegas) were simply listed as "Field" bets prior to the opening round.
You'll also notice that the 200/1 and 500/1 payouts of the last two years were preceded by a 7/2, which helps mold the narrative from, "It's always a longshot!" to "It can be anyone!"
If you have your heart set on one of the favorites vanquishing an inferior field, well, it's happened before and can certainly happen again. I'll invest in tourney fave Patrick Cantlay, Scottie Scheffler (see more below) and Sungjae Im in DFS and maybe a few matchups if the numbers are right, but history shows this isn't the week to be chasing the chalk.
There's another theme here that has less to do with this event and more to do with its place in the annual schedule.
With only two tourneys under our belts — and most of those who have played only playing one of 'em — the books are giving an egregious advantage to those who have performed well in a very small sample size.
Example: Matt Jones and Charley Hoffman each had decent results at last week's Sony Open, finishing T-11 and T-14, respectively. They are each listed at 100/1 for this event, higher on the board than, say, Chez Reavie and Doc Redman, each of whom is ranked well above them in the OWGR, and deservedly so.
It might feel smarter to take a known commodity who's already played some competitive rounds this year — it's the reason why I favored those who'd played at Kapalua last week — but when the odds are leaning too much in the favor of those players, don't be afraid to go with a guy making his 2021 debut.
In fact, using that same winners' list, we find that three of them didn't play the previous week, three missed the cut and only two finished in the top-30 and brought a little momentum into the desert:
| Year | Winner | Previous week |
| --- | --- | --- |
| 2020 | Andrew Landry | MC |
| 2019 | Adam Long | MC |
| 2018 | Jon Rahm | DNS |
| 2017 | Hudson Swafford | T-13 |
| 2016 | Jason Dufner | T-9 |
| 2015 | Bill Haas | DNS |
| 2014 | Patrick Reed | DNS |
| 2013 | Brian Gay | T-31 |
| 2012 | Mark Wilson | MC |
| 2011 | Jhonattan Vegas | T-57 |
All of which turns this week into a massive crapshoot.
And maybe it's an even bigger crapshoot this year, as the usual three-course rotation has been whittled to two, no amateurs will be competing alongside the pros and — most importantly for DFS — the cut will take place after 36 holes instead of the usual 54.
Let's get to the picks, with some advanced warning: Buckle up. This is gonna get weird.
Outright Winner
One player to win the tournament.
Aaron Wise (+9000)
Why him? Well … why not? My main goal with this week's outright selection was to walk the talk. I can't write all about how winners here have averaged a huge number entering the tourney, then offer up a chalk play. There's not much about Wise's past results at this one which suggest he's ready to win, though he has played 11 of 14 rounds under par. He's also a West Coaster, which at least helps the narrative.
More than anything, though, he's a talented young player coming off a down year who showed late improvement — he finished runner-up at Mayakoba in his final start of 2020 — yet he's still undervalued in the marketplace, with higher odds than the likes of John Huh. In a week proven to give us anything at the top, my card will have plenty of value plays who own some win equity.
Other OADers
Potential selections for one-and-done options.
Matthew Wolff (+3000)
This is about as high as I'm willing to go on the board this week. Even if you don't love a 30/1 play on Wolff, you're likely trying to find some stability with an OAD pick without burning a player who can help you down the road. Wolff might only check one of those boxes, considering he's a guy you can plug in at a handful of tourneys later on, but he's at least a bigger name who will give you a little confidence rather than dumpster diving for someone a bit more random.
You're always at risk that he's running a bit cold — he followed back-to-back runner-up finishes at the U.S. Open and Shriners with results of 73rd-50th-MC to finish last year — but his best stuff is obviously very good.
Gary Woodland (+9000)
Tell me if this sounds familiar: When making picks for comparatively less memorable tournaments such as this one, you do your research by looking at last year's leaderboard, then the previous year, then the year before that, and simply go with a name that keeps popping up on those lists. By that process, expect plenty of Adam Hadwin selections, who missed this event last year due to the birth of his first child, but finished 2nd-3rd-2nd in the three previous years. Also, expect very few Woodland plays, as he hasn't competed in this event since 2014.
Even so, he was T-2 a decade ago and recently lost a bunch of weight — sort of a reverse-Bryson — which should afford him better stamina and flexibility moving forward. Don't be surprised if he experiences some immediate success.
Top-Five
One player to finish top-five.
Doc Redman (+2500 for top-five)
Oh, come on: Did you really think you'd get through this preview without a(nother) Doc mention? We've all seen those football lines where we think to ourselves: That seems fishy; the wrong team is favored and I want to smash the underdog moneyline, but maybe the books know something I don't. (Hint: They definitely do.) Well, that's how I feel about this. One of my favorite up-and-comers is listed at 140/1 outright as I'm writing, which feels like the books are just taunting us, but I'll gladly take that bait.
More than the outright play, though, I love him here at top-five, considering he's cashed three of these tickets in his last eight starts.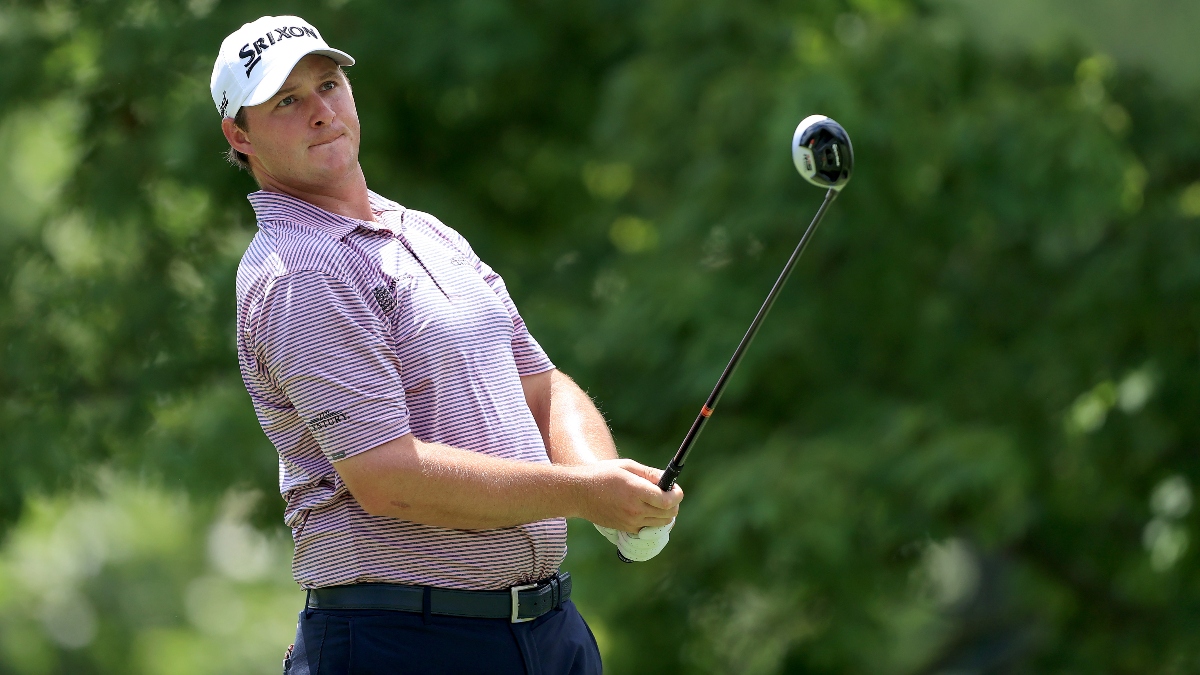 Top-10
One player to finish top-10.
Sepp Straka (+900 for top-10)
As I wrote last week, I always like studying final-round ball-striking numbers from the previous event, which can be very predictive. I'll admit this strategy backfired in my selection of Abraham Ancer, who MC'd, but I'm going back to the well with this one.
Straka was fifth in strokes gained on approach shots in the Sony Open final round, plus he was T-4 at the AmEx last year. A talented guy who seems to be gaining more confidence on a weekly basis, I think these two host tracks should suit his game very well once again.
Top-20
One player to finish top-20.
Maverick McNealy (+450 for top-20)
I'll readily admit that this is a very conservative play on McNealy, who's been gradually rounding into the player we'd expected when he was crushing it in college. In fact, it's been a half-dozen years, but McNealy won The Prestige at PGA West when he was at Stanford, which should bode well for his chances this week. He was T-37 at this one last year and finished 21st-or-better in four of his final six starts last year.
He's never going to be the longest driver or the most accurate ball-striker, but he does own one of the game's more solid putting strokes, ranking ninth in strokes gained putting last season. If his flatstick catches fire this week, don't be surprised if he's in the mix come Sunday.
Top-30
One player to finish top-30.
Vaughn Taylor
No offense to Taylor, but he's just the kind of player we usually overlook at events such as this one. None of his stats excite us to the point where his game fits a few specific courses. At 44, he should be on the downside of a career that peaked with a Ryder Cup qualification 15 years ago. And yet, he keeps on plugging away, finishing T-25 last week.
Taylor owns three career top-10s at the AmEx, too, so there's obviously a comfort level. He's hardly a sure thing, even just for a top-20, but then again, this tourney doesn't really offer sure things.
Top-40
One player to finish top-40.
Robby Shelton
This is a player I've been keeping my eye on for a while now. He had a nice collegiate career at Alabama, then won twice on the KFT in 2019 to earn his PGA TOUR card. His career trajectory is right on track, as he should start popping up on more leaderboards here in his sophomore season. I'd still be a little cautious, but that's exactly what a top-30 play is.
He's cashed two of these tickets in his last five starts, including a T-25 last week, so he's rolling into this one with a little momentum.
DFS Free Bingo Square
A safe plug-and-play option for DFS.
Scottie Scheffler
Before he WD'd, I suppose the obvious answer here would've been Rahm, who was earmarked to be the highest-priced player on both major sites because he is indeed the best player – which in turn probably makes him the safest option, too. For a cheaper price, though, you can have Scheffler, who isn't quite the same talent, but might be more motivated to go after that elusive first PGA TOUR victory at an event where he nearly claimed it a year ago.
Already the 33rd player in the world, he's MC'd in just one of his last 13 starts, a span which includes eight top-20s. Others are known commodities and fellow studs, but if you want to save a little cash and still use a guy who can finish right at the top, then Scheffler might very well be the play.
DFS 'Dog
A lower-priced option for DFS.
Scott Piercy
On the surface, this one doesn't make much sense, as he's fresh off an MC last week and owns just a pair of top-20s at this event in nine career starts. That said, all of those facts have only helped to drive down his price and I've always been a big fan of Piercy on desert tracks, where his usual solid ball-striking tends to improve a few notches with some added confidence. I don't expect him to be heavily owned this week.
While he's hardly a "safe" play, there's a ton of upside here, which could make or break your week.
First-Round Leader
One player to post the low score Thursday.
Max Homa 
I'm writing this preview before the tee times are released, but you can certainly find an edge for this play. Traditionally, La Quinta has served as the easiest of the three courses, but that's out of the rotation this year, so we've only got two choices. Last year, the Nicklaus course had an opening-round scoring average of 69.64, while the Stadium was more than a stroke higher at 70.65. Over the past few years, FRLs here have ranged from Rahm and Phil Mickelson to Zac Blair, Grayson Murray and Dominic Bozzelli, so you might as well take a chance on guy with a nice number next to his name.
I'll take Homa, a social-media superstar who recently eschewed the funny stuff for one tweet and explained how hard he's prepping for the impending year, though I'll reserve the right to pivot if he starts off on the wrong course.
Heading to Palm Springs to start the 2021 season. Been working my tail off and I'm excited to get going. The offseason is nice but there's nothing better than competing #golf

— max homa (@maxhoma23) January 17, 2021
Matchup Man
One player who should beat comparable players.
Sam Burns
Following a T-6 finish in this event last year and a T-7 finish in his most recent start in Houston, I expect Burns to be a popular play this week in all formats. I'm a big fan of his game and — as I wrote in my preview piece "The Leap" — I think the best thing he has going for him is that he tends to perform well on all types of courses in all parts of the country.
I have no problem with the LSU product for top-10 props and DFS plays, but he might hold the most value in matchups against some similarly priced players this week.
The Big Fade
One top player to avoid at this tournament.
John Huh (+7000)
I usually use this section to list a big-name player who might fail to perform up to expectations on that given week. And I could've done the same this time, offering up Brooks Koepka as a guy who's likely easing his way into a year and probably doesn't care too much until we get close to the majors. But you knew that already.
Instead, I'm listing Huh here, simply because I don't understand his number. He's played some decent golf, finishing 20th-12th-48th-19th in his final four starts last year. And he's played well at this event, with a T-3 three years ago and two other top-30s in six starts. None of that, though, should equal to a number which puts him on the board above names like Long and Burns and Si Woo Kim.
Maybe this price will come down over the next few days or maybe the books are wise to something here, but this feels like a terrible number on a guy who doesn't excite me too much this week.
Off Tour
My favorite non-PGA Tour play of the week.
Tommy Fleetwood Top-5 finish at the Abu Dhabi Championship (+300)
File this one under: IYKYK. Last year was a trying one for Fleetwood, who admitted he didn't play his best golf. There are some players who seemed to struggle with the notion of playing golf during a pandemic, but I think Tommy — along with guys like Rory McIlroy and Adam Scott — really did. If he's going to make this a better year, there's no better place for him to start than Abu Dhabi, where he won in 2017 and '18, and finished runner-up last year.
There are hardly any better Euro Tour course-horse connections than Fleetwood at this event. While he might not be fully ready to win once again, I do like the 3/1 number for a top-five this week.
How would you rate this article?