Valspar Championship Betting, DFS Picks: Finding Mid-Tier Value in a Crowded Field
Credit:
Henrik Stenson via Michael Madrid-USA TODAY Sports
It's officially March. Some sports fans may equate that to college basketball or perhaps the NBA regular season winding down. But the true sharps are those who know that March means we're just a month away from Augusta. On that note, we have former Masters winners in Jordan Spieth and Tiger Woods crafting their games this week in preparation. Let's do this.
The Field
Bolstered by late commitments from Jordan Spieth and Tiger Woods, the Valspar Championship has a pretty strong field.
Spieth enters the week as the favorite at +850. Rory McIlroy (+1400), Sergio Garcia (+1600), and Justin Rose (+1800) are in the next group behind him, with Henrik Stenson (pictured above) at +2000 rounding out the top five.
Woods joins Paul Casey behind the five favorites at +2500. There's also a group of major champions in that mid-tier range, including Adam Scott (+4500), 2016 Valspar winner Charl Schwartzel (+5500), Jason Dufner (+6000), and Zach Johnson (+7000).
Considering that just four years ago Harris English was a co-favorite of this tournament, it has seen a considerable rise in talent. — Joshua Perry 
The Course
The Copperhead Course at Innisbrook Resort is one of the more difficult stops on the PGA Tour each season.
Copperhead plays at a Par 71 stretching over 7,300 yards. It has a unique setup that includes five Par 3s and four Par 5s. Taking advantage of those Par 5s is key this week, because those are usually the only holes on the course that play under par. Players will need to rack up as many birdies as they can on those holes, then hang on for dear life around the rest of the course.
Given the importance of scoring on Par 5s, it would stand to reason that the longer hitters would have an edge here. But judging by the previous winners, that isn't the case. Spieth, Schwartzel, Adam Hadwin, Luke Donald, Kevin Streelman, and John Senden have claimed the past six titles. There isn't a bomber in that group.
The course presents a challenge to players off the tee with tree-lined fairways and various doglegs, which put a premium on precision over power. Copperhead also has some firm greens that are on the small side, so if players are off line from the tee, their scores may balloon in a hurry.
The course closes with the famed snake pit, a stretch of three holes that all play over par. Copperhead is one of those courses where it can be better to post a number and wait to see if the leaders can avoid a crucial error down the stretch. — Joshua Perry 
I agree with Josh. I'm targeting ball-strikers and especially those who are accurate off the tee. That said, the difficulty of this course and the potential heavy wind could make things somewhat random. Still, let's look at some key metrics. Using the FantasyLabs Trends tool, we can back-test a variety of metrics to see what types of players do well at Innisbrook. The baseline golfer last year produced a -7.81 DraftKings Plus/Minus. From there, I looked at how golfers in the top-20 percentile of each metric have historically fared at this course. Here's the data:  — Bryan Mears
The Wind
I mentioned it in passing but wanted to circle back just because I think it could be the most important storyline line of the weekend. While this is subject to change, as of Wednesday morning it looks like there will be a big wind difference earlier in the day versus later. The morning should be calm with almost no wind, and it is predicted to blow around 15 mph in the afternoon. If that holds true, the players that go off early Thursday will be at a significant advantage over the later tee times. Make sure to monitor this angle over the next couple of days. — Bryan Mears
The Favorites
Betting market: The top players have found a lot of success at Copperhead. Spieth won the tournament in 2015, while Garcia, Rose, and Stenson have all posted top-10 finishes.
I'm targeting Stenson from this group. He's got the biggest number at +2000, and he's been consistent in his three appearances, finishing fourth, seventh, and 11th. The course sets up for him to take the 3-wood off the tee and rely on his approach game to score.
McIlroy and Woods are tough to back at their current numbers. Neither has played the tournament before, and both are more in the bomber mold that hasn't fit the profile of the previous winners. — Joshua Perry 
DFS spin: Spieth ($11,800 on DraftKings) is the current favorite with 10.5% implied odds to win, which he did just two years ago. He has some of the best course history here, going 18th, first, 20th, and seventh in his four visits. At this course, golfers often play well one year and miss the cut the next; Spieth's consistency is a rare trait in this field. He's expensive, but his price tag is deserved: He's first in the field with a 68.0 Long Term Adjusted Round Score and 16.3 birdies per tournament. Further, he's bottom-five in bogeys per tournament, which gives him a unique combination of safety and upside. You need grinders in this tournament, and Spieth certainly exemplifies that. — Bryan Mears
Read more DFS analysis in this week's fantasy breakdown.
Mid-Tier
Betting market: Given the number of big names in the field, there's a lot of value in this range.
A trio of major champs tops my mid-tier picks. Webb Simpson (+4000), Schwartzel (+5500) and Dufner (+6000) are all compelling options on this course. They all seem to thrive on tracks where the best approach is to keep the driver in play and attack with the approach.
Simpson and Dufner had troubles with the putter in the past, but both seem to have found an answer this season. Simpson ranks sixth on tour in Strokes Gained: Putting, while Dufner sits 58th. Any time these two are clicking with the irons and putting well, they're capable of winning.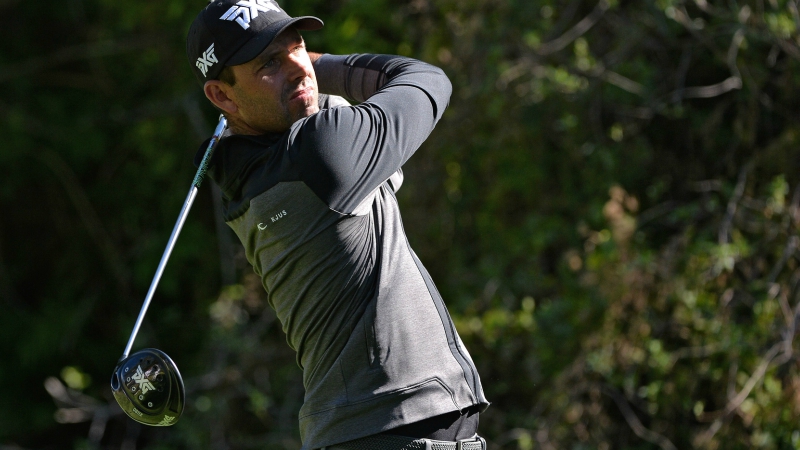 Schwartzel hasn't been on a run of strong form entering the week, but Copperhead has fit his eye the past two years. He won the tournament in 2016 and finished sixth a year ago.
I also will be backing Branden Grace (+5500) and Ollie Schniederjans (+6600) in this range. Both have the approach game to contend here.
Grace is a guy I like on tougher courses. He's had his best American results at the U.S. Open and Harbour Town, another course where the driver is neutralized.
Schniederjans had a hot winter with third- and seventh-place finishes, but he cooled off a bit in California. I think returning to the Southeast and getting off the poa annua greens may do some good for the 24-year-old Georgia resident. — Joshua Perry 
DFS spin: Chez Reavie ($7,900) has crushed lately, posting a stellar +17.94 Plus/Minus on 80% Consistency over his past 10 tournaments. Sure, he's struggled over his past two, finishing 52nd at the Mexico Championship and 73rd at the Genesis Open, but that was mostly because of poor putting; he averaged 30 and 29 putts per round, respectively, in those contests. He still nailed fairways in those, and he's one of the best on Tour in that regard: His 71.2% LT Driving Accuracy ranks fourth in the field, and his recent mark of 69.0% ranks sixth. He has middling course history, although that could change this year. If he has a good wind tee time draw, he's a no-brainer cash-game value at just $7,900. — Bryan Mears
Longshots
Betting market: In the past, Valspar has been a haven for triple-digit winners. Hadwin, Streelman, and Senden were all at least +10000 when they began the week of their victories. With a stronger field than usual, we may not see the longshots pop as much this year, but I'm still going to back a few.
Chesson Hadley is the first at +9000. Hadley had a disastrous week at the Honda Classic dealing with the wind and water. But, before that, he was one of the more consistent players on a weekly basis, recording a quartet of top-fives. Now he's coming in at nearly double the odds we saw two weeks ago.
I'm also backing John Huh and Bud Cauley at +10000. Huh has been making his cuts this year and registered a third-place finish at the CareerBuilder. He also had a ninth-place finish here a year ago, so he's shown he's capable of competing at this event.
Cauley is in a similar boat as Hadley in that his odds have nearly doubled in just a few weeks. But Cauley does have a couple of top-20 finishes in the six weeks and is a solid all-around player who is gaining strokes with every aspect of his game.
Two other deep bombs are Si Woo Kim at +15000 and Talor Gooch at +35000. Kim has two wins in his young career, and both are at courses where the driver gets neutralized, TPC Sawgrass and Sedgefield Country Club. He's always a risk to withdraw or miss the cut, but, when he's in contention, he's shown the ability to close, and that's rare for a guy at that number.
There isn't a lot pointing toward a win for Gooch, but I like that number for him. He has notched two top-20 finishes in the past couple of months, but this is more of a season-long play at this number with him. He was one of my top-five Web.com tour graduates along with Hadley, Adam Schenk, Bronson Burgoon, and Austin Cook based on their scoring, scrambling, and distance stats on that tour. I've already picked up a win with Cook from this group, so when I see a big number from this quintet, I'll be playing it. — Joshua Perry 
DFS spin: I like the Chesson call. I wrote about him and Ross Fisher as contrarian buy-low plays in DFS this week … — Bryan Mears
Fisher is coming off two disappointing performances, going 46th and 45th at the Mexico Championship and Dubai Classic. Hadley personally spurned me in a big way, shooting a Saturday 78 at the Honda Classic to miss the cut. But I'm forgiving both of these players, as they fit this course ideally if we're taking the ball-striking and driving accuracy angle.
---
Top Photo: Henrik Stenson
Credit: Michael Madrid-USA TODAY Sports
All odds are per Bovada and current as of Tuesday evening
How would you rate this article?