Arnold Palmer Invitational Betting, DFS Picks: Does Surging Tiger Create Value?
Credit:
Jasen Vinlove-USA TODAY Sports
Tiger Mania has officially returned. Woods' second-place finish at last week's Valspar Championship created sky-high ratings, social media buzz … and perhaps a betting market overreaction.
Tiger will be back in action (as the betting favorite) at this week's Arnold Palmer Invitational alongside several other big names. How does Woods' resurgence impact the betting and DFS value equation for other players in the field? Let's dive in.
---
The Field
Four months ago, Tiger Woods was the favorite to finish last at the Hero World Challenge. Now, he's the favorite to win the Arnold Palmer Invitational.
Woods tops the field at +600 and is the favorite for the first time heading into a tournament since the 2014 Honda Classic.
Bay Hill is one of Tiger's best tracks. He's won here eight times. Couple that with his second-place finish at last week's Valspar Championship, and it's easy to see why the books put him at the top of the board.
Tiger's presence has driven up the odds for the rest of the stars in the field.
Jason Day is next behind Tiger at +1200 and will be a popular play. Day already has a win this year at Torrey Pines and won the Arnold Palmer Invitational two years ago.
Justin Rose (+1600), Rory McIlroy (+1800) and Rickie Fowler (+1800) are the other three players coming in at less than +2000.
Tommy Fleetwood (+2000) and Hideki Matsuyama (+2500) and Alex Noren (+2800) are available in the next tier. — Joshua Perry
The Course
Bay Hill is on the longer side at a little more than 7,400 yards for a par 72. It tends to be on the tougher side of courses on tour; a number in the low teens under par is usually enough to win.
The primary hazards are bunkers and water, and they can be tough to navigate. Luckily for the players, the wind forecast is pretty calm this week, so it will be a little bit easier to stay out of trouble.
Bay Hill is a test of a player's all-around game. As mentioned, Woods has eight wins here, and it's because he had no holes in his game for a very long stretch. The past two winners, Day and Marc Leishman, are examples of players who fit that all-around mold as well. Leishman ranked in the top 50 in all strokes-gained categories last season and cashed here as a +10000 longshot.
The course has some relatively easy par 5s that will allow players to rack up birdies. So it's important to target players who can pick up ground on those holes. — Joshua Perry
DFS Spin: I think Josh nailed it, but let me put some data behind it. Using the FantasyLabs Trends tool, we can back-test a variety of metrics to see what types of players do well at Bay Hill. The baseline golfer last year produced a +2.87 DraftKings Plus/Minus. From there, I looked at how golfers in the top-20 percentile of each metric have historically fared at this course. Here's the data …  — Bryan Mears
The Favorites
Betting market: It's pretty difficult to back Tiger at this number, but there are guys at the top getting some added value because of his price.
Fleetwood (+2000) and Noren (+2800) are the top guys on my list this week. We've backed them both recently, and I don't see any reason to stop here. They've each been close to wins in the last few weeks and are probably priced a little high thanks to the Tiger boost.
Fleetwood also had a good result on this course last year, recovering from an opening 78 to finish in the top 10.
Both rank inside the top 10 in total strokes gained, so they've been showing that all-around game I'm looking for at the top. — Joshua Perry 
DFS spin: Let's just start with the elephant, well, the Tiger in the room. Tiger Woods ($10,000) is an interesting case as he has the highest Vegas Odds (15.4 percent) to win, and he has the fifth-highest salary. With the help of his eight wins at Bay Hill, Woods' Course Adj Rd Score ranks in the 99th percentile. His long-term form won't look great as he battled injuries (only seven starts), which makes him hard to model and he likely won't stick out in your models overall. Woods' recent form looks great as his Recent Adj Rd Score (68.9) ranks in a tie for 19th, as he's coming off a second-place finish at Valspar last week and has put together three top-24 finishes this season, with one missed cut in four appearances.
Woods' recent form checks boxes in a few of the metrics we're eyeing. He's sporting a Recent DD of 301.3 yards, and his putter has been serviceable with 28.4 putts per round in his past three matches. Woods is also excelling on par 4s as his -2.3 average adjusted strokes on par 4s ranks seventh in the field. Particularly on DraftKings, it's not often you can roster the golfer with the highest odds to win the tournament at the fifth-highest salary. It's likely Woods ends up being the highest-owned player on the slate. Per our PGA Correlation Matrix, Vegas Odds at Bay Hill is the strongest indicator of tournament ownership. — Justin Bailey
Mid-Tier
Betting Market: Jamie Lovemark at +6600 is someone I think has a chance to play well this week. Lovemark has had two good finishes in the Florida swing so far, finishing seventh at the Honda Classic and tied for 16th last week at the Valspar. He's also had a couple of good finishes here, including a sixth-place tie in 2016.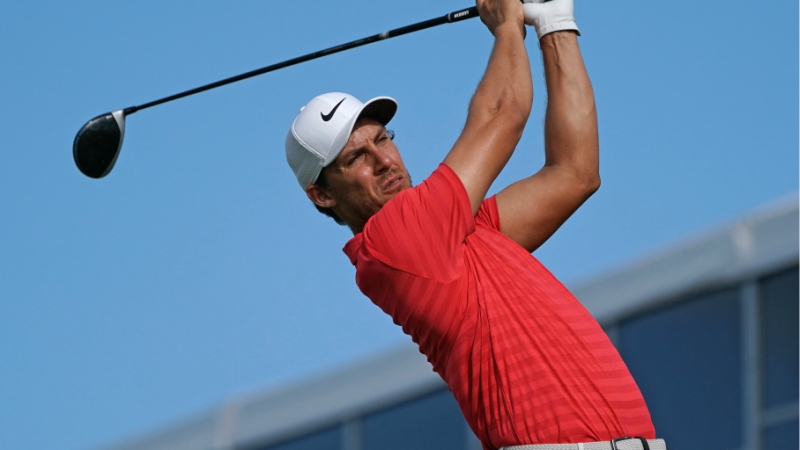 I also like Kevin Chappell at +5500 this week. He has a couple of top-10s in the last two months and also finished second here two years ago. His ball-striking stats are among the best on tour, ranking fifth off the tee and 26th with his approach. So if his putter heats up a little this week, he's a guy who can factor on Sunday at a decent price. — Joshua Perry
DFS spin: I agree on Chappell. He should be able to excel here on the long par 4s and 5s with his 311.4-yard Recent DD. It's one thing to be able to drive far, but you also need to take advantage of it, which Chappell has done recently with his -2 average adjusted strokes on par 4s and -5 average adjusted strokes on par 5s. Both marks are inside the top-10 compared to the field — but he's 41st in salary. — Justin Bailey
Longshots
Betting Market: Two guys popped up for me in the triple-digit range. First is Martin Laird at +14000 on Sportsbook. Laird won this tournament in 2011. He's also gaining strokes in all four areas this season. I'd back him to finish in the top 20 as well at +400 (per Sportsbook).
The second guy is Austin Cook at +20000 (Sportsbook). He's fallen off the radar a bit since his win in the fall, but I like his chances to compete this week. His recent struggles were tied to him losing strokes with the approach, but at the Valspar, he was able to gain ground on the field in that area. I also backed him to finish in the top 20, at +600 (Sportsbook). — Joshua Perry
DFS spin: If you're looking to go a little off the board, 21-year-old Sam Burns ($7,200) doesn't have much to go off for long-term form, and he has never played at Bay Hill, but his recent form has been serviceable in two tough tournaments with a 12th-place finish at Valspar and an eighth-place finish at the Honda Classic. Burns has a 67.8 Recent Adj Rd Score, he can crush the ball as evidenced by his 309.8 Recent DD, and his recent eagles per tournament mark leads the field. That said, his 50.8 percent Recent DA is worrisome. Burns has had less than two percent ownership in every GPP (guaranteed prize pool) this year. — Justin Bailey
---
Odds retrieved on March 13 and per Bovada as otherwise noted.
Top Photo Credit: Jasen Vinlove-USA TODAY Sports