Joaquin in Memphis: Why Teen Phenom Niemann Is Actually a Safe Pick This Week
Credit:
Soobum Im-USA TODAY Sports. Pictured: Joaquin Niemann
The Highlights
Joaquin Niemann's game is reminiscent of a young Sergio Garcia.
The 19-year-old is a ball-striker of the highest magnitude and recently finished T-6 at the Memorial.
Believe it or not, he might be one of the safer picks on the board at +3500.
---
"So, who would you take — MJ or LeBron?"
It's the hottest debate in sports, an endlessly polarizing topic for those talk shows — OK, more like "scream shows" — that thrive on endlessly polarizing topics.
This is such a hot-button issue that none other than Jack Nicklaus was asked the question during his pre-tournament interview session at Muirfield Village last week.
"I'm not getting into that, I think they're both fantastic," said the 18-time major champion who continues to hold the honor of smartest man in the room.
Comparing athletes of different eras is a perfect topic for debate, because there's no right or wrong answer, which guarantees endless cycles of arguments.
Comparing golfers of different eras is even tougher.
You want to chime in on the GOAT question: Jack or Tiger? Go ahead — just know there are more variables than a three-club wind in a snowstorm.
It's no easier comparing other players.
Dustin Johnson's swing doppelgänger from a previous era might be a guy such as Tom Weiskopf, who could at least match his height. But DJ wouldn't need to dunk over Weiskopf to prove his superior athleticism.
Jordan Spieth earned comparisons to Ben Crenshaw, a fellow Texan, when he was draining every putt, but right now he's more ball-striker than legendary putter, rendering that a moot analogy.
All of which means you should take the following comparison with a few grains of salt. But here it comes anyway.
Joaquin Niemann, the 19-year-old wunderkind who's aggressively chasing a PGA Tour card straight after owning No. 1-ranked amateur status, reminds me a lot of Sergio Garcia as a 19-year-old.
Some of the similarities are tangible. They share the same management team. They share the same equipment manufacturer. Close your eyes and the Chilean's Spanish-tinged English even sounds like that of the Spaniard.
Others are more important, as far as performance is concerned.
They are both born ball-strikers of the highest magnitude. Even for the 18 years from Garcia's runner-up finish at age 19 in the 1999 PGA Championship until his breakthrough initial major victory at last year's Masters, he always owned a gorgeous move through the ball, a repetitive one that produced a long list of fairways hit and greens in regulation over the years.
Niemann offers similar results with a swing that makes up in flexibility what it lacks in gracefulness.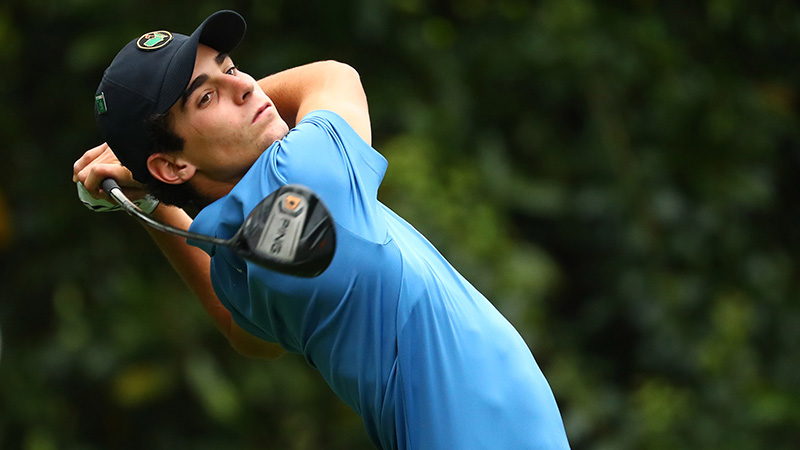 Credit: Rob Schumacher-USA TODAY Sports
Though Niemann's full-season statistics aren't available through the PGA Tour because he isn't yet a full-time member, he finished seventh in last week's Memorial Tournament field in strokes gained approach shots, en route to a share of sixth place.
That was his third finish of eighth or better in five starts since turning professional after the Masters. That's already more top-10 finishes this season than Jason Dufner, Branden Grace, Zach Johnson, Gary Woodland and, yes, even Tiger Woods.
All of which leads to this week's FedEx St. Jude Classic.
In an ever-evolving field (there are always a lot of WDs this week) with a traditionally eclectic leaderboard, it might sound strange, but the teenager (+3500 to win, +270 to finish top-10) might actually be one of the safer picks on the board.
First off, he has something to play for. Although he's not yet earned full playing privileges, Niemann has garnered enough FedEx Cup points that he now owns special temporary status and may take unlimited sponsor exemptions, which should in turn eventually grant him those full playing privileges, should he continue at anything close to his current pace. That would put him on a short list of players — including Woods and Spieth — who made the jump from amateur with no status to PGA Tour regular.
Secondly, he won't necessarily have the grind of U.S. Open qualifying nagging at him all week. Though he attempted to qualify in the Columbus sectional, Niemann posted an opening 74 and withdrew before the second round. That might not be a great testament to his steadfastness, but it should leave him rested entering the tournament rounds, especially considering he often likes to play full Monday practice rounds anyway.
Sure, TPC Southwind is a tricky track, often windblown and with plenty of hazards lurking.
We could say the same thing, though, for the courses that held the Valero Texas Open, Fort Worth Invitational and Memorial — three difficult but utterly different venues. Niemann finished in the top 10 at all of 'em.
After his T-6 last week, he was asked whether he thinks people will start taking notice of him now.
"I'm not here to tell anyone who I am or how good I am, I just play for myself," Niemann said. "I wanted to do my best every time and still want to be like that."
He doesn't have to tell anyone. We're already paying attention.
---
More Golf Coverage
How would you rate this article?