PGA Betting, DFS Picks: AT&T Pebble Beach Pro-Am
Credit:
Credit: Brian Spurlock-USA TODAY Sports
Worried about how you'll spend your Sundays with no more NFL? The PGA Tour prepared a nice post-football buffet if you're in to that sort of thing. Five of the top-10 players in the world will play among the common folk in the AT&T Pebble Beach Pro-Am. As an added bonus, you get to watch slo-mo replays of some … interesting celebrity golf swings!
Here's everything you need to know from a betting and DFS perspective for the 2018 AT&T Pebble Beach Pro-Am, including four guys with enticing odds to win the tournament and a slew of underpriced players on DraftKings and FanDuel.
The Course(s)
Players will make their way through a three-course rotation this week, playing Pebble Beach, Spyglass Hill and Monterrey Peninsula once before a 54-hole cut is made. The tournament wraps up on Sunday with the top 60 (and tied players) playing Pebble Beach.
All three courses are among the shortest on tour, with each checking in under 7,000 yards. Pebble Beach and Spyglass play to a par 72, while Monterrey is a par 71. They're all fairly close in difficulty. Monterrey will play slightly easier unless the wind gets up. If that's the case, Spyglass will be the easiest track, due to being more treelined and protected from the elements. That will be something to keep an eye on later in the week when we follow up after each round. — Joshua Perry
The Field
It's a star-studded field this week, with five clear-cut favorites. Two-time defending champ Dustin Johnson is +550. He's followed closely by Jon Rahm, Rory McIlroy, and Jason Day at 10-1. Day is fresh off his playoff victory two weeks ago at Torrey Pines, while defending champ Jordan Spieth is available at 11-1.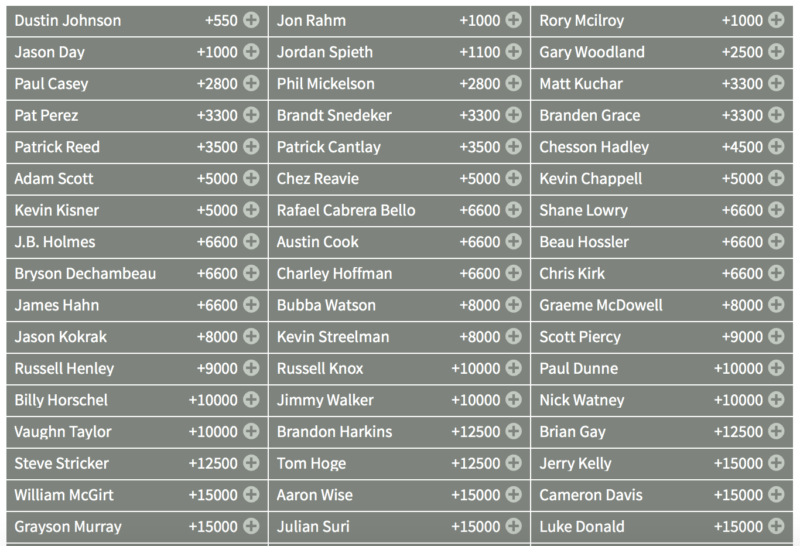 The Studs
Betting angle: All of the five aforementioned stars come in with some fine form, with the exception of Spieth. Johnson, Rahm and Day have all picked up victories in the past month, while McIlroy finished in the top three in this first two European Tour starts this year. Spieth, however, missed the cut in Phoenix and has been struggling with the putter at a level we've never seen before. He's currently ranked 195th on tour in Strokes Gained: Putting.
Johnson would be the obvious target from a betting perspective among the favorites. He won here in 2009 and 2010 to go with four other top-five finishes in his last six appearances. It's pretty safe to say that he'll be in the mix come Sunday afternoon.
Day and Rahm finished in the top five here last year, so they're both comfortable as well. McIlroy would be the only one I'd stay away from as far as a win is concerned. It's his first time playing the event, and his only Pebble Beach experience was a missed cut at the 2010 U.S. Open. Couple that with two new courses and the pro-am aspect of this tournament, and it's tough for a first-timer to find the winner's circle. — Joshua Perry
DFS spin: DJ is the highest-salaried player at $11,700 on DraftKings and $12,800 on FanDuel, but that is nowhere near where he should be priced based on his Vegas odds. According to our regression formula, which is based on the collective odds and salaries of the field, Johnson should be priced at about $15,900 on DraftKings and $21,500 on FanDuel. Clearly, that's not possible given the salary caps on the sites, so instead he's grossly mispriced according to his odds to win. If you solely want to maximize your chances of having the winner of the tournament in your lineup, you simply cannot fade DJ.  — Bryan Mears
Read more on Bryan's Vegas Bargain Ratings metric in this week's piece at FantasyLabs.
Jon Rahm ($11,400) could be an extremely sneaky and low-owned play in guaranteed prize pools this week because of all the big-name players (like McIlroy, Spieth and Day) with lower salaries. Rahm is tied for second in the field with his 9.1 percent odds to win, ranks fourth with his 68.3 Long-Term Adj Rd Score and his 16.3  LT Adj Bird Avg is second overall. Players with comparable salaries and long-term metrics have previously produced an average of 76.46 DraftKings points per tournament (PPT) with a +0.99 Plus/Minus and 54.0 percent Consistency Rating. — Kelly McCann
Mid-Tier
Betting angle: I won't be playing any of the big five this week. Instead, I'll be targeting that next level. I like two guys in the 30-1 range: Patrick Reed (35-1) and Pat Perez (33-1). Since Johnson's last win in 2010, this has been a place where the bombers have had trouble picking up wins. Of the past seven winners, only Spieth finished that season in the top 80 in Strokes Gained: Off the Tee — and he came in at just 56th last season. Because the courses are so short, there's more emphasis on the approach game, and the shorter or more accurate guys off the tee can stay in play. Reed and Perez haven't been gaining any ground off the tee this year, but both rank in the top 25 in Strokes Gained: Approach. With the tee ball neutralized to some extent, they should be able to keep up with the longer hitters.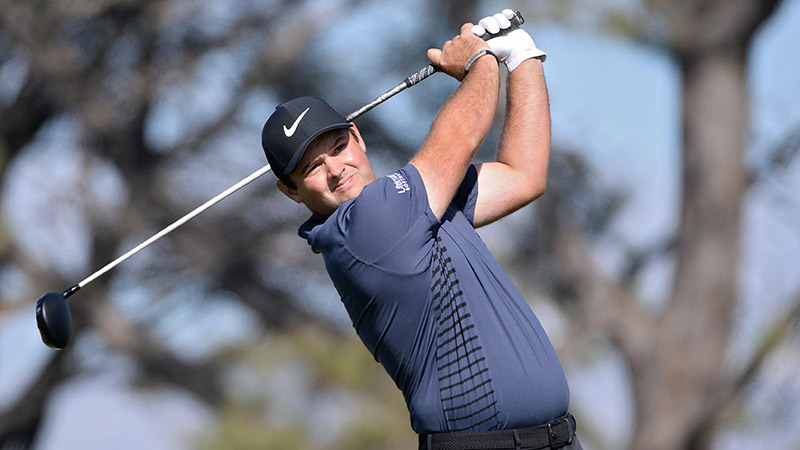 Another guy in this range I like is Chesson Hadley at 45-1. Hadley ranks fourth overall this year in SG: Approach and he's been improving his results since the calendar turned to 2018, coming off a fifth-place finish a week ago. As a bonus, he owns a pair of top 10s at Pebble Beach. — Joshua Perry
DFS spin: At $9,400, Paul Casey is fairly high-priced, but he's still an incredible value given his 67.9 LT Adj Rd Score, the metric that's a better proxy for talent than perhaps any other singular stat in the industry. Casey's 67.9 mark ranks second in the field behind DJ, above guys like Spieth, Rahm, Day, and Rory. He's one of the best golfers in the world and likely deserves to be priced near the studs. Further, he also fits this course like a glove, as he's one of the best ball-strikers on Tour and is especially adept at scrambling — two traits identified as important at Pebble Beach on our PGA Flex podcast. Casey will be one of the most popular players in all formats this week, but he's worth it. — Bryan Mears
Rafael Cabrera-Bello ($6,900) is currently ranked No. 21 in the Official World Golf Rankings, is tied for 22nd in the field with his 69.5 LT Adj Rd Score, and he finished sixth in his most recent start on the European Tour (Dubai Desert Classic). He is tied for 13th with his 14.3 LT Adj Bird Avg and has a top-30 LT GIR percentage (68.8 percent) in this field. His price is extremely low in comparison to his talent. — Kelly McCann
Long Shot
Betting angle: The occasional long shot has picked up a win at Pebble Beach, Vaughn Taylor held off Phil Mickelson in 2016, and D.A. Points won in 2011 to cash in at triple digits.
I'm going to go way down the board here with Derek Fathauer at 300-1. Fathauer's biggest weakness has been off the tee, where he ranks 190th this season. He is gaining strokes through approach this year, though, and with the tee ball less relevant this week, I'm betting him to finish in the top 10 (25-1) with a sprinkle on the victory. (Side note: Top-20 odds are harder to find for non-majors, but if your book has them available, I'd opt for that play over top-10.) — Joshua Perry
DFS spin: The top two players in AdjRd Value Ratings on both sites: Russell Henley and Steve Stricker. They're both drastically underpriced relative to their talent. Henley, for example, has the 17th-best LT Adj Rd Score but the 122nd-highest salary. He's just $100 above the minimum at $6,600 on DraftKings, and his LT AdjRd is superior to the mark of Branden Grace, who is priced at $9,100. Henley doesn't have the greatest course history in the world — he has a 52nd-place finish and a missed cut in his two appearances since 2010 — but seems to be a fine fit for the courses here. While he's coming off two missed cuts at the Phoenix Open and Sony Open, Henley barely missed them, and $6,600 is just too harsh of a price decrease. — Bryan Mears
Andrew Putnam ($7,600) has the lowest salary among players who rank inside the top-20 percent for three key statistics. He ranks eighth in the field with his 77.0 LT GIR percentage, is tied for 15th with his 14.2 LT Adj Bird Avg, and tied for 42nd with his 300 yard LT Driving Distance. Putnam has made three straight cuts at less than 0.5 percent ownership. — Kelly McCann
First Round
Betting angle: As is the case with most multi-course events, first-round leader odds are tough to find, but Sportsbook is my go-to in this spot. I'll be taking a close look at the course draw and weather for Thursday. If the wind is up, I'll be targeting guys on Spyglass. If it's down, I'll have a few darts on Monterrey. — Joshua Perry