Brooks Koepka vs. Bryson DeChambeau: Which Player Has the Edge at the 2021 U.S. Open?
Credit:
Maddie Meyer & Ben Jared/PGA TOUR via Getty Images. Pictured, from left: Brooks Koepka and Bryson DeChambeau.
SAN DIEGO, CA — After a few weeks of hullabaloo, kerfuffle and plenty of commotion, the heavyweight title fight between Brooks Koepka and Bryson DeChambeau will have to wait for another day.
No, Koepka and DeChambeau will not be paired during this week's U.S. Open at Torrey Pines — at least, not in the first two rounds — much to the consternation of those who believed some sort of brouhaha would've busted out if they had been paired.
---
Spoiler Alert: If — or perhaps when — it happens, the pairing will be the subject of ample punditry and social media ooh'ing and ahh'ing. But the end result will be two dudes playing golf together for five hours, not really talking much, then half-heartedly shaking hands on the 18th green, with each later claiming that it was either "fun" or "fine" playing with the other.
---
That doesn't mean that we can't produce our own Tale of the Tape, though.
DeChambeau claims to be living rent-free inside Koepka's head, while Koepka has imposed his Michelob Ultra Army of frat-bro followers to prove otherwise. It should equate to millions in PIP windfalls for each player later this year, but at some point they must settle this feud inside the ropes.
Even though they're not playing together, this week's U.S. Open seems like an appropriate time to put a score next to two guys who have combined to win three of the last four editions of this event.
And this isn't just for fun, either.
The betting markets have gotten in on the Brooks vs. Bryson battle, with plenty of options that include both players.
At PointsBet, each player is listed at even-money in a no-juice head-to-head matchup wager. Our own prop for The Gimme offers boosted odds at BetMGM if either player finishes in the top-five. And back at PointsBet, I have my own "Did We Just Become Best Friends?" prop, a boosted top-10 parlay for the two of 'em.
Let's break down how each player fares in four facets of the game:
Off the Tee
From the Rough
On the Green
Intangibles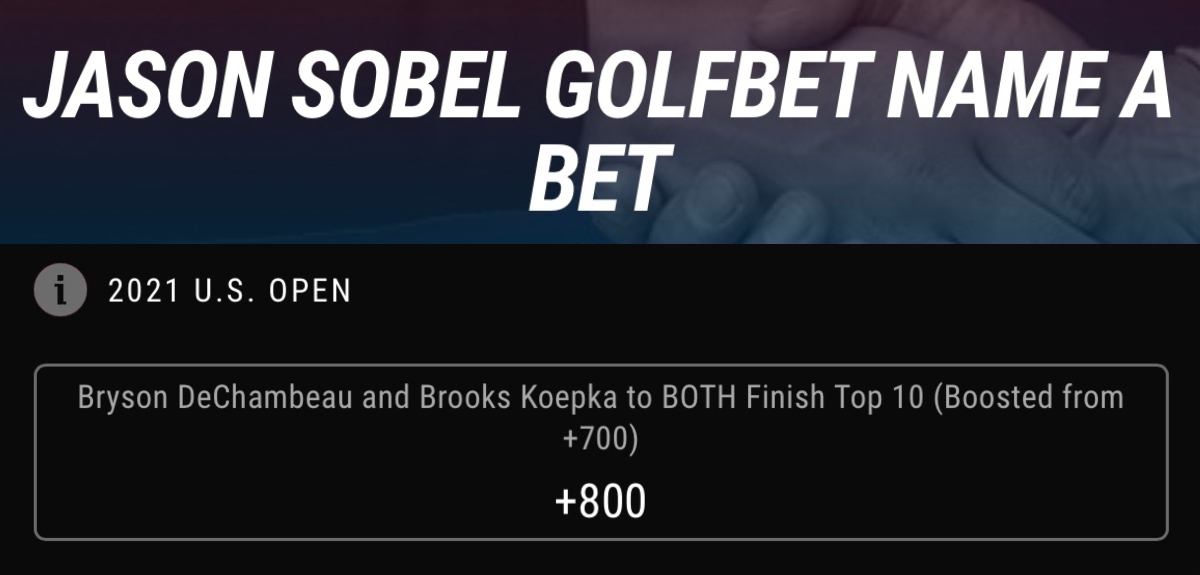 Jason Sobel's PointsBet Promo
Off The Tee
It might not surprise you that DeChambeau is leading the PGA TOUR in Strokes Gained: Off the Tee, but it should at least be somewhat shocking that he's leading by so much.
The differential between Bryson and the man in second, Sergio Garcia, is roughly the same as the differential between Garcia and the player in seventh place in this category.
Koepka ranks a respectable 19th, but honestly, nobody can hang with DeChambeau off the tee right now. His length should offer a major edge at Torrey Pines, just as it did at Winged Foot last year.
Advantage: Bryson DeChambeau
---
From The Rough
What we've seen over the past half-decade is a stark left turn in which type of player owns an advantage at the U.S. Open.
It used to be players who could keep it in the short stuff off the tee. But recently fairways have been narrowed to the point where everyone eventually winds up in the rough. Therefore, the edge goes to the bigger, stronger players who can muscle it out.
Obviously, this plays into the hands of each of these players and helps explain the three trophies between them. Based on the stats, though — including rough proximity, in which Brooks is ranked 70th this season and Bryson is 124th — the edge here should go to Koepka: DeChambeau's wedge game is the weakest part of his arsenal.
Advantage: Brooks Koepka
---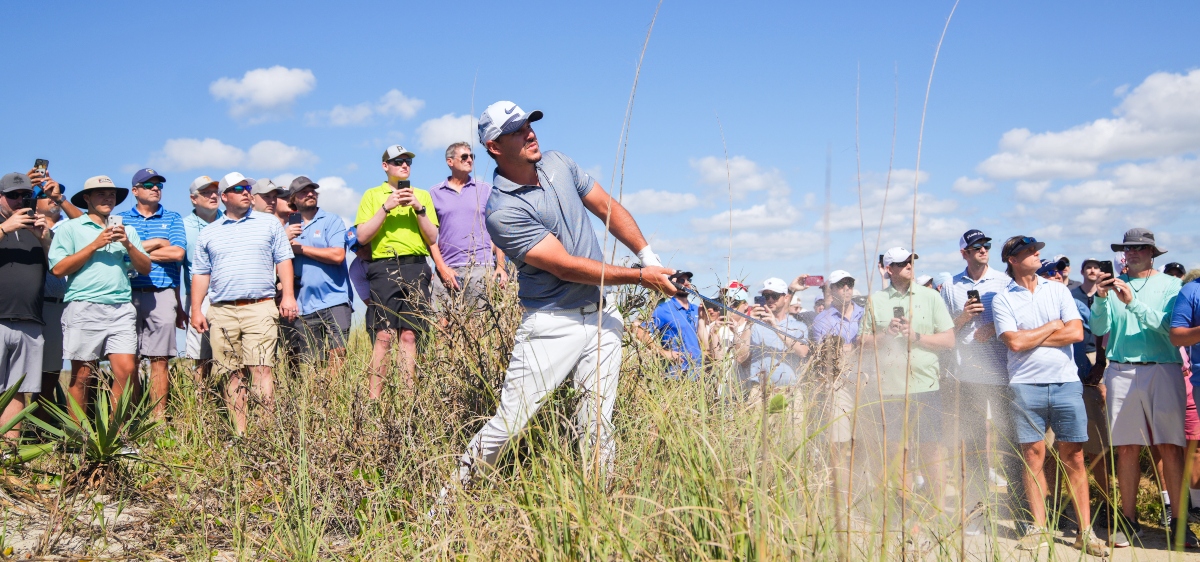 ---
On The Green
The USGA might not have put these two together this week, but the Strokes Gained: Putting stat certainly has.
Sandwiched in between James Hahn and Ryan Palmer at 47th and 48th on this list are Koepka and DeChambeau, respectively. While DeChambeau might have the edge in the ol' eyeball test, and Koepka might make more puts that matter, their putting numbers are essentially the same.
Advantage: Push
---
Intangibles
Bryson can tweet that he's living rent-free in Brooks' head, but if figurative push really comes to figurative shove, we should expect Koepka to derive greater motivation from this conflict. It just fits his personality. So, too, do the major championships.
It's almost a cliche at this point, but we've all come to understand that Koepka can miss the cut against an inferior field in a regular PGA TOUR event — as he did at last week's Palmetto Championship — and then simply flip a switch and play his best golf at a major.
Advantage: Brooks Koepka
Bottomline
Can each of these players get into contention this weekend? Might we even see them in a final pairing well into primetime TV for much of the country?
It's certainly possible. This event fits a specific skillset — and it's a skillset that fits both of these guys.
If I can only pick one, though, I'll go with Koepka.
Each player is capable of winning, of course, but those intangibles — the ability to find one's "A"-game for the biggest events — is what I like about Koepka this week. I'll take him in that PointsBet head-to-head-matchup as well.
Moreover, I do like the prop from The Gimme for one of them to make the top five; I have Brooks at No. 3 in my overall rankings this week.
As for the top-10 "Did We Just Become Best Friends?" parlay: Well, sure, let's take that one, too. Just don't bet on them actually becoming best friends anytime soon.
How would you rate this article?
This site contains commercial content. We may be compensated for the links provided on this page. The content on this page is for informational purposes only. Action Network makes no representation or warranty as to the accuracy of the information given or the outcome of any game or event.