Sobel's Farmer's Open Betting Preview: Favorites Tend to Succeed at Torrey Pines
Credit:
Mark Konezny, USA Today Sports. Pictured: Tony Finau
John Rahm (+1000) is the betting favorite for the 2019 Farmers Insurance Open at Torrey Pines.
This will be the first tournament that Tiger Woods, who is 16-1 to win, will play this year.
Jason Sobel breaks down the odds and offers a few bets that he thinks have value.
I'll admit when I'm wrong: I didn't have Adam Long winning the Desert Classic.
In fact, if you'd spotted me 125 guesses, I'm still not sure I would've picked him.
Hey, he'd only played five previous PGA Tour events and most of 'em ended in a missed cut. He was 500-to-1 before the event – and rightly so. Even his Twitter handle, @aLongShot, seemed pessimistic, although now it appears that name was just trolling us the whole time.
Congratulations to Long, who ranks among the longest of longshots to win a PGA Tour event in the past few years.
The victory should have bettors scurrying to the bottom of the board this week, hoping to throw 100 bucks on a huge underdog and collect a cool $50K on Sunday evening.
It won't be that easy.
The Farmers Insurance Open has long been a tournament where the rich get richer. Each of the last four winners has been a big-name talent – even if 2017 champion Jon Rahm's pre-tourney ranking was in the triple-digits so early in his career.
Then, of course, there's Tiger Woods, who's collected a record seven trophies at Torrey Pines.
This isn't a place where 500-to-1 longshots come through – or at least, it hasn't been in the past.
I expect that trend to continue this week, although I'm hardly going all-in on the favorites. I'm skipping past the top-five on the board to get to the guys I like.
Favorites
Xander Schauffele (+1800)
Following his win at Kapalua, we had to expect his odds would be this low, especially competing back in his hometown event. The real value here is in DFS. Schauffele is tied for the sixth-lowest odds on the board, but he's only eighth-most expensive on DraftKings and a whopping T-15 (with Daniel Berger?!) on FanDuel.
Tony Finau (+1800)
Yes, it's only a coincidence that I'm leaning on the playing partners of Tiger Woods for the first two days. I've had Finau earmarked here in one-and-done pools for a while; he won a World Junior at Torrey and has finished 6-4-18-24 on this venue over the last four years. If I can only take one guy this week, he's the one.
Gary Woodland (+3000)
It's not just that Woodland owns a strong record at Torrey, it's that he's maturing before our eyes into a more complete player right now. He's been able to pull a bunch of top-20s based on power and ball-striking; toss in a hot putter and I see a title contention on the horizon this week.
Cameron Champ (+3500)
Now that the adoration for Champ — the PGA Tour's bright, shiny new toy — has dissipated a bit, his price is back to a rational number. Right on time, too, as there's certainly some value in taking the field's longest hitter on the year's longest track.
Mid-Tier
Emiliano Grillo (+6000)
Sungjae Im (+6500)
I'm grouping these two together, not because they're such similar players – Grillo is a veteran who's won before; Im is a rookie up-and-comer – but because I believe both are still severely undervalued. Not sure I'd necessarily pick either to win this week, but I love both as a top-20 bet (Grillo is +215; Im is +230) and a steady presence in DFS lineups.
Kyle Stanley (+7000)
It's been seven years since Stanley endured a final-hole triple-bogey and lost an ensuing playoff at this event. I'm not sure if he still flinches when he steps foot on Torrey Pines, but there's certainly some unfinished business. He's a more mature player now, ranked 34th in the world and with four finishes of 22nd or better in his last five starts.
Longshots
C.T. Pan (+10000)
J.J. Spaun (+10000)
Again, I'm grouping two more players together, as Pan and Spaun have each shown a propensity for playing their best golf on West Coast venues. Each was good-but-not-great last week, though they've fared better comparatively on the tougher La Jolla track.
Beau Hossler (+10000)
Speaking of last week, I was all-in on Hossler and, well, that didn't work out so well. Even after that MC, I still believe he's got a good one in the bag soon, though I'm admittedly a bit more reluctant after last week.
Jason Kokrak (+12500)
Hey, anytime it's a long golf course, I like Kokrak – one of the game's longer hitters – to play some strong golf. He's only played here sparingly, so I doubt it's his favorite track, but he's made the cut in his past 10 starts dating to last summer, which suggests he'll at least reach the weekend.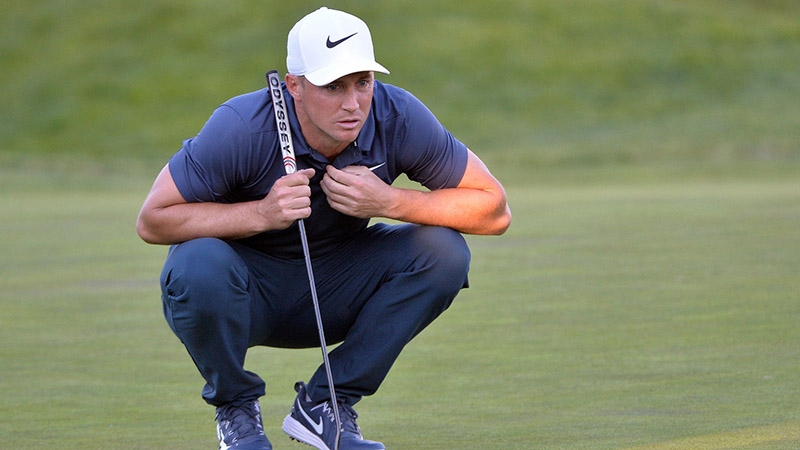 Tournament Matchups
Alex Noren over Jordan Spieth (-105)
I'm more bullish on Spieth than most observers, but can't imagine this will be the week he turns it around. Meanwhile, Noren lost this tourney in a playoff last year and remains one of the more talented players who doesn't get enough respect in U.S. betting markets.
Keegan Bradley over Brandt Snedeker (-130)
Considering Snedeker's record at Torrey – including a win in harrowing conditions three years ago – I'm a little surprised he's the underdog in this matchup. That's a testament to Bradley's strong recent performances, which should continue this week.
Kevin Tway over Hudson Swafford (-125)
I liked Swafford last week, returning to the scene of his lone win on the heels of a T-3 in Hawaii, but only a late Saturday rally helped him inside the cut line. Now I'm ready to fade him against a guy who's still playing with house money after his first win three months ago, and has results of 35th and 41st at an event once won by his father, Bob.
My Favorite Bet
Marc Leishman First-Round Leader +2900
As a general rule, I don't love first-round leader bets.
They're way too random. Anyone can get hot for 18 holes and take a Thursday overnight lead.
But … I also understand the allure of this whole gambling thing – and so, yes, I'm guilty of often playing a few first-round leader bets even when I know they're akin to buying scratch-off tickets.
And here's another but … I can see value in making this bet at Torrey.
First off, with half the field starting their week on the easier North Course, we've already eliminated the other half.
Secondly, the last two first-round leaders here have been studs: Tony Finau last year and Justin Rose the year before.
And lastly, as is usually the case with first-round bets, we should favor a player with an early Thursday tee time, when the greens are still soft and the wind hasn't started swirling yet.
Now we're cooking. By the process of elimination, we've got this bet narrowed down to a big-name player with an early tee time on the North Course.
Rose and Rahm are obvious plays here, but maybe a bit too obvious. I also like Pan, Grillo and Bradley, each of whom fit these parameters.
My pick, though, is Marc Leishman, who offers a decent price at +2900 and has posted 68 or better in the opening round in four of his last five starts.
I'm still not sure this isn't a losing bet, but at least we're using some deductive reasoning skills to move the odds in our favor.