The Green Jacket Effect: How Masters Winners Fare After Augusta
The Masters is perhaps the most prestigious of the four major championships in the golfing calendar. Masters winners are granted the eternal glory of a standing invitation to compete in the tournament along with millions of dollars in prize money, and maybe even more importantly, they receive the coveted Green Jacket. The Green Jacket is the symbol of Masters success and worn by golf legends such as Arnold Palmer, Tiger Woods, and Phil Mickelson, to name a few.
But what happens to each champion after winning the exclusive event? Do they use it as a springboard for continued success, or does becoming a Masters champion lead to a tapering off of success for the rest of the season? We decided to investigate.
In this article, we've compared the last 20 Masters winners to identify any notable trends in how they performed for the rest of that particular season. We measured success in two ways: tournament performance and financial earnings.
Masters Tournament Winners Have a Mixed Bag of Success
Looking at the previous 20 Masters winners, it's interesting to see that few golfers tend to see sustained levels of success in the same season as it relates to tournament results. While former Masters champions may not always go on to dominate the field in tournament wins, many of them are still able to accumulate eye-watering earnings in a season after success in Augusta.
Average Tournament Results After Winning the Masters
Winning a golf tournament is no easy feat, but in the last 20 years, only Tiger Woods averaged a tournament finish position in the top-10 after winning the Masters in 2002.
The record for most tournament victories after winning at Augusta in the same year is just three. This has been done three times in the last century. Tiger Woods did it twice (2002, 2005), and Jordan Spieth also did it in 2015.
That pair also holds the top spots for best average score across tournaments completed after their Masters victories. Spieth averaged an impressive -11 score for the rest of his tournaments in 2015, while Woods averaged -10.4 and -8.2 in 2002 and 2005, respectively. While Spieth and Woods are standout performers, when averaged together, the combined average score of the last 20 Masters winners is a less impressive -3.
Average Tournament Earnings After Winning the Masters
Golfers don't necessarily need to win a tournament outright to cash in on a significant payday. In most cases, simply making the cut into weekend play guarantees that a golfer will go home with a fairly sizable check, even if they are not playing particularly well in that tournament.
The average total earnings in a season after winning the Masters in the last 20 years is about $2.2 million. As to be expected, Woods and Spieth also top the earnings board of former Masters champions in their respective seasons. They are the only two golfers to break the $3 million mark in a single season after winning the Green Jacket.
Ranking the Last 20 Masters Winners
We've looked at each winner of the Masters over the last 20 years and ranked them according to how much they've earned per stroke in the year of their victory. Earnings per stroke better demonstrates the consistency of a golfer's success over the course of the season, whereas total earnings can be a skewed by a single tournament. Here a look at the top-five:
1. Tiger Woods, 2005
Tiger Woods followed his 2005 Masters victory by earning over $6.94M, equating to an impressive $2,096 per stroke. 
Throughout the year, the golf icon partook in 13 further PGA tournaments, winning the British Open, NEC Invitational, and American Express Championship, and placing second in a further four, with an average score of -8.2.
Best Round: Buick Open: 268 (-20)
Highest Earnings: NEC Invitational (1st) and American Express Championship (1st): $1.3M
2. Jordan Spieth, 2015
Jordan Spieth's 2015 Masters triumph was followed up by earnings over $6.98M ($2,034 per stroke). This made his year after the tournament more financially successful than any other previous winner this century.
Spieth won three of the 14 other PGA tournaments he entered in 2015: the US Open, John Deere Classic, and Tour Championship. He ended the year with an average score of -11.0.
Best Round: John Deere Classic: 264 (-20)
Highest Earnings: US Open (1

st

): $1.8M
3. Tiger Woods, 2002
After Tiger Woods won the Green Jacket at the 2002 Masters, he went on to compete in 10 other PGA tournaments that year. Impressively, he won three of those as well: the US Open, Buick Open, and American Express Championship. Woods also placed second at the PGA Championship. 
By numbers, Woods hit an average score of -10.4 over the rest of the season and picked up an impressive prize pot of over $4.22M, which equates to $1,543 per stroke.
Best Round: American Express Championship: 263 (-25)
Highest Earnings: American Express Championship (1

st

) and US Open (1

st

): $1M
4. Adam Scott, 2013
In the year of his 2013 Masters success, Adam Scott competed at a further 11 PGA events, earning more than $2.79M – or $901 per stroke. While he managed to claim victory only once more (The Barclays), Scott never missed the cut at his following events and ended the year with an average score of -1.5. 
Best Round: The Barclays: 273 (-11)
Highest Earnings: The Barclays (1

st

): $1.44M
5. Phil Mickelson, 2004
Phil Mickelson won his first career Masters in 2004. From there, he competed in an additional 13 PGA tournaments that year and earned over $2.29M. His earnings equated to a healthy $712 per stroke. 
Mickelson was not able to win at any other event that season, but placed second at the HP Classic of New Orleans and US Open. His year ended with an average score of -3.5. 
Best Round: HP Classic of New Orleans: 267 (-21)
Highest Earnings: US Open (2

nd

): $675,000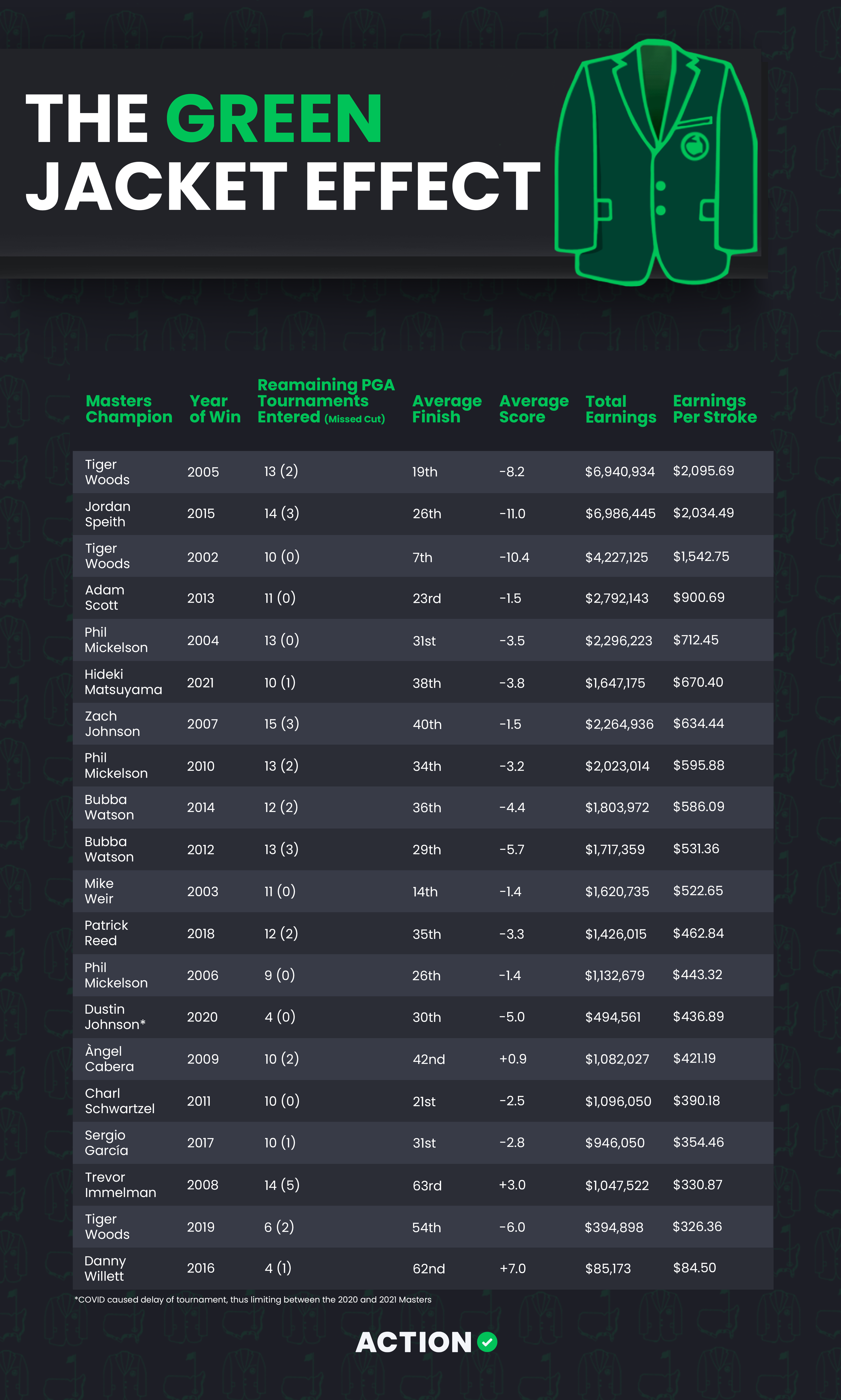 With the Masters just around the corner, we all look forward to seeing which golfer will be wearing the Green Jacket come April 10. Will it be a PGA veteran, or will a newcomer shock the field once again?
Interested in betting on this year's Masters Tournament? Be sure to visit the Action Network for tips on how to bet on golf, the latest Masters odds, or to explore all the latest golf news.
If you're new to sports betting, take advantage of some of the great sportsbook promotions to bankroll your PGA betting. Caesars, FanDuel, PointsBet, DraftKings, BetMGM, and WynnBET offer some of our favorite new user bonuses!
How would you rate this article?
This site contains commercial content. We may be compensated for the links provided on this page. The content on this page is for informational purposes only. Action Network makes no representation or warranty as to the accuracy of the information given or the outcome of any game or event.