Northern Trust 2018 Betting Guide: Justin Rose Is Trending Back Up
Credit:
Credit: John Glaser-USA TODAY Sports. Pictured: Justin Rose
The PGA Tour stops this week at Ridgewood Country Club, host of this year's Northern Trust.
Dustin Johnson opened as a +900 favorite, followed by Justin Thomas, Brooks Koepka and Jason Day at +1200.
My betting card this week consists of one stud, two excellent value plays and a couple of intriguing longshots.
The PGA postseason is upon us.
And with it comes a shift in my overall betting strategy.
With golf, I'm a sucker for longshots, but the playoffs are where the stars come out to shine. Thus, my plays will focus a little more on the top of the board, and I will try to find players who might be a little overlooked with many of the elite players in the field.
The Course
Ridgewood Country Club, the host of this week's event, is a 7,319-yard, par 71 course. It's a tighter course off the tee, and when the rough is long, accuracy can be more important than just bombing away with the driver.
The Northern Trust has been played here three times since 2008, with Vijay Singh, Matt Kuchar and Hunter Mahan claiming the titles. The scores have steadily decreased in that time, going from 8-under par in the first iteration to 14-under four years ago.
A solid short game will also be key this week. Kuchar and Jason Day finished in the top five in both 2010 and 2014, and they're among the better players on tour around the green and with the putter.
The Favorites

As with most FedEx Cup events, we're getting the cream of the crop. Rory McIlroy and Henrik Stenson are taking the week off, while an oblique injury forced Rickie Fowler to pull his name out of the field.
At the top, Dustin Johnson opened as a +900 favorite. He's followed by Justin Thomas, Brooks Koepka and Jason Day at +1200. Of that group, Day is the guy I'd lean on based on his previous success here. I was hoping he'd slip through the cracks and be priced close to +2000, but that didn't happen, so I'm forced to look farther down the board to start my card.
Tiger Woods is the only golfer in the teens on Bovada at +1600. Woods could be a good fit if he can have an average driving week. In the last two majors, we've seen that he's capable of contending in any field now.
---
>> Sign up for The Action Network's daily newsletter to get the smartest conversation delivered into your inbox each morning.
---
But my card will start at that next level with Justin Rose at +2000. Rose has finished outside of the top 20 just twice over the past five months in 10 tournaments. After a back issue caused him to withdraw from the Bridgestone Invitational, he's been dealing with injuries. But he returned for the PGA Championship and recorded another top 20, so I'm not too worried about it.
Jordan Spieth and Jon Rahm also check in at +2000; I liked both of them as well before finally settling on Rose. However, I'm keeping a closer eye on Spieth. I think there's a chance he drifts into the +2500 range with Rahm in better form and so many of the top guys playing so well. His putter has bounced back: He gained six strokes at the PGA Championship on the greens, and if that part of his game has returned, then he's a threat to win any tournament.
Mid Tier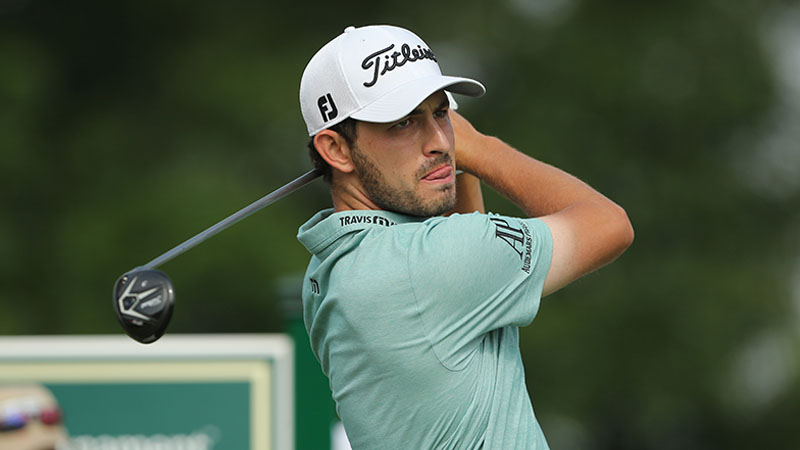 Joe Maiorana-USA TODAY Sports. Pictured: Patrick Cantlay
The last two winners at Ridgewood were in this tier, with Mahan cashing in at +5000 and Kuchar winning at +4000.
In this range, I'm playing a lot of the guys who have been on my card in recent weeks.
First up is Patrick Cantlay at +5250 on Bookmaker. Cantlay grades out well on pretty much everything. He drives it well. He's been hitting his irons solidly of late and has been gaining strokes with his putter. He's had a hole in his short game, but even that's been plugged in recently. He's gained strokes around the green in seven of his past eight events.
Next up is Rafa Cabrera-Bello at +9500. He was on my card last week and wasn't really in contention, but another good final round got him into 11th place. If he can get off to a better start this week, then maybe he can find his way near the top of the leaderboard.
Longshots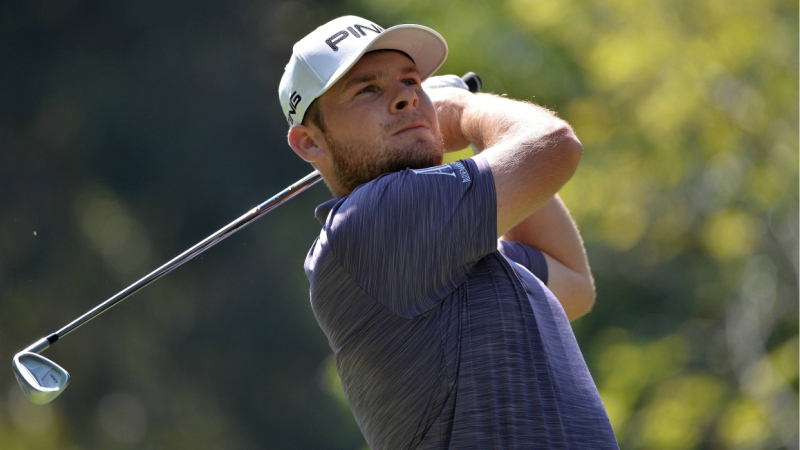 Orlando Ramirez-USA TODAY Sports. Pictured: Tyrrell Hatton
I wasn't planning on playing anyone in this range, but another name I love to lose money on popped up in the triple digits.
Tyrrell Hatton has played well in the majors this year, recording top 10s in the U.S. Open and PGA Championship. If Hatton can compete in those fields, a slightly weaker FedEx Cup event should fit him as well. At 100-1 on Bookmaker, it was just too much to pass up.
I also backed Russell Henley at +600 to finish in the top 20. I don't think he's capable of winning this week, but he's played well in strong fields at times and has a few top 10s in the past couple of months. I think in a smaller field, he's got some value to finish well in this tournament. He's been gaining ground from tee-to-green in most events and has picked up strokes with his putter in five of his past six tournaments.
Overall, just four guys on the card and one top play is lighter than my normal week. But I'm keeping that bankroll free to add Spieth if the number I'm looking for becomes available. If it isn't, I'll look around for some live plays on Thursday or Friday.
Betting Card Recap
Justin Rose +2000
Patrick Cantlay +5250
Rafa Cabrera-Bello +9500
Tyrrell Hatton +10,000
Russell Henley +600 top-20 finish
Will bet Jordan Spieth if he falls below +2000
How would you rate this article?