Outlaw Tour Betting Odds and Picks: Breaking Down the Field for the GCU Championship
Credit:
Christian Petersen/Getty Images. Pictured: KK Limbhasut
Well, you definitely didn't read about last week's Outlaw Tour winner in my preview, but trust me: I have a good excuse.
He wasn't even in the original field.
Nicolo Galletti posted rounds of 64-66 in the two-day Legacy Shootout to win for the first time this season, but because he was a late entry, he wasn't listed in most books that offered odds, nor was he available for opening-round lineups on DraftKings.
Granted, this scenario could potentially happen on the PGA Tour or another major circuit if a player was a late addition off the alternate list, but I'll chalk this one up as more of a #MiniTourProblems issue than anything else.
If there are frustrations in focusing on mini-tour golf during the COVID-19 pandemic which has shut down all other tours, then we must realize the blessings, as well.
The first is obvious: It gives us something to bet. There's a reason you clicked this link and that reason probably isn't a passing interest in an Arizona-based mini-tour for entertainment purposes only. You're admittedly starved for a little action and find yourself increasingly spending your quarantine hours internally debating the potential contenders amongst a player pool featuring nobody you'd ever heard of just a few weeks ago.
But that's not the only benefit.
As social media has become an even-bigger cesspool of whining and bickering as patience wears thin during these tough times, out of the darkness comes light in the form of the Outlaw Tour's own Twitter feed. Clearly reveling in its 15 minutes of fame, the official feed has grown from a few hundred to more than 1,500 in recent weeks, thanks to a combination of critical information about players, live streaming feeds and an ingredient often too forced on some of the major circuits – humor.
This week's event is the GCU Championship, which is co-sanctioned by the Golden State Tour. A three-day tourney (Tuesday-Thursday) featuring an 87-man field on recently renovated Grand Canyon University Golf Course, this one includes many of the familiar names we've come to know in recent weeks, plus a couple of special guest appearances.
In my last few Outlaw previews, I've listed mostly favorites and included some info on each of them. Granted, we're still flying a bit blind here, basing most of our knowledge on scores, stats and hearsay, but I'll go a little deeper this week, picking not only my favorite plays amongst the lower odds – and as we've seen, it's smart to stick with the upper echelon – but a few guys with longer odds who could be solid DFS plays, at the very least.
Outlaw Tour GCU Championship Betting Picks
Calum Hill (10-1): Well, I won't totally gloss over those with low a number, especially when it comes to Hill, who enters as this week's co-favorite. This 25-year-old from Scotland is the real deal, having won three times on the Challenge Tour in the past two years. He currently owns European Tour status, which is enough alone to cement his case as a real contender this week.
Dylan Wu (10-1): I was a bit surprised when Wu was posted as "only" a +350 favorite last week, but I was even more surprised when he "only" shot 68-68 to finish in "only" a share of sixth place. From a player who currently ranks fifth on the Korn Ferry money list, I expect him to pop against this competition at some point and this could be the week.
J.J. Spaun (12-1): So, we've got a player with full-time PGA Tour status who isn't the favorite in a mini-tour event? Sign me up.
Now, these things can go one of two ways: Either a PGA Tour pro can use these events as simply a way to get his juices flowing a bit during some downtime or he can use them as his own personal ATM. We've seen Alex Cejka do the latter recently, adding to his win total at the Parker Open on Sunday.
Spaun has struggled in the big leagues this season, but he's a guy who plays his best golf on the West Coast, including in Phoenix, where he's finished 47th-50th-4th in his last three starts at the Waste Management Phoenix Open. If he's on his game this week, if he's fully invested in trying to win, expect an extra gear that many of his fellow competitors don't have.
KK Limbhasut (12-1): A teammate of Collin Morikawa at Cal, Limbhasut is proving he has plenty of game, finishing top-three in three of his four Outlaw starts so far, including scores of 65-68 for a third-place result last week.
It feels like he's knocking on the door for a victory soon and I like him more in a three-round event than two, where he can outlast some of the competition.
Nicolo Galletti (14-1): I'd be remiss if I didn't mention last week's champion, who's been on fire lately, but this does come with a caveat: Granted, there are a few limitations in archived schedules for the Outlaw, but combing through the last few years, I haven't found a player who's won on back-to-back weeks.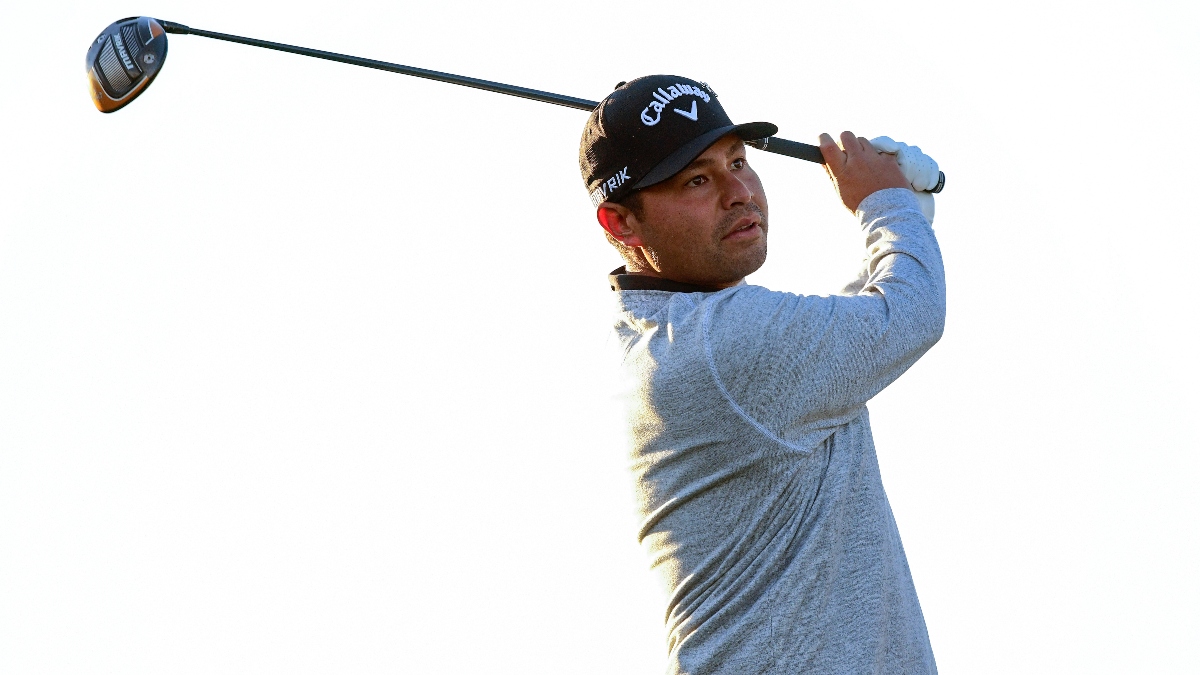 Jeremy Paul (18-1): Since we're already flying (partially) blind here, might as well go full eeny-meeny-miney-mo and take the "older" Jeremy over his identical twin Yannik, after they posted identical closing scores of 66 last week and own identical 18-1 odds this week.
Jimmy Gunn and Andrew Yun (25-1): Let's talk about value. Just a mere two weeks ago, Gunn and Yun opened at 8-1 and 10-1, respectively, at the Arrowhead Classic.
Granted, this is a bigger – and better – field, but each of these guys is still very capable of winning this event.
Steven Alker (30-1): A longtime pro from New Zealand who currently owns Korn Ferry status, Alker is a 48-year-old who's ranked 651st in the world, which sounds suspiciously like Cejka at 49 and 594th. If you're looking for a guy to replicate that story, this is the one.
Brent Grant (30-1): A regular on the Korn Ferry — where he has three finishes of 21st-or-better in just five starts this year — as a teenager, Grant once qualified for the U.S. Amateur Four-Ball Championship without a partner, shooting 63 on his own ball to beat every two-man team in the tourney.
Riley Wheeldon (40-1): Did someone say value? The leading money winner on the Outlaw Tour this season had pre-tourney odds of 10-1, 10-1 and 12-1 in his last three starts, but has skyrocketed up to 40-1 for this one.
That's a juicy number for a player who is certainly capable of winning.
Wil Bateman (40-1): Yet another legit touring professional who can win against this talent on any given week. In fact, he won just over a month ago.
Matt Gurska (50-1): There are a handful of players at this number or right around it (Jake Staiano, Alistair Docherty, Daniel Miernicki, Ryan Porch, Kyle Slattery) who are all worthy of a mention (and honestly, all of those names together could be a strong DFS lineup), but I'll give the edge here to Gurska, who owns two victories this season and might hold the mark for the most Outlaw starts over the past few years.
Sam Triplett (80-1): He hasn't played in over a month, so bettors who have been paying close attention to this circuit since all others have been suspended might not know the name.
Well, here's what you need to know: Even after that layoff, he's still second on the money list, with six top-10s in eight starts, including a win.
Jeff Nichols (150-1): Though his win earlier this season came in a one-day event, Nichols played well two weeks ago, posting scores of 72-63-68 to finish T-7 at the Arrowhead Classic.
Sure, he's a mighty 'dog against some bigger names, but if you're looking for a big number that could cash, he might hold the most potential.
Zach Gaugert (250-1): I wouldn't recommend putting the mortgage on him to win, but if you're looking for a lower-priced DFS play to round out your lineup, Gaugert is better than most of the other options.
Jesse Mueller (300-1): Another shot in the dark here, but Mueller is the head men's golf coach at GCU, which is hosting this event. He can also play a bit himself, having qualified for three PGA Tour events in the past, making the cut at the 2017 Shriners.
Maridoe Samaritan Fund Invitational
That's right – you can actually bet on two golf tournaments this week! (Well, if you can find this second one in a book…)
This is less an official tourney and more a fundraiser for the full-time caddies of Maridoe, a club in the Dallas area.
How unofficial is it? Jordan Spieth, a member of the club, is expected to play, but might miss part of it due to PGA Tour meetings and so he isn't listed in the field, according to a GolfChannel.com report. Those who are playing in the "Elite Flight" include Viktor Hovland (3-2), Scottie Scheffler (3-2), Harry Higgs (8-1) and Davis Riley (10-1).
Look, I don't ordinarily recommend wagering on events which are more outing than tournament, but like they say, times is tough, man. You've gotta do what you've gotta do – and so, if you're hellbent on betting this one, I'll give you my pick based on absolutely nothing but a hunch.
Considering this should be a pretty loose atmosphere and might not be too serious, I'll go with Higgs, who looks like he can simultaneously play some solid golf and have a pretty good time.
How would you rate this article?