Rating 80+ PGA Championship Golf Matchup Props: Cantlay over Noren, More
Credit:
Pictured: Patrick Cantlay. Photo credit: Orlando Ramirez-USA TODAY Sports
Sportsbooks have released more than 80 head-to-head matchup props for the 2018 PGA Championship, and we're rating each one using Colin Davy's model.
Good value can be found in no-name golfers like Chris Stroud, who is a small favorite over Sunshine Tour golfer Justin Harding.
If you want to bet the big names, you can do that, too. Tony Finau and Patrick Cantlay are underrated by the betting market yet again.
The Action Network golf guru Colin Davy built a PGA Championship-specific model that takes into account all the relevant metrics for a player: Overall strokes per round, adjusted for playing conditions and strength of field, plus player history and weather conditions. That model powers our PGA Championship Mega Guide, which you should definitely check out. It's also able to predict what an accurate matchup prop line should be.
Thankfully, sportsbooks have provided us with loads of PGA Championship props to bet. In this piece, I'm looking at more than 80 matchups. Lines are current as of Wednesday evening.
I'm posting a table at the bottom of the piece with each listed prop, Colin's predicted line, and the difference between the two. But before that, let me go deeper into five that really stand out, per our data. These props are for the duration of the tournament.
---
Chris Stroud vs. Justin Harding
Real line: Stroud (-130) over Harding (+100)
Model line: Stroud (-245) over Harding (+245)
Model pick: Stroud -130
Some of the most exploitable matchup props are with no-name players. Stroud, a PGA Tour golfer who got a win in 2017, is only a slight -130 favorite over Harding, who plays on the Sunshine Tour in South Africa. Harding has shown some talent there, but the difference between the level of competition is enormous, and Colin's model suggests the betting market hasn't properly priced that in. He has Stroud as a huge -245 favorite and thus finds great value in the -130 price tag available.
Shane Lowry vs. Brandt Snedeker
Real line: Lowry (-130) over Snedeker (+100)
Model line: Lowry (-215) over Snedeker (+215)
Model pick: Lowry -130
Lowry has a slight advantage off the tee and a huge one in terms of hitting greens: His Long-Term GIR mark of 68.1% is much better than Snedeker's mark of 63.5%. Sneds has been incredibly boom-or-bust this season, getting into top 10s but also brutally missing cuts, like he did just a couple weeks ago at the British Open. Colin's model perhaps values the superior consistency of Lowry, who has missed 26% of cuts over the past 75 weeks compared to 32% for Snedeker.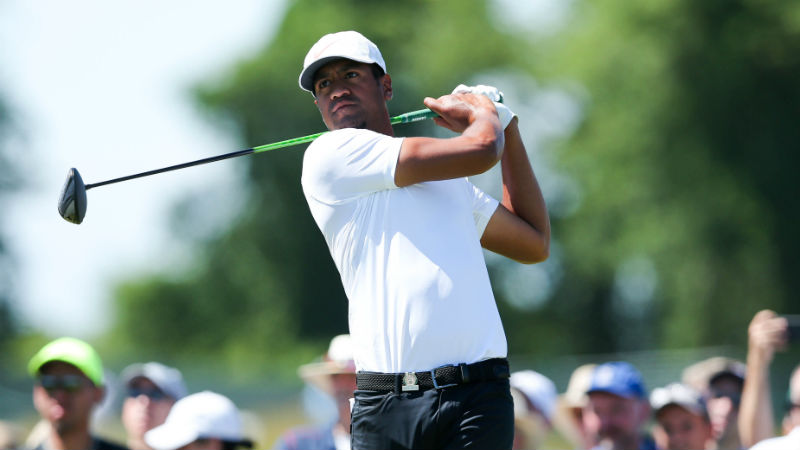 Brad Penner-USA TODAY Sports. Pictured: Tony Finau
Tony Finau vs. Henrik Stenson
Real line: Finau (+110) over Stenson (-140)
Model line: Finau (-166) over Stenson (+166)
Model pick: Finau +110
Stenson has a major victory and the bigger name. Finau, however, has the superior Long-Term Adjusted Round Score, which is our proprietary catch-all metric that measures play over the past 75 weeks. To put it simply: Finau is the superior golfer right now, and he also fits Bellerive better with his incredible distance off the tee. He shouldn't be a dog here, so grab the plus odds.
Patrick Cantlay vs. Alex Noren
Real line: Cantlay (-145) over Noren (+115)
Model line: Cantlay (-216) over Noren (+216)
Model pick: Cantlay -145
Cantlay is similar to Finau in that his Long-Term Adjusted Round Score is right there with some of the best golfers in the world, and yet he's considered in a class below all of them. His mark over the past 75 weeks, for reference, is better than the marks of Rory McIlroy, Francesco Molinari, Tommy Fleetwood, and Stenson. Would those guys be bigger than -145 favorites over Noren? Probably — and Cantlay should be, too.
---
>> Download The Action Network App to get real-time odds, track your bets and follow all of our experts' picks.
---
Tommy Fleetwood vs. Rickie Fowler
Real line: Fleetwood (+115) over Fowler (-145)
Model line: Fleetwood (-147) over Fowler (+147)
Model pick: Fleetwood +115
Fleetwood and Rickie probably aren't far off in terms of raw expectations this week, and you could make the argument that Fleetwood's upside is higher. The biggest thing in his favor is that he ranks third in the world in Total Driving, and that will certainly come in handy on the soft course at Bellerive. Don't get me wrong — Rickie's all-around game is awesome and he'll get some majors — but -145 seems a little high. Colin's model thinks Fleetwood should be the outright favorite in this prop, in fact.
There are a ton more exploitable props in the table below, so hop on that. Good luck!