Sobel: 20 Questions For the PGA TOUR's Revised Schedule
Credit:
Stan Badz/PGA TOUR via Getty Images. Pictured: PGA Tour Commissioner Jay Monahan addresses the media regarding the developing Corona Virus pandemic.
The PGA TOUR announced another alteration Thursday to its schedule — a re-reschedule, if you will — which outlines a plan to begin contesting tournaments in mid-June and continuing through the end of the year.
The prevailing sentiment, however, is that everything about this situation remains fluid.
"We will resume competition," said PGA TOUR commissioner Jay Monahan, "only when it is considered safe to do so."
"When I say I'm confident that we'll be able to resume play, that's different than being certain," Andy Pazder, the PGA TOUR's chief tournaments and competition officer, added. "If we're comfortable that our protocol, testing protocol and on-site procedures give us a confidence level, we're going to proceed with our tournaments. We will not do anything — we will not conduct our tournaments — if the answers to those previous questions aren't yes, we are confident."
Plenty of unknowns remain in regard to all the relevant who, what, when, where, why and how questions. Let's ask 20 of 'em and offer a mix of applicable answers and educated guesses.
Isn't there currently a 14-day quarantine period for anyone who enters the state of Texas?
Yes, there is — and with the PGA TOUR set to return during the second week of June at Colonial CC, which is, of course, based in Texas, this seems a fair starting point in our search for answers. It would be unreasonable to ask out-of-state PGA TOUR members to arrive two weeks early for this event and self-isolate, so until the quarantine is lifted, the return tournament could be a moot point.
Does the PGA TOUR know something we don't in regard to this quarantine?
It doesn't appear so. During a Thursday morning conference call with the media, Pazder said, "I have not personally spoken to the mayor of Fort Worth. Obviously our host organization, the event is run by Colonial Country Club. We've been in daily conversations with both Colonial as well as our title sponsor, Charles Schwab. We believe and know that a tournament played June 8 through 14 will be done so in full compliance with all local health requirements, guidelines and requirements."
Even with the blessing of health organizations, it would seem unlikely that a tournament could be played if a 14-day quarantine period is necessary for all involved.
Once tourneys are being played, will each person on-site be administered a COVID-19 test beforehand?
Right now, this is the million-dollar — OK, billion-dollar — question. The truth is: Officials really hope so, though they wouldn't commit to a specific plan that outlines exactly how this would take place.
I did like this, though, from Tyler Dennis, the PGA TOUR's chief of operations: "I want to be perfectly clear that, first and foremost, the situation at the moment with testing is that it's most critical across the healthcare world and in our communities, and so at this juncture, we are merely evaluating it in the sports world and certainly at the PGA TOUR. Our understanding is that as it becomes more widely available, it would be appropriate to be able to use that to help us return."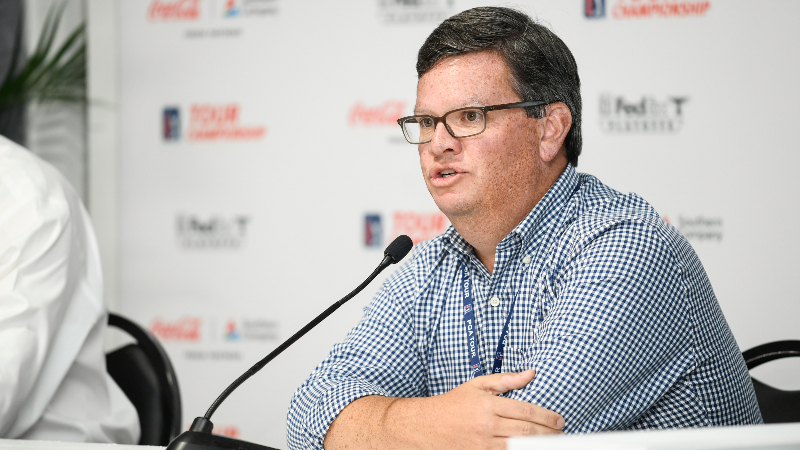 For an organization that so outwardly declares its role in being charitable, prioritizing player testing over those who truly need it would be a bad look all the way around.
What happens if a player tests positive for the coronavirus?
I asked this very question during Thursday's conference call. There's a long-standing dictum in Ponte Vedra Beach HQ that PGA TOUR execs don't like to deal in hypotheticals, but everything about this situation is hypothetical, including the potential for positive tests.
"That's one of many questions we're evaluating as we look through the testing element to this," Dennis answered, "which is part of a bigger review of kind of health and safety protocols at the venue." There doesn't need to be a protocol in place right now, two months ahead of the next scheduled event, but you'd better believe this needs to be nailed down in advance of that one.
OK, let's rephrase: What do you think will happen if a player tests positive for the coronavirus?
I really don't think there are many options here. The first, and best, scenario is that a player receives immediate testing, is found to be positive, then must self-isolate in (likely) a city he doesn't live for 14 days. Yes, that's the best scenario. The other scenario is that this player had already come in contact with other players, caddies, officials, etc., requiring a tournament-wide isolation of anyone who'd been in contact with the person who tested positive, plus anyone who'd been in contact with anyone who'd been in contact. The domino effect here is real, and there's a very real potential to shut down two weeks of tournaments with one positive test.
How will players follow social distancing guidelines during tournament play?
The presumed answer is: The same way recreational golfers are doing so right now — by remaining at least six feet from each other, removing bunker rakes, leaving the flagsticks in the holes and no pre- or post-round handshakes. Again, though, officials resisted in announcing anything conclusive.
"We know that golf can be played in a safe way that abides by social distancing guidelines, and we're seeing that in many spaces across the country," Dennis said. "In general, I think that the daily life of a PGA TOUR golfer and his caddie won't be tremendously different. We're just going to have to have some nuances to relate to social distancing and safe sanitation practices."
How many people will be on-site at tournaments?
I asked a PGA TOUR official this question recently, based on a full-field, televised event with no spectators, which would be at least the first month of the revised schedule. This number would — or could — include players, caddies, tournament officials, grounds crew, dining staff, volunteers, print media and the TV broadcast team.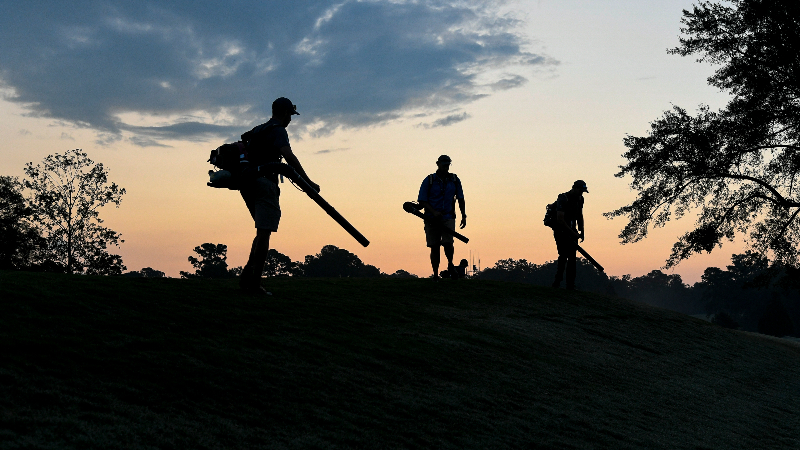 "We are still determining and studying the appropriate numbers in regard to essential people on the ground at PGA TOUR events when we resume," I was told. I do think the general public is a bit naïve to how large this number might be. Players and caddies alone, that's 300 people right off the bat. I'd think non-competitors would total at least the same, maybe a bit more, putting this final tally somewhere in the 600-700 range.
Will spectators be allowed at tournaments this year? If so, when?
Like most answers to these questions, this remains to be seen. But here's what we know: The earliest possible date that the general public would be allowed is July 9-12 for the John Deere Classic. The first four events, should they be played as scheduled, will be contested without fans.
How strange will it be to watch a player win on TV with no crowd reaction?
Pretty strange. I don't think we'll notice it much on a Thursday morning, when galleries are usually small anyway, but think about a player rolling in a 20-foot birdie putt on Sunday afternoon, pumping his fist in exaltation and … silence.
Perhaps nowhere will this be more pronounced than the majors, and there's a very real possibility that if the PGA Championship can be played Aug. 6-9, it will be played without any fans in attendance. Yep, it'll be pretty strange.
With a condensed schedule, should we expect the best players to compete every single week?
Only if their name is Sungjae Im. I would expect the game's elite players to follow a schedule that looks much like what they would've been playing anyway. Sure, many of them are likely chomping at the bit to return to competition and play again, but too much, too soon could have an adverse effect.
As it stands right now, there are 101 days between the opening round of the PGA Championship and the final round of the Masters, with three majors, three FedEx Cup playoff events and a Ryder Cup during that time. It's tough to imagine most players will try to compete on a weekly basis.
Wait a minute: Is there only one major this season? And six next season?
Yes, exactly. Unprecedented times call for unprecedented results and one of the unintended consequences of the revised schedule is that only the PGA Championship will be contested during the confines of this season's schedule, while a half-dozen majors will be played next season, including two editions of both the Masters and the U.S. Open.
Will any players cite the current risk and sit out?
This is very possible. Already we've heard from Major League Baseball players who insist they won't be quarantined for months at a time because they want to be with ailing parents or pregnant wives. It's tough to believe there won't be some PGA TOUR members who don't have similar concerns.
Even before the PGA TOUR suspended its season, C.T. Pan withdrew from The Players Championship due to apprehension over the growing pandemic. There are certainly players who don't believe tournaments should be held so soon and it's very possible they decide not to compete.
What happens if players do cite this risk?
Well, not much, really. As Pazder explained, "My only experience with anything like this, I guess, would be the first few tournaments following 9/11. We had players that were uneasy about air travel. That's one of the beauties of being a PGA TOUR member; you're an independent contractor. You're not required to be at any PGA TOUR event. So, they have that discretion to play tournaments where they favor the golf course or tournaments in this instance, to your question, they may or may not feel comfortable. But that's an individual player decision." Translation: Don't want to travel during a global pandemic? No problem — you just won't get paid and could lose your status.
Is there a potential for reduced purses?
If so, it hasn't been broached by the PGA TOUR to players yet, although there is some precedent here. Earlier this week, it was reported that European Tour CEP Keith Pelley told members in a memo that when the tour returns, "Prize funds will also most likely be different. The reality is, the pandemic is going to have a profound impact on the Tour financially, as well as many of our partners, both in the sponsorship and broadcast areas."
How about reduced fields?
Nope — if anything, we'll see bigger fields than originally expected. It's already been announced that smaller field events such as the Charles Schwab, the RBC Heritage and the Memorial Tournament will have field sizes increased to 144 in order to allow for more playing opportunities for those with full status.
What are the repercussions for international players if they can't travel to the U.S. for events?
During Thursday's call, Pazder said there are at least 25 players and 35 players who live internationally, and the PGA TOUR is currently monitoring the U.S. travel ban. "If we ultimately end up making a decision that eligibility should span this season or next season, a factor in determining the answer to that question could be and will be what's the effect of all this on our international members," he stated. "I don't have a specific answer beyond those points to share at this time." While I appreciate the candor, it's difficult to believe that international players who are restricted on travel could have that adversely impact their status for next season.
What does this reduced schedule mean for player promotion and relegation at the end of this season?
Once again, the answer here remains fluid, though different options are being explored, including one which would combine status for the 2019-20 and 2020-21 seasons. "We have several options as relates to eligibility, which therefore affects the Korn Ferry Tour and the graduates," said Dennis. "We've sort of looked at one option where there would be a hybrid model, I'd call it, where we would reward all of the players on the PGA TOUR this year based on their play, but find a way to also retain — for those who didn't, say, make the top-125 — retain some type of access into the next season, and then that would flow down to the Korn Ferry Tour and how the graduates would morph between their seasons in a hybrid way, as well."
Does that mean the revised and reduced schedule will funnel down to the PGA TOUR's developmental circuits, as well?
Most of this remains to be seen, however the Korn Ferry Tour, at least, will return with a bang, as a new event has been introduced for June 11-14 – the same date as the Charles Schwab Challenge – which will take place at the TPC Sawgrass Dye's Valley Course. News about a return for the Mackenzie Tour, PGA TOUR Latinoamerica and PGA TOUR Series-China will be announced at a later date.
Who will be best equipped for success upon the PGA TOUR's return?
In recent weeks, I've spoken with Florida-based players who have nothing else to do but play golf at their local club and California-based players who can't play anywhere because every course is closed. Not unlike the beginning of a calendar year, when some players are prepped for competition and others are still digesting that Christmas ham, we could witness a large disparity in form when tournaments return. This of course doesn't necessarily mean that players who have been playing will automatically go low, while those who have been quarantined without golf will struggle, but expect some to own a decided advantage at the start.
What about in the immediate return? Put it this way: Two months out, who do you like at Colonial and Harbour Town?
If everything works out, if health organizations give the go-ahead to the PGA TOUR and we do indeed have tournament golf in two months, the first two events back can be easily classified as ball-striker's fiestas. There aren't many courses on the annual schedule that require precision over length, but these two are at the top of that list.
Among those I'm initially scribbling down as potential contenders: Webb Simpson, Matt Kuchar, Kevin Kisner, Cameron Smith, Brian Harman and Adam Hadwin, not to mention any other elite ball-strikers who decide to compete in an event they previously might not have played.
How would you rate this article?