Betting Picks for THE PLAYERS Championship: Our Favorite Outrights, Longshots, Matchups & Prop Bets at TPC Sawgrass (March 11)
Credit:
Sam Greenwood/Getty Images. Pictured: Joaquin Niemann
THE PLAYERS Championship at TPC Sawgrass is a very volatile tournament and that makes picking a winner pretty tough.
It also opens plenty of betting opportunities down the board.
Check out Team GolfBet's favorite outright bets, sleeper picks, longshots and more for THE PLAYERS:
Picking a golf winner is really hard. Not only do you need everything to go right, but you also will need a lot of luck. The stars truly need to align.
Perhaps no course typifies the randomness and volatility of golf (and betting on golf) better than TPC Sawgrass. There's trouble everywhere (I mean one of the greens is a literal island), so one poor swing of the spoon and poof, you could tumble down a leaderboard.
While that kind of zaniness may drive bettors nuts, it also makes THE PLAYERS Championship one of the most fun events on the PGA TOUR schedule to bet. Bring on the bedlam.
Here are our favorite outrights, longshots, props, matchups and first-round leader bets for the 2021 PLAYERS Championship:
Outrights
Patrick Cantlay (+2200, $10 bet wins $220)
I'll preface this pick by reiterating what I wrote in my betting guide: This has traditionally been one of the toughest tourneys to predict each year. Cantlay does check a handful of boxes, though. He opened with a 5-under 67 last year before the event was canceled. (And yes, astute observers might remember that I picked him a year ago, too.)
More importantly, he's trending in the right direction, with no result worse than T-17 since October and a T-15 in his last start. Even though he was forced to WD from the WGC-Workday due to stomach issues and dehydration, that hardly sounds like anything that will still affect him two weeks later.
The world's ninth-ranked player is ready to win something big very soon, and while that big one might very well be a major championship, I think his tee-to-green game sets up nicely for this one.
Justin Thomas (+2000)
Justin Thomas has been winning at around a +1000 clip for over four years now, so I really don't think he should be 20/1 in any field. And definitely not on a course where the approach game is probably the most important aspect.
I understand he's drifted to this number because it looks like his form has been off, but he's still playing quite well. He was second in approach two weeks ago — behind only eventual winner Collin Morikawa — but just couldn't get his driver to cooperate.
Thomas is usually good off the tee, and even so, this event tends to negate the driving advantages anyway. It's usually iron and good Bermuda putters at Sawgrass and Thomas checks both those boxes.
Daniel Berger (+4400)
The way that THE PLAYERS Championship sets up each year, I prefer to dig down the board a little bit for value as there are more players that can win this event than is typical in most top-flight fields. Daniel Berger's play over the last year has put him on the cusp of being considered in the top tier each week, and he seems to be priced on a rung below where he belongs this week.
Berger has won twice since June, a claim that only a few players can make, and he also has four other Top-7 finishes in that timeframe. One of those was a third-place finish on another Pete Dye track at the RBC Heritage, which has been a good corollary course in the past.
Berger has acknowledged he has a bit of a chip on his shoulder after being left out at The Masters last fall, and he already leveraged it to win at Pebble Beach last month. He still has something to prove and this is a stage, and course fit that will allow him to do just that at some great odds.
Tyrrell Hatton (+3500)
It feels like Tyrrell Hatton is being disrespected on the oddsboard this week. With seven worldwide wins since 2016, Hatton is a prolific winner and now seems to be focused on making his mark on the PGA TOUR.
Hatton recently bought a home in the Orlando area and is looking to build off of his Florida success after winning the Arnold Palmer Invitational last year. In addition to the win equity and strong Florida track record, he also comes into THE PLAYERS in excellent form. After losing over four strokes putting in Round 1 at Bay Hill, he rebounded the next three days and got himself into contention.
The most important statistic at TPC Sawgrass is Strokes Gained: Approach and Hatton's approach game has been excellent. He gained 4.6 strokes on approach at The Concession and another 3.4 strokes last week at Bay Hill.
Success of Pete Dye designs is also an important factor this week and Hatton finished third at the 2020 RBC Heritage (Harbour Town) showing he has the necessary skill set to compete at a traditional Dye setup.
Everything is aligning this week for the fiery and undervalued gamer to be the next PLAYERS Champion.
Collin Morikawa (+2200)
I'm all in on Morikawa this week, both in DFS and in the betting market. It's just hard to ignore his recent play. He's 24 years old and is already a Major Champion and has a WGC victory. As mentioned in my FantasyLabs writeup, the only other player in PGA TOUR history to accomplish this feat before his 25th birthday is one Eldrick Woods.
In addition to his ridiculous rolling numbers, where he paces this field in SG: Ball-Striking and Tee-to-Green over his past 24 rounds, Morikawa also ranks No. 1 in this field in both driving accuracy and greens in regulation percentage across his past four rounds. He is absolutely locked in right now and showed zero issue in handling TPC Sawgrass last year, as he posted an opening round 68 before the tournament was canceled.
Fade this man at your own risk.
Tommy Fleetwood (+4500)
Elated to be back for my second spin with the gang here. I'm of the philosophy that you probably don't need my reinforcement of the board favorites. If I'm going to be compelled to advise on any, it'll likely be as a fade in a prop sitch à la Viktor Hovland to miss the cut at the API last week, so I'm planning to focus on the 25-to-1 and longer odds most of the time. Of course, because of the quality of the field at THE PLAYERS Championship, the buffet is overflowing, so it's easy to adhere to the objective.
If Fleetwood prevails, he'll be the first first-time PGA TOUR winner at THE PLAYERS in 11 years (Tim Clark), but the Brit was positioned to do just that in the last edition in 2019. He co-led after the first and second rounds and finished T5. Also placed T7 the year prior.
Savvy, global talent who will win on TOUR at some point. No one disputes this.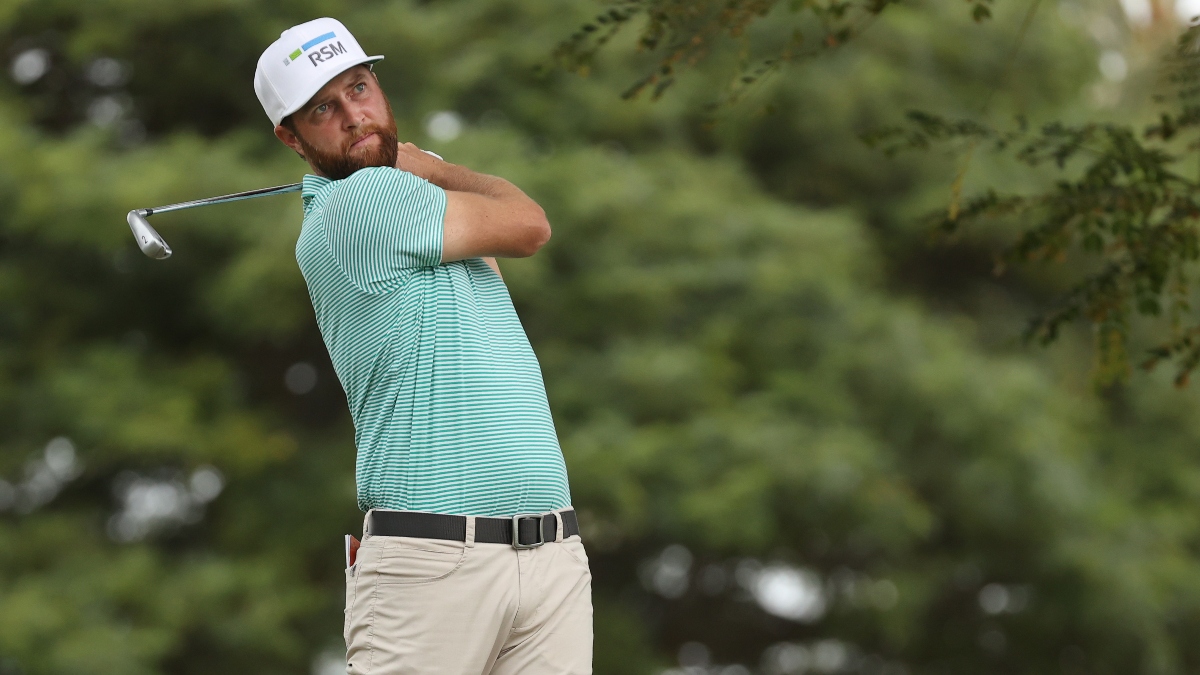 Longshots
Jason Sobel
Justin Rose (+15000)
OK, let's say it all together: Beware the injured golfer!
Rose withdrew from the Arnold Palmer Invitational early in his third round with a back issue, which admittedly renders him a less-than-ideal candidate for this week. If Bryson DeChambeau taught us anything this past week, though, it's that a little risk can lead to a lot of reward. Let's also remember that Rose was starting to play some much better golf lately and undoubtedly a rare in-person session with longtime instructor Sean Foley helped even more.
He owns a solid-if-not-spectacular record at this one, with five top-25s in 16 starts and a best finish of fourth in 2014. This one isn't for the faint of heart, but it's a risk which could pay off.
Josh Perry
Emiliano Grillo (+16000)
Grillo is a player I tend to look at when the approach game is the most important factor. Is he going to make a putt all week? No, probably not. But he's in a decent run of form with three top-25 finishes in the past month and he's put up some good results at Sawgrass including an 11th in 2017.
I wouldn't expect Grillo to win, but he's definitely someone to consider for place bets like a top-20.
Chris Murphy
Abraham Ancer (+7500)
Debutantes typically have a tough time around TPC Sawgrass, but Ancer bucked that trend in 2019 when he finished 12th. He would gain strokes on the field in all metrics that week, including more than seven strokes gained ball-striking.
Ancer has been up and down to start the new year, with two missed cuts in his five events, which may explain the price, but he also has three Top-20 finishes, including a 5th, in that stretch.
I am happy to jump on a player of his caliber that has a history of playing well at these Pete Dye tracks, and I wouldn't be surprised to find him in contention come Sunday. I know he has the skillset to pull off the win, but I'll also bet him up the board for all of the finishing position opportunities as well.
Matt Vincenzi
Joaquin Niemann (+6600)
The fact that we don't see first-timers win THE PLAYERS Championship makes Niemann a sleeper this week in my eyes. However, at this price I will gladly gamble on his pure talent to overcome the lack of experience at TPC Sawgrass.
The 22-year-old Chilean is an ideal fit for the course and his skillset reminds me a lot of a young Sergio Garcia, who won the event in 2008. In his past 24 rounds, the "Wonder Kid" ranks 6th in Strokes Gained: Tee to Green. He is also long and straight off of the tee which will be useful in avoiding the many water hazards at TPC Sawgrass.
Niemann also has had some recent success on a similar Pete Dye design finishing 5th at the 2020 RBC Heritage (Harbour Town). We have seen some inexperienced players overcome trends of late (Morikawa winning the PGA Championship comes to mind), and Joaquin Niemann has a shot to be the next super talented youngster to join the party.
Landon Silinsky
Scottie Scheffler (+5000)
Completely on #brand play here, as I will continue to keep hammering these numbers on Scheffler as long as books keep offering it.
Scheffler seems to be back in his pre-COVID form as both his ball-striking and putting are trending upwards of late. He ranks fourth in this field in total strokes gained over his past 12 rounds, trailing only Cantlay, Finau and Casey.
Much like Morikawa he also opened last year's version of this event with a four-under 68, so we have zero worry of him being able to handle one of the tougher tests on TOUR.
I love targeting one of the purest ball-strikers in the world at this high of a number, and if he can just stay out of the water he will be in contention come Sunday.
Rob Bolton
Chris Kirk (+15000)
I'm learning quickly that the definition of a Sleeper in fantasy varies greatly with the same in betting, and it opens more opportunities to lean on a more proven talent.
Then again, in a field this deep, a Sleeper is even more relative than usual, but Martin Kaymer was 61st in the Official World Golf Ranking when he prevailed in 2014 and Si Woo Kim was 75th in 2017, so there's proven value at this layer.
Most importantly, because Kirk (84th in the OWGR) has overhauled his life outside the ropes, no one will be more prepared to handle the pressure on the inward side on Sunday, but even better once he's inside the ropes, he's been lighting it up since winning on the Korn Ferry Tour last June. And in 2021 alone, he has a T2 (Sony), a T8 (API) and a pair of T16s.
His default skill set of ball-striking is perfect for the test and he's cashed in seven of the last eight editions of THE PLAYERS, three of which resulting in a top 15.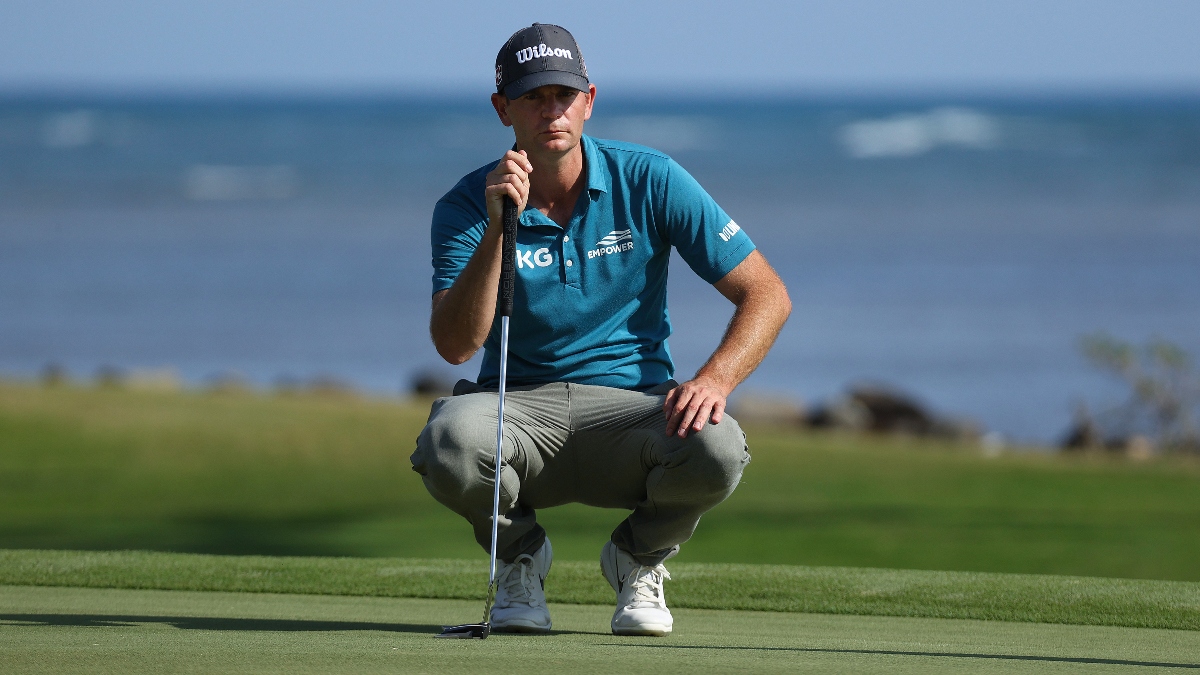 First-Round Leader
Jason Sobel
Chris Kirk (+9000)
It's always fun to play a few longer numbers for FRL, though that hasn't been a very profitable strategy in recent years at this event.
Last year, it was Hideki Matsuyama who held the lead before it was wiped away. The year before, it was shared by Tommy Fleetwood and Keegan Bradley. Before that, a six-some that included Webb Simpson, Patrick Cantlay, Dustin Johnson, Matt Kuchar, Alex Noren and Chesson Hadley.
Kirk has been playing well, owns a nice record at this one and could bring some solid momentum into the opening round, considering he's broken par in each of his last six Thursday rounds.
Even if you don't like him for FRL, he should be able to cash some props/matchups and nicely fill out a DFS roster.
Josh Perry
Tom Hoge (+15000)
When I play first-round leaders I just generally look for players at large numbers with early tee times so they can take advantage of fresh greens and calmer weather conditions. Hoge fits that bill and has the strong approach game I'm looking for at Sawgrass. He's also shown that he's got the ability to fire the random 63 or 64 out as well.
Hoge has gained with the approach and on the greens in both of his appearances at THE PLAYERS, so even if the overall results haven't been there, the two main aspects of the game have been fine here. So couple that with a good tee draw and he's capable of shooting a low round.
Chris Murphy
Brendan Steele (+12000)
Only two players have more opening round scores in the 60s in the last five years at TPC Sawgrass than Brendan Steele, as he has done it three times in that span. One of those was a 7-under 65 in 2015, which is the type of round needed to pay off a longshot bet like this.
Steele comes in showing some good form with an 18th-place finish at Bay Hill where he gained nearly seven strokes on the field ball striking and I look for him to carry that momentum into this week. He has just the type of history at The Players that I am looking for to grab a quick payout with him as the leader after 18 holes at TPC Sawgrass.
Matt Vincenzi
Jhonattan Vegas (+15000)
Vegas has been playing some good golf of late as evidenced by his runner-up finish at The Puerto Rico Open in his most recent start. He is a pretty poor putter overall but Bermuda is his best surface by a wide margin where he putts pretty close to field average.
In addition to his current form, Vegas also has some great finishes in the state of Florida. In the most recent PLAYERS Championship the 36-year-old finished in solo third-place and gained 6.8 strokes from tee to green. He also finished 4th (2017) and 16th (2019) at Honda Classic in Florida.
I am high on Vegas this week and I think the first-round leader market is a good place to start.
Landon Silinsky
Alex Noren (+12500)
Noren has opened two of his past three PLAYERS Championships with top-five opening round scores. He's been really hot with the putter of late, ranking 13th in this field over his past four rounds in SG: Putting. He's also coming off a strong showing at the Genesis and had it not been for a final round 79, he would've finished inside the top 20 at the API.
Noren has shown a liking for this course, finishing 17th and 10th in 2018 and 2017, respectively. He is certainly worth a look in the FRL market at this number.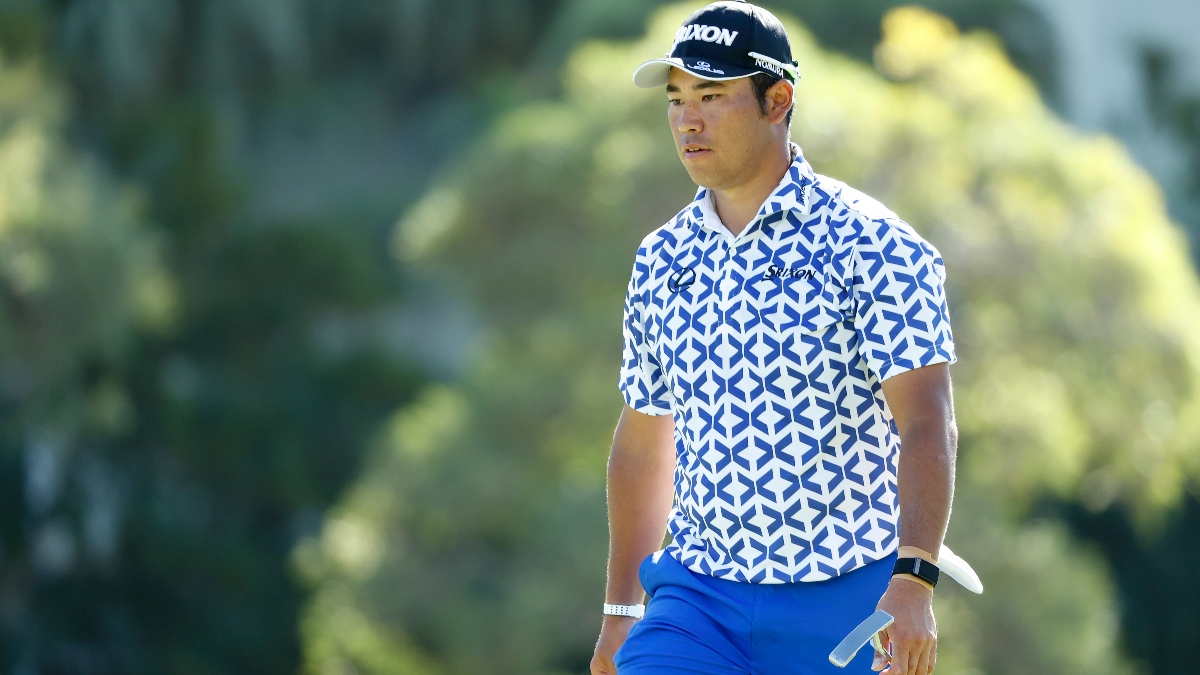 Props
Jason Sobel
Will Zalatoris Top-20 Finish (+300)
If you need to ask why this wunderkind should be considered for top-20 props, then you clearly haven't been paying attention.
Fresh off promoting himself from the Korn Ferry Tour, Zalatoris has played in a dozen PGA TOUR events starting with last year's U.S. Open and has cashed top-20s in eight of them. This week's event should suit him better than most, too, as he's been one of the game's better ball-strikers recently.
He's gotten to the point where if he putts at anything near the field average, he could/should contend on any given week.
Josh Perry
Hideki Matsuyama Top-20 Finish (+188)
I'm liking the course history and form combination with Hideki this week.
The approach game was good at the API and he's finished inside the top 20 in back-to-back events. He's also finished inside the top 20 here in three of six starts. Two of those misses weren't far off either, taking 22nd and 23rd. And last year, he opened with a 63 before the event was called off.
It's hard to find many players with any kind of consistency at TPC Sawgrass, but Hideki has been fairly solid for someone this far down in the odds.
Chris Murphy
Cameron Davis Top-20 Finish (+600)
Cameron Davis has started the year as a bit of a DFS darling, but that momentum may have faded a bit after he missed the cut last week at Bay Hill. He now comes in to his first PLAYERS Championship and to me, he should have the same shine if not more.
Davis is a player that, while long off the tee, has shown to be more successful at shorter courses early in his career. TPC Sawgrass is known for bringing the field in together and not favoring one style of player over another because it plays just 7,168 yards, which is short by TOUR standards for a Par 72.
This will favor a player like Davis who can score in bunches when he is on, and even with the missed cut last week, he still gained more than two strokes on approach.
I'll be betting Davis up through the Top 10 as he has the skillset to compete at this event and has shown an affinity for Pete Dye courses.
Matt Vincenzi
Sergio Garcia Top-10 Finish (+700)
While backing Sergio can be a frustrating experience, his PLAYERS resume simply can't be ignored. A winner in 2008, he also has a total of five top-5 finishes at the event and has never missed a cut at TPC Sawgrass in 20 starts.
He also comes into the week in great form. He gained 6.7 strokes on approach at The Concession and still finished in 32nd despite losing 6.4 strokes on the greens. While that's not entirely uncommon for Sergio, he tends to putt a lot better in Florida throughout his career. In fact, seven of the top-15 putting performances of his career have come in the state of Florida.
If there is ever a time and place to bet on Sergio Garcia, it's THE PLAYERS Championship at TPC Sawgrass.
Landon Silinsky
Christiaan Bezuidenhout Top-20 Finish (+350)
Piggybacking off last week's performance we will stick with the South African this week and hope his recent strong play continues. He seems to only play in strong field events and he almost always handles himself adequately.
The current World No. 34 boasts one of the best short games in this field and is by far the best bermuda putter in the world, averaging .22 strokes per round more on bermuda than the No. 2 ranked guy, Matthew Fitzpatrick.
Last year he fired an opening round 65 which was good for T-2 before they suspended play. Getting almost 4/1 in this spot is solid value.
Rob Bolton
Make the Cut Parlay: Corey Conners/Cam Smith/Will Zalatoris/Jason Kokrak (+458)
Given the harsh penalties at TPC Sawgrass, I fully expected to pick a notable to miss the cut, but none of the lines were enticing enough. I suppose that makes sense with the strength of the field. So, I'm giving this parlay a go.
I've endorsed each in my preview material, and for different reasons. Current form for each serves as the bait for this grouping, but this is where my experience should pay off.
I've heard stories of how gamers and bettors have cashed in big with my recommendations, so it's time to see how I do using my own process. (Finau and Schauffele both to finish in the top 10 at +800 also is tasty.)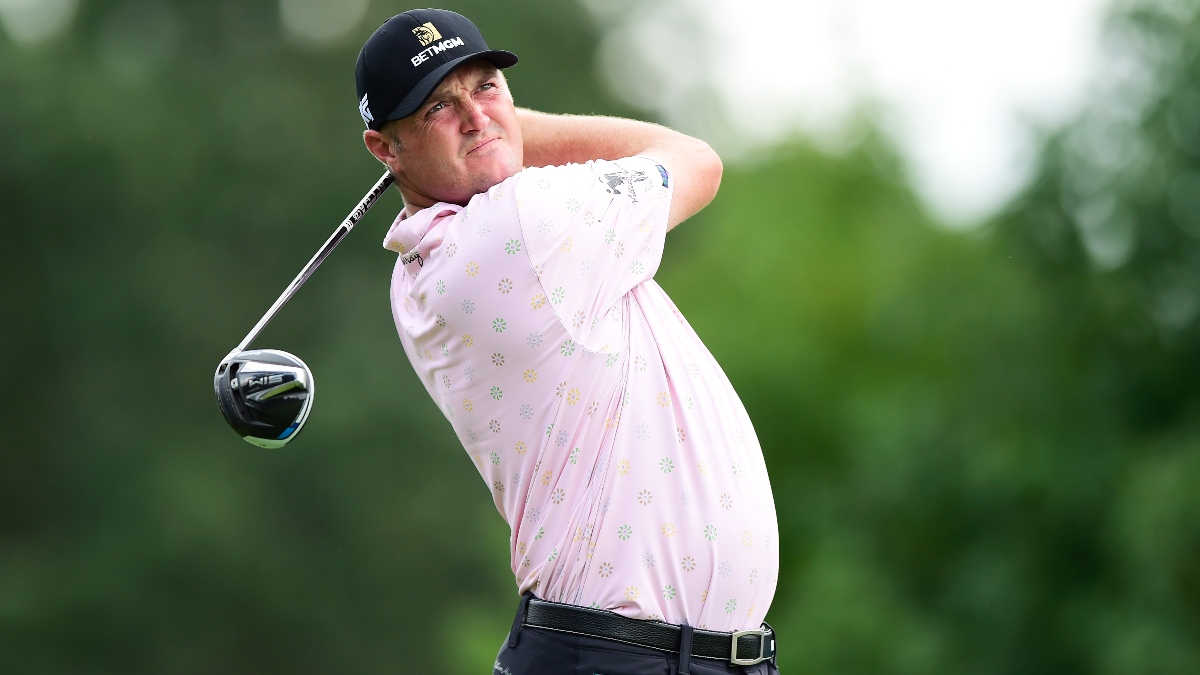 Matchups
Josh Perry
Lee Westwood (+108) over Max Homa
Homa has been riding a hot streak the past couple months, but I'll back the vet here at plus money.
Westwood has a good track record at Sawgrass and obviously played well last week. Homa has been playing well, but may be running on fumes at this point after eight straight events. His ball-striking took a noticeable dip last week, but he gained about eight strokes putting at the API, so the result was still there, but it could be a sign that the grind is starting to wear on him.
Chris Murphy
Tommy Fleetwood (+120) over Patrick Reed
I'm a bit jaded after Reed burned me in all different directions with his missed cut last week at Bay Hill. He was my favorite play of the week, but I'm not really looking to chase that down, I just genuinely like Fleetwood better than the former Masters champion this week. I am trending towards the guys that are known for their ball striking this week, and Fleetwood fits that bill better for me than Reed. I'd have them closer to a toss up in a matchup at TPC Sawgrass, so I'll happily run with plus money on the Englishman.
Matt Vincenzi
Jason Kokrak (+100) over Corey Conners
I really like the big man this week. Kokrak was outstanding tee to green last week gaining 10 strokes on the field. He wasn't great on the greens losing 1.8 strokes putting in contrast to Conners who gained 3.8.
Conners is simply not a good putter and it will be a lot to ask of him to gain strokes putting in two consecutive events. Kokrak has top-10 finishes in consecutive weeks on the Florida swing and was excellent in Florida as recently as the 2019 season when he finished 9th at Honda, 10th at API and 2nd at Valspar.
Conners was impressive last week but I trust Kokrak's success in the sunshine state more so than Conners who can be quite unpredictable.
Landon Silinsky
Will Zalatoris (+105) over Sungjae Im
Zalatoris has been one of the best ball-strikers on TOUR since he graduated from the KFT back in September. He ranks eighth in this field in SG:Tee-to-Green across his past 16 rounds and has yet to miss a cut in his 12 career starts. Im on the other hand has been struggling with his ball striking, ranking 141st in SG: Approach over his previous 12 rounds in this field.
Sawgrass is a second-shot course and there's something off right now with Im, so I'll gladly side with the young phenom Zalatoris and hope he can drain a few putts.
Rob Bolton
Tommy Fleetwood (+120) over Patrick Reed
I'm 0-for-1 after Harris English (T26) bettered Rickie Fowler (72nd) at Bay Hill, so I'm doubly motivated to reverse course. You already know that I'm all over Fleetwood as my Outright, but I'll add that I'm fading Patrick Reed in my Fantasy Insider.
Fleetwood's bag is more balanced and he can hold his own with Reed on and around greens. Fleetwood's course history also is much better and he's more consistent week after week.
How would you rate this article?
This site contains commercial content. We may be compensated for the links provided on this page. The content on this page is for informational purposes only. Action Network makes no representation or warranty as to the accuracy of the information given or the outcome of any game or event.