Rory McIlroy on Poor Wedge Play Numbers: 'It Really Doesn't Tell the Whole Story'
Credit:
Steve Flynn-USA TODAY Sports. Pictured: Rory McIlroy walks down the 15th fairway at Carnoustie Golf Links.
Rory McIlroy has enjoyed a productive season by the numbers so far in 2019, but he isn't just relying on those numbers to measure his own success.
JERSEY CITY, N.J. — By all measures, especially statistical measures, Rory McIlroy has enjoyed a terrific PGA Tour season. He's won twice, compiled a dozen top-10 finishes and cashed more than $7 million.
Sure, he could've picked off a major and his final-round scoring average leaves a bit to be desired, but it's impossible to label his campaign as anything close to a failure.
Other numbers have been similarly impressive.
More specifically, he's continued his reign as the world's best driver of the golf ball, his iron play has been a strength and he's putted better than in previous seasons.
If there's one area where McIlroy hasn't dominated, it's with a wedge in his hands.
Following his Wednesday pro-am round, he was asked about wedge play that's left him ranked 199th on the PGA Tour from 50 to 125 yards, and whether that's frustrating for him.
One of the most likable characteristics of McIlroy is that he's innately honest. Other players can hide behind rhetoric or offer a few half-truths, but Rory is honest, even sometimes to a fault.
All of which is why I wanted to post his full answer here, which is equal parts defensive, introspective, informative and authentic:
"I look at my statistics and what I deem is important in my game," McIlroy began. "I'm No. 1 in strokes gained off the tee and 10th in strokes gained approach to the green and 17th, I think, in strokes gained around the green and I'm top 30 in strokes gained putting. I have the best statistics of anyone on Tour.
"Everyone is going to have their areas of their game or, you know, things that they can improve on, 100 percent. But when I look at my statistics, I don't think of it as a crisis. I think, OK, there's a few areas that I can maybe work on and improve on.
"But everything's telling me that I'm doing the right things. I could average from 50 to 125, as you said, I could average 20 feet from the pin or whatever it is, and that could be 199th, and someone could average 17 feet from the pin and that could be in the top-50, I don't know.
"It's such small margins out here. I think people sort of see a number and they think it tells the whole story, when it really doesn't.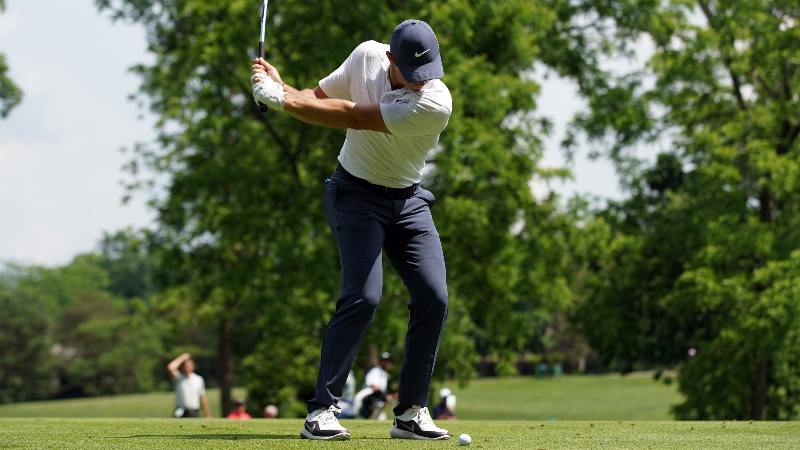 "Would I like to be a better wedge player? Yes. Would I like to be a better driver of the golf ball? Yes. And that's the great thing about the game, I would like to improve in every single area. It's not like I hit 300 drivers and don't hit a wedge. I practice my wedge play and my putting and I practice everything, and I try to do it diligently and deliberately, and make sure that when I turn up to events, I'm ready to play.
"Yeah, I like numbers. I like statistics. I think they do tell most of the story. But sometimes there could be outliers, but you know, it's not as if I'm going to go in week-to-week and think, 'Geez, I've got a shot from 97 yards here, I'm 199th from that distance. I'd better hit a good shot.' I'm just trying to shoot a good score, [I'm] No. 1 in stroke average.
"I'm sort of trying to sing my own song here, but I feel like I'm doing pretty much most of the right things, and you know, I've given myself plenty of chances to win this year. I haven't maybe won quite as much as I would have liked, but I'm having a real consistent, solid season.
"Three more weeks of that might turn out to be another FedEx Cup, then I can address that 199th thing."
His response symbolized why he's so good in front of a microphone — and yes, it helps to explain what's up with those ugly wedge numbers, too.
How would you rate this article?